https://twitter.com/verlagmeyer
There is an outside chance that , due to health reasons, this website will disappear in perhaps three months time. If you need to refer to a specific page then it would be a good idea to save a copy now. The quickest way of making a copy is to use the File-Save-As function on your browser. The best way of making a copy is to use software which makes an Adobe Acrobat .PDF copy of the entire page, photographs included. Use Adobe Acrobat Professional (available as a .torrent) or use one of the aftermarket .PDF writers like Primo .PDF or Nitro .PDF. I have had best results with Adobe Acrobat Professional.
+ 2017-MAY-17-2017-MAY-28 - Cannes Film Festival
+ 2017 - Death of John Forgeham
+ WORLD ORDER : If you have already, then you need to read World Order by Dr Henry Kissinger.
+ 2017 : The 70th Year of Ferrari ;
+ Drone Surveillance

No Drone Zone
+ 2016-DEC-24:
Mitteleuropa salutes the sacrifice of the Red Army Chorus.

Sleep well, Comrades.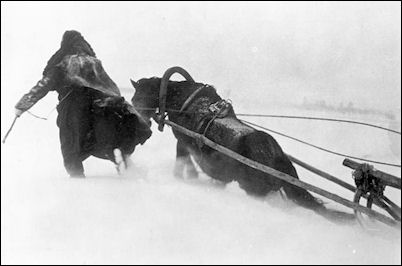 + 2016: The death of movies shot in 35mm chemical film is on its way. This is what mechanical projection systems looked like :
+ 1946
+ The End of an Era
+ It ain't no man
+ 1916-NOV-12 - End of the Battle of the Somme
+ 2016-NOV-11 - Death of actor Robert Vaughan
+ 2016-NOV-01 - THE ARMAMENT OF BOND
+ 2016-SEP-30 - Death of Sir Neville Mariner
+ 1946-SEP-29 - First broadcast of the Third Programme
, a classical music 'high-brow' radio station broadcast from England ."Dons talking to Dons" as one observer put it.
+ 1936
- Founding of Pinewood Studios, eighty years ago.
2016-OCT-17 - The original score of Mahler's Second Symphony in his own hand is to come up at auction at Sotheby's in London. Estimate is GBP 3.5m .
2016-SEP-17 - 2016 Oktoberfest begins.
1916-AUG-05 - George Butterworth MC is killed on the Western Front. Butterworth was as good a soldier as he was a composer. Butterworth was killed by a sniper in 'Butterworth Trench'. In the middle of the Battle of the Somme he was buried where he fell and his grave was lost and obliterated during the later battle.
The Hero by Siegfried Sassoon

"Jack fell as he'd have wished," the Mother said,
And folded up the letter that she'd read.
"The Colonel writes so nicely." Something broke
In the tired voice that quavered to a choke.
She half looked up. "We mothers are so proud
Of our dead soldiers." Then her face was bowed.
Quietly the Brother Officer went out.
He'd told the poor old dear some gallant lies
That she would nourish all her days, no doubt.
For while he coughed and mumbled, her weak eyes
Had shone with gentle triumph, brimmed with joy,
Because he'd been so brave, her glorious boy.
He thought how "Jack," cold-footed, useless swine,
Had panicked down the trench that night the mine
Went up at Wicked Corner; how he'd tried
To get sent home; and how, at last, he died,
Blown to small bits. And no one seemed to care
Except that lonely woman with white hair.
2016-JUL - The 'Hatton Garden Robbery' which took place in London, England, is to be turned into a movie. Scripts have been circulating. The moment the news broke of this extraordinarily daring robbery I thought that it should be turned into a movie. It is not easy because apart from the facts of the robbery, there is no indication that the movie could be either dramatic, or funny. A drama or a caper. This will not matter by the time the movie screens. Perhaps a drama like The Bank Job
2016-JUL-24 - Death of Marnie Nixon
2016-JUL-09
»The hidalgo was ready to give up comfort, to suffer cold and hunger if he could live with honour. Putting this in other words, one may say that Spaniards became accustomed to living for great and spectacular ends, and declined when the bourgeois ideal of work, perseverance and duty, became the only one which could create or hold together society.«
From The Spanish Labyrinth by Gerald Brenan, writing of the Spanish nobility in the 17thC and 18thC. It is easy to recognise the profile of The Knight of the Doleful Countenance, Don Quixote himself, in this description.
2016-JUL-09: THE GREAT FORD BIG-BLOCKS
- One of the problems with producing parts-interchangeable replicas of great automobiles is the immense difficulty in either sourcing or reproducing rare engines. Even when I was young, Ford FE series
427 side-oiler engines were uncommon and expensive. The FE series SOHC
even more so. It was these engines which powered Shelby Cobras and Ford GT40s. The good news is that as of the beginning of this new millennium, it has never been easier to source a Ford FE series 427 side-oiler and that it has never been a better engine. Pond Racing
make an all aluminum block which is both lighter and stronger than the original factory block and Survival Motorsports
make a crankshaft for the FE series forged from 4340 steel (the finest alloy for crankshafts). The FE block side-oiler had perhaps ten different patterns of combustion chamber, partly because the early patterns suffered from cracking at weak points in the combustion chamber. Which pattern they have chosen for their heads I know not. My guess is that they will have designed their own pattern of combustion chamber.
- Probably, the last time any one cast aliminum Ford FE 427 side-oilers was in the late 1980s when Carroll Shelby restarted production of the Shelby Cobra 427 S/C and needed engines. The only way to produce them was to ask Ford if they minded him casting his own, because Ford had not produced an FE side-oiler since the 1960s. At that time, this was no small under-taking. Shelby had un-used CSX VIN-numbers from the original 1960s production run and was able to use these to build and license the cars as 1960s road vehicles, which meant he did not have to fit emissions controls, which would have ruined the car. Those 1960s VIN-plates were gold dust.
- If you are looking for cylinders then Darton
are the leading maker, who made their first liners for a Top Fuel
motor being built by the late great Keith Black
in 1978. Darton make liners for all of the Top Fuel and Funny car teams.
- If like me you have ever wanted to own the royalty of Ford Mustangs
, the BOSS 429, but have never done so, now is your chance. Original BOSS 429 are worth around half a million dollars (2010). They were never cheap by Mustang standards when they were new. Like many valuable, original cars, they are too valuable to drive except to special events such as shows. So even if you could obtain one, you would need a replica if wanted to drive a BOSS 429 as your daily driver. I think the first time I heard of replicas of any cars being built it was the late Seventies and it was 1950s/1960s Ferraris which were being replicated by a pair of brothers in California who spent their lives restoring Ferraris. Prices of many marques of cars have risen steadily since then and many more cars are too valuable to use and thus are being replicated. With the Mustang, you can purchase an ordinary 1969 or 1970 bodyshell for very little, and then purchase your own BOSS 429
engine from Kaase Racing
which uses an aluminum block from C&C Motorsports, Kaase aluminum heads and a forged crank by Sonny Bryant at Bryant Racing
. In my youth I wanted to purchase a BOSS 429 from a dealers, new. Turn the key, and pull away. Then drive the BOSS 429 as a daily driver. Driving long distances. Impossible to do that in an original BOSS 429 now but easy to do by constructing a replica. I would ship the Mustang bodyshell without engine to Kaase and let them fit the BOSS 429 engine, so that I could step back into 1969, arrive at the dealer, turn the key in the ignition and drive away. Collecting a car like that is always a big event in your life no matter how many times you do it and on the big day I always carefully consider which clothes I am going to wear and what I will have for breakfast.
- Nearly no modifications would be required. The original BOSS 429 had uprated front spindles to cope with the extra cornering weight and the shock towers were moved outboard to clear the valve-covers on the large motor. I would also make the factory spec chassis modifications made to the BOSS 302, which are specified in the manual. The Ford Toploader 4-speed gearbox I would replace with a six-speed from gearbox from one of the after-market racers (we used to fit Doug Nash 5-speed gearboxes, but he passed on). The Ford Toploader 4-speed was a great gearbox in the year that it was designed but simply it did not have enough gears: The factory BOSS 429 would cover the quarter mile in just over thirteen seconds, achieving just over one-hundred miles per hour but the Toploader would only take the car to a maximum speed of one hundred and fifteen miles per hour.
- Various Italian-made sports cars have had until recently rather weak clutches which were prone to over-heating quickly and suffering from high rates of wear. This meant that finding oneself in lines of heavy stop-start traffic meant that the clutch would take a battering and in some cases overheat. It was not until the 1980s that five speed gearboxes arrived and not until the 1990s that six speed gearboxes arrived. I can recall internal Porsche memoranda discussing whether Porsche customers could operate a six-speed gearbox. Well sheesh I could operate an eighteen speed gearbox so this question was not a question. What the Italian-made cars with the under-specified clutch required was a gear below first gear. In trucks, there is usually a 'crawler' gear, which will take you up the side of a house. The crawler gear allows you to run the truck forward at a pace slower than walking pace and saves wear on the clutch. With a crawler gear on the sports car gearbox, you could nudge the car forward through traffic without over-heating the clutch. This would ease the workload and the tension of nudging a sports car through traffic, especially because at the same time the engine is starting to overheat and one is expecting to hear the steamy whoosh of a hose bursting at any moment.
- The reason the clutches were under-specified on these cars is that the engines needed to be mounted low in the chassis. A single-plate clutch has to have a large diameter if it is to be made strong, which means that the clutch plate projects low below the crank counter-weights and close to the road. The way to reduce the diameter of the clutch is to make it a multi-plate clutch of much smaller diameter plates. Not really a problem but multi-plate clutches are more expensive and do not give fine control of the engine, tending to be on-or-off. That is something I can live with but a smoking clutch is not. Big-Blocks with wet-sumps had plenty of space at the back of the engine for a large-diameter clutch and so they never suffered from any clutch-related problems.
- At the top end of the gearbox I like an 'over-drive' gear which when engaged will reduce the top speed of the car, the gear being too high, but allow the engine to turn over at a reduced speed, giving a relaxed cruising speed and more range on one tank of fuel when the amount of traffic on the six-lane highway does not allow for fast speeds. The gears in between can be spaced to taste. For a performance car the gear ratios need to be spaced either side of the 'fillet' of the torque curve, so the engine is always flowing the largest quantity of torque regardless of what gear it is in. To orientation yourself: 'Top gear' on a four-speed box used to be around one-to-one, which meant that the wheels rotated at engine speed.
- For their BOSS 429 Kaase offer various intake options but I would be interested in making a magnesium casting of the original intake manifold and carburettor and fitting a hidden multi-port fuel-injection system, so the induction system looked factory stock but had none of the mis-matches between carburetter, intake and camshaft which the factory original had. 'Other than that', it would be a factory stock car.
- There is one drawback: The Kaase Racing BOSS 429 delivers eight-hundred and sixty-three horsepower and seven-hundred and eighty-seven ft/lbs at the flywheel, compared to three-hundred and seventy-five horsepowers at the tires for the factory BOSS 429 - double the output. But you can't have everything.
- This would be, in my view, the ultimate big-block experience. A BOSS 302 chassis with the BOSS 429 motor. No such muscle car as this ever left the factory, but this specification was what the factory should have offered in the 1970 Mustang.
+ FORD SMALL BLOCKS
- There is no shortage of Ford small blocks still on the road or in scrapyards. However if you want to build a car with a Ford small block then in my opinion the best small block for road use would be the 335 Series
351ci Cleveland. The Boss 302 some differences in design which made it more suitable for racing (solid lifters, screw-in core plugs) but for a road car for recreational use I would take the Cleveland. ### is casting aluminum 335 Series 351ci Cleveland blocks which means that if you are rebuilding then you can improve on your original engine. Many De Tomaso Pantera
were fitted with the Cleveland engine. The current Ford small-block Modular
engine can substitute and already has an aluminum block and heads, so you can save yourself some trouble and drop one of these engines in. But if like me you are highly resistant to change and the adoption of the new, then the new aluminum 351ci Cleveland engine may be for you.
- The convertible automobile I have always wanted is the 1965 Ford Mustang
. Never expensive in absolute terms but never cheap in Mustang terms, the way I would produce one now is to purchase a 1965 notch-back and rebuild the entire car as a convertible, making the same chassis modifications as were made to the Shelby GT350, with the exception of the race brake pads, which are less usable on the road. The 1965/1966 bodyshell will accept the much wider 335 Series 351ci Cleveland engine (I have done it) and so I would build the car with this small-block, in aluminum. Again a six-speed gearbox. Again, there is a drawback: This Cleveland block will take 427 cubic inches of displacement, meaning that you will be a running a big-block displacement in a small block. But you cannot have everything.
- The Ford GT40 were built with the 289ci Ford small-block but these can be rebuilt by being fitted with Darton wet sleeves. This would keep the block original.
1916-JUL-01 - Battle of the Somme
1916-MAY-31 - Battle of Jutland. A tactical victory for the Germany Navy but a strategic victory for the Royal Navy.
1916-MAY-29 - Verdun
2016-MAY-24 - Death of Burt Kwok
2016-MAY: Work on Where Eagles Dare guidebook being held up by uncompleted research and photographs. Extensive revisions to Dr No (1962) and Dr No (1958) being undertaken but the more I add, the further away the end seems to be. My file of hand-written notes drawn from study of Fleming's novels has gone missing, which has slowed progress. Dr No (1962) the giant groin-arch in the transept of the cathedral of Bond worship where the transcept of the novels crosses the nave of the motion pictures. For the confluence of Fleming's novels is channeled there and when the extra elements added by Terence Young/Sean Connery give us the super-alloy which became the screen Bond phenomena, a super-alloy so strong that Fleming then included it in the novels he completed after Dr No (1962), even defining Bond's heritage to take into account Connery's character. It is nearly impossible to imagine a world without James Bond, and for that, Commander Fleming, we give to you eternal thanks.
2016-MAY-04 - Death of Pat Rogers
2016-MAY - US orchestras are refusing to visit Europe after the Charlie Hebo terrorist attacks. This is called 'Post Traumatic Stupidity Disorder'. It was the same during Gulf War 1.
In the 1970s a friend of mine from Irak went to live New York City. A friend of his collected him from the airport took him to his apartment where he would be staying. That night he watched the TV news and was horrified to see a raft of murders, rapes and muggings. He was so terrified that he thought it better not to leave the apartment until all this had blown over. The next night, he again watched the TV news. Another raft of murders, rapes and muggings. There was a pandemic of violence. This went on for a week. Finally his friend persuaded him to make a visit to a local restaurant, which both of them survived. Slowly he became used to it.
2016-MAY - Photographs: The entire negative collection is in one place now and several series of photographs I am unable to find. There was a set of photographs of various locations of Gladiator taken only weeks after filming. Various photographs of Hans Ulrich Rudel and places associated with him. None of these can be found.
2016-APR-23 - 400 Years after the death of William Shakespeare.
- Breitling introduce the 'Emergency - II' wrist-watch, which features a dual-band transmitter.

Breitling Emergency II frequency chart
- Classic Driver magazine (CH) article
on the Lotus Esprit Turbo used by Sir Roger Moore in For Your Eyes Only (1981) while filming in Cortina d'Ampezzo, Italy.

For Your Eyes Only (1981) Roger Moore poses with the Lotus Esprit Turbo license plate    OPW 678 W    equiped with ski-rack in Cortina d'Ampezzo
2016-MAR-14 - Spectre (2015): Shows the value of book-ending in a movie. The final scene where Bond manages to persuade Q to return to him his Aston Martin DB5    BMT 216 A    raises the whole movie.
2016-MAR-10 - FAKE GOODS - Most people are aware of fake cigarettes or fake wrist-watches, but counterfeiting is now so highly developed and so profitable that fake Cummins and Caterpillar diesels have turned up in the US. The items were dimensionally perfect replicas. The respective companies only noticed when these engines started turning up as warranty repairs and they noticed that the parts had not been made by them. The materials and processing of materials (heat treatment) were greatly sub-standard. If they can fake items that large and that complicated then the sky is the limit.
2016-MAR-15 - The 2016 Iditarod Race
begins.
2016-MAR-07 - Death of Nikolaus Arnoncourt
.
2016-MAR-01 - Actor George Kennedy
dies
2016-FEB-23 - Death of master cinematographer Douglas Slocombe
at age one-hundred and three. Slocombe was born the same day that the world learned that Captain Robert Falcon Scott would not be returning. Slocombe was raised in Paris graduating from the Sorbonne in mathematics. As a news cameraman before the war he shot footage of Goebbel's speech in Danzig in 1939.
1916-FEB-21 - Battle of Verdun
begins.
2016-FEB-10 - It was said that one day, there would only be five kings. The King of Spades, the King of Diamonds, the King of Hearts, the King of Clubs and the King of England. Since the dawn of the written word, the Laws of England have been written on vellum
, which is the finest writing material available. I have only ever used it once. It is made from the intestines of sheep. However, the British government have decided that this practice is to end, as, wait-for-it, 'a cost-saving measure'. UPDATE: Ten days later, they announced they had found the money.
2015-FEB-05 - After an extensive re-organisation of image files within Adobe Dreamweaver, some image files are now incorrectly addressed within the .HTML and thus are not showing. This will take some time for me to find and fix. Working on it.    Update: The mis-addressing appears to be only relating to images which are related to the Goldfinger pages, both the EON and the Fleming.
2015-JAN-01: Worth seeing: The Peacemaker, Three Kings. Not worth a detour but worth watching if it is in front of you is Gravity
2015-JAN-01 - Prost Neu Jahr !

Ian "Lemmy" Kilmister 1945-2015
2015-DEC-29: Death of Ian "Lemmy" Kilmister
of Motörhead. God's Spede, Lemmy.
Here at Mitteleuropa, I have to write letters to prominent individuals in the movie industry and related areas of endeavor. Over the years, I developed an unwanted record of writing to individuals just before they died. This correlation became so strong that I became reluctant to write letters to some people and indeed have not, in some cases for this reason. I have had a lengthy letter (19,000 words , 47 pages) in draft to Mr Kilmister for three years now. It was mostly finished eight months ago. A month ago I retrieved it to give a final polish. Three weeks ago I had finished the final detail changes and was about to print. Christmas arrived first and stayed my hand. And now ..... Mr Kilmister has died.
   Sorry about that Mr Kilmister.
If you think you are too old to Rock n'Roll, then you are. - Lemmy Kilmister

1914 Christmas in the trenches - A German Army infantryman shares a cigarette with a British Army infantryman in no mans land
2015-DEC-25: Wishing all our readers a Merry Christmas.
2015-DEC Cinema Retro
Volume 11 Issue 32 2015 O.H.M.S.S. - the Portugese Locations - then and now covers the Portugese locations used in On Her Majesty's Secret Service (1969)
2015-DEC-19: Death of Kurt Masur
1927-2015
2015-DEC-12: The late great Frank Sinatra would have been one-hundred years old today.
2015-DEC-15: The copyright on Mein Kampf will expire today. 80,000 copies had been sold by 1933. Five million by 1945, although few of these must have been read.
2015-NOV-26: Happy Thanksgiving to all our readers.
2015-NOV-25:

» When dealing with authority, never ever carry out a plan which contains the assumption that somewhere, someone with more intelligence than a shovel is actually in charge. You are certain to be proven wrong. «

- Mitteleuropa

2015-NOV

Some Kind of Hero: The Remarkable Story of the James Bond Films
by Matthew Field and Ajay Chowdhury
Field & Chowdhury's Magnum Opus on the making of the Bond films is published.
2015-NOV-10: Death of Chancellor Helmut Schmidt
   The premiere for Spectre (2015) was spectacular but eclipsed by the size of Skyfall (2013). It would be almost impossible to exceed the premiere of Skyfall (2013). For the premiere of Skyfall (2013) the red carpet went all the way down the South Steps onto Prince Consort Road and as far as Queen's Gate. For Spectre (2015) it only went as far as the Royal College of Music. The crowds seemed to be about the same for Skyfall (2013). Security was much tighter and the windows of the Royal Albert Hall restaurant where the cast of the movie are presented to their Royal Highnesses Prince William and Prince Harry were covered by screens. The entire South Steps of the Royal Albert Hall was screened from adjacent buildings by huge hoardings. There was a large box shape canopy which covered the red carpet and turned left up the South Steps so that guests alighted directly from their cars under the boxed canopy. Clearly, with elevated levels of risk, the organisers of the event were concerned about keeping the guests screened from observation and snipers. The huge hoardings and the canopy screened them from all over the over-looking buildings and there was increased security within those buildings.

Polymath Sylvester Stallone with one of his paintings at an exhibition in St Moritz. Sylvester Stallone started painting in this teenage years, by his own admission as a form of psychotherapy. He admits that painting has given him more personal satisfaction than his acting career.
2015-OCT-15 - 200 years since Napoleon arrived on St Helena to begin the last fifteen years of his life in exile.

Napoleon aboard the Bellerophon by Sir William Quiller Orchardson. Napoleon looks back toward the coast of France as he begins his voyage to St Helena and exile

   "To die is nothing. But to live defeated and without Glory is to die everyday"



- Napoleon Bonaparte
2015-AUG-04: Death of the last Dambusters pilot, Les Munro

RAF Lancasters of 617 Squadron, The Dambusters

Apollo: It seemed like the beginning, the culmination of all things, but in fact, it was The End.
2015-AUG: Ring Brothers
automotive constructors have built a De Tomaso Pantera
. Ring Brothers build cars which are highly modified to the point where there is little left of the original car. The use a lot of carbon fiber and milled aluminum. They have an outstanding ability to actually design and innovate when it comes to car interiors and external fittings. In some instances there is not a single component of the original car left. Serious modifications are undertaken such as the replacement of the rear axle with an custom independent suspension.
      The De Tomaso Pantera suffered from the same problem which affects all second-division makers of sports cars in that they do not have enough capital to produce their own engines, which means they have to buy-in engines from one of the major manufacturers, because the other sports car manufacturers (Ferrari, Maserati, Aston Martin) are not going to sell them theirs. Montiverdi used to use Chrysler engines, so did Jensen. Bizzarini and Iso Grifo used to use Chevrolet engines. TVR used Rover/Buick. McLaren used BMW. Pagani used Mercedes-Benz. De Tomaso chose Ford engines and the Panteras were fitted with the Cleveland block, displacement 351ci (5.7 liters). Ford sold the Pantera through its dealership network. However the miserable build quality from De Tomaso meant that the relationship ended. The advantage of the Pantera design was that not only could the engine bay accept Detroit small-black engines but was large enough to accept big-block engines. This meant that a Pantera could be used as the base for a road-going Can-Am
car. While still maintaining a good spread of torque on the power-band, a 500ci big-block engine will give 500HP. A 500ci big-block fitted with supercharger will give 1000HP. The Can-Am sports cars were fitted with Detroit big-blocks with the exception of the Porsche 917 which was fitted with the factory Porsche engine. Car builders who obtained Panteras could fit them with big-blocks and supercharged big-blocks giving up to 1000HP. In the early 1980s I remember seeing one Pantera owned by an L.A. Ford dealer which had been rebuilt with , among other things, chrome-moly 4130 suspension, gas struts, and Ford 427 SOHC
twin-turbocharged motor giving around 1000HP. Being a Ford dealer he was able to obtain a rare 427 SOHC engine for the job. Those engines were difficult to obtain even then. Details of road-going performance are understandably sketchy, but several of the blown big-block Panteras managed to cover 200 miles of California in an hour on Interstate 101 or Interstate 5.
      The Pantera built by the Ring Brothers is likely the best Pantera ever built. If they had come like this from the factory then De Tomaso would still be in business now. The Ring Brothers have re-designed every aspect of the car. The bodywork is now carbon fiber with significant and highly beneficial alterations to bodyline and styling. The interior and exterior fittings are now milled aluminum. The attention to detail is unparalleled. It is subtlety which divides ordinary designers from the best designers and it is subtle changes in styling line and subtle changes in the curve of a panel which turn a good outline into a great one. This is what this Pantera has.
      Ring Brothers have fitted a Chevrolet LS7 engine
, which is a significant departure. One of the problems with obtaining engines is that you can only obtain from what is available. Personally, I would have wanted to fit a Ford engine but I have to declare an interest in that I am a Ford guy, through and through and always have been since I was a boy. This leaves the choice of :
(1) A built 351ci Cleveland
small-block engine. No longer manufactured, even by Ford Australia, which means that you would have to rebuild a block recovered from another car.
(2) One of the Ford big-blocks, which in a performance application would be either:
- (a) The Ford FE series
(Shelby Cobra, Ford GT40, several performance Mustangs), the best example of the Ford FE series being the Ford FE SOHC. Last available new in the 1960s.
- (b) The Ford 385 series
(BOSS 429 Mustang, several NASCAR race cars). Still available until recently as the Ford 460.
- Ford FE series side-oilers were always rare and are now nearly impossible to obtain. Their application is in keeping the original cars, like the Shelby Cobra 427 S/C the Ford GT40 MkII running in original trim. Even when the Pantera I mentioned with the twin-turbocharged 427 SOHC engine was being built in the late 1970s, when these engines were difficult to find. Like many rare cars and engines from that era, their function is mainly in preservation and demonstration runs, rather than actual use in anger over long distances or on a weekly basis.
2015-AUG-18:
A bar of Degussa gold has been discovered in the Königsee at Berchtesgaden several meters from the shore. This discovery, if real, will blow wide-open the whole Nazi Gold mystery.

Possibly, a bar of Nazi Gold cast by Degussa discovered in the Königsee at Berchtesgaden, Obersalzburg, Germany
+ Other possibilities:
- A publicity stunt by local hôteliers. Berchtesgaden is already famous because of its association with Hitler, who had his country house (the Berghof) built there, but revenues can always be increased with a good legend or two. Hôteliers are not fast to dismiss spurious legends.
- Someone with enough money to finance such a venture, coupled with a sense of humor.
There is no reason that the gold should have been at the Berghof, rather than Schloss Fischorn. If there was gold at the Berghof it would have been looted by the staff or
guard before they burnt down the Berghof. If they did not, the gold could have been found in the ruins of the Berghof by visiting GIs after the Berghof was bombed by the RAF. Why any GI would throw the gold into the lake rather than just drive away with it in his pocket is anyone's guess. There are millions of places to hide gold in the forests and mountainsides.
+ FILM USAGE ON LOCATION: Sir Richard Attenborough on a single day shooting a crowd scene in Ghandi shot 18,000 feet of film, 16,000 of which was unusable because of people in the crowd waving at the camera. The crowd was composed of 250,000 extras, and one crucial scene where the principals would be framed at just the right moment was ruined when a small boy climbed the tree in which the camera was mounted and waved at the camera.
1945-AUG-15: VJ Day. Hostilities to end at midday, but the US Navy and Royal Navy knew that kamikaze attacks would continue after this hour and they did. At ten minutes after midday a Japanese torpedo bomber was shot down while making an attack. Admiral Halsey signalled that "All enemy aircraft approaching the fleet are to be shot down in a friendly manner" One Royal Navy Seafire pilot parachuted out of his damaged aircraft over the Japanese mainland and was murdered on the ground by the Japanese Army.

The Setting Sun: Aboard the sinking Japanese flagship Zuikaku the crew salute the lowering of the Naval Ensign of Imperial Japan
2015-JUL - Quentin Tarantino has perusaded Ennio Morricone
to write a score for his mew Western, The Hateful Eight
. Morricone has not written a Western score for forty years.
+ AUTOMOBILE HIRE AND AIRPORTS
- Note that in all countries, hiring an automobile from the airport is a lot more expensive than hiring an automobile from the nearest city depot. This is partly because the car hire company has to lease business premises off the airport operator and then have them manned twenty-four hours per day, three-hundred and sixty-five days of the year. Car hire companies also inflate their rates for those who have not booked in advance. Where convenient, it is cheaper to take public transport into the city to the car-hire depot there.
2015-JUL-10 - Death of Omar Sharif
2015-JUL - PANIC: Some map stores are no longer stocking the printed NATO air-charts TPC and ONC. In case you did not know these NATO air-charts cover the entire World and are the starting point for operations anywhere on the globe, especially if the area is not well travelled. If no commercial maps are available then the only other maps you may obtain other than the NATO air charts are the Soviet General Staff topographics in 1:25,000 and 1:50,000. Finis. The printed NATO air-charts were excellent maps and furthermore, reasonably priced. One of my offices had the ceiling papered with the Middle East, made from all of the NATO TPC 1:500,000 and any office I used would have a large section of joined NATO air-charts over one wall showing the entire region in question. The map stores are using digital versions of the maps and large format printers. Unfortunately they are not able to print to the same size. This is not a welcome development. The cornerstone of all planning is still the annotated NATO air-chart even though all aircraft and nearly all vehicles are fitted with a moving map GPS. If you need NATO air-charts or even think you may need them then I suggest you contact a map store and find the ones you need before it is too late.
2015-JUL - If you have been looking for a copy of Bullshot Crummond then the reason you will not find it is because it was never released on DVD nor is it on www.youtube.com. The only way to see it is on VHS.
2015-JUN-27 - Death of Patrick MacNee
2015-JUN-11 - Death of Sir Christopher Lee
, age 93

Christopher Lee
in They were not Divided (1950)
During the making of The Lord of the Rings the script has Lee's character Saruman being stabbed in the back by Grima Wormtongue. Director Peter Jackson wished for Sir Christopher Lee to let out a scream as he was stabbed. Lee explained to the director that that would be all wrong. He proposed to let out a groan then a quiet gasp as the air ran out of his lungs. Jackson resisted Lee's suggestion. Finally Lee asked

   "Peter, have you ever heard the sound a man makes when
      he's stabbed in the back ?"

   "Um, no," replied Jackson.

   "Well, I have." said Lee, "And I know what to do."


Lee's extensive wartime experience with SOE meant that he had seen a lot of action. When pressed about some of the operations, Lee would lean forward conspiratorially and ask his interlocutor

   "Can you keep a secret ?"

   "Yes?"

   "Well so can I"



London Times: Register: Obituary of Sir Christopher Lee
- Death of Flying Finn Erik Carlsson

Enjoying a cigarette break over coffee: A pair of models on a photoshoot for couturier Galia Lahav's
collection of wedding gowns 'Old Hollywood'
- Remember: Many veterans groups are now disbanding as there are only a few tens of members left, who are now very old and often with limited mobility.
1945-MAY-12: A wolf-pack of six U-boats sail for a final Atlantic patrol. Five would be sunk off the East coast of the US. U-805 surrendered at Portsmouth NH.
1945-MAY-12: German garrison on Crete surrenders. See The Stronghold by Xan Fielding.
1945-MAY-11: German garrisons in the Aegean surrender.
1945-MAY-11 -> 1945-MAY-12: In Bohemia Army Group Center under Generalfeldmarschall Shorner
is surrounded. Many surrender to the Soviets. Some escape on foot to reach Bavaria. See The Devil's Guard by George Elford
1945-MAY-10: In Norway Quisling
is arrested. The senior German staff commit suicide.
1945-MAY-09: The final order of the German Armed Forces, issued on 9 May 1945, stated in part:

   ... By command of Admiral Dönitz the Armed Forces have given up the hopeless struggle. A heroic fight that has lasted for nearly six years thus comes to an end ... the German Armed Forces have succumbed to overwhelming superior strength ... Every German soldier, sailor and airman can therefore lay aside his arms with justifiable pride and turn to the task of ensuring the everlasting life of our nation ... To show obedience, discipline and absolute loyalty to our Fatherland, bleeding from innumerable wounds, is the sacred duty our dead impose upon us all.



As noted by Dönitz in his Memoirs:

   "I thought then, and I still think, that those words are both appropriate and just."



1945-MAY-08: The Kurland
pocket surrenders to the Soviet Army. Most were evacuated by sea. The Soviet Army had continued on across East Prussia in a wave of ethnic cleansing and rape. Many civilians committed suicide knowing that they will not survive the long trek West. See Forgotten Soldier by Guy Sajer
1945-MAY-08: German garrison on Rhodes surrenders.
1945-MAY-08 - 1945-MAY-10: Prag, surrounded by Soviet Army but now manned by Czech resistance fighters, appeals to the Western Allies for help before surrendering to the Soviets.
1945-MAY-08: - V.E. Day - At 02:41HRS German time, General Jodl signed the act of unconditional surrender. At 15:00 HRS British time Winston Churchill broadcast his VE Day speech over the BBC. Announces that hostilities would end at one minute past Midnight (German time). Allied armies instructed to cease fire that morning. Many German units in contact with Soviet troops continue fighting.
1945-MAY-04: On the Brenner pass, US Army in Bavaria meets up with US Army advancing north through Italy. See Official Assassin by Peter Mason
1945-MAY-02: Resistance within the Reichstag ceases as remaining units surrender. Many of the German troops fighting in Berlin are foreign Waffen-
troops who will be shot if they are returned to their home country or sent to death camps if captured by the Soviets. Subsequent research as late as the 1990s has identified by name bodies of dead Waffen-
in Soviet photographs lying in the streets of Berlin after the battle. See Another Country by Jeff Cooper, Chapter Survivor, where by chance in Switzerland in the 1970s Jeff Cooper met with a Waffen-
officer who is probably the only man ever to have escaped from the Gulags.
1945-APR-30 -> 1945-MAY-02 Fighting for the Reichstag. At 22:50 Berlin time, the Soviets raise the Red Flag from the East elevation of the building. It's over. Resistance continues within parts of the Reichstag for several days. A few hundred meters away the Hôtel Adlon was captured. In use as a field hospital, the wounded, all veterans of fighting in the East, passed around pistols so that each could shoot himself rather than face capture by the Soviets.
1945-MAY-01
» I assume command of all Services of the armed forces with the firm intention of continuing the fight against the Bolsheviks until our troops and the hundreds of thousands of German families in our Eastern provinces have been saved from slavery or destruction. Against the English and the Americans I must continue to fight for as long as they persist in hindering the accomplishment of my primary mission.«
- Grand Admiral Karl Donitz, issuing Order of the Day, 01 May 1945, in his capacity as Head of Government and Commander-in-Chief of the Wehrmacht. - quoted by General Walter Warlimont, Inside Hitler's Headquarters, Presidio, 1962, 0891413952, page 516.1
1945-APR-30
At Ploen on the evening of 30 April 1945, Dönitz received only the following message:
"The Führer has appointed you, Herr Admiral, as his successor in place of Reichsmarschall Göring. Confirmation in writing follows. You are hereby authorized to take any measures which the situation demands. -- Bormann. "
In his Memoirs, Dönitz describes his reactions:
... This took me completely by surprise. Since July 20, 1944, I had not spoken to Hitler at all except at some large gathering. ... I had never received any hint on the subject from anyone else.... I assumed that Hitler had nominated me because he wished to clear the way to enable an officer of the Armed Forces to put an end to the war. That this assumption was incorrect I did not find out until the winter of 1945-46 in Nuremberg, when for the first time I heard the provisions of Hitler's will.... When I read the signal I did not for a moment doubt that it was my duty to accept the task ... it had been my constant fear that the absence of any central authority would lead to chaos and the senseless and purposeless sacrifice of hundreds of thousands of lives ... I realised ... that the darkest moment in any fighting man's life, the moment when he must surrender unconditionally, was at hand. I realized, too, that my name would remain forever associated with the act and that hatred and distortion of facts would continue to try and besmirch my honor. But duty demanded that I pay no attention to any such considerations. My policy was simple -- to try and save as many lives as I could ... "
1945-APR-30 -> 1945-MAY-08: Flensdorf was the seat of German government under Admiral Donitz
1945-MAY-01 21:30HRS German time
, Deutscher Reichsrundfunk
warned that a grave and important announcement would be made. This was followed by several excerpts from Wagner's
operas. At 22:20HRS Deutscher Reichsrundfunk plays the slow movement from Bruckner's Seventh Symphony
, written to mark the death of Wagner, prior to the announcement made by Grand Admiral Donitz
, in person, on the death of Adolf Hitler.
1945-APR-30: Lord Haw-Haw, William Joyce, gives his last broadcast for German radio. He is captured on the Danish border a few weeks later by several British Army officers who were collecting firewood. First, he spoke in French, poining out firewood, then in English, which was his undoing, because one of the officers recognised his voice.
1945-APR-30: Hitler commits suicide in the Führerbunker. See Downfall
. The next day, the bodies of Hitler and Goebbels are cremated in the Reichschancellery garden using gasoline from the Reichschancellery motor pool. Historian Tony Le Tissier's reveals eyewitness accounts that the Soviets hung Goebbels body from a gallows close to the Brandenburg Tor.
1945-APR-28: Mussolini is captured and shot by Communist partisans.
1945-APR-28 Berlin: The bridge at the Potsdammerstrasse
seized by the Soviets. The Red Army attempt to take the Zoo and the Moltke Bridge but fanatical Waffen-
resistance throws them back. The 15cm Flak guns on the Zoo Flakturm destroy Soviet tank advances.
» Those who stray from the truth must forfeit the trust of their fellow-men. Yet anyone describing the situation as it really was would have been spreading despondency. Nor did Nazism find any escape from these alternatives. Consequentially in this last phase the troops that had seen the light were more dependable than the misguided followers of Hitler. He who looks his destiny in the face will understand the adage: Nec metus nec spes - Niether fear nor hope. «
- Neither Fear nor Hope , General Frido von Senger und Etterlin
p296-9, 1960, Kiepenheuer & Witsch, 1853670278.
1915-APR-25 - ANZACs land at Gallipoli :


   "Australia and New Zealand sent the first armies they have ever raised to fight against Germany in Europe. Without consultation with their Governments or Parliaments, these forces were sent by Lord Kitchener to the Gallipoli peninsula. A greater mark of confidence in a single man has scarcely ever been shown. By feats of arms and military conduct of the highest order, they have seized and held at a cost of 30,000 men and cruel hardships a position close to the vitals of their enemy, which, if properly sustained, it is probable that no force that can be brought to bear can move them. ANZAC is the greatest word in the history of Australasia. [...]"



- Winston S. Churchill The World Crisis 1911-1919, page 905
1945-APR-16 -> 1945-APR-18: Soviet operations against the encircled Berlin. On paper, the German Army could muster a million men for the defence of Berlin. German veterans who had participated in retreat across the East were certain that the Soviets would be held outside Berlin because at last the German Army had all the ammunition it required and plenty of defensive positions. Ruined cities are magnificent for defence.
1945-APR-16 Prag: Vlassov's army
of anti-Communist Russians, together with anti-Communist Serbs and anti-Communist Czechs prop up the resistance in Prag. Vlassov and the entire anti-Communist Russian army will be sent to the Gulag or executed when captured.
2015-APR-13 - Death of Gunter Grasse
1945-APR-13: Vienna surrenders after encirclement by the Soviet Army. 130,000 German troops are captured in and around Vienna. Eichmann, Skorzeny and others had already left to find hide-outs in the Austrian lake region at Bad Aussee.
1945-APR-09: Königsberg surrenders after three-day seige.
2015-MAR-25 -Jeremy Clarkson, presenter of the English motoring programme Top Gear, is fired by the BBC
#BringBackClarkson #islingtontendency #bbc #socialists

The Stig: Some say he masterminded the Ultimate Evil.
2015-MAR-24 The Lamborghini Miura used in The Italian Job (1969) may have been found
2015-MAR-17: Tomb of Cervantes
discovered.
1945-MAR-16 -> 1945-APR-15: Vienna encircled and under siege from the Red Army. See Commanding the Red Army's Sherman Tanks by Dimitry Loza
1945-MAR-16: The Lake Balaton Offensive
opens
2015-MAR-08 - US Marines 9th Expeditionary Brigade lands on Red Beach Two just north of Da Nang: LBJ committs ground troops to Vietnam. Prior to this there were several thousand US advisors in Vietnam and some special forces in neighboring countries.
1945-FEB-03: Budapest, surrounded by Soviet Forces, surrenders to the Soviet Army after a three month siege. See Battle for Budapest by Krisztian Ungvary.
2015-FEB-04: Death of Sir Martin Gilbert. Historian and official biographer of Sir Winston Churchill.
1965-JAN-30: 09:45HRS The coffin of Sir Winston Churchill began its journey from Westminster Hall to St Paul's Cathedral. After Big Ben had stuck that quarter-hour, it was silenced for the day. In the congregation within St Paul's Cathedral, in a reversal of protocol and precedence, Her Majesty the Queen awaited the arrival of her subject, Sir Winston Churchill. London was like a ghost-town, with every person either attending the funeral, lining the route, or indoors, watching the funeral on the televizor.
Lord Chandos
, speaking at the fortnightly meeting of The Other Club
on 1965-FEB-04, which Churchill, the founder member, always attended, recalled Churchill the Club member, and the statesman, who had been present for the previous fortnightly meeting:
   "He enjoyed a good dinner. He made jokes at the expense of all but at the cost of none. He enjoyed a conflict of ideas, but not a conflict between people. His powers were those of imagination, experience, and magnanimity. Perhaps not enough has been made of his magnanimity. He saw man as a noble and not as mean creature. The only people he never forgave were those, who, in the words he so often used 'fell beneath the level of events'.
   The memory of his conversation at the Other Club, which meant such a great deal to him in his life, lightens the darkness of this occasion."
Page 1364, Never Despair - Winston S. Churchill 1945-1965
by Martin Gilbert, Heinemann, 1988
1945-JAN-30: In the Baltic, the liner Willhelm Gustlov evactuating thousands of civilians and wounded from Gdynia when it is torpedoed by a Soviet submarine, with the loss of 8000 lives, the worst sinking in history.
2015-JAN-24: 50 years since the death of Sir Winston Churchill, the The Man of the Century. Sir Winston Churchill died at 08:00HRS 1965-JAN-24.
2015-JAN-13: Survivors of Stalingrad - Eyewitness accounts from the Sixth Army, 1942-43 by Reinhold Busch. Highly recommended. First-hand accounts of survivors from all ranks. Of the 100,000 who were captured in the pocket, only 6000 ever returned to Germany. Scenes of unimaginable horror in the encirclement as the Red Army closed in.

2003 - 60 years after the Battle

1943: Soviet WK2 poster "The destruction of Hitler's army is possible and necessary."
Final Transmission from the Tractor Factory, in Stalingrad
:

» "We are the last survivors in this place
Four us are wounded
We have been entrenched in the wreckage of the tractor factory for four days
We have not had food for four days
I have just opened the last magasine for my automatic.
In ten minutes the Bolsheviks will overrun us
Tell my father that I have done my duty and that I shall know how to die
Long Live Germany
Heil Hitler !«
2015-JAN: Death of Rod Taylor
2015-JAN: Death of Anita Ekberg
2015-JAN-03: Full set of screenshots now loaded for Expendables 3 (2014)
2015:JAN-02: In Thunderball (1965) Sean Connery wears his Rolex Submariner but during the helicopter scene, filmed on the soundstage at Pinewood, he appears to be wearing a mystery wrist-watch with a white dial and a metal bracelet.

Thunderball (1965) 01:08:06 Sean Connery wears a mystery wrist-watch for the helicopter scene filmed at Pinewood Studios

01:07:02: In the above frames, Bond and Felix Leiter perform reconaissance from a helicopter
2015-JAN-01 - Prost Neu Jahr !
2014:DEC-30: Worth seeing: Grand Budapest Hotel (2014)
2014-DEC-23 James Bond's Rolex Submariner in Thunderball (1965)
2014-DEC-14: At last, a "cop detector": The Target "Blu Eye" I was discussion this with other interested parties last year, but using a different approach involving the GPS transmissions which are used to track cop cars. This system listens for the blip signal of the encrypted radio links used by cop cars and cop radios. Unlike radar detectors, it is fool proof. Get yours before they ban them. Anything this good must be banned.
-
http://www.rdforum.org/ - Thread at Radar Detector Forum
-
http://www.target-automotive.nl/en/target-blu-eye/ - Target
- Ideally, this machine should have a link via bluetooth or USB to your iPhone, which would then have an APP which transmitted the GPS location to a database in the same way the DUI roadblock reporting APP works. Then the position of all cops would be marked on the map. That's the trouble with 1984 level surveillance: It shoots both ways.
- If you are looking for a company to host distributed crowd-sourced data then try Pachube. They hosted the crowd-sourced data for the Fukoshima nuclear disaster in Japan.

Nuclear Winter: Fidel Castro, wearing a large sheepskin coat, enjoys a winter hunting trip with Nikita Kruschev, in the Soviet Union, 1964. The coat was so thick that he had to remove it in order to shoot the rifle, because otherwise the stock would mount too far away. It is almost certain that his photograph was taken at Zavidovo, the official politburo Dacha north-west of Moscow.
2014-DEC-16 - Unternehmen Wacht am Rhein
- The Battle of the Bulge - 70 years ago today

Moving up: Waffen-
moving up past captured US Army M8
AFV in the snow-covered Ardennes
2014-DEC-05 :
http://www.classicdriver.com/ - Classicdriver - Huge barn find reveals many cars, among them Alain Delon's
Ferrari 250GT Spyder California SWB

Alain Delon - Ferrari 250GT Spyder California SWB

The Great War: His Imperial Majesty King George V lights one up as he prepares to watch the world's largest empire go up in smoke.
2014-DEC-03 - Ice storms in Austria
2014-NOV-27: Website now fully uploaded. Happy Thanksgiving.
2014-NOV-19: Website .JPGs still uploading. More than half have been uploaded.
2014-NOV-18 - Website has all .HTML but is still uploading .JPGs. I said it would take a week but it looks like it might be two weeks. I would be annoyed but the whole thing was my fault. www.x10hosting.com have been very helpful in aiding recovery of the site.
2014-NOV-18 - Christie's Geneva auctioning Rolex Daytona Cosmograph Oyster 6263 with Black Ghost ROC Paul Newman dial
, (which realised USD 1,089,186-00 (one million dollars) ) and the 1985 Prototype Titanium Panerai. Four of these prototypes were made in Titanium and four in Bronze.
-
http://www.christies.com/ - Christies Geneva auction of Rolex Daytona Cosmograph with Paul Newman dial.
-
http://www.hodinkee.com/ - Hodinkee wrist-watch website on the Rolex Daytona type "Paul Newman"
-
http://www.network54.com/ - High-resolution images of the Rolex Cosmograph Oyster 6263 with Black Ghost ROC Paul Newman dial in the auction at Christie's Geneva
-
http://www.hodinkee.com - Hodinkee wrist-watch website - reference document for the Rolex Daytona "Paul Newman"
2014-NOV-17 -
http://rolexpassionreport.com - A fascinating article on the company Singer, who make dials for Rolex and several other wrist-watch manufacturers.
2014-NOV-16 - Website .HTML is all loaded (although not with updates from last seven days). The .JPGs from the most important (the most referred to) pages have been uploaded, but perhaps half of the website's .JPGs have not yet been uploaded. At present rate it will be another seven days before the website looks normal.
Xan Fielding
placed an advertisement in the London Times 1950-JUL-31:
"Tough yet sensitive ex-classical scholar, ex-secret agent, ex-guerilla leader, 31, recently reduced to penury through incompatibility with the post-war world: Mediterranean lover, gambler and general dabbler: Fluent French and Greek speaker, inevitable Italian: would do anything unreasonable and unexpected if sufficiently rewarding and legitimate."
2014-NOV-13: It is interesting how disposible incomes have affected the world of performance cars. 1960s Detroit-produced muscle cars were pressed sheet steel production line cars which were sows-ear-to-silk-purse modified in order to give them some performance. The top (European) marques such as Ferrari were hand-built using the best designs and materials. They were correspondingly expensive. Forged aluminium wheels, as opposed to cast aluminium wheels were available on the 1980s Porsche 928. This is the pinnacle in wheel design and manufacture. Forged Aluminum wheels and forged Titanium wheels are superior to all other designs. After-market makers now make them for Detroit produced muscle cars. The Detroit-produced muscle cars themselves are of a specification which would have been fantasy-talk in the 1960s. No-one ever talked of a 200mph Mustang. Not even me. Yes, a 150mph Mustang. But not a 200mph Mustang. And now, Shelby make a turn-key, drive-away 200mph Mustang.
2014-NOV-12: #keepfightingmicheal
2014-NOV-11: Website now back up at www.x10hosting.com. All the .HTML files have been uploaded again but It will take many hours before the .JPG images are all uploaded. It will take around a week to finish uploading all the .JPGs and for service to return to normal.
-
https://fallofthewall25.com/
2014-NOV-09: Twenty-Five years from the fall of the Berlin Wall.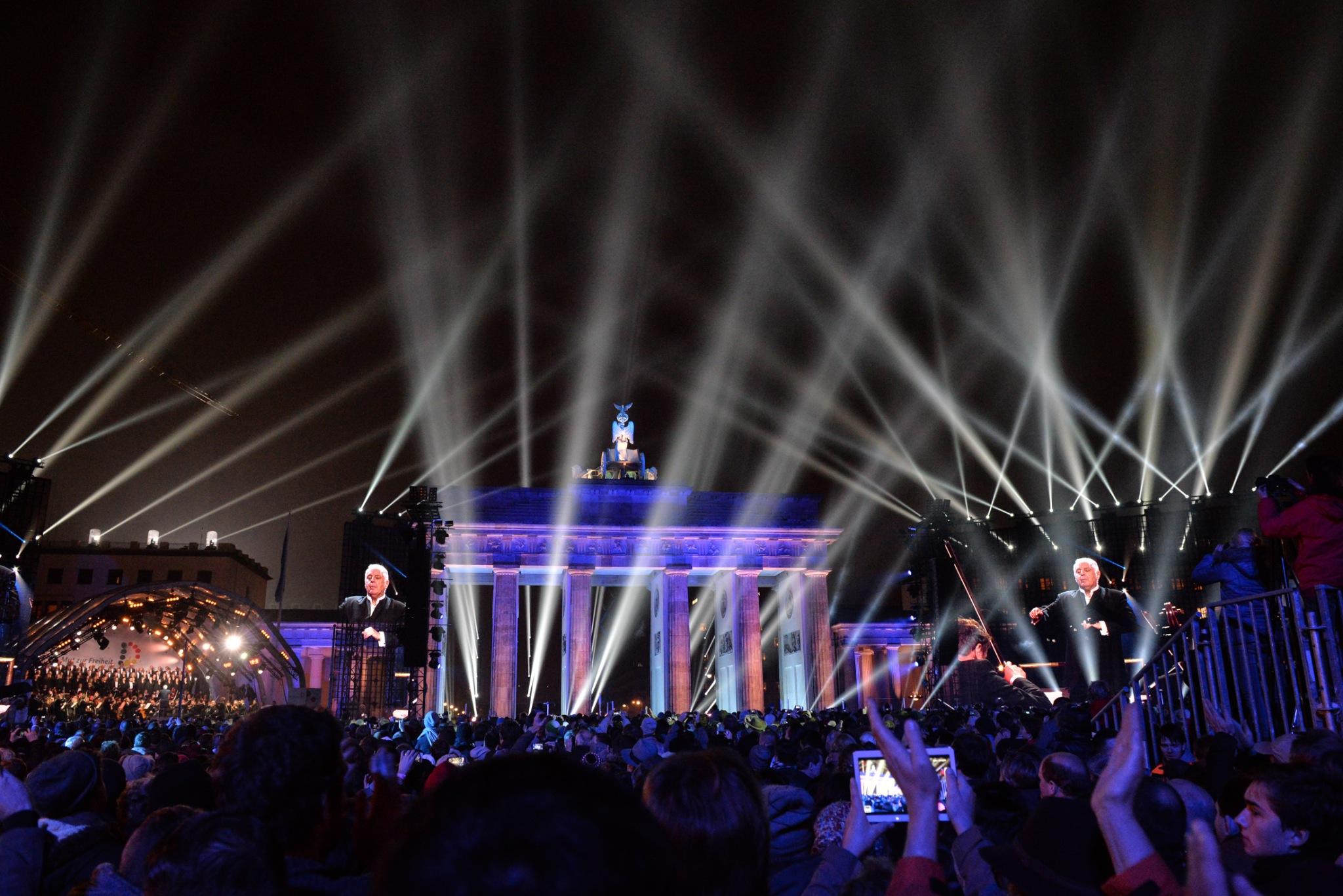 The most memorable part of the Wall coming down was the concert put on by the Red Army Chorus for the East Berliners. They sang Those were the Days my Friend the best and most moving rendition I have ever heard. And, indeed, Those were the Days my Friend. The Late, Great Twentieth Century. The Alpha and the Omega. The Acme and the Nadir. The Red Army were heading home to a uncertain future, the Ossies were leaving the constraining but comfortable certainties of the past for an uncertain future. To their surprise many Wessies came to the concert. While The War, 1914-1989, which defined the Twentieth Century was finally over, we were both heading for an uncertain future.
Over the years I have tried, unsuccessfully, to find a recording of the concert, which was broadcast on several television networks.
Those were the days, my friend
We thought they'd never end
We'd sing and dance forever and a day
We'd live the life we choose
We'd fight and never lose
For we were young and sure to have our way
2014-OCT-31: Website has been down from 2014-OCT-31 to 2014-NOV-11
2014-OCT-30 -
http://www.tagesanzeiger.ch/ - Alfred Zurschmiede from Lauterbrunnen doubled for George Lazenby during the ski chase scenes. This is his own movie footage shot on location.
2014-OCT-26: Death of Col. Jack Broughton
, author of Thud Ridge. Broughton was one of the great greats, holder of the prestigious 100 Missions North award. Robin Olds, Ed Rasimus and now Jack Broughton: We shall not see their like again.
'I am Pallas Athene; and I know the thoughts of all men's hearts, and discern their manhood or their baseness. And from the souls of clay I turn away, and they are blest, but not by me. They fatten at ease, like sheep in the pasture, and eat what they did not sow, like oxen in the stall. They grow and spread, like the gourd along the ground; but, like the gourd, they give no shade to the traveller, and when they are ripe death gathers them, and they go down unloved into hell, and their name vanishes out of the land.
'But to the souls of fire I give more fire, and to those who are manful I give a might more than man's. These are the heroes, the sons of the Immortals, who are blest, but not like the souls of clay. For I drive them forth by strange paths, Perseus, that they may fight the Titans and the monsters, the enemies of Gods and men. Through doubt and need, danger and battle, I drive them; and some of them are slain in the flower of youth, no man knows when or where; and some of them win noble names, and a fair and green old age; but what will be their latter end I know not, and none, save Zeus, the father of Gods and men. Tell me now, Perseus, which of these two sorts of men seem to you more blest?'
-
http://www.geocities.ws/ - Thud Ridge Web Photo Album: Pictures of the Thunderchief in his natural habitat.
-
http://adjunct.diodon349.com/ - Voice cockpit recordings over Hanoi during Linebacker II
. The beeping noise is the noise which comes over the radio receiver from the transmitters which automatically transmit when a parachute opens after a pilot has ejected. It was a noise which created visceral horror.

Thunderchief SAM intercept over North Vietnam

Thunderchief SAM intercept over North Vietnam
2014-OCT-21: Death of Oscar de la Renta
. Tragic in any circumstances but at least he went out on a spectacular swan-song: Amal Alamuddin's wedding dress, for her wedding to George Clooney. Oscar and his wife Annette were regular dinner guests at the house of Dr Henry Kissinger. Dr Kissinger dedicated his latest volume to Oscar and his wife On China, which shows you how good a company Oscar must have been. Not only to be received and entertained at the house of Dr Kissinger but he thought of so highly as to merit a dedication. The rest of us can only dream of such an accolade.
The World Crisis 1911-1919 by Winston S. Churchill, Vol 01 Page 187.5 Chapter XI 'War: The Passage of the Army' August 4 - August 22, 1914 :
The entry of Great Britain into the war with the most powerful military Empire which had ever existed was strategically impressive. Her large Fleets vanished into the mists at one end of the island. Her small Army hurried out of the country at the other. By this double gesture she might seem to uninstructed eyes to divest itself of all her means of defence, and to expose her coasts nakedly to a hostile thrust. Yet these two movements, dictated by the truest strategy, secured at once our own safety and the salvation of our Allies. The Grand Fleet gained the station whence the control of the seas could be irresistibly asserted. The Regular Army reached in the nick of time the vital post on the flank of the French line. Had all our action been upon this level, we should to-day be living in an easier world.
Vol 01 Page 192.5 Chapter XI 'War: The Passage of the Army August 4 - August 22, 1914 :
The arguments against compulsory service, cogent as they no doubt were, were soon reinforced by the double event of over-whelming numbers of volunteers and a total lack of arms and equipment. Apart from the exiguous stores held by the Regular army, there was literally nothing. The small scale of our military forces had led to equally small factories of war material. There were no spare rifles, there were no extra guns; and the modest supplies of shells and ammunition began immediately to flash away with what seemed appalling rapidity. Many months must elapse, even if the best measures were taken, before new sources of supply even on a moderate scale could be opened up. One was now to learn for the first time that it took longer to make a rifle than a gun: and rifles were the cruellest need of all. We had nothing but staves to put in the hands of the eager men who thronged the recruiting stations. I ransacked the Fleet and the Admiralty stores and scraped together another 30,000 rifles, which literally meant another 30,000 men in the field. Afloat only the Marines would have their rifles. Jack must, in the last resort, trust to his cutlass as of old.
- George Clooney and Amal Alamuddin head for North Island
in the Seychelles
for their honeymoon. I recommend reading The Seychelles Affaire by Mike Hoare published by Bantam 1986 ISBN0552128902 as well as his memoir of his times on his yacht Three Years with Sylvia by Mike Hoare published by Robert Hale 1977 ISBN 0709161948. In 1960 Hoare and some friends were shipwrecked after being sunk by the Williwaw
a notorious wind in those islands which arrives just after dusk. The waters are notoriously shark-infested and Hoare and the crew clung to the mast, the head of which was just sticking out of the water, certain that they were going to die. Out of nowhere came some native canoes. Someone had been watching from the islands and said that he had seen a yacht, then no yacht. They decided to investigate. Before you visit the Seychelles by yacht (or any other method) I recommend you read the Cruisers Wiki page
.

On location for The Wild Geese (1978)
in the Transvaal, South Africa, Mad Mike Hoare
and Andrew McLaglen
. Tullio Moneta
, another colleague of Mike Hoare, also advised on the production of the motion picture.

NATO TPC air chart M-7D section, Seychelles. North Island is mid-center left, above Silhouette Island

Venice: On the right the Grand Canal in 1963, shot for the closing titles of From Russia with Love (1963) and on the left, the wedding
of George Clooney and Amal Alamuddin, 2014

Arnold Schwarzenegger at the Oktoberfest
, 1967

Arnold Schwarzenegger, Heather Milligan and Ralph Möller
at the Oktoberfest
, 2014. The type of jacket worn by Arnold Scharzenegger is called a Trachtenjanker
. You can get an idea of how big Ralph Möller is from this photograph.
2014-NOV-22 - Auction of one of the few Hasselblad cameras brought back from the Moon landings
. The others were left there in order to save weight on lift-off.

Sean Connery and Micheline Roquebrune on their honeymoon at the Hôtel de Paris, Monaco, 1975. You can see the towers of the Casino visible frame right.
1964-SEP-17 - 50 years ago today, Goldfinger (1964) premièred
at the Odeon Leicester Square, London, GB
On the night of the premiere Honor Blackman remembers that it took nearly an hour for her limousine to travel the few hundred meters down the length of Coventry Street, across the square and to the red carpet at the Odeon. At this time Leicester Square was a normal square with a road running around its circumference.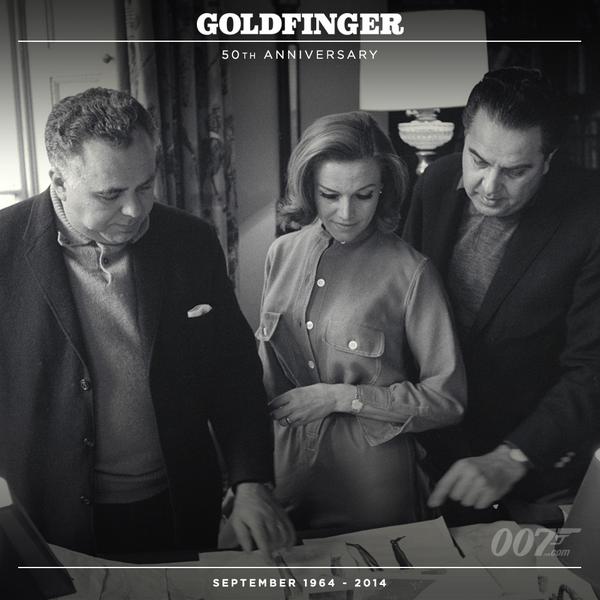 2014-SEP-13 -
James Bond Lifestyle website reports on James Bond Club Switzerland
Goldfinger Reloaded 50th Anniversary event
At noon on September 13th, all participants will meet in Andermatt (exact location to follow), after which everyone will ride in a convoy with a bus, a Ford Mustang Convertible, Aston Martin DB5 and Rolls-Royce Phantom 3 over the Furkapass with various stops at the original movie locations of Goldfinger, including a professional photo shoot.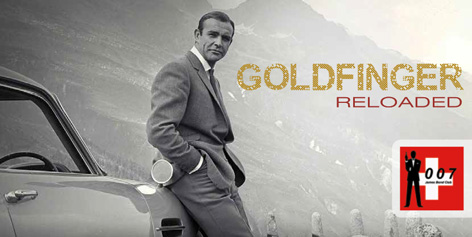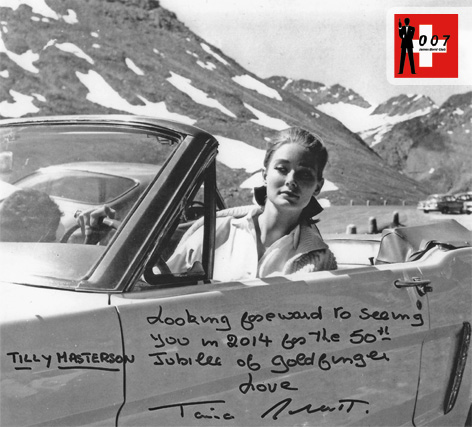 Sean Connery with cast and crew at the Hôtel Bergidyll
in Andermatt during filming on the Furkapass and in Andermatt. You can see Tania Mallet on the right.
2014-SEP-10 - Thanks for everything, Luca. Wish you had stayed.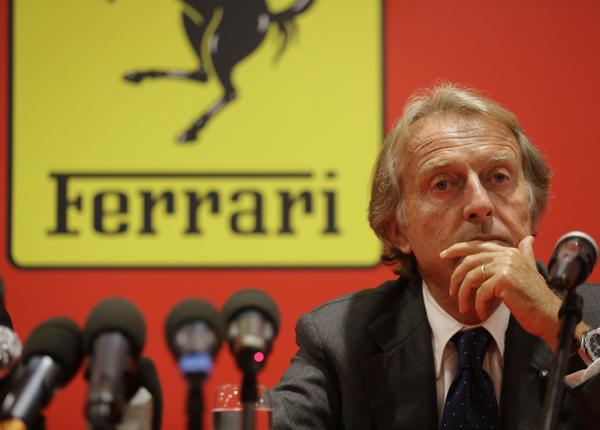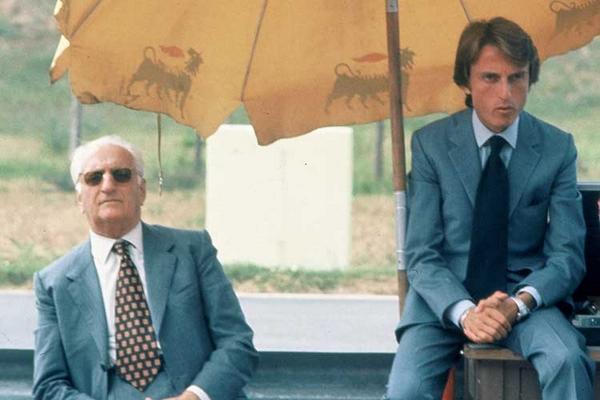 2014-SEP-10 - Death of Richard Kiel

Horst P. Horst's
silver cigarette lighter (top) and silver cigarette case. The cigarette lighter was made for him by Coco Chanel
.
Horst had been round at Coco's house and had been playing with a piece of putty while he had been conversing with her. After he left, Coco had the piece of putty cast in silver and made into a cigarette lighter.

The Ipcress File (1965): Stamp Theatre at the Royal Postgraduate Medical Centre, Hammersmith Hospital, Du Cane Road. In the background (NE) is the Cyclotron building. This is the upper corridor on the east side of the building. The location of the theater is to left of camera.
2014-AUG-27 - If you have not already, see the Expendables 3 (2014) on general release. Fans of the Expendables will not be disappointed.
2014-AUG-25: Death of Sir Richard Attenborough
. Civilization crumbles around us. Things fall apart and the center cannot hold
. A few years ago he and his wife had to move out of their own house into a home because life was becoming physically difficult for them. Sir David Attenborough and other members of the family used to visit them regularly.
The World Crisis 1911-1919 by Winston S. Churchill, 2nd Edition, page 150 - page 151, 1914-JUL-28:  
»The old world in its sunset was fair to see«
     At the end of June the simultaneous British naval visits to Kronstadt and Kiel took place. For the first time for several years some of the finest ships of the British and German navies lay at their moorings at Kiel side by side surrounded by liners, yachts and pleasure craft of every kind. Undue curiosity in technical matters was banned by mutual agreement. There were races, there were banquets, there were speeches. There was sunshine, there was the Emperor. Officers and men fraternized and entertained each other afloat and ashore. Together they strolled arm in arm through the hospitable town, or dined with all the goodwill in mess and wardroom. Together they stood bareheaded at the funeral of a German officer killed in flying an English seaplane.
      In the midst of these festivities, on June 28, arrived the news of the murder of the Archduke Charles at Sarajevo. The Emperor was out sailing when he received it. He came on shore in noticeable agitation, and that same evening, canceling his other arrangements quitted Kiel.
Like many others, I often summon up in my memory the impression of hose July days. The world on the verge of its catastrophe was very brilliant. Nations and Empires crowned with Princes and potentates rose majestically on every side, lapped in the accumulated treasures of the long peace All were fitted and fastened - it seemed securely - into an immense cantilever. The two mighty European systems faced each other glittering and clanking in their panoply, but with a tranquil gaze. A police, discrete, pacific, and on the whole sincere diplomacy spread its web of connections over both. A sentence in a despatch, an observation by an ambassador, a cryptic phrase in Parliament seemed sufficient to adjust from day to day the balance of the prodigious structure. Words counted and even whispers. A nod could be made to tell. Were we after all to achieve world security and universal peace in a marvelous system of combinations in equipoise and of armaments in equation, of checks and counter-checks on violent action every more complex and delicate ? Would Europe thus marshaled, thus grasped, thus related, unite into one universal and glorious organism capable of receiving and enjoying in undreamed of abundance the bounty which nature and science stood hand in hand give. The old world in its sunset was fair to see.

Winston Churchill and his Imperial Majesty Kaiser Willhelm II, at German army manoeuvres Breslau. 1909
Kaiser Willhelm remarked to Winston Churchill: »A fair country this Silesia, well worth fighting for«
0014-AUG-19 - Death of Augustus
2014-AUG-19 - Death of Brian G. Hutton
2014-AUG-13 - Lauren Bacall dies.

Lauren Bacall
2014-AUG-12 - Shockingly, Robin Williams
dies. I first saw Robin Williams live at the Comedy Store in L.A. in the early 1980s. He used to enjoy going on last thing at night, unscripted and just ad-lib his way through, brilliantly. One of the century's great comedians. A brilliant mind, up with the likes of Peter Cook.
2014-AUG-10 - It is odd that the balance of alliances between the Triple-Alliance (Germany, Austria, Italy) and the Dual-Alliance (France, Russia) set up by von Bismarck and intended to preserve the balance of power in Europe, was the cause of Europe's destruction when von Bismarck was dismissed in 1890 and the complex guidance system which he had built remained connected long enough that the small movement by Austria, and the amplification by Germany brought the entire structure to destruction. Without this very mechanism of Alliances, which preserved peace so well under von Bismarck's control, Austria could have pounded Serbia, probably without German help, and Russia, without the benefit of alliances would have been reluctant to challenge Germany. Peace would have been preserved, without those alliances. That long, glorious, Edwardian, Bismarckian summer would have continued through into the 1920s and beyond.
The World Crisis 1911-1919 by Winston S. Churchill published by Odhams Press, London, 1939, Second Edition.
Winston Churchill wrote this preface to the second, revised, edition to his Magnum Opus on the Great War after he had revised its content during 1937,1938. The excerpt starts at paragraph four and continues to the end:
I write this new Preface in a day of extraordinary difficulty and danger. So strange indeed is the present international situation and it passes the wit of man to say what new portent will have appeared in the European sky by the time these words see the light. Armed to the teeth and feverishly adding to their armaments, the nations of Europe are asking themselves, "Is this the peace for which we fought ?" What have our sacrifices brought us ? What is coming next ?" It is possible that the appalling drama with which this book is concerned was enacted in vain ? It is conceivable that in our own day the hand of Destiny will raise the curtain of a tragedy of even greater horror ? These are gloomy questions, but History's answer need not be gloomy. The attainment of a genuine peace should not be beyond the reach of human wisdoms inspired by human goodwill. But if we are to escape a cataclysm fatal to civilization itself let us lay to heart before it is too late the lesson, writ large in these pages, of the tragic years 1914-18, a lesson that the events of this Autumn have only too bitterly emphasized - the paramount necessity of preparedness.
Winston S. Churchill
November 22, 1938
In Chapter 01, page 03 » The Vials of Wrath were full: but so were the reservoirs of power «
From Winston S. Churchill Young Statesman 1901-1914 Volume II by Randolph S. Churchill published by Heinemann , London 1967, page 722
This is the signal sent from the Admiralty by Winston Churchill as First Lord of the Admiralty:
Admiralty to all HM ships and Naval Establishments
SIGNAL
4 August 1914
Admiralty
11pm
COMMENCE HOSTILITIES AGAINST GERMANY
In contrast to most other British war preparations for most other wars, the Fleet was more than ready, thanks in large to Winston Churchill's efforts at as First Lord of the Admiralty from the Agadir crisis onwards.
    Author Martin Gilbert reproduces original documents in the type-set format in a manner which resembles the original as closely as possible. Considerable difficulty is caused by the fact that type-set cannot reproduce underlined words. With important documents he reproduces a facsimile of the document itself. This monumental biography of Winston Churchill, the world's largest was begun by his son Randolph Churchill with Martin Gilbert as his assistant. Randolph died half way through the project and Gilbert was left to continue alone in what would become a project of decades with the final volume only being printed this year. Gilbert would have enjoyed the use of .HTML in such a project because it would have allowed the creation of a document of unlimited size.
#EX3#EX3WorldPremiere
2014-AUG-04 - The première of the Expendables 3 (2014) took place at the Odeon Leicester Square, London GB. Present were: Avi Lerner, Sylvester Stallone, his wife and three daughters ; Jason Statham , Vinnie Jones, Antonio Banderas, Kellan Lutz, Wesley Snipes. Absent: Arnold Schwarzenegger, Jet Li, Dolph Lundgren, Randy Couture, Terry Crews, Mel Gibson, Harrison Ford, Ronda Rousey.
   A wonderful evening but on the flight back home I was spectacularly ill from something I caught during the evening. Sweating, shivering and hallucinations.
At a press conference at the Hôtel Corinthia
(formerly the Metropole) on Northumberland Avenue where the Expendables team was based, the production team announced the composition of a new movie project, the Expendabelles, which will feature a team of girl mercenaries. The plot was still at the planning stage but suggestions included an undercover mission requiring their disguise as call-girls.

Sylvester Stallone and his family on the red carpet at the première of the Expendables 3 (2014) at the Odeon Cinema Leicester Square London GB

Sylvester Stallone and his family on the red carpet in front of press photographers at the première of the Expendables 3 (2014) at the Odeon Cinema Leicester Square London GB

Sylvester Stallone not wearing his Richard Mille RM032 Scuba Chronograph on the evening of the première but wearing an unidentified chronograph with a white strap. Inset to the left is what the Richard Mille RM032 looks like from under Sylvester Stallone's cuff.

Sylvester Stallone.
#GreatWar #ww1 #wwi
1914-AUG-04 24:00HRS GMT - 23:00 HRS LONDON - 1914 and the Great War was arguably the destruction of Civilization as we knew it. Certainly it heralded the destruction of the British Empire, which encompassed one quarter of the world's land mass and in India alone, one fifth of humanity. British foreign policy for the previous thousand years had been to ally itself against the strongest power in Europe. This meant that the strongest power would be unable to challenge British supremacy - British Naval Supremacy - in the rest of the world. Their policy of merchant-adventurism could continue, allowing them to capture profitable pieces of trade and captive markets for their own industries. Continental wars were ruinously expensive and invariably resulted in both sides going broke and half the population starving to death. As a matter of British foreign policy they had to be avoided. Colonial wars could be executed cheaply by a small standing army of professional soldiers and in the same manner that the Roman Empire had done. The military gains could then be held down by native militia. The British Empire grew immensely rich upon this policy and was only exceeded as the richest country in the world in 1895 by the United States, which used an internal market rather than the British Empire's external market. In committing to war in 1914 the Great Britain inevitably and unnecessarily involved itself in what would have been a repeat of the Franco-Prussian war of 1870. Furthermore the unforeseen nature of the warfare meant that it was particularly costly in casualties. The British lost a huge element of their manpower and the most valuable element of their gene pool as well as going broke by 1917. The United States extended their loans to the British to enable them to continue the war. If this had not happened, the war would have ended in exhausted stalemate with all parties bankrupt, exhausted, and bleeding to death. The continuation of the Great War to the conclusion of the Versailles Treaty ensured World War II, a continuation of the Great War in which, again, all parties went bankrupt. What destruction was not wrought by bankruptcy and a decimated gene pool was completed by the Marxist-Leninist revolutions of 1917. The result was the 21st Century.

1910 - The Old Order: Nine sovereigns at the funeral of King Edward VII, Windsor Castle 1910-MAY-20.
-
- Cambridge University, UK, make available Siegfried Sassoon's original diaries online
#EX3

Sylvester Stallone wearing a Richard Mille RM032 Scuba chronograph arrives in England ahead of the première of the Expendables 3 (2014) on 2014-AUG-04 in London, GB
» When I give them advice they say, "Why would I listen to you?" I say, "Look at the house you're living in and look at the school you're going to - I must know something!" «
» "Yeah, but you don't know about modern stuff, Dad - and you're not as funny as you think you are." «
»In the movies, I kill guys with an axe. In real life, I can't control a 10-year-old girl. My daughters ask to be dropped off a block away.«
- Sylvester Stallone on teenage daughters

Dolph Lundgren wearing a Panerai PAM507 Luminor Submersible 1950 Bronzo wrist-watch signs posters at COMICCON ahead of the première of the Expendables 3 (2014)

Final trailer
for the Expendables 3 (2014)
1944-AUG-01 - The Warsaw Uprising
2014-JUL-29 - The Politics of Heroin in South-East Asia by Alfred B. McCoy
This excellent text gives you the other half of the Vietnam War. No visit to South-East Asia will be complete without reading this book. Full text available here
2014-JUL-29 - Sylvester Stallone vacations in Europe proir to flying to London GB for the première of Expendables 3 (2014)

Sylvester Stallone on vacation at Cap Ferrat
, the week before the première of Expendables 3 (2014) , wearing his Richard Mille RM 032 chronograph
2014-JUL-28 - Development of Arnold Schwarzenegger's Atchisson AA-12 Assault Shotgun in Expendables 3 (2014). Première on 2014-AUG-04 in London, GB. On general release 2014-AUG-14.

Expendables 3 (2014) Principal cast on location. Arnold Schwarzenegger holds an Atchisson AA-12
shotgun.
2014-JUL-26 - Memorial
for Louis Awerbuck, in Scotsdale, AZ. Many eulogies given. Boone County Firearms Range has been renamed after him in perpetuity.

Harrison Ford on the set of Expendables 3 (2014) with Arnold Schwarzenegger wearing a "Han shot first" T-shirt.
"Han shot first"
refers to a controversial alteration which George Lucas made to the DVD release of the original Star Wars (1977)
movie. In the original movie, during the shooting in the Cantina at the Mos Eisley Spaceport, Han shot his former partner first. In the edition released on DVD as part of the six movie series, Lucas altered the footage to make it appear that Han was shot at first, but the shot missed him and he returns fire. The purpose was to make Han Solo appear less cold-blooded. Frankly, I do not see what is cold-blooded about killing some one who is going to kill you. 'Sensible' would be a better description. Finally , Lucas relented and released an edition of the movie in 2006 which had the original 1977 footage restored.

The Expendables 3 (2014) - Sylvester Stallone wears a Panerai Luminor Submersible PAM 389 amagnetic.

Principal cast of Expendables 3 (2014) wear Panerai Luminor Submersible wrist-watch during filming. Left to right, Sylvester Stallone, Dolph Lundgrun, Dolph Lundgrun , Terry Crews, Terry Crews and Jason Statham. It appears to be a Luminor Submersible PAM 389
From the script
of Mad Max (1979)
00:49:10:
FIFI MCAFEE: »They say people don't believe in heroes anymore. Well, damn them! You and me, Max....we're gonna give them back their heroes.«
MAX: »Do you really expect me to go for that crap?«
FIFI MCAFEE: »You gotta admit, I sounded good there for a minute«
Quotation from Total Recall, the autobiography of Arnold Schwarzenegger, Chapter 1 "Out of Austria":
I WAS BORN INTO a year of famine. It was 1947, and Austria was occupied by the Allied armies that had defeated Hitlers Third Reich. In May, two months before I was born, there were hunger riots in Vienna, and in Styria, the southeastern province where we lived, the food shortages were just as bad. Years later, if my mother wanted to remind me about how much she and my father sacrificed to bring me up, shed tell me how shed foraged across the countryside, making her way from farm to farm to collect a little butter, some sugar, some grain. Shed be away three days sometimes. Hamstern, they called it, like a hamster gathering nuts; scrounging for food was so common.
2014-JUL-19 - Death of James Garner
2014-JUL-12 - Attended a really quite extraordinary event, even more extraordinary than the Skyfall (2013) première.
- Hôtel du Cap Eden Roc: 2014 Cannes Film Festival shoot for The Expendables 3 (2014) cast

Arnold Schwarzenegger wears a U-Boat U-1942 wrist-watch in The Expendables 3 (2014)

The Expendables 3 (2014) Cannes Film Festival 2014 Arnold Schwarzenegger wears a U-Boat
U-1942
wrist-watch. Above, Arnold Schwarzengger is standing toward the far upper left of the lens, which accounts for the distortion.
2014-JUL-10 - Sylvester Stallone wears a wrist-watch by Richard Mille
, the RM 032 Ti
SCUBA chronograph, in The Expendables 3 (2014)

Sylvester Stallone as Barney Ross in The Expendables 3 (2014) wears a Richard Mille RM 032 chronograph in Titanium
» Going one more round when you don't think you can - That's what makes all the difference in your life « - Sylvester Stallone

Final one-sheet for The Expendables 3 (2014)
2014-JUL-04 - Top Gear will be in Torino at the Piazza Vittorio Veneto

Map of the 1964 Liege-Sophia-Liege rally
route: Liege - Frankfort - Ulm - Lindau - Passio de Resio - Bled - Zagreb - Belgrade - Sofia - Pec - Titograd - Split - Novi - Enego - Bagolino - Trafoi - Lindau - Ulm - Frankfort - Spa - Liege
1944-JUL-01: Those men born in 1927 were called up for service in the German Army. This was the last hope of the German Army in this year of decision 1944.
2014-JUN-30 - Top Gear's The Stig in Piazza San Carlo, Torino, which was used several times as a location in The Italian Job (1969)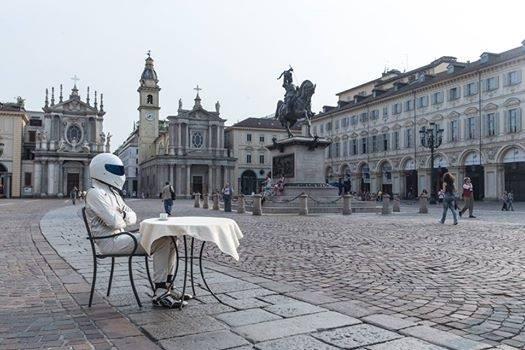 The Stig, in Piazza San Carlo, Torino
2014-JUN for Top Gear
2014-JUL-01 - Section on winter and summer transit routes of Switzerland. In winter only valley routes are possible because on the summer routes the passes are blocked by snowfall from September to June.

NATO air chart ONC F2 Schweiz
section Pennine Alps - transit Switzerland Pennine Alps to the Arlberg and Inn River valley to ski Garmisch-Partenkirchen and the Arlberg (St Anton, Lech-Zurs).
2014-JUN-28 - 1914-JUN-28 - Archduke Franz Ferdinand assassinated
at Sarajevo, one hundred years ago today. Chronology of the Great War including the days immediately after the assassination of the Archduke.

Staff car of the Austro-Hungarian Army
2014-JUN-28 - Wiener Philharmoniker
- Concert on this day to mark the centenary in Sarajevo at Sarajevo City Hall.
2014-JUN-28 -
BBC recreation of news on that day
-
http://www.centenarynews.com - Site dedicated to listing events commemorating
-
http://davidstockmanscontracorner.com/ - Economic history of the Great War
2014-JUN-25 - A black day for Mitteleuropa: Eli Wallach dies at 98
.
My mentor Louis Awerbuck dies at 66
. There will be a meeting to celebrate his life in Scotsdale,AZ in 2014-JUL
2014-JUN-23 -
http://www.centenarynews.com/ - Website dedicated to the Centenary of the Great War
2014-JUN-23 - The Wiener Philharmoniker will be giving a centenary concert in Sarajevo on Satruday 28th June
2014-JUN-16 - News of Michael Schumacher appears to indicate that he has recovered from his coma. However it may be that he is in terrible shape and struggling to function at even the most basic level. I suppose this news can be regarded as good news of a kind, but what he need is the old Schumi back.
2014-JUN-15 - New trailer
for The Expendables 3 (2014)
2014-JUN-12 - Chapter on skiing and ski-resorts incomplete but starting to fill.
2014-JUN-11 - 150 years ago today, composer Richard Strauss was born.

D-Day: Anti-aircraft fire lights the night sky on the first night
2014-JUN-06 -   "  . . . _  "    D-Day Normandy landings
, 1944, 70 years ago. Radio Londres
broadcast regular coded messages to SOE operatives in occupied France. The coded message which was to signal that D-Day with begin within twenty-four hours was the first stanza of Paul Verlene's poem Chanson D'Autumne
:
The long sobs Of the violins Of Autumn Wound my heart With a monotonous Languor
2014-JUN-01 - The house in Chicago used as the location in Ferris Bueller's Day Off (1986)
is up for sale
.
2014-MAY-20 - The Aston Martin DBS  BS1  
used in The Persuaders (1971) is sold at auction for GBP533,500
. The way to make money in a bull market is to sell too early.
-
- PHS Collector Car World Blog - Some superb original research into Hunter S. Thompson's 1970 Cadillac de Ville convertible
2014-MAY-19 - Death of Sir Jack Brabham
2014-MAY-18 - The cast of The Expendables 3 (2014) assemble at the Cannes Film Festival
#EX3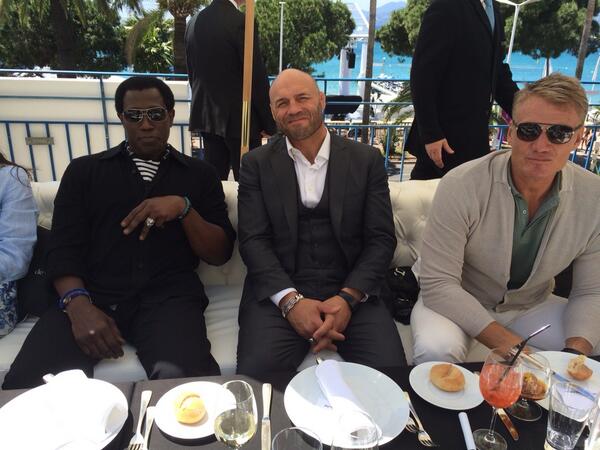 Wesley Snipes, Randy Couture and Dolph Lundgrun enjoy some luncheon at the Cannes Film Festival
2014-MAY-12 - Death of H.R. Giger
2014-MAY-07 - Sixty years since the fall of Dien Bien Phu
in 1954. The definitive work is Hell in an Very Small Place by Bernard Fall. That there was a battle in Dien Bien Phu was the result of a lunatic plan by French Generals which could not hope to succeed even on paper, let alone on the ground. Even a brief session of war-gaming in a sand-box would have predicted Viet Minh victory and French defeat. The battle was won by artillery. The French could not occupy positions where artillery spotters could call down counter-battery fire and the Viet Minh could gradually dig forward their artillery and their spotters to the point where the whole of Dien Bien Phu was under accurate, registered artillery fire. This prevented use of the airfield upon which any prolongation of French resistance at Dien Bien Phu depended. Once the Viet Minh had brought the airstrip under their observed artillery fire, the result was a foregone conclusion, even if they just starved the French forces to death. The rest was detail. Many ex-Wehrmacht troops joined the French Foreign Legion in 1945 and many of them ended up at Dien Bien Phu. It must have been tough to have survived some of the sieges and encirclements on the Eastern Front only to end up at Dien Bien Phu: Hell in a Very Small Place.
Colonel Bigeard, a French Army Regular and Colonel of Paratroops, leading the 6th BPC (1st Battalion de Parachutistes Coloniaux), hated by the Viet Minh and the most effective of the officers and fighters at Dien Bien Phu told Bernard Fall ten years after the battle
"If you have given me 10,000 [Waffen] SS troopers, we'd have held out."
From Page 51.9:
General Giap told: "The French Expeditionary Corps faced a strategic surprise - it believed that we would not attack and and we did attack: and with tactical surprise - we had solved the problems of closing in, of positioning our artillery, and of getting our supplies through."
The Battle of Dien Bien Phu was lost during the brief fortnight between November 25 and December 7, 1953. It was not lost in the little valley in Viet-Nam's highland jungles in the air-conditioned map room of the French commander-in-chief. Once Giap had decided to accept trial by battle at Dien Bien Phu, it remained only for the 15,000 French and 50,000 Viet-Minh troops to act out the drama in pain and blood and death.
2014-MAY-04 - I have received intelligence that the heretofore unidentified schooner in Monte Carlo Story (1957) was the Favorita, the yacht of the then deposed King Farouk of Egypt.

Notting Hill (1999)
2014-APR-27 - PANIC: Tuned into the website and the main page reads something about fantasy football. The rest of the pages do not serve. Logon to the webhost but cannot get through to my account. Checking the statistics it appears to be today only. Perhaps the webhost has been hacked.
2014-APR-25 - If you wish to know what is going in on Syria right now then a read of first half of George Orwell's 1938 Homage to Catalonia is an excellent example. The second half deals with the politics of the different Communist and Anarchist factions on the Republican side, which makes Monty Python's Life of Brian look sensible and straight-faced. There are .PDF copies of Homage to Catalonia on the web.
2014-APR-25 - An excellent introduction to the Ukraine and its many different ethnic groups and politics can be had by reading Gogol's magnificent novel Taras Bulba , which is available from www.gutenburg.org
2014-APR-23 - William Shakespeare's
birthday
. He is 450 years old.

The bridge scene, in The Blue Max (1966)
Great battles, like epic tragedies, are not always staged or the product of human calculation; and disaster is less likely to derive from one gross blunder than from reasoned calculations which slip just a little. - Brigadier General S.L.A. Marshall Night Drop - The American Airborne Invasion of Normandy, 1962, quoted Hell in a Small Place - The Siege of Dien Bien Phu by Bernard Fall
2014-APR-20 - Virus all-clear on my machine. The infected files never made it to the website.
2014-APR-17 - The Ford Mustang
was born, 50 years ago today
.
2014-APR-13 - PANIC: A virus has infected some of the .HTML pages on my laptop, which means some of the copies on the web server, the ones you are reading, may be infected. The virus was VBS/Heur, VBS/Dropper and Watermark.EXE. This may take a week to extinguish.
Problems with a virus: Heur virus and Dropper virus. They infect both .EXE and .HTML. They insert malicious java code into .HTML files or replace them completely. The files end up being just under half a MB in size. I think it must add the code because some of my .HTML files which were around 1MB in size. In theory you could edit out the code but if you are running an anti-virus program it will not let you open the file. Nor can you or the anti-virus delete the file. I did find you could overwrite the file though, either with a file from backup or just overwrite it with a short text file of the same name. I had to make a list of the infected files using DIR *.HTML > LIST.TXT then edit that file in Notepad++.EXE with a macro until I had a list of commands which over-wrote the infected files, in this manner
Now seem to have an infection of a virus called Ramnit.As, which writes to :\system volume information\virusname.exe
Lessons learned: If you are keeping \directory\ for monthly backup so the website .html then those files should be zipped into a single .ZIP file with a password, to make sure they cannot be written to by a virus. Also, if you use a pair of USB drives one live, one backup, make sure both a never in a machine with no anti-virus at the same time. The virus then destroys both copies. It has taken me a week of work to sort out this mess, restore all infected .EXEs and find true copies of .HTML
ECHO test > FILENAME.HTML
While the Windows delete command did not work, Evidence Eliminator delete did work because it was an overwrite command. You could perform a global search of the harddrives in Windows *.HTML and sort by date. The infected files showed up with today's date and the just under half a MB filesize. Then you could select the infected files and right-click, selecting the Evidence Eliminator secure delete. This handled most of the infection. Even after this a virus .EXE called WATERMARK.EXE kept showing up in C:\Program Files\Microsoft\ directory. (Which idiot put a space in that filename ?).
I would have rather edited out the code and kept the file but it was going to take too long because there were so many files to edit. I would have had to do a global replace command in Dreamweaver.EXE (or in Notepad++.EXE ) but the only way to do this would be on a machine which had the virus checker suspended. This would have meant creating a USB chip with just Dreamweaver.EXE and the .HTML files on it and inserting it into a machine with the virus checker turned off.
What I have done is restore from backup. Without a backup this would have been a very upsetting experience. When I am God-King & Emperor there will be the death sentence for spammers and those who write viruses.
Appears that the virus also infects .DLL, which emans you have to search for .DLL with that date as well as .EXE and .HTML and .XML . In fact every time your run a program with an infected .DLL, the WATERMARK.EXE virus in the C:\Program Files\Microsoft\ pops up.
APRIL is the cruellest month, breeding
Lilacs out of the dead land, mixing
Memory and desire, stirring
Dull roots with spring rain.

2014-FEB-18 - Day of Anger (1967) is a spaghetti western which is worth a look. Lee Van Cleef in his element. The theory behind the gunplay is not factual, in case you were wondering.
»Gute Besserung! Du Schaffst Das, Michael«
2014-FEB-17 - Michael Schumacher's Skiing Accident in Méribel - Locations:
Maps and photographs of Michael Schumacher's skiing accident at Méribel from Bild magazine -
http://www.bild.de/ - This just to the south-east of the line of the Saulire2 bubble lift and well to the north west of the Pas du Lac 2 bubble lift. He was crossing from Piste Chamois to Piste Maudit.
He was descending the line of the Saulire2 bubble lift keeping the cable on this right hand side. The serrated ridge with multiple Gendarme in the background is the Croix du Verdon / Dent de Burgin.
The boulder field is a long one but Michael Schumacher crossed it just below the pylon marked 'P4', on the Saulire2 bubble lift cable. If you look on the photographs and on the IGN topographic map you can see that there is a rock outcrop which appears from the snow and incurs into the snow of the couloir below the line of the cable. The pylons, P1, P2, P3, P4 are numbered from this pylon, which is visible both in the photographs and on the map.
Below this is one of the tubular orange pads which the pisteurs use to place around obstacles, which is marked with a 'heart' shape symbol on the photographs.
Descend past the tubular orange pad and thence to the end of the boulder field. Below you, down-piste, on the edge of the boulder field are two rocks, marked as 'Gate', on the photographs. It is likely that Michael Schumacher entered the boulder field close to the 'Gate', possibly below it rather than above it or through it.
Below the 'Gate' on the fall line are two low rocks, covered in snow on their north, uphill, sides. Immediately after them is a large rock labeled 'Tooth'. It is likely that Schumacher either
(a) became unseated before these two rocks, and struck one of them with his head, or
(b) became unseated over these two rocks and thence hit his head on the rock marked 'Tooth'
The beaten area of snow to the left of the tooth was where first aid was administered. This suggests that Schumacher did not travel further than the rock marked 'Tooth'.

IGN: 1:25,000 "Les Trois Vallées", section showing the Méribel side of Saulire.

IGN: 1:25,000 "Les Trois Vallées", section showing the Méribel side of Saulire. The blue line descending from Saulire marks the path Michael Schumacher took from Saulire. The pylons which support the Saulire2 cable are marked by numbered red lines. The pylons marked 'P1', 'P2'. 'P3', 'P4' are numbered from the pylon 'P1' which is next to the rock outcrop visible in the snow of the bed of the couloir through which the Saulire2 cable runs. You can see the rock outcrop on the map visible as a 'W' shape to the lower left of the position of the pylon marked 'P1'.

Panorama of the boulder field assembled from helmet-cam video frames taken at the edge of the off-piste area of Michael Schumacher's descent.

Photograph taken from below the off-piste area to the south-west of the Saulire2 cable (on the right hand side as you look uphill). The ski tracks which might have been Schumacher's are marked in red. Either he entered the boulder field well below the 'Gate' where the beaten zone of snow is or he made the tracks which are highest in the photograph and start from above the 'Gate'

Schumacher's probable route is marked in blue

The beaten area next to the rock marked 'Tooth' is the area where the treatment was administered. On the right is Piste Maudit and on the left is Piste Chamoix.

In the above you can see the inset image of the accident location, and the same group of rocks taken through a long lens.
It appear that either
(A) Michael Schumacher hit rocks A&B and then hit his head on the rock labeled "Tooth"
or
(B) Michael Schumacher became unseated before rocks A&B and then hit his head on one of them.
- Several of the press graphics are showing the wrong piste entirely. Several press photographs are showing the wrong area of the boulder field. One press photograph shows the upper part of the boulder field and from a camera which has been tilted to the right to make the angle of inclination look steeper. The pistes and boulder field are not very steep, which you can see from the fact that the pistes are not moguled. The level of moguling on a piste is directly proportional to the angle of descent. The moguling sets in very quickly after the piste has been groomed. There is almost no moguling on the pistes.

The panorama of the boulder field, with Schumacher's probably route indicated in blue, far right.
There is nothing remarkable about the area between the pistes nor are there are any conditions which would make that area particularly treacherous. It was an ordinary off-piste area in ordinary conditions. If Michael Schumacher had not landed on a rock he would have been uninjured, apart from a mouthful of snow and bent sunglasses. Plenty of people die falling down stairs and steps and indeed a friend of mine died while walking down a stone helical staircase in her Schloss.

IGN 1:25,000 "Les Trois Vallées", section showing Méribel valley

NATO TPC F-2A Western Europe: Les Trois Vallées, environs. Map data circa 1972. You can see the altiport at Courcheval marked. Méribel has its own altiport now.
2014-FEB-19 - In Top Gear Series 21 Episode 02 Jeremy Clarkson, riding a Gibbs Gibbs Quadski
, races Richard Hammond driving an Alfa Romeo 4C, down the length of Lake Como.
2014-FEB-07 - Disappointed that Aleksandr Karelin
was not the Olympic athlete to light the Olympic flame. All the sportsmen represented were significant but Karelin was without equal.

Left and center, Karelin demonstrates the move he made his own, the reverse body-lift.
Note the use of the music Time! Forward!
during the part of the opening ceremony depicting the Stalinst era Electrification of the Soviet Union. Time ! Forward ! was written by George Smirdirov and used in the opening scenes of a Soviet motion picture of the same name. Time ! Forward ! was also used in the dance program of the Soviet ice-dance stars Irena Rodnina and Alexander Zaitsev, who dominated Olympic ice-dance during the 1970s. This makes its use in this ceremony doubly evocative.
+ Olympic Sports:
- Mitteleuropa-approved Olympic Sports:
-- The Biathlon: Not a Langlauf-with-rifle event, but a downhill ski event with a squad MG like an MG42, FN MAG58, PKM or M60
-- The Grenade Throw: Legend has it that a big man could throw one of the Heer potato masher grenades 100 meters. There was even a sport-grenade produced, which had the same outline, in wood, but with a section of steel pipe of the same size and weight where the grenade body would be.
-- The Artillery Pull: Over a twenty-six mile course of thigh-deep mud, the team have to pull a 15cm artillery piece while pursued by a horde of starving Soviet infanterie, Hell bent on raping anything with a pulse and eating anything with a caloric value slightly higher than rock.
-- The Gulash Dash; Under sniper fire, an infantryman has to run 500m there and back with the squad Gulash tin to collect the squad's rashion of steaming Gulash. The course consists of flooded trenches, shell-holes, broken sections of wire and finally a spring across open, muddy ground.
-- See also: Carrera Pan-Alpina ; Hans-Ulrich Rudel's 3-day dash from behind Soviet lines all the way back to his home airfield after getting stuck
2014-FEB-05 - Start of the Winter Olympics at Sochi.
2014-FEB-01 - Death of Maximilian Schell

Maximilian Schell 1930-2014.
Captain Stransky: I will show you how a true Prussian officer fights.
Sargeant Steiner: Then I will show you, where the Iron Crosses grow.
2014-FEB-01 - It is 2014 which means that 1914 is one hundred years ago. Seems like yesterday. The Great War 1914-1918, the war to end all wars, began in June 1914. To follow events you will find useful Chronology of the Great War 1914-1918 edited by Lord Edward Gleichen published by Greenhill Books (UK) and Stackpole Books (US), 2000, originally published in three parts Vol 1, Vol 2, Vol 3, as Chronology of the War in 1918, 1919, 1920
2014-JAN-31 - Death of Miklós Jancsó
. The Roundup (1966)
a horrifying film. Witness the chilling scene at 00:50:00+
2014-JAN-24 - Davos World Economic Forum: This is always a great time to ski Davos because the hôtels are full of delegates, who are attending the events, which means that there are no skiers in the hôtels and the lifts and the slopes are all deserted.
2014-JAN-22 -
www.youtube.com - Teaser trailer for the Expendables 3 (2014)
2014-JAN-20 - Death of Claudio Abbado
2014-JAN-19 - Started the page on border crossings. It may be a long time before all the material for this page is assembled. It's only taken me twenty years to get all this material into .html .
2014-JAN-18 - Death of Hiroo Onoda
2014-JAN-17 - Exploration: Zoo Quest for a Dragon including the Quest for the Paradise Birds by David Attenborough published by The Companion Book Club, London, 1959. Previous edition 1957. 1959 printing is expanded, and should be edition you obtain.
- Superb account of crossing Java, Bali, Borneo, Komodo, and Papua New Guinea. At that time Papua New Guinea still had large parts of Terra Incognita. Attenborough and his camera man have to improvise travel across the Indonesian islands, which at one point meant borrowing a Jeep upon which no two tires were the same. The voyage to Komodo began on what they thought was a fishing vessel but turned out to be manned by pirates who plotted to kill them and rob them. Worse still, the pirates had never sailed the treacherous waters around the islands, which included hazards such as giant tidal whirlpools.
2014-JAN-15 - On location, if a motion picture is being shot digitally, then a typical day's shooting will generate 500GB of footage. Sometimes four times that amount.
2014-JAN-13 - A superb site on exploration : -
http://luxuryrogue.travellerspoint.com/ - at www.twitter.com
2014-JAN-04 - Magnificent site of photography of heavy industry
http://www.viktormacha.com/ - Enough to warm the heart of even the most exhausted Stakhanvite shock-worker !

Goldeneye (1995) : St Sophia, Moscow Road, London, GB
2014-JAN-01 - Prost Neu Jahr to all our readers.
2013-DEC - Death of Comrade General Mikhail Kalashnikov
2013-DEC-17 - They are all gone now: Richard, Oliver, Richard and now Peter
Death of Peter O'Toole
. I feel particularly miserable because it was difficult to get letters to Peter O'Toole which meant that interviewing him about his incredible career was not possible.

Peter O'Toole
as T.E.Lawrence in David Lean's Lawrence of Arabia (1962). A gigantic figure in a gigantic role in an epic motion picture celebrating one of the most epic tales of all time.

"I do not regret one drop. We were young people who'd been children throughout the war – well, you can imagine what it felt like in 1945 to be free – not to be bombed, not to be rationed, not to be restricted. There was a tremendous amount of enthusiasm. We weren't solitary, boring drinkers, sipping vodka alone in a room. No, no, no: we went out on the town, baby, and we did our drinking in public!"
"The common denominator of all my friends is that they're dead. There was a time when I felt like a perpendicular cuckoo clock, popping up and down in pulpits saying: 'Fear no more the heat o' the sun.' They were dying like flies."
"One of Michael Caine's favourite Peter O'Toole anecdotes involved his time as the older actor's understudy for the Royal Court play The Long And The Short And The Tall, in 1959. O'Toole invited Caine to dinner, and they sat down to a plate of chips; the next thing Caine remembered was waking up in a strange flat. It was 5pm, two days later; curtain up was at 8pm. "Never ask what you did," O'Toole told Caine later. "It's better not to know"
"I did quite enjoy the days when one went for a beer at one's local in Paris and woke up in Corsica."
"It was around 1985 before I heard the news of President Kennedy's assassination."

On fame, after starring in Lawrence of Arabia (1962): "I woke up one morning to find I was famous. Bought a white Rolls-Royce and drove down Sunset Boulevard wearing dark specs and a white suit, waving like the Queen Mum. Nobody took any f---ing notice, but I thoroughly enjoyed myself."

Peter O'Toole and Jeffery Bernard
seated at a table outside the Coach and Horses Inn
, Soho, London GB smoking Peter O'Toole's trademark Senior Service cigarettes. The Coach and Horses is a haunt for literarti, thespians, and press. Together with the Fitzroy Tavern
it is one of the two most important public houses in London.
2013-NOV- 25 - One of the falcons used in The Maltese Falcon (1941)
is sold for four million dollars at auction.
. Replicas
of varying quality have been available from various makers over the years. No evening of whiskey and late-night yarn-spinning is complete without a replica of the Falcon to preside over the table. The Maltese Falcon: One of the greatest stories every told.
John's Grill on Ellis Street, SF, now has a replica of the Falcon movie prop they used to have before it was stolen.
2013-NOV-01 - Cameras: Avoid Canon's cash-back scheme.
1973-OCT:

1973, the Yom Kippur War: Israeli Paratroopers advance

1973 October, the Yom Kippur War: IAF F-4 overlies advancing Centurian tanks
2013-OCT-05 - Red Hill (1995) is worth a look.
2013-OCT-04 - My friend Mike Hughes, killed in a plane crash
.
2013-OCT-04 - Cinema Retro
have published a special edition devoted to Dr No (1962)
2013-OCT-02 - There is an excellent month-long series of radio programmes on motion picture soundtracks and their composers on English radio station BBC Radio Three
which may be followed over the internet. There are many interviews with the composers themselves and quite some number of anecdotes of dealing with famous directors and producers.
- BBC Radio Three www.twitter.com feed is here
.
- The www.twitter.com hashtag is #soundofcinema
2013-OCT-01 - Douglas Hayward
, tailor to many celebrities including Michael Caine in The Italian Job (1969) has now opened on Mount Street opposite Scott's Restaurant.
2013-SEP-26 - Worth seeing: El Dia de la Bestia
2013-AUG-20 - Death of writer Elmore Leonard
2013-AUG-21 - Page on Predator (1987) is largely complete. Many scenes were shot in 'jungle' a few yards from the two main locations at Puerto Vallarta and Palenque in Mexico, and thus are impossible to find. The major scenes, such as the waterfall scenes, are recorded. Predator is one motion picture which keeps growing in one's estimation each time one reviews it and studies it more. A really outstanding motion picture in every respect.
2013-AUG-21 - Bullet to the Head (2012)
is worth seeing. Well written, well crafted. An admirable piece of work.
2013-AUG-20 - Lamborghini's marine engine division appears to have been sold to one of the offshore teams. They produced the L804 V12 marine engine, which was the only other gasoline burning racing marine engine outside of Mercury Marine's V8s.
2013-AUG-15 - France - English Automobile Assocation route finding tables for the French Riviera circa late 1960s
2013-AUG-01 - This is Aston Martin's centenary year: Watch out for events held by the various owners clubs in your country.

London: National Gallery
Room 34, east wall.
2013-AUG-15 - Page added on AA route finding table across the French Riviera, circa late Sixties.

Maps of the Côte D'Azur showing distances circa 1960s
2013-JUL-17 - Top Gear Episode 03 Series 20
- Hill Climb from Sierra Nevada
, Granada
A395
to Veleta
2013-JUL-04 - The Richard Burton Diaries by Chris Williams make an interesting read. While Williams meticulously annotates the diaries to make Burton's references to places and people intelligible, he omits to place the year, month and location above each entry (probably because of space limitations) which leaves you with no idea which year you are in or where. Published diaries are difficult enough to read without this. It is interesting to contrast the biography of Ian Fleming, mainly because there is very little contrast: House parties, drinking, party games, exotic foreign locations, grumbling about other party guests being bores, affaires, drinking, party games ...
Richard Burton does read a lot and treats us to assessments of what he is reading as well as opinions of writers. Just as you would expect, Richard Burton is perspicaceous and a good assessor of character.
2013-JUL-04 - 1913 Alpine Trial recreated
http://www.businessinsider.com/
2013-JUL-03 - 75th anniversay of the A4 Mallard
setting the world speed record
.
2013-JUN-20 - An article from Classic and Sportscar magazine entitled "The Italian Job", which features a road trip by two Lamborghini SV to the locations used in The Italian Job (1969) .
2013-JUN-20 - Death of master couturier Jean-Louis Scherrer
2013-JUN-19 - In The Italian Job (1969) , the sides and rear of the Harrington Legionaire coach display the "Charlie Croker Tours" moniker. On both sides and at the rear, the words MIDDLESEX ENGLAND appear below:
-
http://www.classicdriver.com/ The Brietling Top Time Chronograph used by James Bond in Thunderball at auction
-
http://www.classicdriver.com/ 1960 Riva Tritone special ordered by Achille Roncoroni
2013-JUN-02 - Uploaded the route-finding tables which the crew of The Italian Job (1968) would have used to plot their route from England to the Val D'Aosta
2013-MAY-30 - Finished the page on The Searchers (1956)
2013-APR-02 - Couple of new sites on Dirty Harry (1971)
- Dirty Harry on Location ,
- Inspector Harry Callahan Blogspot

Dirty Harry (1971): San Franciso: This is the rooftop of the Bank of America Building at 555 California used by Scorpio in his first murder. It overlooks the Holiday Inn, Chinatown, 750 Kearny Street, upon the roof of which was the swimming pool. The Bridge is the Bay Bridge. The overall direction of view is south east.
2013-FEB-07 - Sir Roger Moore
is supervising the remake
of The Saint series, which will include a cameo by Sir Roger.
2013-JAN-31 - Death of fighter pilot Ed Rasimus
. He was one of the best. A consummate all-rounder. Fighter pilot, warrior, hunter, historian, writer, gourmet, bon-viveur. Tireless political analyst. On two tours of Vietnam, Rasimus completed the prestigeous "100 Missions North" in Route Pack VI, over the the thick of the air defences around Hanoi. This was so dangerous that the "100 Missions North" decoration counts with the Ritterkreuz (Knight's Cross) when awarded with the medal for ninety days in contact with the enemy. A man bearing either of these decorations out-ranks all other men. Rasimus tells that during the worst weeks of the combat, when they were losing several aircraft a week, while walking-out he was saluted by a superior officer. As Napoleon said "There is no glory except that which lives in the minds of men" and this is the kind of glory that shall outlast the Earth itself.
"Press on, Lead, we have your Six...."
2013 - The Shelby Mustang GT500
becomes the most powerful production V8 ever.
2013-JAN-03 - Ace location hunter Mr Location , one of the "Big Five" will be moving his website soon.
2013-JAN-01 - Prost Neu Jahr to all our readers. Other projects prevent work on motion picture location at present.
2012-DEC-15 - The Expendables 2 (2012) is recommended. A very enjoyable adventure.
2012-DEC-15 - Screenshots for Dark of the Sun (1968)
2012-DEC-14 - Knight without Armour (1937) - Marlene Dietrich plays a countess escaping the horrors of the Russian Civil War. (Screenshots only)
2012-DEC-13 - Last year at Marienbad (1961) - screenshots only. Last Year at Marienbad (1961) inspired the scenery for the pre-credit "Kill Bond" teaser in From Russia with Love (1963) which was shot in the Renaissance Gardens at Pinewood Studios.
2012-DEC-12 - Extensive update for The Ipcress File (1965). The locations are now complete.
2012-DEC-10 - Death of Bob Munden
world's fastest gun. God's Speed, Bob.
2012-NOV-30 - Association de Malfaiteurs (1987)
- Screen shots only. The opening scene shows the classic French speed trap in operation from the mid Seventies to the mid Nineties.
2012-NOV-21 - The pistonheads on a 2011 touring taking in a lot of locations mentioned on this website.
2012-NOV-12 -
Mayor of Paris proposes to ban older automobiles, motorcycles.
2012-NOV-09 - She Wore a Yellow Ribbon (1949)
. Another motion picture shot entirely in Monument Valley. The Searchers (1956)
will also be complete soon.
2012-NOV-01 - Erik Lorincz, The cocktail barman at the American Bar at the Savoy Hôtel in London are serving a Skyfall Cocktail, the ingredients of which are secret, presently. For the production of a Martini as described by Fleming in Casino Royale (1953) the American Bar have (supposedly) sourced some 1950s era of Gordon's gin and Smirnoff vodka in addition to some Kina Lillet
. This is very worthy but I am skeptical when I hear "new old stock" stories because the wrist-watch trade use them a lot to cover the fact that they are trying to sell reproductions. I am prepared to be convinced by proof, however. The cost of the Martini appears to be the best part of a thousand Pounds (that is Pounds, not Euros or Dollars). At that price I would want to see proof.
2012-NOV-01 - Estate sale of master horologist George Daniels
at Sotheby's in London
2012-OCT-31 - I have checked a few pages on the site and noticed that many pages have not uploaded, and finish about half way down the page. I am not sure why this is. When I upload again, they appear fully, all the way to the footers. If you cannot see the footers, the page has not uploaded fully. I checked the technical&equipment pages but I am now concerned that some of the large and important pages on movie locations may not be serving full pages. --- Some of the large movie pages have not loaded and may have been like that for weeks ---
2012-OCT-23 Première of Skyfall (2012) at the Royal Albert Hall, London, England.

South Steps and South Porch of the Royal Albert Hall from near the Stage Door, looking toward the Royal College of Music (frame left).

South Steps of the Royal Albert Hall from Prince Consort Road, eastern end in front of Albert Court. VIP's approached from Queen's Gate end.

Daniel Craig: »Hey look ! There is the guy from the Mitteleuropa website«
I have never ever seen so many glamorous women, nor so many outstandingly beautiful women, at any event, either sporting, of the arts, or of the movies, anywhere. Not the Kentucky Derby
, Royal Ascot
, the Prix de L'Arc de Triomphe
, not the Oscars
, BAFTAs
or Cannes
, not the Metropolitan Opera
, Royal Opera House
, nor La Scala
. It was breathtaking. It was like being at the center of the world. Thank you Ian Fleming. Thank you EON Productions. Thank you.
Skyfall (2012) is well worth seeing and ranks with the Connery Era Bond movies.
More photographs uploaded as soon as possible.

Skyfall première, Royal Albert Hall, South Steps from Stage Door. The VIPs were dropped at the start of the red carpet which was about 150m down Prince Consort Road, walked in front of the big screen in front of the Royal College of Music (center left frame) and then all the way up the South Steps (center foreground) and past the monument (center) into the South Porch, then up the stairs into the restaurant which is around to the right, over the Stage Door.
-
Video from the Royal Albert Hall, London.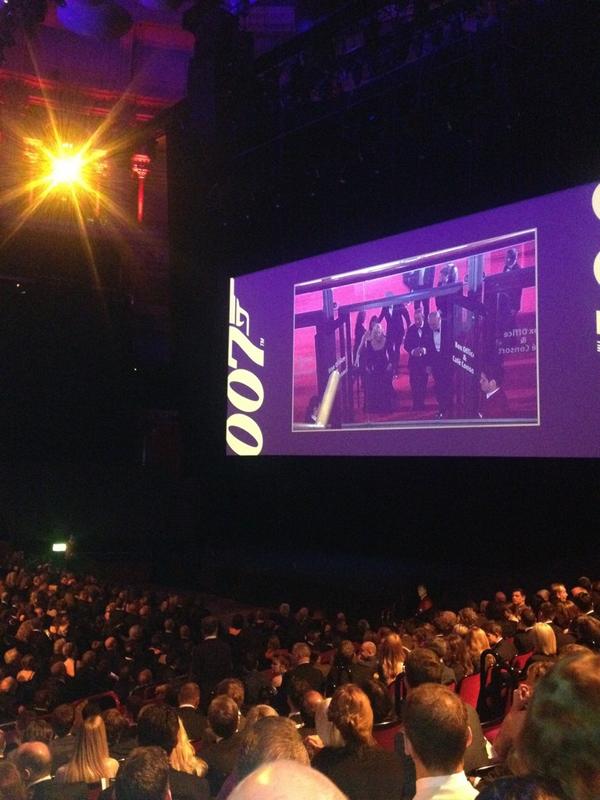 2012-OCT-18 - They were not Divided (1950)

Desmond Llewllyn, in in They were not Divided (1950) and Goldfinger (1964)
2012-OCT-20 - New anti-speed camera license plate
2012-OCT-11 - Uploaded a page on luggage, including James Bond's Q-Branch issue Swaine Adeney Brigg briefcase.
05-OCT-2012 - 50 years ago today James Bond arrived on screen with the premiere
of Dr No (1962) at the London Pavillion
29-SEP-2012 - Auction of James Bond memorabilia by Christie's to mark 50 years of Bond on film
27-SEP-2012 - Death of actor Herbert Lom
2012-AUG-23 - Speedtrap iPhone APP
2012-JUN-19 - New Owner for the Aston Martin DBS used in The Persuaders! (1971)
2012-AUG-19 - Death of Tony Scott
2012-AUG-18 - Added screenshots from Flight to Tangier (1953) and obscure but good motion picture set in Tangier during the Cold War.
2012-AUG-12 - Stop Press ! Cinema Retro
have a second, expanded special issue of their special on Where Eagles Dare (1968) featuring information which even I had not discovered:
Cinema Retro write:
When we first interviewed producer Elliott Kastner back in 2004, he told us, "You don't remake Sabrina. You don't remake The Blue Angel. You don't remake Casablanca and I won't remake Where Eagles Dare." 
This is a stance that Cinema Retro has taken in regard to reprinting sold-out issues of our magazine. However, the response to our Movie Classics Special Issue #1 dedicated to this great WWII adventure was beyond our expectations and it sold out almost immediately when published in 2009. Since then, we have had many requests to republish and also saw the value of this issue exceed $200 per copy on eBay. Thus, we've bowed to the wishes of our readers and created an updated and expanded version of that classic issue. By doing so, we're not devaluing the original, which will remain a highly prized collector's item. Inside these pages, you will find the original issue (slightly changed with the addition of many new, rare photographs) plus new features that were not available to us at the time of the original printing. Topping it all off is an exclusive new interview with the film's director, Brian G. Hutton, plus an abundance of rarities we've just unearthed including another deleted sequence and original studio memos from the Kastner family files that shed light on who was supposed to star in the film (you won't believe it!). 
This new edition can be viewed as our sincere tribute to two wonderful friends who are associated with the film: Elliott Kastner and actress Ingrid Pitt, both of whom we lost in 2010. We mourn their passing and hope that this issue will stand as a tribute to their talents and enduring legacy.
2012-AUG-07 - MINI PARK LANE - Some years ago while hunting for the locations used in The Italian Job (1969) I discovered the location of the garage where Captain Croker recovers his Aston Martin DB4 at 77 Park Lane, London. The underground garage and building were occupied by BMW Park Lane
. After my discovery, they moved the showrooms of Mini Park Lane
to that building. Now, with BMW being a major Olympic sponsor, Mini Park Lane have made a short film starring three Minis, red, white and blue, called The Britalian Job
directed by Top Gear lead director Phil Churchward
, which you may view here:
. With inspiration and initiative such as this one wishes that this team had been given a rôle in planning and making the Olympics opening ceremony, which, in a crime of omission, did not feature either The Italian Job nor Sir Michael Caine. In my view the Olympic opening ceremony should have been started by Sir Michael Caine dropping the plunger on the explosive charge which blows the doors of a Post Office van. This omission would not have happened if Mr Bridger was still in charge. That is all I will say.
2012-AUG-01 -
Steve McQueen's Rolex at Auction
2012-JUL-31 - 186mph Yamaha Motorcycle on six-lane highway in traffic
2012-JUL-11 - Added images of the PzGr Patr 39/43 round for the 8.8cm KwK 43 L/71 gun of the Königstiger.
2012-JUL-07 - Artist Richard Wilson has installed an art work paying tribute to the final scene in The Italian Job (1969)
2012-JUL-04 - Death of actor and screenwriter Eric Sykes
who starred in Monte Carlo or Bust (1971).

Terry-Thomas (left) and Eric Sykes (right).
2012-JUL-02 - "Designing 007: Fifty Years of Bond Style" in London at the Barbican Center
2012-JUL-01 - Conduit Cut Blogspot
- The tailoring of Anthony Sinclair
2012-JUN-01 - Cinema Retro
issued an edition devoted to James Bond in Motion
2012-JUN-20 - New Via Ferrata
from Mürren to Gimmelwald
2012-JUN-19 - Automobile Dealers Goodman-Reed
of Santa Barbara have obtained the Mercedes-Benz W111 Cabriolet
given to Clint Eastwood by Elliot Kastner after the close of principal photography
on Where Eagles Dare. Kastner took a villa on the French Riviera at Cap Ferrat every summer and had invited many of the cast and crew to stay with him after they had finished Where Eagles Dare. Kastner kept the Mercedes-Benz Cabriolet at Cap Ferrat and Clint Eastwood so admired the car that Kastner gave it to him and had it shipped to California.
2012-JUN-11 - BOND: Anthony Sinclair names source of finance for resurrection
2012-JUN-03 - Death of Roy Salvadori
2012-MAY-25 - Death of Big Willie, Willie Andrew Robinson III
, age 69.
2012-MAY-23 - Gunter Sachs's Riva Aquarama is sold at auction for GBP 385,250-00 (USD 608,645-00)
approximately double book value.
2012-MAY-18 - Death of Dietrich Fischer-Dieskau
2012-MAY-17 - Auction of the estate of Gunter Sachs
at Sotheby's
, London, 22-23-MAY-2012, including his Riva Aquarama
. Like all luxury goods websites Sotheby's website is poor and has become worse since the ubiquity of Javascript in website construction. The pre-Javascript version was acceptable, superior to many luxury goods websites. If you have an interest in the lots then obtain a catalog immediately, it has some superb photographs of Gunter Sachs and his Riva Aquarama, which carries an estimate of USD 128,000 - USD 192,000. Sachs's luge, bobsleigh helmet, boots and pads are also being auctioned (lot 0320)
Gunter Sachs was a photographer, bobsleigh competitor, skier, aesthete, art collector and patron of the arts, bon viveur and monarch of all playboys. His life was marked by both great tragedy and great fortune.

Gunter Sachs' table cigarette box in gold by Cartier

Gunter Sachs and a his friends in his Riva Aquarama Dracula on the French Riviera. The auction catalog contains this image and a number of others at high resolution
2012-MAY-12 - BOND: London England: Mount Street Galleries (opposite Scotts Restaurant) are selling a limited re-print's of Robert McGinnis's poster portrait of Roger Moore.
2012-MAY-12 - London Film Memorabilia Convention
2012-MAY-12 - Death of Carroll Shelby
1923-2012.
2012-MAY-10 - Speedtrap iPhone APP
2012-MAY-05 - More high resolution photographs of PzKw VI Tiger Ausf. E at Vimoutiers.
2012-MAY-05 - New photographs of the Auspuffhorn
2012-MAY-04 - BOND: Anthony Sinclair, tailor to Sean Connery's James Bond, to resume business.
2012-APR-21 - Death of Tex Colson
2012-APR-15 - Death of Hal Chester
2012-APR-13 - Death of Jim Marshall
2012-APR-05 - Small number of new photographs for Unternehmen Bernhard uploaded. For Where Eagles Dare (1968) I found the photograph of the Hutte guestbook for 1968 as well as a photograph of the lower meadow of the Dropzone. Numerous other photographs still mislaid.
2012-APR-05 - Death of F.A. Porsche, designer of the 911
2012-MAR - I am behind with answering my email and I am overloaded at present. If you have sent to me email , please accept my apologies for the delay in replying to you.
2012-MAR-10 - Added more high resolution photographs of the Königstiger at La Gleize, including battle damage.
2012-FEB-28 - A good site on sporting mountain roads of the world
2012-FEB-27 - Added page devoted to maps - Maps - Karte. Most of the motion picture locations and rennsport locations require illustration via maps
2012-FEB-20 - Twitter feed now available. https://twitter.com/verlagmeyer I will reserve this for major annoucements such as if the webhost dies.
2011-JAN-18 - Added page on Tobacco, Cigarettes & Cigars and their appearance in Motion Pictures.
2011-JAN-07 - Death of stuntmaster Bob Anderson
2011-DEC-31 - Wishing all our readers Prost Neu Jahr !
2011-DEC-29 - Added page for all the locations at Pinewood Studios
2011-DEC-29 - Extensive additions to The Persuaders! (1971)
2011-DEC-25 - Wishing all our readers a Merry Christmas.
2011-DEC-21 - Wishing all our readers and enjoyable celebration of Solstice & Saturnalia
2011-DEC-16 - Added page on the Coppa di Dolomiti
round-Dolomites rally.
2011-DEC - Unable to upload to the x10.com FTP server for a couple of weeks now.
2011-DEC-04 - Page on the Mahle piston for the Mercedes-Benz CLK-GTR race engine
2011-NOV-22 - Added maps for the Train-Boat-Plane race of 1931 from Kings Lynn on the coast of England to Ely.
2011-NOV-20 - Death of Sergio Scaglietti
»Today is a sad day for Ferrari,« Ferrari said in a statement. »We lost a friend, a travel companion, a man who had his name forever connected to the Prancing Horse. Sergio Scaglietti leaves behind the legacy of an artist who, with his talent, created some of the most beautiful cars of our history.«
2011-NOV-20 - Fallschirmjäger harness, parachute and parachute storage container.
2011-NOV-11 - La Coppa d'Oro delle Dolomiti - The Circuit of the Dolomites Rally.
2011-OCT-25 - Death of master horologist George Daniels
.
2011-OCT-22 - Full website satisfactorily uploaded.
2011-OCT-20 - Not all .JPGs have been uploaded. I am uploading the the .JPGs for the busiest pages first.

On the left is Episode One, Series One (1962) of The Saint
, and on the right is the same stock footage used in From Russia with Love (1963). The locomotive appears to be a Black Five
. Other stock footage in that episode of The Saint shows the Black Five in BR livery
with the BR lion symbol on the tender. Several pieces of stock footage of the same Black Five appear in this same episode.
2011-OCT-13 - Webhost problems resolved. All of .HTML files and most of the .JPGs are now uploaded.
2011-OCT-08 - Problems at webhost means that no pages are being served - Problem has persisted for three days.
2011-OCT-06 - Death of Diane Cilento
2011-OCT-04 - Ridley Scott is making a pre-quel to Alien entitled Prometheus
. To be filmed in 3D and costing 160m USD. Sets are in construction at Pinewood.
2011-OCT-03 - Uploaded most of the remaining pages. Site nearly complete
2011-OCT-02 - Long upload session to FTP server
2011-OCT-01 - Long upload session to FTP server. Most of the important pages have been uploaded
2011-OCT-01 - Difficulty connecting to FTP server at x10hosting.com
2011-SEP-30 - Website partially uploaded. Unable to get onto FTP server to complete due to "rush hour" traffic.
2011-SEP-29 - Website has been up for less than an hour but already http://x10hosting.com/ is proving greatly superior to www.t35.com. The ftp server is fast and smooth and does not drop connections. Website should be back late tonight or during tomorrow.
2011-SEP-29 - I think we will be using www.mitteleuropa.x10.mx
2011-SEP-29 - Have tried to find new host urgently. If I had known I would have been testing new hosts for weeks. The best solution is a pay-domain with an index.html page on it and all the link off it to the pages, which are hosted on free sites. This way, permanent links can be created out on the web to the index.html on the pay domain and the pages on the free web host can be moved around whenever necessary.
2011-SEP-28 - Two days ago www.t35.com stopped their free web hosting service. I found out when I could not connect through ftp.t35.com for two days. This means that I have no web site and must find another free web host. There is a web page for Mitteleuropa at Picasa
onto which I will paste announcements.
2011-SEP-22 - 30 Years of the TGV. French Autoroutes in 1981.
2011-SEP-20 DDAC Durchfahrtspläne fur 150 deutsche Städte - DDAC's town plans of 150 German towns for 1939

Berlin
1941-SEP-16, Der Führer, il Duce und der Reichsmarschall arrive by special train.

» Der Adler « , magazine of the Luftwaffe, 1941-SEP-16
2011-SEP-03 - From Russia with Love (1963) - SPECTRE Island
2011-AUG-29 - English motorsport television program visit the Transf?g?r??an Highway DN7C across the Carparthians.
2011-AUG-27 - Something seriously wrong at web host ftp.t35.com because it is running very fast for once.
2011-AUG-20

Royal Lancaster Hôtel, 2008 and inset, 1968
2011-AUG-06 - Scarlet Empress (1934). Marlene Dietrich's best movie and one of the best movies of all time.

The Duke of Wellington public house from the Harry Palmer series Bullet to Bejing (1995)

Looking south down Haymarket from the window of Ian Fleming's favorite restaurant.
2011-AUG-04 - The Mitteleuropa webpage at Picasa
. This has been added to house large images and to provide a subsidiary page should the hosting at www.t35.com fail. The entire site may have to be removed to another webhost and I will announce the redirection from that page.
2011-JUL-31 - Paris-Cannes: Racing the Train Blue

Michael Wittmann's last mission

Schloss Kufstein from the North
2011-JUL-01 - Birthday of the E-Type Jaguar 1961-2011 fifty years old. The full text of the communiqué of English motorsport journalist Jeremy Clarkson is worth reading if you can find it.
2011-JUL-01 - Impossible to get through to ftp.t35.com after 09:00HRS EST. I managed one upload session before 09:00HRS EST which may have been complete.
2011-JUN-19 - Dryderdale Hall, the manor house used as crime boss Cyril Kinnear's house in Get Carter (1971) is up for sale.
2011-JUN-11 - Death of Patrick Leigh-Fermor

Patrick Leigh-Fermor and W. Stanley Moss in German uniform on an SOE mission on Crete. Leigh-Fermor was a Byronic figure, able in both adventure and Arts & Letters. England, if not the World's foremost landscape writer.
2011-MAY-01 - Death of Sir Henry Cooper
. This image is of Sir Henry Cooper appearing in Royal Flash (1975) as John Gully MP
. In this scene a boxing match is staged between the John Gully and Oliver Reed
. Oliver Reed as a noted drinker and Sir Henry told that on the day of the shoot he could smell drink on the breath of Oliver. As the action started, Oliver deviated from the script slightly and punched Sir Henry on the cheek. Sir Henry was asked how he responded, and he said
»I chastised him severely«
which meant that he knocked Oliver Reed on his ass.

= I use and recommend www.X10hosting.com free webhosting =
- At Picasa
- At Twitter
- At Tumblr
- At pinterest.com
- At Gigapan
- Blog
-At Facebook
-
Contact:


© Copyright by the Authors, Meyer Verlag. All rights reserved. ©
---
Typeset in Berthold Akzidenz Grotesk BE font