- Winter Sports - Bergsteig - Ski - Langlauf - Skating -
+ ALPINISM
- SKIING ; Equipment
-- Skis
-- Ski-Boots
-- Ski-Wear
--- Headgear
--- Altimeters
--- Sunglasses and Goggles
--- Ski-Wear: Ideal design
--- Ski-Wear: Ladies
--- Kit Stowage and Transport - Luggage
- SKIING ;
-- ON-PISTE
--- Ski Tactics
--- Ski-Racing
--- Girlfriend Skiing
--- Notes for visitors from North America
--- The Ski Tourism Industry
--- Ski Glossary
--- Ski Music
--- Ski Motion Pictures
-- OFF-PISTE
--- Off-Piste - Downhill
--- Off-Piste - Uphill - Ski-Randonnée
- Ski-Tour - Ski-Backcountry -
--- Heli-Skiing
--- Avalanche Danger

- SKI-DRIVE - AUTOMOBILES; Automobiles and their Equipment
-- Ski Automobiles
--- Automobiles for Ski-Drive
--- Schneeketten - Snow-chains
--- Ski-Racks for your Automobile
--- Winterizing your Automobile
   
- SKI DRIVE - ROUTES
-- Speed Traps & Radar Warnings
-- Cash - FX
-- Driving to Ski-Resorts - Route-finding
-- Transit through the Alps: Through-Routes between Western and Eastern Switzerland
-- Road Tolls

+ SKI FLYING - Flying to the Alps
- SKIING ; SKI-RESORTS
-- Schweiz - Switzerland -

--- Western Switzerland
---- Crans-Montana
---- Gstaad
---- Jungfrau Region - Grindelwald-Wengen-Mürren
---- Saas-Fee
---- Verbier- The 4V
---- Zermatt-Cervinia
---- The Jura

--- Eastern Switzerland
---- Davos-Klosters
---- Flims-Laax
---- St Moritz

-- Osterreich - Austria -
--- St Anton am Arlberg
--- Lech-Zurs
--- Kitzbühl
--- Hintertux
--- Obergurgl
--- Galtur
--- Schröcken
--- Tschagguns
-- Austria - Route-Finding and Approaches

-- Frankreich - France -
--- Chamonix-Argentière
--- Les Deux Alps
--- La Grave
--- Mégève
--- Port du Soleil
--- Les Trois Vallées - The 3V
---- Courcheval
---- Méribel
---- Val Thorens
--- Val d'Isere
--- French Alps - Route-Finding & Approaches

-- Italia - Italy -
--- The Dolomites
---- Cortina D'Ampezzo
--- The Italian Alps
---- Cervinia-Zermatt
---- Courmayeur
-- Ski Resorts Italia - Route-Finding & Approaches

-- Deutschland - Germany -
--- Garmisch-Partenkirchen

+ List of Ski Resorts in Europa

+ Great Alpine Disasters

-- Soviet Union
--- Tatras
--- Carpathians
--- Kaukasus
--- Tien-Shan
---- Kazakstan
---- Kyrgyzstan
---- Tajikistan
--- Afghanistan
--- Kamchatka

-- North America
+ SKI-RESORTS - DESTINATIONS - FEATURES
- Ski Resorts with Big Reds and Long Runs
- Ski Resorts and Destinations with Off-Piste
- Ski Resorts with Ski-Jumps

+ LANGLAUF
- Hardangervidda
- Biathlon

+ ICE-SKATING; Seegfroerni / Seegfrörni
+ MOUNTAINEERING ; Bergsteig ; #
- Winter mountaineering ; #
- Ice-Climbing ; #
+ ICE RACING
SKIING - ALPINE
- Invented in the Alps at Davos by the unendingly eccentric English in the 1870s. English Grand Tourists
traveled Europe in summer which, prior to the age of railways, was the only sensible thing to do. What were originally coaching inns and wayside taverns were expanded to accommodate the increased flow of Grand Tourists which rail travel brought to Europe and the Alps until finally Alpine hôteliers began to construct purpose-built hôtels to accommodate them. Thus arrived the age of the Grand Hôtel. At these hôtels customs regarding dress and behavior reflected their clientéle: They were English. Just as they did back in England, the guests dressed in evening dress for dinner. The hôteliers had little to do in winter and some of the hôtels built high on the passes would close during the winter, not least because they were inaccessible to all but the most determined. Hôteliers attempted to persuade their visitors come in winter-time but it was not until the invention of downhill skiing by Sir Arthur Conan-Doyle
did the visitors have the motivation to do so. Up until the Second World War visitors would participate in a blend of winter sports such as skating, skiing, sledding, and sleigh-rides in troikas. It was not until the prevalence of the cable-car that downhill skiing became the monoculture of winter sports. Hemingway
, who skied at Galtur (A) between the wars complained that the new cable-cars produced an inferior breed of skier, because, in his opinion, you built up the legs for the descent during the ascent. With the arrival of the cable-car, we begin the long slow descent from winter sports as a select and elite activity for gentle-persons of an adventurous nature who dressed for dinner, into the mass-market activity it is today. Edward Whymper
, Monarch of Victorian hard-men climbers, in Scrambles amongst the Alps, dates the general decline to a date much earlier, citing, for example, the construction of the cog-railway
to Zermatt as bringing in tourists as opposed to mountaineers. Whymper died in 1911, just to show you how long this process has been going on.
   Up until the late 1970s, winter sports, which had by then become downhill skiing, was an activity undertaken only by wealthier gentle-persons and ski resorts varied between the merely chic and exclusive through to places like St Moritz, which was La Dernier Cri in sophistication. There was even an up-market brand of cigarettes named in its image. Ski Resorts established their credentials by boasting about their list of patrons. This league the table would be lead by St Moritz and Gstaad. In the case of St Moritz it would hard to name a famous individual of that era who had not visited. In the case of Gstaad, its claim to fame was the number of prominent individuals who purchased a residence there. Why Gstaad ? Difficult to say but Gstaad lies in a pleasant, broad valley system which is not difficult or tortuous to access and the skiing features some of the longest, most pleasant red-grade runs anywhere in the Alps.
   Gstaad is easily accessible from Geneva, Bern, Basel and Zürich to the East whereas St Moritz is more remote. Gstaad has a relatively large number full-size Alpine chalets in their own locations, which appeal to wealthy buyers. Latterly, many resorts feature only apartments. The physical expansion of resorts is next to impossible, and highly undesirable, so you have to chose from the already existing stock of property.
From the 1980s onwards, the increasing wealth among the general populace of Europe and the decreasing cost of air transportation meant that more and more of the middle-class could go skiing. New resorts were built from scratch, straight onto Alpine pasture. Resorts before this were always just Alpine villages which had hôtels added to them. The aristocracy of Alpine resorts are all these original capitals of the winter sports world: St Moritz and Davos, where skiing was invented; Zermatt, the Jungfrau region, Gstaad, Chamonix.
THE ALPS

The Alps from high in the atmosphere from somewhere between Dijon and Paris.
The Alps as mountains are geologically old and their shape was formed by extensive glaciation during the last ice age. When you stand on a mountainside and look down into the valley, that entire valley system, right up to the top of the mountains, and above that, was filled with ice. Glaciated valleys are 'U'-shaped with steep sides like the valley at Lauterbrunnen. This is because the glacier gouges out rock from underneath it and abrades its way downwards. This means that the upper flanks of the mountain tend to terminate abruptly at the edge of a cliff, which is the upper rim of the U-shaped valley. Mürren, above Lauterbrunnen, is built on such a rim. As Edward Whymper commented, it was not so much the height of the peaks which was a source of amazement, but the depth of the valleys and the fact that they once were solid rock. Historically, right up to the 1950s, the Alps were just poor agricultural margins where less fortunate farmers managed to sustain an existence. The cattle went up to the high pastures in the spring where the cowherd would follow the gentle clanking of their bells and then in the winter come down to the village. Alpine farmhouses were timber-built and two storey so that the family could live on the top and the cows could live underneath in the barn during the winter, eating that season's hay. Hay-making was done by hand, mainly because it was so steep. The narrow tracks and steep slopes meant that when mechanization arrived in the lowlands during the 1950s, there was little which could be done up in the mountains. Specially small and narrow tractors were made but these could be used in only limited areas. The locally manufactured alcoholic spirit was Enzian and these formed one of the few diversions available to inhabitants of the high valleys. It is these wooden farmhouses which form the basis of the Alpine 'chalet'. Quaint, bucolic and attractive to the eye they were impoverished and basic. It was not until the post-war period that the fashion among wealthy foreigners for purchasing or building chalets began. In many regions the original farmhouses are still there. Mainly because the original families still farm the pasture. Ah... the Switzerland of the 1950s and 1960s. Switzerland's other industries were, like those of Austria and Germany, the Mittelstand
, the small and medium size specialist engineering companies and it is some of these Mittelstand which provided the keystone in the development of the downhill skiing tourism industry: The narrow gauge cog-railway and the cable-car.
The narrow-gauge cog-railway
was developed to because normal locomotives will not ascend anything other than a shallow incline in human terms. The limited adhesion of the steel wheel on the steel rail will not permit it. The actual contact patch is only about the size of a nickel. Many systems were tried but the system which has stood the test of time is the system which has a toothed rail installed in the center of the two supporting rails. This is engaged by a toothed wheel in the drive axle(s) of the locomotive. Early cog-railways were steam locomotives but the benefits of electric traction accrue fast in mountainous territory because of the large quantity of power which can be shipped to the drive motors of the locomotive over the electric overhead cable. You can see cog-railways at Chamonix, Zermatt and at the Jungfrau Region. The cog-railway at Zermatt was to be extended upwards from the village through tunnels all the way to the top of the Matterhorn, in the same way the railway at Grindelwald ascends the Eiger, but the advent of the Second World War prevented the expenditure and mercifully the project was never completed.
A faster and more efficient way of hauling skiers up a mountain is via the (DE ) Seilbahn
, the (US) cable-car
, (FR) télécabine
. Once cable-cars were installed in a resort skiers who were not mountaineers could enjoy downhill skiing and it is this post-war world which has developed into the downhill skiing industry as we know it.

Downhill Racer (1969) 00:00:50. 'The hum of the wires': Perhaps the two stimulae which remind me most of skiing days are the hum of the wires on the cable-car and the periodic juddering noise the bearing wheels make every time they run across a pylon, like a train going over the points. The second would be the delicious smell of hot wax when you enter a ski shop.
A cable-car works by stringing a length of static cable up the mountainside on pylons. This static line acts like the rail of a railway and the cable-car rides upon it via a U-shaped gantry fitted with wheels, like a coat-hanger. The 'U' shape of the gantry to ride over the pylon arms which support the cable at intervals. The gantry rides by on top of the cable and at one side and the pylon supports the cable underneath and from the other side. A second cable on a winding system then pulls the cable-car from the valley to the mountain. In order to avoid having to reel in several kilometers of cable onto a huge drum, the tractor cable is normally a huge loop which goes all the way back down to the valley. A basic system usually has two static cables, each with its own cable-car, and a single loop, to which both cars are fixed. The loop pulls one cable-car up the mountain and allows the other to descend. Larger systems have more static cables to allow for greater weight, and more tractor cables.
The work-horses of the cable-car world are the chair-lifts
and drag-lifts
. These are simpler devices. A loop of cable is run over the pylons and to the loop are clamped the chairs. The loop then circulates. Same for drag-lifts. Remember: Do not slalom when being pulled up the drag-lift because it causes the cable to de-rail.
   Drag lifts are probably the cheapest of all mechanisms to haul skiers up the mountain. Cog-railways are the most expensive.
More sophisticated developments allow for chairs which can be dropped onto the circulating cable which is held in a wedge shaped clamp on the chair gantry. This means that much larger seven-man chairs can be loaded by keeping them stationary then pushing them off the rotating loader onto the moving loop of cable. In the 1990s the same system was scaled up to allow a full cable-car to be loaded and then deposited on two widely-spaced moving cables. This system, termed Funitel
, has the highest capacity of all in terms of the number of skiers it can haul up the mountain. Cable-cars all have one deficiency: They cannot operate in high winds. Not only will the wind exert considerable force on the car itself but the car could jump off the cable and plummet to the ground. This means that during storms or high winds, cable-cars, particularly on the more exposed upper parts of the mountains will cease operation. The result is no skiing. The lifts which do work during high winds are the drag lifts. The drag-lifts just pull the skier along the ground and so it matters not how high the wind is. The humble drag lift is most frequently sited alongside a piste to all re-circulation of skiers but many ski areas site them close to the top of ridges so that they can operate regardless of exposure to winds. In my opinion drag lifts should be installed in parallel from the bottom of the mountain to the top, so that however bad the weather is, a skier can still reach the summit.
- The upper valleys of the Alps tend to be narrow and 'V'-shaped like Zermatt or Zinal. Lower valleys tend to be broader and U-shaped because of the erosive power of glaciaton, like at Lauterbrunnen. Broader still are the valleys at St Moritz, Davos and Gstaad. The advantage of a narrow 'V'-shaped valley is that the lift valley stations are likely to be closer to each other, within walking distance, but in the broader valleys, you have to walk a long way between valley stations or use transport, the bus. I prefer driving from my accommodation to the cable-car Talstation in Davos-Klosters, St Moritz and Gstaad. Same for Crans-Montana. Some ski areas are built with the hôtels dispersed over the slopes with pistes flowing between them. This means that you can ski back to your hôtel and in a morning ski away from the hôtel to the valley station to gain height and continue your skiing. Being able to ski direct to your hôtel greatly eases the burden on those learning to ski and I recommend those doing so to seek out these hôtels. Ski boots are to walk in miserable, over any distance.
- Weather: In general, little snow arrives in either November or December. Snow and bad weather arrived in January and then the meat of the ski season arrives in late January, February, March, April and even into May if the weather is suitable. All of this is highly variable and snow can arrive at any time, in force. Compared to North America, the Alps receive very little powder. Finding lying powder is a note-worthy event in Europe whereas it is an event not worthy of remark in North America. In Europe, any resorts who talk about having powder are lying. Weather may occasionally deliver powder to the Alps but it delivers it across large regions, not at any one resort.
- In the 1960s the preparation of pistes was not anything like as prevalent as it is now and large quantities of piste were left as mush. Extensive piste preparation did not come in until the 1980s. The expansion of ski areas has increased over the years, particularly since the 1980s and many resorts have been joined or have expanded into areas which were once just unvisited valleys accessible only to ski-mountaineers. There is the prospect (2013) that so many areas may be joined that one may be able to ski from one side of the Alps to the other.
© copyright www.mitteleuropa.x10.mx https://twitter.com/verlagmeyer copyright ©
+ SNOW DEPTH
- Snow depth is one of the great bug-bears in skiing. It was fine during the last ice age, with only the hooliganism of the Neanderthals, with their mammoth tusks strapped to their feet and a pair of giant Cervid ribs for ski-batons, to detract from the enjoyment of us Homo Sapiens Sapiens. But snow-depth is a variable quantity. If the Alps were 1000m higher it would be less of a problem. Resorts have to get a 'base' down early in the season. What snow does fall must be compacted into ice which is much better at resisting higher ambient day time temperatures. Snow-making hoses help them to add more snow to the base. If you do not get a base down then the soft fluffy snow will melt easily during warmer weather. Unsurprisingly the result is rocks sticking through the piste on higher slopes or mud on lower slopes. One of the first uses of the commercial internet and .HTML 1.0 when it arrived in the early 1990s was the publication of snow-depth tables. You could anxiously watch the depths during the week while you planned the weekend's Schwehrpunkt. The published snow depths are taken at measurement points and are not a guarantee of that depth of snow along the entire contour or on the pistes. If you read a snow-depth of say 1m on the lower slopes, that is 1m at the snow measurement point. The lower pistes (the crucial pistes for return to resort) could be covered in rocks and bald patches. Eventually, you learn by experience, what the depth reading at the lower measurement point means in terms of what condition the pistes are in. In these days of instantaneous telecommunications to a device in your hand, that is not exactly what is required. In the end, the best indicator of the condition of snow or pistes is observing the position of the snowline on the mountainsides around the resort. Experience at the resort in question teaches you the correlation between the depth of snow on the pistes and the contour where the dreaded brown of the grass meets the snow above or below the resort. The most useful way of transmitting to skiers what the snow condition is like would be to have a camera which showed a picture of the resort from just below it, pointing up the valley, so that the snow-line was in view. At the time the first snow depth tables were published, the only remote camera was the famous Trojan Room coffee machine camera
at the University of Cambridge, GB. The 'Surf's Up' camera
on the West Coast, came after that. Unfortunately for us, the last thing that resorts want to tell people is that half the pistes are mud. That is why resort cams show a white-out from December first through April thirty-first. The advent of the GSM system of mobile telephony offered the possibility of guerilla 'cam siting but without solving the problem of feeding power to the camera. There are available now solar panels, which could power the 'cam. The special effects department could construct fiberglass and polystyrene 'snowmen' which contain the 'cam and defy the attempts of the resort mafia to track them down and destroy them.
- The last thing resorts want is information going out which may affect bookings for vacations. And information on poor snow conditions or low snowfall is exactly that. Immediate information on snow condition is more important not to vacationers but to weekend skiers from the cities ringing the Alps. Again resorts are reluctant to admit to anything expect perfect snow conditions and deep snow. Some resorts even try to insert the 'P' word into every paragraph: To infer, without actually stating the fact, that the resort is covered in powder. Bulletins from various outfits in La Grave are prone to this practice, when in fact La Grave has no more powder than anywhere else in the Alps. In North America, where there is a lot more powder both falling and lying, competition between resorts results in claims such "Here in XYZ resort, we have 'Champagne' powder, which is so light and fluffy that you can just blow it off the top of your automobile". Full marks for trying but this claim has no basis in fact.
EQUIPMENT
- Skis: Ski manufacturers need to see you more than one pair of skis. So change in ski design is a much for fashion as for any technical reasons. You can ski on any length of ski from 210cm to something as small as Bigfeet, which are only 20 cm longer than your boots. Shorter skis are easier to learn on. After a lot of experience you can tell what length of what type of ski you require. There is not one length of ski which is right for you. It depends on the ski.
- How many pairs of skis do you need ? By my calculation, about the same number as the number of wrist-watches you own, the same number of guns you own or the same number of automobiles you own, the same number of houses you own. It's the "Rule of Five". You cannot really use more than five of any of these before one of their number becomes neglected or even forgotten about.
- Carver skis.
- When carver skis came in the mid-1990s it was a new departure but not a revolution. The carver ski, with a larger side-cut, stayed on the snow more. They were shorter so you did not need to get them off the snow to make them turn. If you were staying on the snow, as when descending very steep slope, they were fine. They turned tightly. If you wanted to lift them off the snow, perhaps on a less steep and faster slope, then it was harder work to bring them off the ground. You had to jump higher. This was unpleasant in some circumstances. Also, when you looked back up an untracked slope you had just carved a Wedel upon, your Wedels were different shape to any one on traditional skis. You could see that the skis stayed on the ground and carved. On photographs, I much preferred the Wedel left by a traditional ski. I used the carvers a lot for the first few years but gradually went back to using traditional skis.

1960s: Race skis with regular side-cut.

- Powder Skis
- Useful in North America. In Europe it would be like taking an umbrella in order to make sure it does not rain. Powder skis are some times called 'Fat' skis because they are wide.
- Ski-Randonnée skis
Skis which are used for going uphill when fitted with skins. They feature a binding which can be released at the heel to allow the leg to make a long stroke with the ski. You use them for climbing a mountain and then skiing down the other side. They are usually of a light weight construction because everything you have to drag uphill takes energy. Avoid crashing them into things when going downhill. If you are climbing specifically to access a particularly testing couloir then you may wish to use your regular downhill skis, which will be a known quantity in a 10/10ths fight with the mountain. You can purchase free-heel 'converters, which fit into the ski binding and then allow you to place your regular ski-boots into the converter for free-heel. Skins will fit onto your regular downhill skis. I prefer 'Snakeskins' for skinning up the mountain. The different types of skins and their preparation only become important when you are covering a long distance over undulations and the different skins or waxes cause the ski to perform differently in different conditions, causing more or less energy to be expended.
- Race skis:
Skis for Downhill, Super-G, GS, Slalom. Much as any equipment used for racing, it tends to be optimized for its sole function, sometimes to the detriment of general usefulness. Slalom skis bend forward of the bindings, so that they turn swiftly toward the next gate. Downhill skis tend to bend behind the binding, to have softer tails, to make them stable in a straight line. I had spent my life on slalom skis or off-piste skis and the first time I stepped into a pair of Downhill skis I nearly broke my neck. Fortunately I was not doing any speed, and just gave the skis to the command to turn away from the edge of a large drop which I was reconnoitring. I had pressed the skis forward of the bindings and slalom skis would have just bent ant turned but on the downhill skis, nothing happened. They do not bend there. It felt like they were made of concrete. Some quick re-adjustment of weight distribution turned the skis in time. For novice skiers, you will be issued with a general purpose recreational ski and so none of this will be a concern for you.
- Bigfeet / Bigfoot
- Bigfeet are surprisingly easy to use, even though they look like a circus act. Give them a try. Personally I find Bigfeet the best fun you could have with your clothes on. I have used them extensively off-piste. They can be tricky to keep moving when you are on a shallow run out because the less ski you have under foot the slower you go. I have had occasion to keep my weight evenly on the Bigfeet to reduce the friction then have to flap my arms like a bird to try and make them 'start' downhill, to agitate the Bigfeet into actual sliding movement. You have to remember that, unlike with skis, you can fall both back and forwards on ice. There is also the 'Saber Dance', where you think you are about to go over backwards, with the Bigfeet sliding forward in front of you, but as you go backwards at forty-five degrees, the sharp rear edge of the Bigfeet cuts hard at the ice and creates more friction, stopping you from going further over, but not enough friction to throw you upright again. So your remain for quite some distance in a 'stall', at a seemingly impossible angle over backwards. If you are good at making skis run and race downhill then you can have tremendous fun racing would-be piste heroes in the run-out. They simply do not believe they have been overtaken by some one on Bigfeet, who sweeps by in a crouch like a speed-skater with his hands clasped behind him.
Another advantage of Bigfeet is that if you pack your ski-boots and a pair of Bigfeet you can have your ski-gear 'in the glovebox' ready to take advantage of unexpected snow.
-
www.shortskishop.com - Bigfoot discussion
- Skis - The Future - Shades of 'Zager & Evans'
- - The design of skis tends to follow a fashion because change sells skis and you need to sell skis to stay in business. The distant future holds for ski design what it also hold for automobile tyre design. In the future, there may be no tyres on automobiles, just a flat rubber surface under the vehicle. Electically actuated muscles within the surface of the rubber will form a rapidly moving pattern which flows across the surface of the rubber enabling the vehicle to move in the same way a snake moves. Braking will be hard enough to make the fillings fly out of your teeth. It is likely that skis will also use a similar mechanism. If battery technology has been increases at the same rate as it does at the moment, then Ski-Randonnée skis will be able to move uphill without you having to move your legs. However, change is no friend of mine and the future is a waste-land.
- Hire Skis
- If you are using hire skis, take a couple of large stickers of some sort and put one on each ski. This way it is easy to find your skis in the ski rack when coming out of the café. It does not have to be stickers, just so long as you mark them in some way. A China pencil or crayon. A length of bright ribbon tied around the tops of the skis will aid in finding the correct skis when you come out of the café. and not some one else's hire skis.
- Cable-lock
-- You need a cable-lock to secure your skis to the ski-rack when you go inside to the café. If you are skiing with a friend, swap one ski and put them in different places in the rack. This means that someone will end up with two different skis if they try and steal them. To be honest I never bothered to lock my skis unless I was skiing in France during the weeks that the Marseilles region was on vacation. Staff who work in the resort will remind you to lock your skis during these weeks because theft of skis jumps from 0% to 100%. If your bindings will accept a bicycle lock then this would be better than a cable-lock.
- Velcro ski strap
-- This is a Velcro strap which you wrap around both your skis to keep them tight together when you are walking with them. Ski shops sometimes give them away because they have their logo printed on them. The wider the strap the better. You can purchase long reels of Velcro strapping at haberdashers and stitch your own.
+ SNOW SHOES
- If you have ever had to post-hole through thigh-deep snow for a long distance you will appreciate the benefit of snow-shoes. In the final analysis, off-piste Langlauf skis (not the narrow skis for use on a track) or Ski-Randonnée skis fitted with skins are superior for traversing long periods of deep snow. An experienced skier will be able to ascend any slope on the skis with greater facility than on snow-shoes. Snow-shoes weigh less than skis and thus if you are not anticipating deep snow but wish to insure against it, then taking snow-shoes may be the best option. The first time you use them tends to promote joyous laughter as you glide over what would have been waist-deep mush.
- My preference is for snow-shoes by Atlas
, who make snowshoes from aluminum tubing which is strung with webbing. They make snow-shoes in a variety of sizes so that you can pack small snow-shoes as insurance against being presented with an obstacle such as a large snow-drift.
- Ski Boots
- What is the best kind of ski boot ? The kind that fits you the best. Softer boots can be better off piste because you can lean your weight around better. Harder boots can better at speed on a piste because you can muscle on the ski to get the edge to do exactly what you want. That is about it. By the time you are able to specify what kind of boot you want in specific circumstances, you will not need advice on boots. Boots issued to novice skiers tend to be softer so that they can move their weight around more easily.
- Ski-tour boots have a cleated sole on them, with curved last, a roll (ie it is not flat). This is to allow you to move more easily once you have to take off the skis and climb, or, horrors - walk.
- Ski Boot - Additions:
- Crampons
. You can purchase snow crampons, which are short and usually made of aluminum alloy. These give you grip on anything hard and slippery. Crampons for walking across glacier ice or for climbing water ice are made of steel or stainless steel.
- Boot protectors. You can get plastic / rubber guards which are the size of a crampon. They fit on the bottom of the ski boot in the same way and stop you wearing out the ski-boots at their important interface with the binding, which is a crucial part of the mechanism for protecting your legs. Actual crampons which did not feature spiked teeth but rubber grips would be better because they are stronger but I have never seen them available. You could try purchasing regular crampons, preferably the Aluminum snow crampons, and then 'de-fanging' them. I knew an intermediate skier who broke his leg when he fell on an icy piste. He was highly averse to icy pistes after that, so much so that once when descending a piste in bad weather he found himself upon a icy section. In panic, he dismounted his skis, which is more dangerous. If he had had some of the lightweight Aluminum snow crampons with him (or any crampons) then he could have dismounted in safety, if he wanted to. Crampons are designed to fit the inflexible sole of mountaineering boots and so will fit ski-boots without a problem. Carrying crampons can be dangerous. You can get various wallets made from thick waterproof tarpaulin which will hold dis-mounted crampons in your sack and which stop the teeth of the crampon chewing at the sack or its contents. Mountaineers usually strap the crampons, teeth outwards on the back of the rucksack. Neither of these mountings are ideal. Really, something made my plywood would be best, so the teeth of the crampon cannot be driven into you during a fall.
- Replacement footwear for ski-boots
- In your rucksack you can carry replacement footwear to wear while you carry your ski-boots instead of walking in them. Can be anything from small canvas slippers or Birkenstocks (sandals) up to proper boots. Much better than walking anywhere in ski-boots. Walking a long way in ski boots can damage the skin on your legs, as the cuff of the boot wears away at it (done this) or damage your joints by the constant jarring (done this).
- You see people using large insulated boots (similar to ice-fishing boots but nowhere near as good) for moving around the resort. There was a fashion for large furry ones in the 1970s. Unless the temperature has dropped below minus forty degree Celsius, I do not see the point. I have never even needed mountaineering boots when moving around the resorts.
- Ski Batons
- The ski shop will try and sell you the latest hi-tech ski-baton. The bottom line is that anything will do. I have seen a skier point out to a piste patroller that he was carrying ski-batons which did not match. He said that he just used to use ski-batons which were found abandoned on the piste or left behind in the cafés. Any ski-baton was good enough. The ski-baton is used to push yourself around, drag through the snow, or as a counter-weight. The new carbon fiber ski batons are lighter but are less useful as a counter-weight. I prefer the old 1960s ski-baton which were steel and a longer length than todays batons. A longer baton is more useful than a short baton when you are on a run-out which has run out of drop and you have to undergo the the humiliation of pushing with the poles.
    Ski-batons would perform better if they had a lead hockey-puck down on the baskets. You could use them as a balance weight like a tight-rope walker and give yourself a better chance of controlling your balance. Off-piste you will be poking at things and pushing yourself off narrow passages between seracs. A stronger ski-baton is better. You can get extensible ski-baton specifically for off-piste but they are not any great advantage. If I was designing a ski-baton it would stainless steel, strong and heavy. The ends should be threaded so that the two poles may be joined into a pole. This way it would be some use in dealing with hazards when off-piste. It could be used as a belay device , or in climbing out of a crevasse.
- Rucksack
- Depending on conditions you will need a rucksack varying in size from small through to enormous. Anything you are taking with you goes in the rucksack. This is better than placing items in pockets, which may be crushed or pressed into you if you go over. Lanyard everything you do not want to drop into the snow using thin black elastic cord (ships chandlers, mountaineering shops). If you take a tumble in deep powder, anything not secured within your pockets tends to fly out and bury itself. The second advantage of a rucksack is that if you have the misfortune to go over backwards hard, probably when off your skis, then you land on the rucksack. This is a lot more pleasant than landing on your back and head.
- Broken chair-lift self-rescue kit.
- Optional: It can be beneficial to carry with you a rope and rappel kit so that you can rappel off a chair lift which has broken down, before your freeze to death. This is an exercise for those with expertise in the field. Remember: Do not just jump from the chair or suddenly let go of the rope because this will cause the chair-lift cable to spring upwards in a wave and might jump off the carrier wheels on the two adjacent pylons. A friend of mine was stuck on a broken down chairlift in falling snow and fog. He could not see anything and after nearly an hour, a pair of lift-operators on a wheeled carriage came looming down the wire toward him with rappel equipment in order to lower him away back to earth. From distant memory there is a place in Val d'Isere (in the upper most valley, I think) where you can jump off the chair prematurely onto a couloir, but I am almost sure they will discourage this because it makes the cable oscillate.
+ SKI WEAR
- DOWNHILL: The persons to emulate in this regard are the ski instructors. They know that ski wear should be tight-fitting and slick. Nothing in their pockets should interfere with that athletic outline. If they need to carry anything (and they do not) then a small rucksack is required. Nothing is worn on the head, because that deep suntan and those sunglasses need to be framed by the collar of the ski jacket to best effect. Ski instructors know that if they are to have a hope of enjoining intimate liaisons with the legions of attractive daughters who are consigned to ski-school then they need to look their best at all times. So, tight 'racing pants' on the bottom half and a natty short jacket on the top half. Most importantly: Sunglasses which compliment their particular head shape and hair coloring. Avoid taking a lead from what you see actors and actresses wearing in motion pictures involving ski scenes. Usually, wardrobe has no idea what skiers really wear. Exception can be made for Downhill Racer (1969), which uses all real footage of ski-racers and all real gear.
- SKI-WEAR: DOWNHILL
- - Jacket-and-Bib / Overalls
- - You can wear either jacket-and-bib or overalls. They fall into two categories: Those which do not use Gore-Tex
and those which do use Gore-Tex. Gore-Tex is a breathable membrane fabric which does not permit the ingress of water, but does admit the exit of perspiration. Before Gore-Tex, cloth was either water-proof, like neoprene rubber ('Riding Mac') or waxed cotton ('Barbour Jacket') or breathable, like wool or canvas. The 'Riding Mac' was made of neoprene rubber sandwiched between two layers of canvas. It was water-proof but if you perspired, you could feel jungle-like humidity building up inside it. This made you wet. Wool clothing, like Lodencloth, breathed well and would shed water for quite some time but was not water-proof. Gore-Tex was the great leap forward. You only to have to concern yourself with water ingress around the freezing point. Below that, water is a solid, so you cannot get wet. Gore-Tex is expensive which means that jackets which have a Gore-Tex layer are expensive. When you are learning to ski you end up in the snow often. This means that only learner skiers need the best ski wear. If you are experienced, you can go piste-skiing in jeans and a T-shirt, because you never touch the snow. For those learning to ski, who do not want to spend a lot of money, I have seen jackets which were five-hundred dollars, new, ten years ago, on www.eBay.com for less than fifty dollars. Same with the matching bib (trousers with suspenders and a bib front). Equally expensive skis can be had for the same level of discount, plus, they have their bindings installed. A second option for those who do not want to spend money is military surplus like the excellent Swiss Army jacket M70 and trousers. They are not Gore-Tex but they have water-proof reinforcement in the contact points, like the knees and seat. I have used the M70 extensively (though not for skiing) and it is excellent for winter activities and enjoys many design features which make it superior to all ski jackets (extensive pocketing). The US Army M65 combat jacket and trousers, when fitted with winter liners, are also satisfactory, although the Swiss Army M70 is greatly superior.
If the weather is very cold, wear a fleece under your ski-jacket. If it is colder than that, wear two fleeces and some fleece trousers. It would be around minus 30 Celsius before you had to do that. In the Alps that occurs about once every fifty years. You can find fleece trousers which have full-length zips, which enable you to put them on without taking off your ski-boots.
- - Mountaineering apparel. You can wear just a mountaineering shell jacket and bib, together with a fleece underneath. I have found this system inferior to purpose built downhill-ski jacket-and-bib. It was either too hot (with fleece) or too cold (without fleece). With a windproof fleece instead of an ordinary fleece, it was greatly inferior. (A windproof fleece is a fleece covered with a thin layer of finely woven synthetic cloth which sheds the wind, but has the detracting side-effect of holding in perspiration).
- - A Jacket-and-Bib allow you to open the jacket if you feel warm, or remove it and fold it into your rucksack. On a sunny day you can find yourself skiing in a shirt. Overalls do not permit this facility. If you are wearing overalls you have to wriggle out of the top and then fasten the waistband and fold the empty arms around your waist. If you are downhill skiing you will find yourself at a restaurant or café and need to remove your jacket. One feature I wish that the bib trousers were fitted with is full-length zips up the side of the trousers enabling removal without having to take off your boots. Further more, if the zips and straps are properly arranged, you can open the zips at the side so that you have ventilate the interior. Mountaineering bib trousers are nearly all equipped with a full-length zip down each side but all mountaineering bib trousers are un-lined shells, which are less suitable for downhill skiing. Another feature not seen on ski jackets is under-arm zips, which allow for venting. Good mountaineering jackets have them but I have never seen them on ski jackets.

1940s Ski-wear: Richard Burton models a smart Jacket-and-bib two-piece by Hugo Boss
.
-- IDEAL SKI-JACKET-AND-BIB: Features I would like to see in the ideal downhill ski jacket-and-bib
--- Same format and cut as the Swiss Army M70 jacket-and-bib
--- Rip-stop exterior, with reinforcement patches of Kevlar-stainless-steel weave on the shoulders (for carrying skis) on the posterior (for sliding), on the knees (crawling around the floor of the bar after nearly a whole bottle of Schnapps), at the rear of the heel and Achilles tendon (to avoid crampon spikes being driven in accidentally), and on the elbows (so the top of the bar does not wear out your sleeves while you are spinning yarns about how you did a 30 meter jump out of a helicopter into a powder bank 2m deep. And this was in July). Swedish ski-wear manufacturer Mover introduced the Kevlar-stainless-steel weave material, but they went out of business some years back, probably because Kevlar-stainless-steel weave never wears out and the key to success in the ski apparel industry is getting the punters to purchase more than one set of your gear.
--- Zip vents under the armpits, full-length zips on the bib-trousers, a zip rear-hatch on the derrière (unnecessary on resort skiing trousers but standard on mountaineering shell trousers in order to answer the call of nature. In Pakistan, nature can call loudly and urgently). Zip-tags should be large and easy to grab with large gloves on. Something like two sections of 25mm web sewn together with something soft in the middle, or a short section of the curly telephone cord you see on telephone handsets.
--- Pockets should be zip-closed with a Velcro cover. You should be able to open and close them while wearing large gloves. The interior of the pockets should contain a small plastic D-ring sewn into the interior so that items inside the pocket can be lanyarded into the pocket using a length of elastic parachute cord (chandlers, climbing shops, and mil-surp shops). If you have any items in your pocket and have failed to shut the pockets correctly, then if you perform a double somersault into powder which is a meter-and-a-half deep you will be there until the snow melts trying to find whatever has fallen out of your pockets. Hence, just after I close the bindings and prepare to move-off, I perform a 'hatch-check' which ensures all pockets are lashed shut.
--- The jacket front closure should feature a large-tooth zip, and be covered by a fly, which closes with Velcro. The Velcro should take the form of a Swiss Cross in that one side should be the lateral arm and the other the vertical arm. This means that it is easy to open and shut while wearing mitts.
--- Internal webbing shoulder harness: Swedish Army and Swiss Army tanker overalls and jacket-bib are fitted with this feature. The loop of webbing runs around under your armpits and over the upper part of your back. There is a zip across the upper part of your back which when opened allows you to pull the webbing strap and drag a wounded man to safety. Of course the same can be achieved by wearing full harness over the top of your jacket. The difference is that an internal webbing strap is always there. You cannot decide to leave it at the chalet that day because "you will not need it today". Webbing 'Rescue' tags, same format as are stenciled onto the exterior of fighter aircraft cockpits, can be affixed to the jacket at the edge of both shoulders. That should have every one wanting one.
--- Hood: Should be internal and folded into the zip-pocket on the upper part of the jacket. Mountaineering jackets have permanent hoods because by the time you need them, there may be no time to fiddle with a zip, which could be iced up already. Hood should have a Velcro face-cover and size adjustment straps. The size of the hood can become crucial in downhill skiing because in bad weather you have to adjust the hood, your face covering and your goggles or sunglasses so that exhaled air does not mist your goggles or sunglasses, which at speed would cause you to crash. When mountaineering you can just stop and wipe them.
--- Pockets: Four exterior pockets. Two hand-warmer pockets. These tend to be deleted on military clothing because you are meant to have your hands on your rifle. Four internal wallet pockets. Four internal 'poacher' pockets. No pockets are the rear because your rucksack will go there. Above the exterior front upper pockets, a plastic D-ring to allow lift-passes and similar items to be strung on the outside.
--- Internal belt. You need to cinch up the jacket in case you somersault into powder. This stops the powder running down inside the jacket. An adjustment lanyard running around the lower edge of the jacket also helps.
--- Velcro cuffs on the jacket. You need to cinch the jacket sleeves inwards to get them inside your gauntlets. Elastic knitted cuffs on the inside of the sleeve at the wrist, like a paratroop smock.
--- Bib-trousers should have suspenders made from loops of webbing, which run down inside the legs and around the outside of the thighs. The suspenders should have a cross-bar on the upper part of your back so that rescue of a wounded man can be effected by grabbing the cross-bar or clipping-on a Karabiner from the helicopter winch.
--- Over-mitts which are permanently part of the jacket sleeve-cuff. They are velcroed back onto the sleeve during normal use but when deployed are pulled down over the hands. Neoprene or even synthetic fur liners may be fitted. This means that your over-mitts are always there if the weather turns savage. Furthermore, they cannot be lost when you remove them to deal with kit.
---'Donkey Tail'. If you take a tumble in deep powder, you can end up with powder finding its way up under the hem of your jacket. An internal waist lanyard or belt will stop it going any further, and an internal lanyard under the hem of the jacket will help prevent too much of it making its way to the waist. A 'donkey tail' as the Heer troops used to call the British army windcheater is gusset which hinges from the back and buttons to the front of the jacket to keep it snug if you are tumbling or prone. Some designs of combat jackets are fitted with them. Swedish Army C150 jacket is one.
--- RECCO tags
. Four, two top, two bottom.
--- #
- 'Concealed Carry' under-vest.
If you are skiing, you need to keep your wallet on you. If you are mountaineering, your domestic kit stays at base-camp. There are no pay-phones on Mount Everest. During the course of a day-ski you will set out on a drive in which you will not be wearing your ski-gear, but will be dressed in off-duty fatigues. When you arrive you will either change into your ski-wear or put-on your ski-gear over your off-duty fatigues. At the end of the skiing day, you will take off your ski-gear and drive home in your off-duty fatigues. The ideal way to carry both wallets (one domestic, one foreign currency), passport, ignition keys, house keys, Zippo, cigars, cigar-cutter, mobile telephone, is in a under-vest which has two wallet pockets and two lower above-the-hip pockets. It needs to fit snugly and the best ones are the vests which are used for concealed carry of a pistol. It needs to offer no barrier to passage of perspiration, which means it must be made from a netting type material. You can wear this vest under your shirt. This means that your valuables are secured about your person at all times and cannot be left anywhere. Beginning your journey you might cross a border, then pay a road toll, then pay for gasoline, then need to purchase a lift ticket, then pay for coffees, lunch, all in different foreign currencies. All while wearing different clothing.
-
The 5-11 Holster Shirt
- Skipass: Location of:
- - Ski jacket sometimes have a 'handy' length of retractable elastic cord on to which you attach your ski pass. This is useful on sections of the pistes where you have to show your ski pass a lot but the problem is that they do not secure your ski pass very well and you may lose your ski pass. You are much better off securing the ski pass on two separate lanyards or thin black elastic cord and keeping the ski-pass in your pocket. The ski-pass can rip loose so better to place it in a plastic wallet and secure both the wallet and the ski-pass. Carry long, thin cable-ties for securing items like plastic ski-passes.
- Piste-Map
- - Mostly, you will be handed a piste-map with your ski-pass. See if you can squeeze out of them a second piste-map, per person. This is because if you drop your piste-map or you are trying to look at it on a chair-lift and it blows out of your hand while you are lighting your cigar , taking a swig from your hip-flask and answering your telephone, then you now have no piste-map. What next ? Well, more than likely you will need it to go where you are going, or return-to-base. This means you have to return-to-base to collect another ski map. This could be several hours out of your day. If you have a spare piste-map you can get going again without interruption.
- MAP AND MAP HOLDER
- - Map holders: You can get various sizes of waterproof map holders which help a lot when it is pelting down with snow.
- - Photocopy: You may want to photocopy your maps because they normally receive a lot of wear when in actual use.
- GLOVES & MITTENS
- - The most important item of clothing you will purchase. The old leather gloves were pure Hell. Gloves benefited from the invention of Gore-Tex and the invention of thin synthetic insulation materials. Always wear gloves when you are skiing in case you go over and someone skis across your hands. In warm weather, if you stop and take your skis off, then take your gloves off, if you slip over, your hand will slide down the edge of the skis, and the web of your thumb will be sliced by the blade on the ski. I found out this by doing exactly that. In cold weather A pair of Thinsulate gloves will be enough until around minus ten Celsius. You can then start using down mittens or ice-climbing gloves. Down over-mittens, large enough to go over your gloved hands are a great benefit after that. Invariably, you will have to remove your mittens and possibly even your gloves to perform operations on gear, adjust boots, look at the map, light you cigar, et cetera, which means that you need gloves which are thin enough to perform as many operations as possible before you have to use your bare hands. Once you are on the glide-slope to frostbite you have to cease operations and warm up your hands. This is why gloves are so important. Hands are usually the first to start to freeze, followed by feet. If you are beginner, then any money I would spend I would spend on the best Gore-Tex gloves I could find because when you are learning to ski, your hands will go in the snow a lot. I have seen people put rubber washing-up gloves inside larger gloves, to keep their hands dry. Your ski gloves need to be lanyarded around your wrist, to prevent you dropping them while you are on a chair-lift. You can get packets of chemical heat which will warm your hands for several hours if you are wearing mitts and can keep the packets inside the mits. If you do not require these to keep your hands warm, a pair of packets in your rucksack might be useful in an emergency. If you have to remove your hands from your gloves to perform some important task, then replace them inside your gloves, the packets of chemical heat would restore your hands to working condition.

These are neoprene motorcycle handle-bar over-mitts, which fit the handlebars directly. This kind of arrangement on ski-batons gives best insulation during very cold weather.
- HEADGEAR - HATS
- - If you wear a peaked cap when skiing, at speed it will blow off your head. You need to affix a lanyard of some description to your hat. Anything will do, ribbon, parachute cord. You can purchase purpose-built lengths of ribbon with small clips at either end which will clip your hat to your jacket collar. #
- - Snowboarders wear a lot of synthetic 'silly hats', like a Harlequin's hat, but like all 'rebels' the symbols of rebelliousness are drawn from a tightly discrete set of accepted symbols which their own subset accept. It's not really rebelliousness to the point of Dali-esque originality.
- - Old-style Alpine felt hats, like Italian army Alpini. You do not see these very often now. Only on very old skiers. Pretty soon I will be one of them.
- - Ushanka , (US:'flap-hat')
: The world-wide standard in cold weather head-gear. Available as military-surplus the World over. The old joke goes there are two temperatures in Moskva in winter-time. (1) Flaps up. (2) Flaps down.

Soviet Navy officer wearing Ushanka flaps-up.

Nikita Kruschev entertains Fidel Castro to an outdoor hunting lunch. Kruschev wears flaps-up but Castro, from warmer climes, wears flaps-down. This photograph was almost certainly taken at Zavidovo, the politburo Dacha, north-west of Moscow.

Gorky Park (1983): Lee Marvin in a Sable fur Ushanka wearing a fur collared coat

Vladimir Putin entertains Silvio Burlusconi to an outdoor lunch at the Politburo Dacha at Zavidovo.
- - Knitted Wool Watch Cap
- - - Universally applicable and now available in synthetic material. In the 1970s, the Alpine woolly hat was worn with a large part of it flapping about loose on top of your head. I pray that this practice remains with the other horrors of the 1970s: Dead and buried.
- - - STYLE: Avoid the knitted wool cap purely on grounds of style. The only stylish way to wear a knitted wool cap is in the manner worn by WWII British Commando units: You pull the hat tightly down over your head and then fold the rim back upwards to form a brim. Now move the center-line of the cap about ten degrees to your right (or left). Now tilt the cap about ten degrees to your right or left. Otherwise, the only people with any business wearing wool caps are small babies and people going into operating theaters for an operation.
- - - The photographs below show location shooting for the Hateful Eight (2015) shot in Utah during winter. In two of the photographs the director, Quinten Tarantino, is wearing a Stetson and in the other two, he is wearing a knitted wool cap (probably a synthetic one). Note on grounds of style the difference between the two.

Hateful Eight (2015) - Director Quentin Tarantino filming on location at the Schmid Ranch, Telluride, Colorado, during heavy snow-fall.
- - Flash Hood: The navy issues anti-flash hoods as part of their action-stations kit. Originally they were cotton but now they are usually Nomex. They cover the head and fall down onto the shoulders. The cotton flash hoods feel more comfortable but the Nomex flash hoods fit better to the profile. Some designs of flash hood also cover the lower part of the face. The advantage of flash hoods in very bad weather is that blowing snow is kept out of your face and neck. While a jacket with a fitted hood should accomplish some of this if it is fitted with an integral face mask, the problem with a hood is that it is fixed to the jacket, so when you turn your head, all you see is hood. Ideally, your head-gear should be fixed to your head. This factor becomes important when either hunting or in the military because you cannot see game animals or see the enemy before he sees you. Any headgear which covers the ears is bad for both of these activities. After the first unsuccessful Telemark raid (Operations Grouse and Gunnerside), the German General inspecting the troops guarding the installation found that the troops were wearing large fur Ushanka, which stopped them hearing the approach of the raiders. He instructed them to wear hats which did not cover their ears while they were on sentry duty. Thus, the ideal headgear is not a jacket fitted with a hood but separate hood similar to a flash hood which attaches to the head, but also has a large lower skirt, like a flash hood to cover the neck and shoulders, and an integral face mask, to bring the hood around the face and stop the 'coal-skuttle' effect which an open hood has, channeling the bad weather into your face. No-one makes a hood of this design and the closest in form is the Navy flash-hood.
- - - Remember that the in order to remain operational during blizzards or low temperatures, the limiting factor of your dress will be closures at head, neck and hands. Below around minus thirty degrees Celsius, the water around eyeballs starts to freeze. You have to cover your face, head, eyes and yet still be able to exhale and inhale. The best revision study for low temperatures is reading the memoirs of the Gulag inmates .
- HEADGEAR - WARM WEATHER
- - Remember that the Sun is very strong and reflects off the surrounding snow. During warm weather a sun-hat is better headgear than a insulative hat.
- - #
- HEADGEAR - FOR CARNIVAL #
- - Carnival is celebrated at Easter, mainly in Italian resorts and you will see people in skiing in what appears to be fancy dress of some description.
- - - Mitteleuropa approved Carnival outfits:
- - - - Tartar warrior, with the fur-trimmed steel helmet. This is in fact the Victorian painters' re-imagination of the Tartar warrior and has about as much historical accuracy as Sir Walter Scott's re-imagination of Scottish dress and manners. IE a strong basis in fact but an equally strong embellishment. #
- - - - US Navy aircraft carrier deck crew, the 'Rainbow Side-Boys'. Yellow jersey, survival vest and headgear is aircraft directing, red jersey, survival vest and headgear is munitions handling, purple jersey, survival vest and headgear is fuel handling. #
- - - Predator (1987) helmet/hat
- - #
- - - #
- HELMETS
- - In Alpine Europe: I cannot ever remember seeing a helmet except on a ski-racer. A few people started to wear them in North America in the 1990s. Occasionally you would see them in Europe. In mountaineering and ice-climbing they were useful to stop things dropping onto your head. But not in skiing. Michael Schumacher's accident in December of 2013 has changed all that and at time of writing 2014-FEB I predict we will see a big increase in helmet-wearing. Even though it was the fact that he was wearing a helmet but with a camera upon it, which caused his injuries. Mountaineering helmets are light and are only designed to stop rocks hitting your head. With downhill skiing you do not have to be concerned with the weight and a helmet of stronger construction, which would have saved Michael Schumacher from injury, can be used. I own helmets of this strength but they are not commercial ski helmets. You need to take a look at helmets from other sports or from the military.
- - In North American the sport of tree-skiing, where you ski through deep powder in forests is best undertaken wearing a helmet. This is because
- - - (a) When moving at speed through trees an error will have you colliding with the tree
- - - (b) There are snow-holes which build up on the leeward side of the tree, into which you can be pitched unexpectedly.
- - Helmet liners: There are various thin, elastic head and neck coverings sold for specific purposes (desert, mountain, et cetera) which you can find in sports and equipment shops. These are useful as helmet-liners because washing or cleaning some helmets and hats can difficult and is best avoided. The army issue toques will normally stretch to being used as a helmet-liner. You can find actual disposable helmet liners at places like hardware supply stores which stock construction safety gear.
2014-DEC: Michael Schumacher appears to have been injured by wearing a ski-cam on his helmet. The rigidity of the ski-cam and its mounting meant that under impact it was forced through the structurally weaker helmet and into his skull. This would not have happened on a solid helmet like the US Army Kevlar helmet, which would have resisted the impact. The FAA have issued an instruction banning helmet-mounted cameras for pilots, almost certainly for this reason.
- FACE PROTECTION
- Skiing in bad weather means face protection. Either because the air is cold enough to injure your face or because there is driving snow which is stinging your face. You can purchase 'ski-masks' but I have found that the felt ski-masks which fasten with Velcro behind your neck tended to deflect exhaled air up against the underside of my sunglasses, causing them to fog. It would have been better if the exhaled air was ejected forward and defused, so it did not hit the glasses. When you are skiing, you must be able to see at every split-second. And sudden fogging of the sunglasses means that all at once you are unable to see where you are going. I found the best method was using a 'toque' or 'neck-warmer'. You can find various arrangements in ski-shops, outdoor shops. The military usually have an issue toque which are satisfactory. I found the best version was one made from synthetic fur called 'turtle fur'. Exhaled air enters the fur and diffuses, rather than been deflected upwards onto the sunglasses or goggles as with a ski-mask. This kind of protection for your neck and face is one of those annoying problems which is too small to merit a construction project of its own, but too big a problem to ignore. Different thicknesses of material, different types of material, different sizes of garment and different elasticities of garment may be optimal for any one set of conditions. It may depend on what headgear your are wearing in what conditions. The best policy is to purchase items when you see them. In military surplus shops you will see suitable items from countries which have high latitudes such as Canada and Sweden but surplus Navy anti-flash hoods in what used to be thick cotton but is now Nomex are also very useful in many circumstances. Nomex is more suitable for our purposes but I still find the cotton type more comfortable. #
- SUNGLASSES - SKI-GOGGLES
- - See: Optik - Sunglasses
- - Any pair of sunglasses from a top maker will do. Avoid cheap or fake sunglasses because they can be fitted with just darkened glass. This reduces the light flowing to your eye, causing the iris to open up to let in more light. The retina then absorbs more of the damaging UV which it would have kept out of its own accord, without the fake sunglasses. This results in a condition similar to snow blindness. Very painful. In order to avoid fake sunglasses you need to purchase them from an authorised dealer. China now (2013) produces so many fake goods that you can purchase fake Cummins and Caterpillar diesel engines. The only way of avoiding this is to purchase from an authorised dealer and cheap the serial number with the factory.
- Avoid a lens which is too small in diameter because it lets in sunlight to your eye all around the edge and as a result your iris closes up. Then, the eye can see much less when it looks forward through the darkened glass. The objective is to cover they eyesocket completely, and yet have nothing visible, nothing obscuring vision, within the field of vision.
If you need some guidance to start you off: The brands Vuarnet, Bollé and Oakley are popular among Alpine skiers. Just about any brand can be found on typical ski day. I find the Vuarnet Cat-Eye sunglasses look particularly attractive on ladies. Glacier spectacles, made by both Vuarnet and Bollé are rare except on old-timers. Glacier spectacles are tear-drop shaped aviator type sunglasses fitted with leather eye-cups at the side to block out the all-round reflection you get on snow and ice. The brand Oakley have become very popular, particularly among snow-boarders. During the mid-1990s, wrap-around sunglasses took great leaps forward in design and offered new advantages. For example, if you are piste-skiing, you cannot see out of the side of glacier spectacles and on (increasingly) busy pistes you need to keep an eye out for zig-zagging skiers and snow-boarders who are not looking where they are going. Wrap-arounds enable you to see as if not wearing glasses. For the military and PMCs for use in war zones, the rule is that if you can see the frame, or see anything blocking your vision, get rid of the glasses. Do not wait to get shot by something you could not see. I have seen this happen. The frames on wrap-arounds tend to be above your eye-line and only the lenses drop below. This is not an important feature, unless you think you might find yourself being chased down the piste by assault-rifle wielding evil henchmen. This can happen. It has happened three times to James Bond, for instance.
If you are learning to ski, then you will need only sunglasses. Forget ski-goggles as an unnecessary complication. Above all: Buy some sunglasses which you like and enjoy wearing. It is your money and your ski vacation.
When packing your sunglasses for air-travel or in your pocket for skiing, it is worth purchasing one of the strong Peli cases which will survive heavy weights and crushing forces. Same goes for camera equipment. I learned this the hard way, twice.

The Alpine goggles were ubiquitous in Alpinism between the wars. One of the big manufacturers of ski-related sunglasses (I think it was Oakley) made replicas of these using modern lenses and a wider leather strap, which were superb replacements. The Austrian Army issue this exact pattern but with modern lenses. It is far safer to use these modern lenses than WWII era lenses.
- BEARDS
- - You may never have tried this but in sub-zero weather, if you have a beard, it takes about ten minutes to fill with ice as your breath condenses onto the frozen whiskers. An icy carapace forms, which looks good on photographs, but makes for difficulty when you want to break up the ice to get a cup of hot chocolate to your mouth. #

That is Siberia in the background. There is more of Siberia, just out of frame.
+ ALTIMETERS
- Altimeters are used by skiers and mountaineers because in the mountains, knowing one's altitude can place one on a contour, and deduction will normally place one at a position along that contour. This makes navigation very easy. While less useful in a vehicle, a dashboard altimeter is useful in the same manner of navigation and also for remaining aware of likely road conditions. The most useful place is when climbing Alpine passes because each feature of the pass will be marked on the map together with its altitude. You have only to read the altimeter to know where you are. The makers of mountaineering altimeters usually offer dashboard mounted versions similar to rally chronograph mounts.
- - MECHANICAL ALTIMETERS
- - - Thommen
have made most the mechanical altimeters for mountaineers. They are large, about twice the thickness of a pocket watch. Typically they are carried around the neck on a lanyard or in a pocket. Somewhere they are better protected than on your wrist.
- - - - Mountaineers do not carry anything around their neck because anything loose around you neck or attached to your jacket will fly around if you take a fall or a slide and end up embedded in your eye-socket.
- - - When heli-skiing I use a Thommen Nightwing
, which is a sky-diving altimter, strapped over the arm of my ski-jacket. SSE make a suitable alternative. Thommen's mountaineering altimeters are available in an Alpine version to 5000m and a Himalayan version which goes to 9000m.
- - - Barigo
- - - Winter Instruments
- - ELECTRONIC ALITMETERS: Casio, Suunto #
- - - Most mountaineers use the wrist-mounted digital altimeter watches by Casio or Suunto. Their advantage is that they are cheap, small and light.
+ WRIST-WATCH
- See: Guide to wristwatches for action & adventure
- CLINOMETERS
- - You only need one of these if you are measuring the angle of a slope in order to document an off-piste descent. SUUNTO make small pocket versions for surveyors.
+ LUXURIES
- Thermometer: I like to know how cold it is. You can purchase small plastic thermometers which have a ring to secure them by. They can give a warmer reading if they are next to your jacket rather than on your rucksack. Again you should secure them from two separate lanyards, with elastic parachute cord, otherwise they catch on other pieces of gear and break off.
- Camera mini tripod
- - You can purchase small plastic attachments like a table-top tripod which are fitted with a Velcro wrap. You can attach the wrap to a ski-pole or even a ski then set the self-timer and stand back for a photograph. Small Peli cases are available in which you may store your camera, which will prevent damage from crushing.
- Hip Flask
- - Stainless steel hip flasks tend to survive better than pewter or silver. If you have the misfortune to sit on your hip-flask and squash it. To unsquash it, you fill it with water and place it in the freezer. The expansion of the ice pushes the dent out. Repeat as necessary.
- Elbow Pads / Knee Pads
- - Not exactly necessary but useful in some circumstances.
- Photographer's vest
- - Not easy to find the right type in the right material. There are a vast array of photographers vests, travel vests, ammo vests. The advent of the digital camera has meant that you do not need to dress up in film canisters, lens filters, lens cleaners, light meters. #
- Ski-gear ; Late season warm weather;
- - Late season skiing can be hot when the Sun. is out. You may need to take off your jacket and roll it in your your rucksack. Your winter gloves may be too warm but very light Thinsulate gloves can work. My preference is for thick cowhide gloves which are army-issue for rope-handling or for rodeo gloves. The leather absorbs the sweat and protects your hands. Never ski without gloves because if you are skiing on the piste then if you fall, someone could ski over your hands.
- Photography
- - When I have been taking recon photographs for later reference, there are some instances when I wanted to take (art) photographs of snow texture or particularly attractive vistas. To photograph snow and snow texture, you will require a camera with manual control of exposure. Automatic exposure systems will, most likely, render snow as 'plain white'. You need to take an exposure from the snow itself, not from the general scene or from an item within it. This is most easily achieved using a separate manual light-meter. My personal preference for taking photographs of snow texture is monochrome film.
- Ski-gear: Safety gear for first-time skiers
- - Nearly all the danger to first-time skiers is to the ankles and knees when falling. As long as the bindings on your skis are set to the correct, soft setting, the binding will be release and you will be un-injured. Other dangers are so remote as to not require consideration. If you are skiing with an instructor then he or she will make sure you stay on good snow. If you are teaching yourself then you may end up in an adventure on ice and in theory you could fall over and manage to hit your head, either backwards (hardest) or forwards (fastest). A helmet will insulate you from a knock on the head in these circumstances but you would be unlucky to find yourself on ice. A small rucksack will soften any backward fall. However, it is quite a trick to fall backwards when skiing because your skis stop you from doing so. Elbow and forearm protectors of the kind used in street hockey will soften the blow to your arm if you go flying forwards. Their secondary function is to soften the blow your arm imparts to your shoulder joint when you hit. Dislocated shoulder is a common injury on skiers who go in forwards on a hard surface because their arm is tensed ready to break the impact of landing. Remember it is not resistance to penetration that the protection is required for, you are not falling on a bed of nails. It is the sudden application of force to your bones and joints. Therefore protection needs to be soft padding which adds a cushion rather than a hard shell.
If you are learning to ski with an instructor then these safety devices will be unnecessary. #
EQUIPMENT PURCHASE FOR FIRST TIME SKIERS:
(1) Concentrate on the gloves. If you can afford it, purchase Gore-Tex gloves, as large and insulative as you can. Ice-climbing gloves from the makers of mountaineering gear like Black Diamond. Gore-Tex mitts will be fine and are even warmer. The objective is to keep your hands dry and therefore warm. Purchase a pair of ordinary synthetic Thinsulate gloves in case it is really warm. Take a pair of washing-up gloves to use as glove-liners in case you really are rolling in the snow a lot.
(2) You can purchase cheap ski clothing: A jacket and a pair of trousers or salopettes or a bib. If you have the money, purchase jacket and trousers which are made from Gore-Tex, so you will not get wet when you fall in the snow.
(3) Sunglasses: Buy any pair you like. A name-brand reputable maker only.
(4) Hat. Start with a woolly hat. Then at least you have one. Take two in case one gets wet. Take an Ushanka flap-hat if you have one. As long as you have a hat of some description.
(5) If you can find one, take a toque, a tubular length of cloth which goes over your neck and can be pulled up over your face. These are much better than a scarf, but a scarf will be fine if that is all you have. A toque can be purchase at military surplus stores. Some ski-shops may have the larger, furrier kind. Shops in the ski-resort will have them.
(6) A day-sack. A small or medium size rucksack. Enough to hold your spare gloves, spare hat, a chocolate bar, camera, mobile telephone, a cable-lock for your skis, personal effects. If you think you can get by with just using your jacket pockets that is fine.
(7) Take a pair of those Chinese-made slippers with a thin rubber sole, like a gym-shoe, or a pair of the smallest neatest training shoes you can find. Put these in your day-sack so that at the beginning of the day or the end, you can take off your ski-boots at the first opportunity and walk in comfort. Having to walk in ski-boots is difficult and uncomfortable and will wear-down the resolve of a novice skier. Something that we could do without. You do not have to use the training shoes, but you will be really glad you packed them if you find you need them. Ski-racers only wear their boots on the piste because they do not want to damage them, which would interfere with their inter-operation with the ski-binding.
Remember: The way to buy cheap gear is to have time on your side.
FOR FIRST TIME SKIERS: WHAT NOT TO DO
(1) Do not be concerned with what you look like, unless you want to be. Once you are on the slopes there is so much to see and so many people that no-one would notice if you were wearing a gorilla costume. (Now you have given me an idea)
I remember over-hearing a discussion between two girls who was about to take her first ski-vacation. They wanted to wear 'racing pants' which were the cling-fit dungarees made from thick insulative material, rather than salopettes, which were loose-cut and made from a softer quilted material. They surmised that you would look stupid if you wore 'racing pants' on your first day of learning to ski. This focus was irrelevant as no-one will notice what you are wearing. They are too busy skiing.
+ SKI-WEAR - LADIES
- - Bogner; Willy Bogner Sr
; Invented the ladies' stretch ski-pant and the ladies' one-piece ski suit. Of the two. I find the 1950s stretch stirrup-pant more attractive.

00:49:55
- - Women spend a lot of time deciding on their wardrobe and women who are new to skiing go through hours of agonizing about what they are going to wear. Some women refuse to go skiing because they "would like like a Michelin Man in all that gear" and readiness for the arrival of Prince Charming, who could appear at any moment, takes precedence over any athletic activity. What women new to skiing do not realize is that no-one, including other women, notices much what people are wearing because of the great number and magnitude of visual stimulae which are coming toward the senses when one is skiing. You will see people skiing in 1930s wool clothing and Lodencloth right through the 1950s to even people who bought their gear in the 1970s and see no reason to purchase new because they have not worn out this set yet. #

01:01:05
Lady in an outstanding ski outfit.
- - Bogner also supplied the ski-suits for the henchmen in the opening scene of The Spy Who Loved Me (1977)
- - Women's footwear for use in the resort: Not easy to give guidance because it will depend on how much snow has fallen and in what condition that snow is on the ground. If the snow is thick you may need to wear Gore-Tex walking boots or 'moon boots' . If not then fashion boots like 'Timberland' will suffice. A lot of the time you can get away with ordinary footwear. In this respect a blessing for women has been the sudden (last ten years <2014) advent of Wellington boots
by English manufacturer 'Hunter'
, which was caused by model Kate Moss
being photographed in a pair of them at an outdoor music festival. These boots will deal with the worst conditions you find when walking around the resort. Not only that, 'Hunter' have developed neoprene lined boots, which are as good as the superior (and much more expensive) shooters' boots introduced in the late 1970s by French company Le Chamoux #
, which had a full-length water-proof zip and a leather lining. Folks today have no idea how lucky they are: My generation had to use leather boots which would not stay dry even in dewy grass.
-- The type of boot which is superior to the 'Moon boot' for tramping through deep, wet snow or dealing with very low temperatures is the ice-fishing boot from Alaska. Several manufacturers make them (one is 'Mukluk'
). They are large, insulated, Gore-Tex with a high rubber 'Gunwale' rising up the side to keep out slush.

Cortina: Guests at the von Furstenburg Chalet, sporting a variety of fur coats. The red boots are the 'Moonboots'
- - The factor to bear in mind when considering walking around the resort is that conditions just are not that harsh. Frequently there is not any snow on the ground because it has been cleared. You can just wear footwear you would use on a rainy day back home. I would not give it any more consideration than that.
- - 'Russian Style': With the fall of the Soviet Union, Western goods flooded into the Russia and the Ukraine and women who had worn 'Babushka' boots, the calf-length zip-up 1950s felt working boots, could suddenly dress-up like a Sunset Boulevard 'Street-Walker'. Women in Russia and the Ukraine could wear knee-height leather stiletto boots through the winter and parade around in them, ready for that moment when Prince Charming was going to arrive and take them away from all this. The advantage of wearing leather stiletto boots was that the metal spike heel meant that, unlike the men, they never slipped-over on ice. So, ladies, if the flower of Russian woman-hood can walk around snow-bound Russian cities wearing stiletto boots for four months of the year then it is not going to be that difficult to do the same in a ski-resort, if you really want to.
- Be aware that fur trim is applied to jacket hoods and fur or sheepskin trim is applied to ladies' boots because it makes them look 'nice and warm' in the shop. Unless it is lined with fur or sheepskin, it will be no warmer than anything else.

Übermodel Veruschka, Gräfin von Lehndorff-Steinort, 1969 by Franco Rubartelli for Vogue Paris

Veruschka, modelling Pierre Cardin

Veruschka relaxes between takes with a cigarette and a St Bernard dog

Veruschka models a red ski-suit for Vogue Paris photograph by Franco Rubartelli, 1969 . Superb paint scheme on the skis. We seem to share similar ideas on the size of ski-mitts. These are close to ideal in design.

1930s: Ski apparel: Gregory Peck and Ingrid Bergmann

1964: Vogue cover by Peter Beard. Perhaps the dreaded brown patches on the mountainside do not strike fear into the heart of Vogue photographers but they they do if you are a skier. Magazine fashion shoots are not a good guide to ski clothing any more than catwalk fashion is a guide to nightclub wear.

Austrian Army in snow gear, in the Tyrol, 2012
Note that the ski batons on the far left edge of frame are off-piste ski-batons, with the large ring and the flexible web which joins the ring to the baton. You can still purchase off-piste batons. In the last forty years, the basket at the end of the baton has become a small piece of plastic because pistes are a lot firmer than they used to be. If you are off-piste you may need to prod around in soft powder trying to position your body-weight, which required the larger, old-style off-piste basket fitted to the baton.
+ SEE ALSO BOOTS
+ SEE ALSO SURVIVAL
+ SEE ALSO Winter Coats
+ KIT STOWAGE & TRANSPORT
- #
- Annual Ski Vacation: If you have large quantities of expedition gear then a useful way of organizing the gear during the off season is to pack each type of gear into separate kit-bags. The tubular canvas kitbags (now Nylon) which are military issue are useful because they are only a glorified sack and have no extra fixtures and fittings which take up space but do not store anything. DZ bags are also very useful. If you can, color-code the bags. Use sand colored for desert gear, green for temperate or northern climes, white for snow and ice, black for urban. This makes for easy reference when you are trying to find gear in a hurry. Pack up everything you need for the ski vacation in the same kitbag. This means that you have all the required underwear in the bag and it cannot be lost or worse, not-packed. Furthermore if you have the opportunity to go skiing at short notice, your entire ski kit is in one place. Store your ski baton with your skis so there is no danger of forgetting them. #
- Expedition packing: If you undertake several different types of expeditions then in addition to the above kit-bag stowage, the following measures will aid inventory control: Within each set of expedition gear (ski-tour, ice climbing, Langlauf, et cetera) you should group items of kit which are all required together in bags made from mesh fishing nets which have been sewn together. The nets can be found at chandlers (if you are lucky) and can be made into bags by tieing the edges with net-repair line. The bags made from the net are low in volume, and transparent. You can see what is in them at a glance and can easily pull out all the gear required together in one go. In some instances, you may wish to string pieces of kit together with parachute cord so that kit required together cannot be separated. In my opinion, all 'small items' required on expeditions are best kept in one kitbag, regardless of whether they are required in SCUBA diving, mountaineering or sky-diving. Individual small items are more easily lost or damaged among the large kit in the kit-bags. Items regarded as 'small items' are hats, eyewear, socks, instruments, toques, hoods, head-torches, avalanche transceivers, knives, et cetera. Again, if you can group the objects in smaller netting bags, then this will aid packing, especially in a hurry.
- Luggage; Packing skis; Hard plastic ski-tubes are greatly superior to the ski-bags for air shipment of skis. If you have ever seen baggage handling close-at-hand then you will know why. The sides of the luggage conveyers which are static will wear through any bag in a single journey as the bag is dragged along the sides of the conveyer. I have had large softluggage, base-camp bags, and ski-bags damaged or destroyed in this manner. I have seen baggage handlers on the apron re-arrange the baggage which has been stacked onto the luggage trailers by pulling it off the top of the trailer and then just letting it drop six feet to the floor. The other cases being dropped off were just dropped on top of the ones already lying on the floor. I hope the Devil has a particularly warm reception area for former airline baggage handlers. It is important that your bindings are not damaged because if they are damaged then they will render the ski inoperable or they may not release when they need to. I wish Peli Cases would make a ski case.
- Air Transport - Checked Luggage - Security - Theft - #
-- Theft from checked luggage has increased dramatically since the introduction of luggage scanners after 9-11. The organized looting operation which is baggage handling has never had it so good. The original plan was to make luggage look anonymous. Those large plastic clamshell cases by Samsonite and Delsey were useful for this. With luggage scanners the baggage handlers and the TSA staff can see inside which means it does not matter what the outside looks like. The plastic clamshell case is suitable for having a steel plate bolted to its exterior which has a steel cable run through it. The cable runs through the valuables. This means that theft is no longer convenient. The whole case has to be stolen. A friend of mine has secured his pistol this way and tells that on one occasion there was a slit in the luggage next to the pistol but the pistol was already at the extent of the steel cable's travel. Another friend has had had Scuba rebreather stolen and turn up on www.ebay.com, where he bought it back, and had the seller arrested at the exchange.
On all of your luggage place a return address sticker, inside and out, together with your home airport three-letter-code "LAX" so that wherever it ends up, someone knows where to return it to. When undertaking a specific journey, I place a 'waybill' detailing where the luggage needs to be on specific dates together with contact details. This gives them a chance of getting your luggage to you if something goes wrong. When the airline ends up with luggage they cannot identify, after a few weeks, it goes in the garbage skip.
+ SKIING
+ SKI TACTICS

- ON-PISTE

- Bumps in the run-out. Frequently at the end of a set of ski-ruts which have been worn into a short-cut between pistes, there will be a succession of bumps. At first you just brace yourself and tough them out. The best technique is to attempt to 'jump' the bumps but do not attempt to 'jump' too hard. What happens is that your legs lift the skis up over the bumps and the bump pushes the ski for you, easing your 'jump'. Otherwise, you just ride with locked legs into the bump and are propelled into the air via your locked legs. In a series of bumps, just 'try' to jump each bump. Your skis will just ride over them.

- The same tactic can be used in the much more dangerous 'dip'. You have to be careful because if you hit these obstacles at speed you can find that your kneecaps smash your own teeth out. With the dip, you have to push down into the dip in order that your torso does not sink into the dip and is as high as possible for the 'hump'.

- Falling Over

- Imagine that you are traversing a slope of soft moguls at speed. Zig-Zag. Eventually the mountain gets the better of you and catch and outside edge and start to fall. You are falling over forwards because the mountain has grabbed your ski. Normally, most people fall forwards and spread their arms out to land on the ground. From this position, in order to get back onto your skis you have to push your torso all the way back up the mountain until it is above your skis. Do not do this. Just as you feel that you have been tipped over the edge and are starting to fall, roll your down-hill shoulder down toward the ground and land on the back of your shoulders. Your skis will be above you and you continue your roll so that you land on your skis. If the action is fast you can end up back on your skis. Certainly when you are skiing on Bigfeet you almost always land back on your Bigfeet with hardly an interruption. Although sometimes you have a face full of snow and cannot see anything. On Bigfeet, you can go fully forward, which you nearly never do on skis unless you are thrown clean out of the bindings.

- Jumping

- Jumping is the most fun and easiest on well-prepared pistes which have a long series of Sine-wave undulations. You do not really 'jump' but you just go over them at speed and become airborne. Things can get interesting if you misjudge it. I have gone over the edge of the rise to find that, although I was returning to earth, the mountain was falling away faster than I was and it seemed to take forever to make contact with the snow again. In less than ideal conditions, such as where you are flying up a ramp in the snow or using a large hillock to get airborne, ie where you are receiving a 'push' rather than just falling, then remember to lean gently toward the tips of the skis.

- Really big jumps: Off-piste over the Seracs on a glacier, you sometimes have to make a big jump from one huge block of ice over a giant crevasse and down onto another block of ice. These can be fun although they can get hair-raising if you have to turn sharply left or right to avoid another huge crevasse, right after you land. Sometimes, you have to jump into a Couloir to begin the descent. If your legs will not move that is because they are smarter than you are. Don't do it. There is a reason your legs will not move.

- Piste Conditions: Conditions such as icey boilerplate, over which the skis slither and rumble tend to be found on pistes where the number of skiers using a piste un-refreshed by falling snow will wear the surface into slippery hardness. For this reason I like my on-piste skis to be like ice-skates. To have sharp edges and grip well on ice. It is rare to find these conditions off-piste because there are just not enough skiers.

+ LEARNING TO SKI

- When you are learning to ski, chose small resort with gentle slopes (such as Lofer). There is no point paying a large premium to attend a big-name resort most of which is too steep to ski. It is better to be a tiger on a blue run than a duck on a black run and a lot more fun. Furthermore, there is no point paying for a week's ski-pass for a ski-area most of which you will be unable to ski upon because it is steep and icy. Choosing a resort with lots of blue and green pistes will allow you to build confidence. When you are learning it is much better to be in a position where you want to go faster than to be in a position where you are trying to stop or turn all the time. The big resorts are also very busy and nursery slopes are usually right at the final leg of the pistes which return skiers to the resort which means they are busy with skiers moving fast.

- The ideal nursery resort would have gentle slopes which end in a flat-run out area. This means that whatever speed the skier has reached, he has only to point the skis at the run-out and wait for them to stop. The slopes just next to the lake at Lac de Vaux above Verbier are just like this but the flat-run out area is the lake and there are no lifts to return you to the lift system. It would have to be a drag lift. Courcheval has a 'blind' nursery slope which runs down a drag lift through woods, next to the resort. It terminates at the end of the draglift (in fact there is an icey track which runs down through the woods to various private chalets) but because the piste is a dead-end, there is no busy throng of traffic and piste-heroes running-down those who are learning to ski. The best places to learn to ski would be countries which do not have the the highly glaciated and highly precipitous Alpine slopes. Places like Bulgaria or Slovakia are also very cheap in terms of food, alcohol and hôtels. Another alternative would be skiing in North America, choosing somewhere without glaciation (which has gentle slopes) and plenty of powder. It is easier to learn in powder than it is on hard-packed snow. Those learning to ski also appreciate floodlight skiing so they can get more time on skis and ski late into the evening.

+ TEACHING CHILDREN TO SKI

- #

+ NEW TO SKIING

- If you are new to skiing, it may seem like there is much to digest before starting but in fact there is not. You need to purchase cheap ski-wear, focusing on your gloves, and then just turn up at the resort and ask the hire shop to fit you with some skis and boots which are applicable to some one new to the sport. Then you either teach yourself to ski (I did) or enrol at ski school. Most of the paragraphs here you can ignore because you will not be going far from the resort and you will be accompanied by some one who knows what they are doing. (1) Ski-Wear (2) Gloves (3) Turn-up. You will not regret it. The first few days will be hard work but the trick is to learn something simple & well then expand your vocabulary. If I was going to spend money on anything, it would be a pair of Gore-Tex gloves. When you are learning to ski, you will be falling a lot, and putting your hands in the snow. When you are an advanced skier, you do not need Gore-Tex gloves nor any expensive Gore-Tex two piece, because you never touch the snow. You could ski in denim jeans if so inclined. You could really use a Gore-Tex one-piece and Gore-Tex gloves in one's first week of skiing. That is when you need them.

- Fitness

-- Obviously if you are fitter, then you will find any sport easier to learn. Novice skiers complain that their legs get tired, and wish they were fitter. Well I can tell you that even if you start the season with Olympic level fitness, your legs still get tired because you keep skiing until they get tired. So you still get tired legs however fit you are. It just takes a lot longer. If you are unfit, the most important thing is to start fitness training. This means choosing to undertake something which you will start, not choosing to undertake something you wish you would start. If you take no exercise then just go walking for a couple of miles three times per week. If you want to start ski-related fitness, make a step out of a box or a pile of telephone directories. Step up and down twenty times. Rest. Now put on a backpack and do the same again. Now put on a backpack filled with bottles of water or bricks. Keep going. I warn you that (a) starting is the most difficult. If you feel reluctant to start, reduce whatever it is that is making you reluctant. (b) It is addictive. Once you start that regime of walking a couple of miles three times per week you will find that get an itch about the time you normally go, and you have to go. Then you will have to run instead of walking it. Then you will have to run further.

In the end, you are doing this for pleasure, so if you do not want to, don't. Besides, if you drop points on the daytime downhill events, you can claw-back your lead by partying extra-hard in the Aprés-Ski events. Those losers who can ski down near-vertical couloirs and then Wedel down a 10km run-out without stopping are all in bed by half past nine.

Andrew Irvine
, subsequently killed on Everest with Mallory, on skiing in 1927:


When I am an old man, I will look back on Christmas 1923 as the day when to all intents and purposes I was born. I don't think anyone has lived until they have been on skis.



+ AVOID & MISTAKES
- Over-tightening your bindings: Newcomers to the sport, particularly teen-age boys, observe ski-racers setting their ski-bindings very tight. The settings on the bindings, 1-10, they imagine are a direct indication of the level of ability. Thus they tend to over-set the tension on their bindings. If they are unlucky when they fall the binding does not release and they end up with knee injuries. I have seen this happen several times. Ski racers set their bindings very tight because they build up a lot more g-force on fast, flat race pistes. The higher the speed in the turn, the greater their weight on the skis, and the tighter curve the skis form on the surface. Remember, his weight is being forced down on the middle of the ski, which is a beam, a beam which is supported by the two outer tips, which are wider then the center. The ski bindings are now being forced toward the boot, which is tensioning the springs in the bindings, as if they ski is snagged somewhere and forcing the boot the wrong way, as if the skier had fallen. A sudden increasing in force on the ski, produced by a bump could force a release on the binding, which would cause the loss of the race. Race pistes are flat and so the skier will be going fast and skis will remain in contact with the snow. This means he can build up a high g-force in a turn, high enough that you can feel your weight being force down onto not just the outside ski but the inside ski as well. It is rare that you find those conditions on recreational pistes because they are so choppy.    LYou can see footage of some ski racers coming to a halt with the remains of a ski still under their boot, where the front of the ski and the rear have snapped off and the binding still has not sprung. If you are not a ski-racer you do not have to take this risk. Remember if you blow your knee or ankle badly enough you may not be able to ski again.    Furthermore, skiers who are skiing fast will tend to go full-length in fall or trip and land several body-lengths away on their arms or upper torso, which means binding settings are irrelevant. Binding settings are much more important at low speeds where you weight is over your ankles and going through them to the skis and the ground. It is that weight, that force, applied to a twisting joint which causes injury.
- Using ski-boots which are too rigid: Novice skiers see the grades of rigidity on ski-boots and in order to increase their self-respect choose a boot which is too rigid. This means that they are unable to move their weight around to manipulate the edges of the skis. And that the ski will be more sensitive to every wrong input.
- Ski-Length: Newcomers and teen-age boys tend to purchase skis which are too long because they see the length of ski that ski-racers ski upon. To a great extent, this stopped during the introduction of 'Carver' skis in the mid-1990s which are much shorter. The benefit of having teen-age nimrods on skis which are too long for them is that with the exception of straight-line speed, it kept them from making a nuisance of themselves because the skis were unwieldy and unmanoeuvreable Most teen-age nimrods on skis went over to snowboarding when it arrived in the early-1990s.
- - 'Extreme': Novice off-piste skiers have a preoccupation with 'extreme' skiing, whatever that is. Beer manufacturers make large sums of money lubricating discussions about what 'extreme' skiing actually is. And why every one else apart from the holder-forth is not an 'extreme' skier. There is no such thing. Some skiing is more dangerous than others. For example, all of the big North Faces of the 4000m peaks have been 'skied', including the Briethorn above Zermatt. Looks impossible. However, if you ski with mountaineering guides you will find that there is a whole lot of side-stepping going on. It is more of a 'descent on skies'. If you want to learn to be an accomplished off-piste skier then go to the off-piste training areas listed on this page. If you would like to have a look at some of the most difficult off-piste skiing then Mt Gele at Verbier, above Lac de Vaux can been observed from the (blue grade) Lac de Vaux ski area. You can take the cable-car to the top of Mt Gele and ski to the edge of those couloirs which face Lac de Vaux. Have a look down. If you do not like what you see then you can ski off the long obtuse descent on the other side of Mt Gele without difficulty.
Q: How many 'extreme' skiers does it take to change a light-bulb ?

A: Fifty. One to insert the new light-bulb and another forty-nine to whine

"I coulda done that!".

By the time you are considering descents which are dangerous you are discussing a limited number of couloirs in specific locations. Therefore any discussion over 'grade' are irrelevant. Grades are generalizations and we are now dealing with specifics. Specific locations in detail.
- Skiing Videos and Advertising: If you watch promotional skiing video footage you could be forgiven for imagining that every resort apart from the one you are staying in features vast areas of untracked powder being plundered by heli-skiers who perform 30m jumps several times per day. Skiing videos are shot by taking a helicopter to look for untracked powder in areas removed from lift-served pistes. The skiers or snowboarders are then deposited at the top and the helicopter deposits the camera crew at a point selected by the director. There are Second Unit directors who specialize in this kind of shooting. Then, as in motion pictures, the real conceit starts with the servant-of-the-Devil and source of all evil to the movie-location-hunter: The film editor. Editor is the wrong word because it gives the impression that he just chops the ends of the takes and splices the rest together. It is the editor who makes the motion picture, who composes it, in the same way a composer composes a symphony. The others just supply raw materials. The job of editing a skiing video is simple compared to preparing a dramatic motion picture but the fact that he removes everything but the best means that the poor saps in the ski-chalet bar staring up at the skiing video over their beers have their expectations raised too high. In a way this is a good thing because it will encourage them to seek new adventures. So: What you see in the skiing video may be a set of conditions that occurs in one part of one mountain range on one continent in some years. Different continents have different climatic and weather conditions. You can get nearly vertical pure snow banks in Alaska. South America has these strange snow-mushrooms which line the Bergschrund
of glaciers. It all depends.
   Similarly with ski-resort magazine articles. If ever the writer mentions 'powder' then stop reading. It is like reviewing security and foreign policy analysis literature post 9-11 when any article on Bin Laden mentioned 'the spiritual heartland of AQ in the Yemen', stop reading. OBL was distantly related to a family in Yemen on his mother's side. That's all. AQ has nothing to do with Yemen. Powder is a function of weather, not geography. Resorts per se do not have powder but journalist writing ski articles like to exaggerate in order to make their copy more readable, saleable. North American resorts have a lot more powder than European resorts because they have different weather systems. Powder occurs in Europe only during some weather conditions, which may not occur in some years.
- Skidding to a halt: When a novice begins to command his skis, it becomes tempting to try all sorts of stunts, one of them being the dramatic skidding halt in front of an audience. The problem with this is not so much the level of skill required, but the rule in mechanical engineering which says that the reliability of the new equipment being demonstrated is inversely proportional to the number and importance of the audience to which it is being demonstrated. This means that the chances of something going wrong are not a function of your level of skill but are a function of the size of the disaster which will be produced by your mistake. This means that the chances of some slight invisible undulation in the snow which catches the edge of your ski are all the higher in proportion to the size of your audience. Do not risk it. At best, one looks like a fool, at worst, you end up in litigation after crashing into your audience and injuring some person.

Downhill Racer (1969) 00:58:19
- - At the Mitteleuropa Ideal Ski Resort I would organise a service whereby men skiers could pay to descend a prepared piste and skid to a halt in front of a gaggle of screaming female admirers whom throw their underwear at him while he pauses and looks sternly back up the piste to see his elapsed time displayed on the leader board and a TV camera catches him in a profile from a low angle, which is projected onto a giant TV screen.
+ SKI RACING
- Ski-racing is done on a large red piste
. Black pistes are too narrow and twisty. The piste is prepared by the Pistenfahrzeug until it is flat. If the surface is prepared with the 'corduroy' harrow which is pulled behind the piste then this is the ultimate in surfaces for skiing. Crans-Montana features long distances of wide red pistes with superbly prepared corduroy surfaces. When you ski on these prepared surfaces, the normal vibration which the undulation of the choppy snow feeds to your legs is absent and so is the information on your speed which that feeds through to you. This means that you suddenly find that the skis have stopped feeding vibration back to you when you go over a rise. This is because you have enough speed to 'take air' and leave the surface of the snow. Most pistes are very choppy because of the moguls carved into them by intermediate skiers and this means that reaching racing speeds is rare. It can be done but the only way of doing this is if you know the actual descent well and have skied it when it has been in race prepared condition. This means that the muscle-memory in your legs of what angle the skis should be at any one point in the piste is retained. You need to have this programmed so that the angle of the mountain surface as it comes toward your ski edges is correct. If you do not have this you will have to ski defensively, which means, usually, in a Wedel, where you can recover from a piece of unexpected mountain grabbing at the ski edge by unloading your turn or turning the other way. If you are walking down the street and someone is coming toward you but it is not obvious which way they are going to go: With your next right-hand footstep, place it not in front of the original footstep, but cross your foot over to the left-hand track or beyond. This places your center of gravity into a tight right hand turn. You can counter this by doing the same with your left foot placement. You now enter an unstable and tightly turning course the direction of which can be controlled either by accepting the new course of your center of gravity or by over-correcting it. You can acquire a rapid change of direction by moving like a boxer, bouncing up and down on the spot, but you cannot do this on skis. The tight-fitting suits which skiers wear are to improve aerodynamics at speed. They really do make a difference. To get a feel for how much of a difference aerodynamics make, if you are training, follow someone else down the mountain. As you build speed, you will start to accelerate into their slipstream. Quickly, you will have to stand up in your skis to gain enough drag to stop yourself going into the back of them. Your aerodynamics are better because the vacuum created by the skier ahead of you decreases your drag.
- Ski-racing attracts the mind's eye of newcomers to skiing in the belief that it is the ultimate manifestation of the activity but in fact is more of an off-center specialty. Like Grand Prix racing, it is conducted on an artificial circuit, using artificial equipment which has no purpose outside of that specialty. Like Grand Prix racing, the attention which ski-racing, particularly the downhill, attracts makes it a desirable activity to be involved with and for the same reasons: Glory, girls, booze, more girls. And why not. The actual act of Schussing does not have many applications during normal skiing.
- Like any event in a ski resort (particularly the Davos summit), all the hôtel beds are taken up with non-skiers which means the slopes are empty and there are no queues at the lifts. Ski races are not as busy as the look on television footage. The camera directors are careful to show only the thin ribbon of people along the edge of the race piste and the small crowd at the bottom by the finish line.
- PISTE-RACING
- This is the snow equivalent of illegal 'Stop-Light Drag-Racing' on the road except it is not illegal.
- - Mogul Racing
- - If you wait at the top of a mogul bowl, especially one with a good rim, then, frequently, you can line up against some one going over the rim and then jump off at the same time as they do, racing them down the bowl. I do not consider myself an accomplished bump skier but I found that carver skis would just ski the line over which you pointed them, when negotiating Mogul fields. This was useful when you were going to A to B or negotiating difficult terrain but for bump skiing it was frustrating. Traditional non-carver skis were much easier to use in traditional bump ski technique. My preference would be for skis which were slightly shorter than I would choose for off-piste and blunt so they just slid and held that slide for the duration it took to get me over the mogul I was negotiating.
- - The Run Out
- - At the bottom of a piste you will find the run-out, which at some point will cease to be moguls as even average skiers stop turning in order to preserve their speed and ski all the way to the lift Talstation. Speed on the run-out requires long skis, well waxed. This is about the only time that long skis are any use because if you want to race down the steep section of the piste it will be either chopped-up in low moguls or fully moguled. Conditions are frequently icey or boilerplate and preferably slalom skis, preferably ones which grip well on ice, are most advantageous here (This is a personal view). My ideal piste-racing ski is a slalom ski with a good edge which is between one size and two sizes too long for my weight. This give me grip and rapid turn in the moguled chop and then the length gives me speed in the run-out. Others will have a different opinion on the optimum ski for piste-racing.
- - Slipstream - The Rabbit
- - If you are following some one who knows the mountain, especially if they are a ski-racer, then you can use them as a 'rabbit' and follow their line and indeed, the angles of their body and skis. The mountain will always be coming toward your skis at the correct angle, which means you do not have to ski defensively (which is much slower). If you are racing down an unprepared piste, which will be full of chop and moguls, the use of a rabbit will be vital because otherwise you would have to ski defensively, where you are always out of balance in order that you can change direction by widening the turn or tightening it.
- TABLE: SKI-RACE PISTES - OLYMPIC AND WORLD-CUP #
| | | | |
| --- | --- | --- | --- |
| Country | Ski-Resort | Piste | Race |
| France | Val d'Isere | | |
| Austria | Kitzbühl | | Hahnenkamm |
| Switzerland | Wengen | | Lauberhorn |
| France | Mégève | | |
| | | | |
| | | | |
| | | | |
| | | | |
- The http://www.somewhereclub.com/ offer ski race tutorials with Downhill ski champions
+ BAD WEATHER - WX;
-- Flat-light: Flat-light is which happens when there is an overcast. In bright sunlight, the snow is lit in relief, the shadows cast give the snow texture. You can see the undulations in the snow and avoid the upright, the rises, coming toward your upper, outer ski-edge, and grabbing it, tipping you over the front. You only ski on the inner, lower edge of the ski. In ski races they sprinkle pine fronds over the piste so that the racers can see the undulations of the surface. Back in the Day, one would swap sunglasses for lenses designed to help in flat light. They usually had a vermilion tint to them. Usually they were goggles rather than sunglasses because by the time there was flat light there was also bad weather. I find with the later sunglasses lenses, they are just as good in flat light as the old specialist flat-light goggles.
-- Low cloud, fog, falling snow: Once you descend into low cloud, fog, snow-storms, things become more difficult. The main danger is that you cannot see what you are skiing at. Everything looks white and you cannot distinguish between one patch of snow and another. You cannot see ridges in front of you, nor ditches. At La Videmanette near Gstaad I was cutting across a slope toward a trail in during bad visibility. I was moving carefully but what I could not see was there was a 70cm drop where the trail had been cut into the mountain and the snow. I went over the drop and the landing put stress on one of my knee joints. There was no serious damage and I continued skiing but it could have been a serious injury. I could see the trail some distance away, so absolute distance of visibility was satisfactory, but the flat light concealed the terrain. Another time at Lech I was skiing across a slope toward a valley bottom. I was moving carefully but the flat light, low cloud and poor visibility did not tell me there was a rolling increase in gradient, before it bottomed out again. I skied onto this gradient and found that my skis accelerated ahead of me, causing my weight to go backwards. I was held up by the ligaments and tension in the muscles down the front of my legs and managed to struggle back over the skis and regain control, but I had received mild strain injury to both knee ligaments. Not enough to stop me skiing, but if could have ended badly.

Rotten Weather
-- Rain: Only lunatics like me go skiing in rain. The main problem is keeping your sunglasses or goggles clear. Rain means rain clouds and weather front coming in, which means high winds. High winds will mean closure of the upper cable-cars. If there are no drag-lifts to get you there, then there is no easy way up. About the only advantages of skiing in rain are: (1) You learn how to ski in rain (2) There is no-one else around.
-- Falling Snow: Thick falling snow can reduce visibility to almost nothing. I have been in conditions where I could not see to the end of the skis. Obviously, skiing in this level of visibility can pose difficulties. At Lech once I was moving slowly and steadily in a big spread of a snow-plough watching my skis (I could not see the tips), which is where visibility ended. I knew there was a trail which lead to the Talstation of a chair-lift somewhere up ahead. Suddenly I was stopped and jerked forward in the bindings and head-butted something soft. I found that I had skied into a large soft ski-bank which formed the edges of the section of piste and trails which I was on. It was impossible to tell up from down. It was just all white. I had to reverse out and feel along the top of a snow bank until it lead me somewhere.
-- Poor Visibility/No Visibility
-- On a piste, poor visibility means that you struggle to see the angle of the snow which is coming toward your skis and end up with the wrong edge of the ski facing the chop, which makes you trip over. When off-piste, poor visibility, where you cannot see more than a few yards, means that you can ski into an obstacle, like a sunken piste or sunken track, or ski over a cliff. Use your head. I have used a few of my nine lives when doing this.
+ GIRLFRIEND SKIING
- Resorts for Girlfriend Skiing.
- The Ideal New-Girlfriend Ski-Experience.
- In order to compose the ideal skiing vacation day, we need to take account of the underlying differences in psychological make-up.
-- Obviously, your new girlfriend can ski, because what use would a girlfriend be if she could not ski ? First, some psychology: Men find that their identity as a male is massaged by undertaking activities which are central to the male low-cortex drive. The male low-cortex drive consists of pursuing large mammals across difficult terrain, wrestling them to the ground then killing them and dragging the carcase home to be cooked and eaten. Most male activities are derivatives of this low-cortex drive. Hunter-Gatherer groups of anatomically modern humans going back through Neanderthals consisted of about thirty persons, ten or eleven of whom would be adult males, led by the Alpha male. Most modern sports approximate to these original low cortex activities. They involve interacting with the world physically, running, jumping, chasing and hand-eye co-ordination for the use of spears and arrows. Darwinian selection ensured that those who were good at it and enjoyed it lived on to pass on their genes into the pool. Thus, men tend to enjoy dealing with their world physically and feel that their identity as a male-hunter gatherer (identity is usually a social identity, an identity within and given by a society, their hunter-gatherer group or wider) is massaged and amplified by the visibly successful undertaking and completion of these activities.
- Some examples:
If you ask from your friends for volunteers to help you drag a telegraph pole across kilometers of rainy, muddy hills and valleys you will find few takers. However if you call the activity 'war' or the 'army' there will be a crowd of helpers volunteering.
If you ask for volunteers to speed a week inside a fiberglass box while machinery sprays the box and its exterior with freezing water twenty-four hours per day and several of you must take it in turns to go outside the box and faff with bits of rope and lengths of wood, then you will find few volunteers. If you call it 'ocean racing' there will be a crowd of helpers volunteering.
- In both of these cases the activity is the same but only one of the activities, the one with the attractive appellation, serves to massage the identity as a male hunter-gatherer of those undertaking it.
- Women, many of you will already have noticed, are different. Physically, a woman is unable to wrestle a woolly mammoth to the ground and break its neck. But she can manipulate a man to do this for her. She manipulates him using the assets which evolution has granted to her. Women remain back at the hunter-gatherer camp looking after children. While men have to hunt as a team and worst, fight with other groups of male hunter-gatherers as a team, women do not have to work as a team during their camp chores and child-minding. Psychologically men are team-players, evolution has ensured that the better teams survived. Back at the hunter-gatherer camp, the only thing another woman can do is take away the attention of her man from her. Just like the old joke:
- Girlfriend Skiing: Differences in Psychology and Physiology
- Women react differently to physical pain or physical fatigue. If you train women weight-lifters (not the East German type) you find that the normal psychological track of pain-anger-adrenalin-strength is not there in the same way. It is more pain-whining-ask-for-a-rest. You need to address this in your efforts to psychologically re-wire, to motivate. Women will not find enjoyment in lengthy ascents/descents and intense fatigue. Also, remember that they are physically much weaker and so it is no surprise that they give out faster. Furthermore, the length of women's legs is longer in proportion to their body weight, which means that they have less leverage.
If I was going girlfriend skiing it would be to a resort with:
- Lots of big reds. The prettiest resort I could find. Probably Crans-Montana, Gstaad, somewhere in the Dolomites, or Les Trois Vallées. Probably not somewhere like Verbier or Val d'Isere because at both of these resorts the pistes back to the resort are steep, difficult, long.
- If we were staying a week I think I would try and find a hôtel which you could ski back to and ski from. This cuts out the heavy and annoying work of staggering around the village in ski-boots trying to catch transportation. This is especially important if she is a novice skier or she is unfit.
- The resort would need some Aprés-Ski because I doubt her idea of fun is pawing over maps and photographs all evening while drinking whiskey and smoking cigars.
- You will need to know-of or have scouted some decent lunchtime restaurants.
- The hôtel should have a sauna or hot-tub or both.
- Girlfriend Skiing: Modus Operandi:
-- Kit: Your girlfriend my have her own ski-suit, hat and gloves, all color-co-ordinated but they will not have all of the kit listed on this page which is necessary for bad weather. This means that you will have to double-up on your kit in order to ensure that both of you have the same equipment. Girlfriends are not best pleased by skiing in bad weather and so you will more likely be heading for a cosy Hutte for a hot chocolate than pressing onwards into the teeth of the storm. However, you will need enough kit with you in order to get her to the Hutte. The weather has to be very bad indeed before women will wear something which is unwashed, dirty, torn, or, God-forbid, the wrong color, so make sure that the spare kit does not smell of Husky urine or has been used to wipe grease off a rifle bolt.
- You need to do more than a quick glance over your shoulder every 30 minutes to check she is still there. Women's lives are built around receiving attention and nearly everything they do is orientated toward increasing the quantity of attention they receive. You should set your watch so that you fuss over her a little bit every fifteen minutes. Think of some compliments, small ones so as not to be too obvious, and deliver them hourly.
- Girlfriend Skiing ; Training of Emergency Procedures ;
- Training women is very hard work. Training women for emergency procedures is even harder work. As soon as you raise the image of a physical emergency, they start to panic, even if you have not left the classroom. When training, you are replacing a natural set of reactions which are programmed into the low-cortex with another set of reactions which have been optimized for the new post-Darwinian environment in which homo sapiens sapiens finds him or her self. Therefore training men and women is different because you are starting from different positions. Therefore the directions to the new location are different. If you raise images of avalanches, crevasse-fall, broken limbs and concussions then this makes women panic. You will have to separate this training into classroom environment and leave it there. Women approach physical danger by just not going there. They herd-up their relationships into their arms and run away screaming. Remember that when you say "ski-vacation" to her, she imagines fun and romance, Alpine beauty, log fires with huge fur rugs in front of them. She does not imagine Scott of the Antarctic but tilted to a fifty-degree angle.
- Girlfriend Skiing; Things to do while Girlfriend Skiing
- Use your race skis - Skis which are too long for off-piste.
- Bigfeet. Bigfeet are a lot of fun and some aspects of off-piste cannot be tackled on them. You can occupy yourself during the girlfriend-skiing day by performing experiments with the bigfeet.
- Practice styles: There are various styles of skiing which can be practiced on-piste. Of you can work on your smoothness. You do not need a lot of this when you are locking horns with dangerous off-piste but you can work on it while you are girlfriend-skiing on the piste.
- Girlfriend Skiing; First skiing trip with a new girlfriend.
-- If she cannot ski, I would chose a low-pressure resort with gentle blues and greens. Perhaps Lofer in Austria. If she was a keen party-animal, then I would have to chose a resort with a lot of night-life Verbier seems to have the most but other opinions may differ. Val d'Isere has a lot. Both of these resorts are too steep. Somewhere in Austria would offer a more nightlift together with easier skiing. Perhaps Italy, most likely Cortina. Instruction for a new skier would have to take place at Lac de Vaux in Verbier and even that is more difficult than I would like. Austrian Aprés-Ski would broaden the choice. Italian resorts are gentler but for that reason I rarely ski on the Italian side. This may mean I have to re-map the Alps from end-to-end, this time with a GPS and a full set of digital cameras.
+ NIGHT SKIING
- At Neu Jahr, some resorts will stage a night-time descent of the mountainside by skiers in a line, all carrying flaming torches or flares. This is one of my favorite scenes. I have skied at night several times, the best time when skiing under a full moon (no lights needed) after descending the Adlerpass from Saas Fee descending toward Zermatt. Heaven must be really something if it is better than that.
Full-moonlight on lying snow produces a kind of monochrome daylight. You can see as far as you can in daylight, except above the mountains is an inky, starry sky. This is something really incredible. A memory which will stay with you for a lifetime.
+ SKIING WITH DOGS
- Sometimes you see people skiing with dogs. The dogs are usually quite happy to join in and their paws seem to have a good grip on even hard snow. They do seem to enjoy tree skiing more than piste skiing. Dogs do struggle in deep snow in the same way we do, post-holing through. Skiing with a large group of friends and dogs can be a lot of fun. I notice that in deep snow, when it is too deep for the dog, he will relinquish his customary position on 'point' and follow behind in whatever tracks I am making.
+ SNOWBOARDERS - A SKIERS EYE-VIEW
- The psychology: Snowboarding gave young skiers a way of being better rebels than just being young rebellious skiers could achieve. Rebels define themselves in relation to another entity, usual an existing establishment. The world of skiing became the existing establishment and over-night, young rebels could become ... rebellious of the existing establishment. They could do things like re-terming a person who was 'left-handed' as 'goofy' instead of 'left-handed' to show that even the nomenklature of the old order could be rejected. They could wear different clothing, to show that they were different. The snow-board meant they could undertake different activities to skiers. Snowboarders could adopt different behavior to the old order. No longer did they have to wear evening dress to dinner, they could adopt behavior, language and dress that was different to the establishment: They could act like soccer hooligans when riding on the chair-lifts shouting insults at skiers. The advent of snowboarding happened at the same time that the income curve was rising and the costs of tourism were dropping, which meant at a lower class of individual could vacation in ski-resorts. The result was inevitable.
- OFF-PISTE
- The objective of every off-piste skier is to find un-tracked powder and carve a Wedel into it, particularly in aspiring off-piste skiers. Powder is difficult to find in the Alps compared to the Rockies and becomes tracked out quickly. You need get up early, ski or ascend to remote itineraries or distant valley systems. Powder is very easy to ski in and tremendous fun. How does powder in a remote Couloir become tracked out within forty-eight hours ? Because those people who live and work in the resort know their way around the area and they watch the weather and the snowfall. After new snow has fallen, they know which areas will be in condition for off-piste and head out for them right away. Tracking falling snow as the weather system makes its way across the Alps then driving overnight to wake in the resort for the first Seilbahn up and arrive at un-tracked powder is one of life's greatest satisfactions.
- TRANSITION FROM ON-PISTE TO OFF-PISTE
Most piste skiers have an ambition to transition to off-piste. You can try skiing in mush by finding patches between the pistes. At first you fill find that the mush grabs at the ski tips and trips you up but you can experiment by throwing your weight back onto the rear of your skis and muscling the tips upwards. The skis will accelerate when you do this but will turn very quickly with all the weight back onto the rear of the skis. Furthermore the tips will lift out of the must, enabling you to turn them.
Almost immediately you wish to try off-piste you will need to acquire lanyards which tie around your lower leg and attach via a clip to the ski binding. This is because if your ski comes off then it quickly buries its self in powder or soft snow. It is always further back than you think. In the worst case you can lose the ski (it has happened to me). Of course, if you are ski-mountaineering
then you could get killed because you are no longer able to ski out. You could be trapped in a crevasse field, where skis would prevent you from dropping into a crevasse. Before the war, a friend of mine was skiing in Austria and after a jump he was unlucky enough to go through the snow-roof of a crevasse on skis, but was saved because back then, bindings did not release. He ended up hanging upside down from his skis. It is best to apply also a length of red or orange ribbon to the binding of the ski. Perhaps 2m of it. Roll it into a roll and secure the roll with elastic bands. Place the roll in the cuff of your ski boot or your ski sock. Some superbly designed ski-tour salopette pants have a small zip pocket on the ankle which can be used for storing these rolls of ribbon and the lanyards. You may purchase the length of ribbon from a haberdashery shop or drapery store. The lanyard can be made from parachute cord (preferably thinner) but there are ready-made versions available. Do not hesitate. Any piece of string and ribbon is better than a lost ski. When you have to walk down the mountain it is a lot further than you think.
-- The first bracket of 'Off-Piste' is 'Just-Off-Piste'
-- The advantage of skiing Just-Off-Piste is that if you have difficulty negotiating mush then you can traverse back out to the piste or reduce the grade of descent by steering more toward the piste. In general, at most resorts you can find two pistes with enough mush in the middle to merit an off-piste excursion.
-- The second bracket of 'Off-Piste' is 'Lift-Served Off-Piste'.
-- 'Lift-Served Off-Piste' means that you access it by taking the cable-car. From the head of the cable-car you can move laterally at a rate of descent where the skis will just move forward. Usually , scouting for off-piste means doing exactly that to the right and left away from the piste. ( Do not do this on pistes which run across glaciers and crevasse fields unless you know what you are doing. Saas-Fee, Tignes and Argentiere all have pistes which run across glaciers). You are looking for descents which will still allow you to return to the piste system and take a cable-car back up. This means that you are still in the category of 'down-hill'. To an extent you are still in the realm of skiing rather than mountaineering. Once you move onto sections of mountainside which can avalanche then you need to train yourself as a mountaineer.
-- The third bracket of 'Off-Piste' requires use of on-board motive power for the lift. This means that you are either ascending using either skis with skins or with boots or a helicopter.
+ SKI MOUNTAINEERING
You can access a lot of off-piste by climbing to unused passes between the peaks which take you over the ridge and into another valley system but you need to learn mountaineering to do so.
For ski-mountaineering you need ski-tour skis, which have a convertible binding, which can be either locked flat (downhill) or free-heel (uphill). The binding allows 'free-heel' skiing so that when the ski is fitted with skins, you can ascend quite steep slopes. To ascent steeper still you would have to remove your skis and attach them to your rucksack, then kick-in with your boots and crampons. Ski-Tour boots have a boot-sole with a curved last to it, to allow you to use them as mountaineering boots. If you wish to use a specific downhill ski which is fitted with downhill bindings you can purchase 'converters' which fit into place in the binding instead of the boot. The boot then fits to the converter which is free-heel. Normal ski-tour skis are very light and may not have the characteristics you require in a long or difficult descent. So you may wish to use converters rather than pure ski-tour skis. Once your skis are off you may need crampons to climb snow or ice faces but use of crampons in snow is a tricky business. When you thrust your boot into the snow you get the same effect as if you picked up snow between your hands and compressed it to form a snowball. The snow sticks together except this time it is compressed onto the sole of your boot. This can 'ball-up' until your boots are both heavy with snow and slippery. Crampons make this effect worse because they give the snow something to grip and protect the snow from being knocked off by your foot-fall. Plastic inserts called 'anti-bot' can be fixed to the crampons. Always purchase your crampons with plastic anti-bot plates to make sure you have them when you need them. Crampons for snow are formed from a flat piece of steel which is punched out like a pastry shape, then has the spikes turned downwards. This allows the snow to enter a cup-shape, a wedge, and gives it less purchase. Crampons for ice tend to be made from a 'vertical' piece of sheet steel, which is bent around in an oval shape the same as the sole of your boot, like a piece of band-saw wrapped around the welt of your boot. The teeth are then cut into the plate. This is stronger and will survive the greater forces on the crampon from ice-climbing.
- Anything more than this will be winter mountaineering.

The difference between Uphill and Downhill.
- - The fourth bracket of 'Off-Piste' also requires use of on-board motive power for the lift: Heli-Skiing.
+ HELI-SKIING
- Beats walking all the way up. But rule number one of helicopters is 'Do not get into a helicopter unless you have to.' Helicopter pilots are different beasts to fixed-wing pilots. Be aware of the risks of getting into helicopters and chose conditions which favor your survival. Sir David Attenborough, explorer, naturalist and documentary maker, describes helicopter operations as "a combination of shouting and barely suppressed panic". #
- Heli-Sking suffers from politicization: Heli-skiing is banned in France but not in the other Alpine countries. Heli-Skiing was banned in France after a French president went heli-skiing on Mont-Blanc and was met on his return by lots of protesters. "Why ?" you ask. Because walking up to the top is a proletarian method of getting to the top and being helicoptered to the top is a bourgeoisie capitalist counter-revolutionary revanchist imperialist-reactionary method of getting to the top. You can fly your helicopter around and around Mont Blanc if you like, but you just cannot stop and drop off a skier onto the mountain, because that's evil.
- - Eco-Marxists attempt to push forward a stalking horse of 'the environment' forward in front of their own agenda in an attempt to camouflage it. The claim that the beating of the helicopter's blades will rouse hibernating animals from their hibernation. In fact this is false, as anyone whom has ever discovered a hibernating animal will know. At Verbier, there are some marmots who live in burrows underneath the head of the Medran 2 lift, not far from the top in the big bowl into which you descend when you turn to ski back down the mountain to Verbier village. In winter the helicopter flies over this bowl perhaps twice per day, quite low. Marmots are still there every springtime, in the pasture. #
- Fortunately in the former Soviet Union helicopter skiing is not considered an imperialist-reactionary method of getting to the top of the mountain. This is useful as there are few ski-resorts and they do not have extensive lift systems. Furthermore, getting into a former Soviet helicopter is a lot less dangerous than getting onto a former Soviet chair-lift or cable-car.
- You might receive a safety briefing before you get into the helicopter but the basics are: If the helicopter crash-lands and you are still alive, stay in the helicopter until the blades stop moving.

Helicopter ground-handling signals: Stand up-wind if the ground permits it
- Air Glacier
are a Swiss-based helicopter company. They handled all the helicopter shots and the logistics for big motion pictures such as On Her Majesty's Secret Service (1968), The Eiger Sanction (1975), and several Bond movies.
- For Heli-Skiing in the Tien-Shan see Vladimir Kommissarov at ITMC
in Bishkek
, Kyrgyzstan. Vladimir is the Chief Alpine Guide of Kyrgyzstan and head of the rescue services. Many outfits in the former Soviet Union are cowboys and either do not have the experience or take too many risks. A friend of mine who had been a porter on some of Vladimir's expeditions lost his life in an avalanche while on one of the cowboy heli-ski expeditions.
-- The Run-Out & The Getaway
-- Ideally, an off-piste excursion would end by using a route which brought you back onto a piste and thence to a lift, from which you could gain height again. When lift systems were not as extensive (before 1980) a lot of longer and more distant off-piste routes would bring you out in other valley systems sometimes several hours drive from your original point of departure. For example I can remember finishing the descent of Mont Fort to the Tortin north of Verbier and behind that little café near the cable-car valley station at Tortin I used to stand on my skis in the quiet of the falling snow and sip a hot chocolate while looking over the untracked lying snow which at that time was dotted with young fir trees. That snow lead into the distance and down, way down to the valley which contained what is now Sivez and Veysonnaz . I really like that little café. Now see what ya dun. I'm all snuffly and nostalgic.
-- The much smaller extent of lifted areas meant that the only way of skiing these kinds of descents was to use a 'Getaway Driver' at the other end who would pick you up and return you home or to wherever your kit was. The main problem with skiing untried descents through distant valleys using only the 1:25,000 was the danger of surprises. While reading a LDS 1:25,000 becomes very easy after a while, there is always the danger of:
- Running out of drop: The descent becomes so shallow that you have to start poling. Not a serious hazard but it is more the indignity of it.
- Descending past a contour and finding that your path is blocked by something you cannot ski over. Perhaps a waterfall or a small ridge system. You now have to ascend again, or worse.
- Running out of snow: You descend to an altitude where the snow gives out. South-facing slopes are worst. The pleasant smell of the pine forests and the song of the birds is but small consolation for having to 'get off and walk' - in ski boots. Frequently, the final descent from Montenvers to Chamonix is like this, with you have to walk perhaps 500m after suddenly running out of snow.
+ AVALANCHE
- Avalanche training is mainly about recognizing the slopes which are an avalanche danger, avoiding them during weather conditions which promote avalanches. The second part is avalanche rescue drill.
-- Slopes which are an avalanche danger are the slopes of medium grade. The steeper slopes do not allow snow to build up, because any weight of snow will fall down. The shallower slopes are not steep enough to let the snow get on the move. Weather conditions come from the meteorological office and are translated into a 1-5 rating of avalanche danger.

Gesperrt Closed Chiuso Ferme
-- Avalanche rescue: Most important part is self-rescue. Procedure (1) is that after you stop moving, spit. The spit will tell you which way is upwards and which way is downwards. Normally you receive a tumbling during an avalanche which means you become disorientated. There are many kinds of avalanches from soft-fluffy ones which are benign to huge slabs of compressed snow which will break bones. I have seen the results of one avalanche in the Val Mustair
which looked like the Tunguska
event. A large area of full-size mature trees were flattened. It was terrifying to witness just the aftermath. The very large avalanches which flatten villages some years are usually because in early season, there is a melt and a freeze, which causes a hard covering of snow which stabilizes the snow underneath. This prevents the early season avalanche which clears away the snow and means that there is one, single, huge late-season avalanche.
Upon being buried, the first problem is suffocation. Not much you can do about this if you cannot dig your way out in a few seconds. In the 1990s someone invented an over-vest which looks like an ABLJ. There is a snorkel mouth-piece with a tube which feeds into and disperses through the vest. This allows you (1) to keep your air-way clear by having the snorkel in your mouth and (2) to breathe the air which is trapped around your body. This will give you time to dig your way out.
-- Avalanche rucksack air-bags #
-- Rescue of others: We now need the ubiquitous avalanche transceiver and snow-shovel. Practice finding the other avalanche transceiver in the snow. You can practice if you work in an office by having someone hide the other transceiver for you.
-- RECCO reflectors
: There are small devices like RFID chips which you can place in your pocket which allow the much more powerful detectors the avalanche rescue services use to locate buried skiers. They reflect ground penetrating radar.
-- Rescue workers who are searching for buried skiers will sometimes trail a rope behind them as a trace to allow other rescuers to find them quickly. A long length of ribbon would be smaller to carry and lighter.
While I have been caught in avalanches and managed to get out of the way, I have only been buried by an avalanche once. Mercifully although I was hit on the head by something hard and heavy on the way down (probably one of my own skis), when I opened my eyes, I could see sky: I had come to a halt on the top of the snow. One ski was missing and I had to climb back up the avalanche track to search for it by probing with the other ski.
-
http://lawinenwarndienst.blogspot.co.uk/ - Avalanche Blogspot
+ OFF-PISTE ; LEVELS OF DIFFICULTY ;

Grade and Angle of Descent
- There have been various attempts to grade off-piste itineraries and routes but the level of difficulty is largely dependent on snow condition, rather than the nature of the route. You can ski any degree of descent just short of vertical, if the snow condition is even and better still, soft. This still applies if the slope is not a flat plane but a couloir, which has either twists, narrows, or obstacles. If the snow condition is even and soft then it can be negotiated without difficulty, however steep. Even an icy couloir, like the ice couloirs off Mt Gele, at Verbier, can be negotiated if the conditions are consistent. What causes difficulty is uneven conditions, or conditions which surprise the skier:
- Wind-slab, which the skis sink through. I have only ever encountered this a few times. The wind can form a hard, smooth crust perhaps 5cm thick, over a bank of much softer powdery snow. The structural integrity of the slab varies. Remember, you are standing on the slab on your skis, which have a much lower ground-pressure than your boots. If park on top of the slab, your skis may or may not sink in. Wind-slab which is nowhere near strong enough to support you is no problem. You are already through it. Wind-slab which is strong and will support you and much more is not a problem because you never know it is there. The problems start when you are skiing a slope which is covered in wind-slab which varies in strength. When you are turning, your downhill ski takes your weight, your accelerated weight, and the wind-slab can give way, which makes the downhill ski sink through into the mush. This means that you tip over toward the downhill ski, which is unnerving in itself, but it can tip you onto your outer edge, and throw you over-board. Mostly, the ski just sinks in and rides along under the surface. Sometimes there is time to look down and watch the ski ploughing along under the slab. I have never been thrown by it and have always managed to muscle my weight even further back away from the downhill ski, but the process is very unnerving.
- Concealed rocks just below the surface, which cause the ski to suddenly stop giving you stability, like when a racing car bottoms its suspension onto the bump stop, causing a feeling which gives the impression the wheel has suddenly lost grip. Particularly nasty in couloirs. #
- Mush: Off-piste conditions are more taxing than on-piste because for the most part you will ski in thick mush. Instead of steering the ski into a position where it is going in the direction you want it to go and supporting your weight at the position you want it to support you, you have to muscle with the ski using your bodyweight and strength, forcing it into the position you want. You may have to do this continually as uneven mush grabs this-way-and-that at the ski. This is hot sweaty work and you need to be both strong and fit.
- Re-melt. You can find conditions where fresh snowfall has melted briefly in sunshine then frozen again in the night, whereupon daytime temperatures have remained below zero. This produces a beautiful surface for crampons, being like icing on a cake. Firm, smooth. The problem is that the gentle curves of this firm smoothness do not match the blade of the ski, which cuts firmly into the hard surface and quite rightly proceeds in the direction it is meant to go, like a carving knife. This may not be the direction your other ski is going in. Indeed, mostly it is not. Of all conditions, these conditions require the most muscle because you have to lift the ski or apply enough force that the ski edge will stop cutting and start sliding. I have seen (or rather heard, because they were behind me) accomplished off-piste skiers falling every 100m in these conditions, because they were so much a trial of strength. They would have been ideal for Bigfeet. Which , of course, I did not have with me. Bigfeet would shoot across the fast surface on even gentle grades, and easily be persuaded to change direction.
- Skiing out of a traverse. Frequently (particularly when off piste) you will have to traverse out over a steep slope at slow speed, then turn down-hill to begin your run. It is easy to fall over because there is not speed on the skis which you can use to control them. Skis need speed across their edges in order to respond to your inputs, in the same way a ship's rudder needs headway on the ship in order to respond to the helmsman's input. To begin your run you have to turn by turning hard back against yourself as if you were about to begin a second traverse. What can happen is that you begin your original traverse out and wait too long for the moment, which means you are running out of mountain. You will have to stop and then reverse or do a huge jump which brings the skis right out into the air. In order to precipitate your turn you use a technique like the follow-through in boxing. Mark a point in the snow along your traverse and use that point as the turn point in your imaginary slalom. As you reach the turn point hack backwards sharply as if you were trying to reverse course through almost 180 degrees. This will put all your weight into a position where it is turning the skis back across the slope. Of course, what happens is that you do not quite reverse your traverse, but you do begin your run. The point of fixing you mind on the point in the snow where you will turn sharply is that it stops your imagination looking down the descent, which is what is holding you rigid.
- Turning around in a traverse
- You may find yourself at the end of a traverse on a steep slope, stopped, and needing to reverse your direction. You have a choice between two techniques. One is to lift your downhill ski in the air, turn it around until it is facing the opposite direction, place your weight on it and then pull your other ski around as quickly as possible. The second option for the more athletic is to jump into the air, turn through 180 degrees and land facing the other way. Both of these have advantages and disadvantages. In some instances you will find yourself on a shallow slope of thick mush where this is not enough drop to get the skis moving or you would have to describe a wide and slow arc with little snow moving under the skis in order to turn around. You may have to use the same techniques.#
- Snowboarders side-slip tracks
- A recent hazard when off-piste are the tracks worn by snow-boarders on the approach to the head of a descent. Snowboarders have difficulty negotiating narrow obstacles. They do this by sliding down the obstacle on one edge of their snowboard. If several of them do it, it wears a dish-shaped track into the descent. If it is narrow this means that the up-turns at the edge are grabbing upwards at the tips of your skis just as you need the tips of the skis off the ground most. Guides cheat and just side-step down. Sometimes this is the only way to tackle the obstacle, such as when it descends away toward a cliff-face, the top of which you are to traverse along. If decide to ski it and make a mess of it, you will go down the slope and over the edge.
- Valley Bottoms - Off-Piste
- In deep snow watch out for any geographical feature which is a valley bottom or may have contained a stream-bed during summer. Especially avoid it if it is a river. The main danger is that ice forms on the edges of the river, edges which gradually extend and then become covered in snow. The river can ice-over but remains running underneath. You then fall through the ice and into the river. There is one resort in the Isere valley where they lose several people a year to this hazard. Even small streams can be like that. For some reason the snow remains softer in the 'V' bottom and as you go over your tips seem to drop in then become stuck in the other bank, which rolls you forward and neatly ejects you from the bindings. In short, treat any 'V' bottom with suspicion.
- Skiing Long Distances
- To ski long distances you just have been be fit and strong. If you ski to the top of Val Thorens from Courcheval and leave it a little late on the return then you need to ski fast and consistently in order to make the final lift back. I have had the gate close three people behind me and worse, on one occasion seen the end of the queue disappearing away from a closed gate, which I then leapt over. Feeling the gondola lift off after one of these long skiing sessions is great feeling. #
In some rare instances off-piste you will have a lot of skiing to do on an itinerary. The descent off the back of Mont Fort at Verbier is one example. A lot of run-outs on itineraries are long but they are flat, so you just stand in the bindings. The slopes off the back of Mont Fort are long and steep. If you are trying to make up time (it is a long way to go) then you have to ski for a long time down steep. This means, like all steep descents, you will be braking. This means that you will be turning. Turning taxes the quadriceps leg muscles extensively. That is why you see people stop all the time during their descents. The fitter you are the longer you can go without stopping but even this rate of descent is insufficient if you have a long way to go. To turn, you still have to move your weight but there comes a point where your quadriceps are on fire. This is the sort of skiing you would have to do if, like James Bond, you were being pursued by evil henchmen with rifles. The technique I worked out was to straighten the legs and just move the body around on top of locked knees. It was more dangerous than 'normal' skiing but just as fast. Also, turning around to take a shot at the evil henchmen every now and again to slow them down also helped. More on this later.
- Steepness - Angle of Descent:
- - Skiiing steep slopes right up to near-vertical is not difficult once you can ski but what makes a descent difficulty the snow conditions or hazards. Snow which is in perfect condition, from soft through to firm but not hard, and flat, even, will not give difficulty at any angle of descent. Hazards include sudden appearance of rocks below the snow at the edge of the couloir (happens). A patch of ice or icey (rare). Choppy and uneven (usually because other skiers or snowboarders have descended). I am speaking of steep descents down cliffs or couloirs. Anywhere where there are moguls when off piste then there is no danger because in order for the moguls to develop, much ski traffic must have already completed the descent.
- Glaciers and Glacier Skiing
-- #
- Danger of Death #
-- A hanging couloir is a couloir which descends most of the mountain, but half way down, ends in a cliff, where, during the ice-age, a huge glacier in the valley below removed the end of the couloir, the skirts of the mountain you have just skied down. The result is a couloir, which ends in a cliff. If you fall while descending the couloir, then you accelerate all the way down and over the end of the cliff, to your death. Obviously, when you are skiing a hanging couloir, there is a route out to one side before you reach the cliff, otherwise it would be un-skiable.#
- Serious Objective Hazard #
-- Most of the big north faces in the Alps have been 'skied'. #
-- Sylvian Saudan #
- Rough Guide to assessing difficulty
-- If you are still at the planning stage and are wondering what level of difficulty will lie ahead, then a point to consider is: 'Is this route one of the guided routes ?' If the answer is yes then the difficulty will not be that great. Guides take a lot of middle-ranking 'itinerary grade' off-piste skiers, the less able of which will have to side-step down the obstacles. I have been out off-piste skiing and come upon a guided group who were having to side-step down what was red/black grade moguled narrow section about two moguls wide at the entrance to a broad couloir which led down to some seracs. Later we reached the seracs and had to jump over a huge crevasse then turn sharply on top of a large block of snow-covered ice and traverse out to the left. After we had completed that I remembered the guided group way back behind us. I figure they are still there now because that girl with them was not going to be able to make that jump.
-- Once on the route, if you can see sections that are heavily tracked then the section ahead will not be that difficult because plenty of skiers have already tracked it. Beware following a single pair of ski-tracks: They could be mine. When off-piste once I had worked my way over to the top of a big jump which was not that far away from pisted areas. Close enough that piste skiers could access it and become lost. From the bottom of the jump I could hear a couple of piste skiers calling to each other as they tried to find a way back to the piste. One of them had followed my tracks to the top of the cliff, thinking they lead somewhere. I overhead

   
2nd Skier: » Follow that track and see where it goes «
[pause while 1st skier follows the tracks]
2nd Skier » Where does it go ? «
1st Skier » Uh .... nowhere. There is just a cliff «



- TECHNIQUES ; OFF-PISTE;
-- The Windshield-Wipers; #
-- Bailing-Out ; #
-- Snow-plough ; #
+ OFF-PISTE RECON
- Back in the Day, you could recon new descents by taking photographs of the walls of a valley and then studying the photographs and matching them with the 1:25,000 topographic map over whiskey and cigars. It generated more photographic prints than the RAF's WWII bomb damage assessment department but it was worth it in order to find untracked snow. Many passes between mountain ridges allow you to ascend one side and ski down the other. But you can avoid route-finding risks (which are large) by simply climbing up the slope you can see and skiing down. These remote mountain flanks are invariably untracked because they are too far of the usual routes and you have to expend a lot of sweat to climb them. With the advent of digital photography you can take a lot of photographs for analysis later without great expenditure of time and money. When you are taking photographs, take them in panoramas. Always make sure you include a large landmark which is identifiable on the 1:25,000 topographic map. Once you are reviewing hundreds of photographs of your laptop (or dining table as it used to be) it can be difficult to remember exactly where the vista you are examining was taken. The best software for stitching panoramas together is PTGui
. The best mechanism I have seen for making panoramas (I have not used it myself) was an iPad , which had a feature like a grid displayed on the screen, which would fill with images of the hemisphere you were shooting with the lens as you waved the iPad to-and-fro across the horizon. The results were exceptional and much quicker than taking individual over-lapping .JPGs and then stitching them together in PTGui.
- Off-Piste; Scouting ;
- Much off-piste has to be scouted from below, whether you are on skis, on a ski-lift or in the automobile. The face of descent is now visible to you. Once you make your ascent and then descend over the ground you have scouted it becomes difficult to see where you are going. The way to avoid this is to pick-out landmarks while you are scouting, and then calculate the distance from the landmarks that you need to be on your descent before your break over the next rise. This really is more difficult than you think. Ideally you need an observer and a radio. The observer can sit in the café with a pair of binoculars and watch your descent, then issue radio instruction to correct your line. One of the many hazards of ski related activity making the transition to digital maps and GPS systems is that ski areas are not a flat surface. An ordinary GPS system which had pistes marked would guide you over all sorts of impassible terrain will be overcome at length. Beware of following other people's tracks when you are skiing: They could be mine. I overheard this behind me once: I had traversed to a bluff over which there was a snow-cornice lip and then a very steep gunbarrel with upturned edges, making it nearly unskiable. Earlier I had noticed two novices, whom I think were not off-piste skiers, but were just lost. One of them told the other to follow 'those tracks', which were my tracks. As he reached the edge the other asked where the tracks went. 'Errr... nowhere', he answered in mild confusion. They are probably still there now.
- OFF-PISTE: SURVIVAL KIT
- Once you are making the transition from off-piste which is between pistes to leaving the pisted area entirely you would be well advised to become a mountaineer and to practice the arts of winter mountaineering.
- In addition to avalanche kit, I take:
- A long length of wide red ribbon rolled up. The wider the better. I can unreal it if I am in a position to need rescue and the ribbon will make me more visible.
- A small vanity mirror. These are a staple of survival kits because reflecting the sun's rays is much more powerful than a torch.
- Small LED torch. These are staples of all survival kits nowadays. They give you some light to deal with kit and see what you are doing. The very small ones can go around your neck on a length of elastic or easily breakable line. That way you still have light even if you are missing your clothes.
- LED torch for signaling. Preferably a head torch. If you are still going in darkness then this will be a great boon. A water proof one will be good if you are crossing a lake or a stream bed and go through the ice.
- General survival kit: Parachute cord. First-aid kit, especially duct tape or medical tape, in case your need to strap up a cut. Your dog tags with name, and blood-group.
- Navigation gear. In police work there is a saying "One flashlight is no flashlight, and two flashlights is one flashlight." This is because battery powered flashlights, even the modern ones with LED bulbs and Lithium-Ion batteries, are unreliable and subject to damage. The same applies to anything powered by batteries, including navigation devices. I use only a compass, altimeter, clinometer and a map , so I do not have this problem.
- Avalanche ABLJ
- Crevasse probe
- Self-Arrest
- Ski-Poles with claws
#
- Ice-Tires
-- I have come across a prototype self-arrest aid which was parallel to one of my own prototypes. The first line of defense if you are off-piste and skiing steep terrain or terrain which ends in cliffs is self-arrest. While you have complete control while you are on your skis, once you have fallen your ski-wear makes for a splendid non-stick surface which will speed your descent down the slope to your doom. Even steep pistes (which will be heavily moguled) which have been frozen by over-night sub-zero temperatures after a day-time sunshine-induced remelt, could kill or injure of you managed to crack your head when you land on the next bump. In general, skiing in conditions where falling could be fatal is done under the same philosophy as mountaineering under the same conditions: Just don't fall. This is all very well until you do fall. The device I was prototyping was similar to the following: If you imagine taking sections of studded ice tire from a rally car. Cut the tread out of the tire. Now make five strips out of the tread sections. You are going to make one pair of knee-pads, one pair of forearm-elbow pads and one large section for your rear-end, which will form part of a mountaineering waist-harness. Instead of ice-studs, the studs would have to be machined from bar-stock and given a cylindrical profile to their tip, with a sharp edge. This way you cannot stab yourself with the spikes but the edge of the cylinder will grip on ice or hard snow. Once you fall, whatever part of you hits first, you will be gripping and your speed will be reducing. Some skiers will ski a dangerous couloir by holding an ice-axe in each end, with which they can self-arrest. This is a worthy method but it relies on you skiing at a slow 'guide' speed in order to maintain your composition if you fall. The ice-tire method would mean that even if you fell in disarray, your first contact would start to decelerate you. There would be no chance of dropping the ice-axe during your initial impact.
- Full harness:
-- A full harness, waist and chest is always superior to a waist-harness because when you fall a long way onto a rope, in a waist harness you can be broken in half by the deceleration particularly if you are wearing a heavy rucksack. If any one has to rescue you, then you are already wearing a full-harness (they do not have to get one on you) and if all they can do is get a rope to you, you can easily fix the rope to your harness. You can tie rope directly to your harness but you may have a broken arm or frost-bitten hands which means it may be easier to fix the rope with a Karabiner. Some tanker uniforms operate like this in that they have integral webbing straps which exit from the jacket over the shoulders. If your comrades have to pull you from a burning tank, then they just have to grab the webbing strap and pull. Much easier.
© copyright www.mitteleuropa.x10.mx https://twitter.com/verlagmeyer copyright ©
- The above list is in no way exhaustive. Far from it. This list is to make sure that some one who takes off of their own accord has at least some preparation. You are far better off learning to be a winter mountaineer, either teaching yourself or being taught by instructors, than you are by jumping off at the deep end.
-- Ski-Tour guides and off-piste guides tend to carry a lot more survival and rescue kit, partly to ensure safety of those they are guiding but partly because every time there is a problem, they usually add to their kit the tool they would have wanted in the situation but did not have.
-- Avoid asking advice in ski shops and mountaineering shops. I have overhead some complete nonsense being talked in the hope that the shopper will make a purchase. If you have to ask in skis shops, get two different sets of advice independently.
+ SOLO SKIING
- Nearly all of my off-piste and expeditions have been done solo. If you are in the Alps where you will occasionally see either other skiers or helicopter pilots or even light aircraft. If they see an individual, often they think there has been an accident and the other half of your rope has been killed or injured. You need to learn your emergency hand signals, including the one which indicates that you are "OK" (one arm 45 degrees up, one arm 45 degrees down).
Considerable distances and obstacles may separate you and your observer and there is no point them over-coming all that just to find out that there has been no accident. Once, I was ice-climbing, way at the end of the Zinal valley. The snow was very thick and the approach had been Hell. Then the climb to the ice-fall had been even worse, nearly drowning in powder in a dry stream bed after falling into a pothole I could not see. I began the climb but a lot of the ice was rotten. I called it a day and down-climbed. Way below me there was a Pistenfahrzeug which was bashing the Langlauf track which runs up and down the valley. He must have caught sight of some slight movement in the corner of his eye. I saw him stop and look up toward me, watching me for quite some minutes. He would have wondered what a solo climber was doing faffing with a lot of gear at the bottom of an ice fall and would have presumed that there had been a disaster or a fall of some kind. I turned and watched him, then gave the signal 'I am OK'. He seemed satisfied enough and pulled away.
+ INSURANCE
- Many guides purchase insurance through their national Alpine Club. You need to make sure that you are insured for off-piste. Annual world-wide insurance will exclude both poles and Greenland, because there is no way of rescuing you from there. Ask on rec.skiing.resorts.europe for the latest intelligence on this topic and other skiing topics.
+ APRÉS-SKI
- Aprés-Ski is what you drink immediately after you have finished skiing. Hence the term 'After-Ski'. Usually tired and thirsty. Or you should be if you have been skiing all day rather than having a three-hour lunch and drinking hot chocolate the rest of the time. 'Aprés-Ski' is not going back to the chalet, showering, slipping into something glamorous, slapping on lots of make-up and then going to the bar. That's 'going to the bar'.

Typical double-black-diamond Aprés-Ski scene. (After The Cossacks
by Repin
)
- - Appropriate style of Aprés-Ski:
- - - You will see people like ski-guides and ski-instructors going straight to the bar after work and sometimes even at 23:00HRS still knocking back beers, steaming drunk, while still in their ski-boots (1), ski-overalls tied at the waist and ski-boots open all the way forward, drunkenly singing Schlager-music songs and old Beerhall classics like Bomben auf Engeland
and Fat Vlad from Volgograd
. This is the correct style for Aprés-Ski.
- - (1) 2016: News is that Ischgl has banned wearing of ski-boots in the town from 20:00 to 06:00. The circumstances behind this move are as yet unclear.
- If you are a party-animal then the black-grade Aprés-Ski resorts for young people are probably Verbier and Val d'Isere. Chic and expensive resorts do not necessarily have any Aprés-Ski night-life because there are not enough people to have any kind of party, even if they are populated by high-rollers. Courcheval is a prime example of this, where the night-clubs have about two people in them. Austrian Aprés-Ski is more traditional, with Om-pah
music and yodeling. On occasion I have been visiting friends who lived in the resort during the ski season and only seen the teenagers for an hour in the evening because they partied until dawn and slept all day, whereas I skied all day and was in bed for mid-evening.
- Dress-Code: When visiting the chic resorts, such as St Moritz or Gstaad, or just the medium-expensive hôtel in ordinary resorts, you will come across the 'dress-code'. One of the codes you will see is 'smart casual', whatever that is. I must be one of the few people in world to whom this is an irritation. Either you are dressed or you are not. If you are dressing for dinner in the evening, you wear evening dress. There was been a recent introduction of 'Black Tie' as opposed to 'White Tie', led by the Edward, Prince of Wales
. In many instances it will be possible to dress in this manner for reduced formality, as opposed to 'White Tie'. If I am going skiing, I am dressed in skiing apparel. Unless instructed otherwise, it is likely, that is how I will appear at breakfast, minus jacket and ski-boots. The problems start with dinner. Black Tie may be over-doing it. Except at the most expensive hotels. If not, then an ordinary lounge suit & tie will be more than enough. Tweed if you wish to look English. A Trachtenjanker jacket and matching or contrasting trousers if you wish to look Germanic. #
- Refreshments: The price of your refreshments up high on the mountain will be higher. Not the kind of price you will notice if you are from London, New York & Tokyo but a lot higher if you are used to prices in some little town in the Mid-West.
- - - Gluhwein
- - - Kaffee-Schnapps
- - - Hot Chocolate
- - - Irish Kaffee
- - - Gentian-Schnapps
. Also known as Enzian. It is a clear spirit like vodka or schnapps made from the root of the Gentian alpine flower. You do not see this spirit very often. I have seen it for sale only in a little shop in Mittenwald, south of Garmisch-Partenkirchen
- - - Savoyard Sausage
- - - Raclette
+ NOTES FOR VISITING AMERICANS

Upper row shows North American grading of piste difficulty. Lower row show European Alpine equivalents.

Grade and Angle of Descent
- If this is your first time in Mitteleuropa and the Alps then you will notice that certain things are different.
- Geography: The Alps are glaciated and therefore steep and vertigenous. During the construction of ski resort, in order to permit the circulation of skiers, tracks are bulldozed into the mountainside US:"Catwalks". A lot of pistes are simply catwalks, which can become icy. This can be disappointing if you are used to large ares of mountainside and powder, such as is found in North America.
- Each country which owns a piece of the Alps, Switzerland, France, Italy, Austria, is a different country with a different language, different customs, different temperament, different license plate and a different currency (unless they are on the Euro).
- Politics: (U.S.)"Political Correctness" did not reach Europe until perhaps the mid-1990s and even then it was only in London, GB. Even now it is a Metro-area phenomena. It does not really extend to the regions. In Italy you can find bottles of wine whose label bears the likeness off Hitler and Mussolini, for example. A visiting US congressmen attempted to cash-in his (U.S.)"Political Correctness" chip by howling to the press about it, only to find that this currency is not accepted in Italy. As one Italian pointed out, it's like having a T-shirt bearing the likeness of Che Guevara. Except a T-shirt with a likeness of Che Guevara is congruent with the socialist-value-set and a wine bottle bearing the likeness of Adolf Hitler is directly contrary to the socialist-value-set. It is the socialist-value-set which presently prevails in the Anglo-Saxon countries, hence, the congressman's ill-judged gambit.
- Temperament: Switzerland is an excellent illustration: On nation-state, three races of people speaking three different languages (actually, four, plus dialects). In general, the Germans are not particularly vocal or demonstrative. If some element of service is not to their satisfaction they will start muttering darkly. The French are more expressive and excitable and will readily enter into argument. The Italians are even more excitable and will readily express themselves and begin a hand-waving extravaganza. These temperaments are also reflected in driving habits.
- Late: Switzerland goes to bed at half-past nine in the evening. If you are used to keeping NYC hours where business and social life are conducted through 23:00HRS and beyond then you may end up being disappointed. What ever you want to do, make sure that it is available past 21:30HRS.
- Queuing: Queuing is an Anglo-Saxon and Teutonic phenomena. The Latin countries do not do it. An Italian queue is just a big pile of people crushing forward. Italians will readily run to the front of a queue which has already formed. Exactly what, in the wide-wide-world-of-sports, they think the people standing at the back of the queue are doing, I have no idea. Conversely, Italian men will unfailingly stand up for an Italian lady on public transport. Italian women are confused and disappointed when they visit the northern countries and find this does not happen. Also they cannot understand why women do not parade around in fur coats all the time.
- Due to the expansion of the EU eastwards in the 1990s, large numbers of Eastern Europeans from the Warsaw Pact countries have migrated into Western Europe and this means that certain rules and customs may have blurred. For example, the ethnic Roma
, who lived in the Communist countries as an underclass, where they typically handled activities like petty theft, have spread all across Europe and you see them as far north as Bergen, which has brought previously unheard of phenomena such as shop-lifting. Professor of motion picture history Sir Christopher Frayling said that when he drove through Romania in the early 1970s on a research trip, he drove past encampments of Roma, they stoned the car. When he took leave of his ministry of interior minders at the airport he mentioned this phenomena to them. They told him it was because the Roma thought he was from the government.
- Ski resorts are well above any societal developments which are taking place down in the cities, even in these times. I never saw a non-white person skiing until the mid-1980s and then it was one Algerian at a French ski resort (he had a black 1973 convertible super-Beetle with a ski-rack). In the late 1980s a friend of mine who is black and from Africa said that the first time he skied in northern Norway a little child ran across the street towards him and started holding his hand and rubbing it. The little child thought that the color might come off. He said that when he was skiing and entered a café for a cup of coffee a "Sergio Leone" moment would develop where the entire place would go quiet and the café proprietor would just freeze. After a while he used to play on this, and would walk in slowly, as if his spurs were chiming a slow beat on the boards.
- Crime: Levels of violent crime in Europe are overall lower than in the US. In Europe it is not something you have to take into account. The differences between a Metro area and the rural area are the same proportion in terms of crime but the overall levels are much lower. In a nutshell: There is nearly no crime in Switzerland. Before the EU borders came down, I regularly leave about USD5000 worth of kit in the automobile parked overnight in Swiss cities (for years I never even had chain locks on the skis). But in Italy, both the kit and the automobile would be gone by morning. Trucks when returning from Italy would pin open the rear canopy of the wagon so as to indicate to Italian thieves that the wagon was empty. French metro areas I would also avoid or address the risks. Remember that in Switzerland there are only six million people, which is half the number of people who live in the Paris Metro area
.
- Languages and Road Signage
- In the Alpine areas there are five countries (six including Liechtenstein) and three languages, (four including Romansche
). The numbers go up if you include northern Yugoslavia. Many areas in the Alps have changed hands between German-speaking countries, French-speaking countries and Italian-speaking countries, sometimes in living memory. This means that some towns and villages will have at least two different names because they have one name for each language. For example Meran and Merano are the same town, but Meran is the German-speaking name because the area was part of Austro-Hungary and is German-speaking but was occupied by Italy after the Great War, whereupon it was renamed Merano. If there are several names for your destination make sure you mark all of them on your pace-notes so that your co-driver can keep her eyes peeled for both.
- When dealing with staff, always make an effort with languages. Start with German, French and Italian. Staff can be upset if you just launch straight into an lengthy English-language speech. If nothing else, start by apologizing, in English, for the fact that you do not speak their language. Then ask if they speak English. Staff will even be impressed if you just repeat the noun which you are looking for in their own language, and that is all you can say. Attempts at speaking in the native language of the staff will always pay dividends. Once during an Aeroflot flight, my spoken Russian was found to be so impressive by the stewardess that she told me to ask for anything I wanted during the flight. This is unheard of on an Aeroflot flight.
In ski-resorts, a lot of the staff are from England, and Australian, sometimes the USA. So languages are less of a problem than you might think.
- European Driving Habits
- German driving is steady and fast. Breaking the law is considered rude. On Autobahns, there will be two lanes of steady traffic and a clear outside lane down which fast cars will sweep. There were no limits on Autobahns but there are many more limits in these times. French driving is of poor quality and reckless. Frequent tail-gating. The French ignore so many rules of the road it leaves you wondering what the signs actually mean. The single unbroken line in the middle of the road, meaning 'no over-taking' is frequently ignored. Local Customs: On Autoroutes, particularly at night, if you are on a 'fast lap' and moving down the fast lane at speed, then many drivers turn on their outside turn indicator light, using it like an aircraft strobe, in order to give those clogging the lane further ahead a bit of warning. Italian driving is even more dangerous than the French but of a better quality. If an automobile is tail-gating you and you can see its license plate in your mirror, then it is French. If it is tail-gating you and it is so close you cannot see its license plate then it is Italian. Italian driving on two-lane blacktop is so crazy that it leaves you thinking that the end of the world has been announced on radio and every one is rushing home to watch it on their televizors. In Switzerland, Swiss-French driving is better quality than the French, but still French in spirit. Swiss-German driving is German in spirit.
- Legal System - Tort - Contingency Fees and Jury set damages #
- Country-Code Decals
- Skiing between Countries
-- There are some ski resorts you can ski between different countries, which many find amusing. At Zermatt-Cervinia you can ski between Switzerland and Italy and in the Porte du Soleil, you can ski between Switzerland and France. Only with a guide you can ski between Chamonix in France and Courmayeur in Italy.
- Altitudes - the 4000ers
-- The highest peaks in the Alps are all just over 4000m. Mont Blanc, the exception is just over 4700m. The highest lift station is at Zermatt, which ends on the flanks of the Breithorn at 3500m. The resorts are usually at altitudes from 1200m to 1800m. The tops of the Jura mountains above Geneva are around 1800m or 2000m and and Geneva is around 400m above sea level, same as the rest of Switzerland's valley system. If you have a digital wristwatch altimeter you can set the altitude alarm to go off at an altitude where the snow starts to look patchy, then your wristwatch will remind you to start looking for more altitude at this point.#
- Linguistic note on alternative names:
-- Passes may be marked as one or all of the following, depending on the language of the cartographer:
<Acme>pass <Acme>paß , Passo del <Acmeo> , Col de <Acmé>
-- Cable cars may be referred to by a number of names: Cable-Car , Télécabine, Seilbahn. The smaller ski-lifts have a much greater variety names.
-- Six lane highways are referred to in Germany and Austria as Autobahn, in France and Switzerland as Autoroute, in Italy as Autostrada and in Yugoslavia as Autoput.
+ SKI GLOSSARY
- Seilbahn - Cable-Car - Télécabine - The winding station and dock in the valley is called the Talstation and the winding station and dock at the top of the mountain are called the Bergstation.
.
- Chair-lift -
- Drag-lift - Poma -
- "Pistenfahrzeug"
, "Trail-Groomer"
, "Piste Basher":
A large tracked vehicle used for shoveling fresh snow onto the piste. They are also equipped with devices like harrows which plough the snow into a flat surface and impress a Corduroy finish. Like any low-pressure ground vehicle, the devices which touch the ground have to be large and soft so that they sit on top of the mush over which they must perambulate. Pistenfahrzeug are fitted with very wide snow-tracks. The tracks are not formed from flat-plates like a regular tank but are formed from flat plates held onto the track edge-ways. This is to enable the flat plate to bite into hard icy surfaces. At night the mountain will freeze over and the Pistenfahrzeug must climb steep icy pistes. Being on the inside of a tracked vehicle which has hit ice and is accelerating rapidly in the direction of downhill is deeply un-nerving.
- Immediately after a piste has been leveled to Corduroy, hundreds of intermediate-level skiers will Wedel down the easy conditions which the Corduroy provides, which begins a process of moguling. Each successive skier then turns on the down-hill slope of each undulation caused by each successive Wedel. This shaves at the downhill side of the undulation, deepening it. Over an entire season, a hump called a mogul forms, which is about a ski-length long and half or 2/3 of a ski-length wide. At the end of a season, some mogul fields are so worn that you ski in-between the moguls which reach head-height. This tendency of the first skiers to use the Corduroy is highly annoying because with freshly prepared Corduroy, you can Schuss directly down, exactly like a Downhill FIS event, without turning, and crouching over your skis, taking big jumps over every rise and fall in the ground. But the finish of the Corduroy only lasts perhaps an hour before a Schuss becomes impossible, due to the bumps created by the intermediate level skiers. The way to deal with this is to build a piste with the first fifty meters a narrow, rock-strewn icy couloir which looks from the entrance to be suicidal. This will ensure that only able skiers reach the huge expanse of perfectly pisted corduroy below, where they may Schuss all the way to the bottom.

A Pistenfahrzeug draws its grooming harrow across the piste to make a Corduroy finish to the surface of the piste
- Pisteur - A man who drives a Pistenfahrzeug, or who is otherwise engaged in piste and lift maintenance activities or ski-patrol.
- Ski-Patrol - Skiers who circulate up and down the pistes a few times a day, looking for injured skiers.
- Couloir
- Ice: Dense-packed snow can develop an icy surface upon which it is difficult to grip. You can hear the edges of your skis roaring. It is difficult to ski on but generally you just ignore it. New skiers tend to find ice under their skis, feel the lack of control and then pull back on speed and increase the amount of traverse on the ski to try and gain more grip. The problem with this is that the lower speed means you have less control over the ski. There is not any grip so do not bother to look for it. Ski at your normal speed and the greater flow of the surface of the blade will give you more control. The fun starts in places like the ice-couloirs of Mt Gele above Verbier.
- Water-Ice. When skiers describe the conditions as icy, they usually mean polished, hardened snow which makes your skis roar, not 'water-ice' , the kind which you put in your drink. If you actually hit a patch of frozen water, which nearly never happens because there is not any, then your skis just skid. Usually whatever part of the skis hit first slide first and you go straight down. I have only hit frozen water once and it was at the edge of what would have been a pool of water in a stream in summer. I think the sun had exposed it.
- Wedel
- Schuss
- Moguls
: A rather unusual topographic phenomena: If you take a flat slope, the first skier down the slope will Wedel and leave a track. If the first skier was myself then I would Schuss all the way to the bottom because flat snow is rare #.
© copyright www.mitteleuropa.x10.mx https://twitter.com/verlagmeyer copyright ©
+ TOURISM
- If you travel a long way to your ski resort and stay in a hôtel, you will be encountering the tourist trade. #
- Kick-backs: The ski hire shops pay kick-backs to those who operate tourist chalets to encourage them to send their tourists to their ski hire shop. If you are hiring skis, this is why they ask you which chalet sent you to them. Tourism runs on tips and kick-backs. #
| | |
| --- | --- |
| Year | State of Decline |
| | |
| 1871 | Edward Whympher complains that the new cog railway at Zermatt brings in annoying (Grand) tourists instead of mountaineers. Prior to the railway being blasted through , there was only a mule track, some of which was highly vertiginous. |
| 1924 | Galtur, Austria: Earnest Hemingway complains that the new fashion for installing cable-cars is producing a species of skier which does not have the legs for the descent because they did not build the legs for the descent during the ascent, like he did. |
| 1958 | James Riddell in The Ski Runs of Switzerland complains that Gstaad is now full of 'palacites', ie the guests of the Hôtel Gstaad Palace are irritating to accomplished skiers. |
| 1970 | Age of jet flight package tourism |
| 1980s | |
| early 1990s | Mitteleuropa complains that increasing disposable incomes is enabling persons of poor breeding and worse manners to undertake skiing vacations and the snowboard revolution is making matters worse. "It's not like it was" muttered Mitteleuropa to no-one in particular, then threatens to ski only in Switzerland. |
+ MUSIC FOR SKIING
- I suppose the advent of the Sony Walkman
allowed those who wished to to listen to music while they skied. No need for me. I can already hear music when I am skiing.
- Suggestions:
- Alpine Symphony
, by Richard Strauss
- Cantus Arcticus
: Best played when you have a huge, distant, vista in front of you.
- Antarctic Symphony
- Vaughan-Williams: This would be most suitable when you are facing the Snow-Storm At The End Of The World.
- The Snowstorm - Winter Way - Troika
by Georgy Sviridov
- Snowflakes
by Alexander Tsfasman
- Winter Bonfire by Prokofiev
- Sleigh Ride by Mozart
- English language ski race TV program Ski Sunday
distributed in the UK and US played a rousing introduction
over selected footage of the Downhill. The tune, entitled Pop Looks Bach, was written by Sam Fonteyn. I suggest it would be good for playing while hurtling down a big red.
- Ron Goodwin's 633 Squadron (1964)
: Good for playing on the big run-out after successful descent of big couloir or slope.
-
Stopping by Woods on a Snowy Evening
+ MOTION PICTURES FOR SNOW
- The Fearless Vampire Killers (1967)
- The Great Silence (1968) where the Dolomites stand in for Utah in winter. If you want to see Utah in winter have a look at some of the photographs of Monument Valley in the page on The Eiger Sanction (1974)
- Death Hunt
- Where Eagles Dare (1968)
- The Pink Panther (1963)
- Downhill Racer (1969)
- On Her Majesty's Secret Service (1969)
- The Spy Who Loved Me (1977)
- For Your Eyes Only (1981)
- The Grand Budapest Hotel (2014)
- Dersu Uzala (1961)
by Kurosawa
- Dr Zhivago (1965)
- The intense cold of Siberia. Underwritten with the horrors of Revolutionary Russia. Filmed in Finland and Spain.
- Stalingrad (1993)
- A Day in the Life of Ivan Denisovich (1962)
, filmed in northern Norway. On the Russian border here, one of the larger guard houses featured a large flame-cut metal hammer & sickle symbol, painted red. When viewed through night vision equipment, which at the time was the Starlight Scope
(the image intensifier, which amplifies ambient light, not the infra red scope common today), the hammer & sickle glowed in the dark and could be seen for miles. Soviet instrumentation in their AFVs used radium paint, common on wartime Allied instrumentation but replaced by tritium in the late fifties. The Soviets used radium paint right up until the collapse of the Soviet Union, and buckets of it must have been used to paint this hammer & sickle. In the small hours of the night, a unit from an Allied army, which shall remain without name, applied their snow shoes and made their way across the border to the guard house. Silently the hammer & sickle was removed from the guardhouse. It was heavy and took several men to carry, while others brushed away the tracks in the snow. All was well for a few days until their CO announced he had received a diplomatic protest with respect to a theft of Soviet property. All involved gave a performance of »The Three Monkeys«. Because of the remote nature of the region the list of suspects was limited, but if no one confessed, no proof could be made. The evidence remained undiscovered and the hammer & sickle made it into the C-130 for the ride home where it remains in their trophy room to this day.
- Year of the Hare (1977)
- A rare and obscure Finnish movie from the Seventies. Magical and mystical. Those who have hunted in the northern forests will connect directly with this movie.
- Gorky Park (1983)
- Transsiberian (2008) - Make sure you see the uncut version.
- - Cameramen are not fond of the plain white backgrounds which snow provides, nor the exposure difficulties which the blaze of reflected sunglight gives. Long shots are good because you can get a mountain vista-scape, especially if forested, but the close-up shots are much harder work.
+ SKI-DRIVE
- Ski-Automobiles
- - What is the best automobile for going skiing ?: Pretty much anything that will move, with added snow-chains [Schneeketten].#
- - Snow in the Alps tends to fall evenly and remain dry. In lowland areas of northern Europe, snow storms drive falling snow across country, where it builds up into big drifts wherever there is a void out of the wind. I have seen snowdrifts which were twice the height of the Unimog cab. The mountainous nature of the Alps means that these big snow-drifts which block the path of even the most capable vehicles, short of a CAT 994 front loader, do not develop. However, a light, level, covering of dry snow is nearly as slippery as ice, for a vehicle, remember. Chains will carry you through without difficulty. Narrow tires are better than wide tires because narrow tires sink through the snow to the asphalt surface and will give side-wall steering once they have sunk into the snow. If the snow is melting then narrow tires aquaplane less.
There are rare conditions where the snow is mushy but not yet melted and turns to water when your tires hit it. This creates a watery patch under the tire contact patch which feels like ice. Wide tires tend to ride high on snow and aquaplane more easily. #
- Automobiles: Schneeketten - Snow-chains:
- Snow-chains offer huge advantage on snow. Snow in the Alps is level, dry (cold), offering almost as little grip as ice, and on mountain roads is sometimes under-lain by water-ice which has frozen on the road during the night. A snow-chain works by the weight of the tire pressing the links of the chain into the ice. When on top of snow, the weight of the tire compresses the snow, melting it like a snowball, and forms a smooth dense surface which offers no grip to road-treads. The snow-chain is impressed into this dense snow and grips superbly.
- To purchase snow-chains, consult your manufacturer's handbook. Snow-chains have to be exactly the correct size for the automobile and its wheel-tire combination. In the last thirty years (1985<2010) automobiles have been fitted with tires which offer even less clearance of the bodywork and this means that even more attention needs to be paid to close-fitting snow-chains. In general, you only need snow-chains on the drive-wheels of your vehicle. Chains have a reduced ability to stop fast on asphalt so one set of wheels with just the rubber tire tread is useful. If you need more grip, fit chains to all four wheels. In Switzerland and Austria, you will see school buses, service vehicles and delivery trucks fit chain to the right-hand outside drive wheel. This is because on their daily routes, snow builds up in the gutter while the center of the road remains clear. To balance the vehicle when the brakes are applied, the other chain is fitted to the left hand front wheel. Do not do this on your vehicle. This arrangement has been worked out for their specific locale and route.
Some of the German manufacturers offer OEM snow-chains as an option. These may well be your best choice. Most innovations in chain design aim at making the application of the chains to the wheels easier to accomplish.
- Snow chains: Practice fitting them in the summer on clean dry hardstand. By the time you need them the last thing you will want to do is get out of your vehicle and grovel around in a driving snow-storm getting dirty and cold. All vehicles, even 4x4, 6x6, et cetera require chains because no vehicle grips well on ice or flat dry snow over asphalt.
- Automobiles: Driving on snow.
- Automobiles: Winter tires: Winter tires offer excellent advantage in winter. They grip better on snow and on water. I have raced other automobiles across roads covered in dry, level, falling snow and while the automobile in front, with winter tires, only had to drive 9/10ths, my automobile, on summer tires, had to be driven 10/10ths just to keep up. One mistake and I would have been in the ditch. In general, if you drive on snow using snow-chains, you need to progress slowly and without forceful input from steering or throttle. Alpine roads are unforgiving, being either a rock face or a cliff face. Steady progress is faster than standing looking at a bent car. Alpine snow, which is a dry, level covering of the road surface can only be engaged using snow-chains. Other devices which offer extra traction, such as 4x4 do not work much better than ordinary tires. An ordinary passenger car equipped with snow-chains is much faster and more maneuverable than a 4x4. You would need a 4x4 rally car fitted with studded snow tires to make up this deficiency. When ice builds up on the road, which is common where mountain springs flow from the mountainside, the only thing which will grip on them is the snow chain being pushed hard into their surface by the weight of the tire. This is why a snow-chain equipped passenger automobile is superior to even the snow-tire equipped 4x4 rally car. Remember, that while a sophisticated 4x4 system such as are fitted to rally cars might offer plenty of traction, every car, not just rally cars, are fitted with brakes on four wheels. Stopping the car is not about sophisticated drivetrains, but what is under the tires.

Schnell ! With dawn breaking, there is still another hour to go before reaching the foot of the lift station for the first lift out.
+ TOP SKI-DRIVE AUTOMOBILES
- Ex-Works Gruppe B Audi Quattro S1. Will accept internal stowage of 2m skis. 4x4 means snow will not slow you down and will enable hard acceleration uphill for overtaking in poor road conditions.
- Porsche 959. The original 4x4 911. Now too valuable to use in anger. They can only be driven to the show and back. The rear wing, as on all 911 complicates ski-rack placement. Have seen magnetic roof ski-racks for 911 because since the 1990s they no longer have roof gutters to fix the rack brackets to. Skis do not fit inside the cockpit of a 911.
- Porsche 911 4x4. Arrived to howls of protest by die-hard 911 purists. The fact was that a lot of people buy a 911 because it is a good car. Alot of them live in and around Alpine countries and that means occasional snow. 4x4 means that you do not have to get out and walk. Simple as that. 4x4 is no more of an abomination on a 'pure' 911 than a convertible or targa top. Cutting the car half in half ruins the handling. 911 purists subsequently had to put up with a greater insult in the shape of electronic steering in the 2000s
- Mercedes-Benz Gelandwagen, with uprated motor by AMG or Brabus. The Gelandwagen when invented was a 4x4 utility without the basic military appointments of a Land-Rover or a Pinzgauer, about the same level of comforts as a Range-Rover. They appeared in up-scale ski resorts immediately, together with their vertical ski-rack which holds the skis at the rear of the vehicle. Come the 1990s and 2000s, AMG offered a turbocharged V8 and Brabus offered a turbocharged V12. The turbocharged V12 offers tremendous torque and will drive the Gelandwagen to 163mph on the Autobabn, but I find Brabus' marketing hyperbole so distasteful that if I wanted the turbocharged V12 I would ask AMG to build one for me. Brabus' Gelandwagens are built to order, in any case. A Gelandwagen will take four persons plus almost all their soft luggage, unlike the automobiles listed above.
- Ski-Racks
- For most people a ski-rack as a relatively ordinary utilitarian device and subject which arouses little interest or emotion. The ski-rack goes on the roof of the automobile and the skis go in the ski rack. In Italy, you cannot leave skis on the rack because they will be stolen. Ski-racks, like anything on the roof of an automobile add drag and drag increases at a square of velocity. My preference is for internal stowage of skis. Partly because of the drag and partly to shield them from the weather. In most vehicles this means that the skis have to be stowed centrally down the passenger compartment. This is not an inconvenience for me but then I am driving alone. I have managed four pairs of skis and four skiers where I had to drive a 'Getaway' at the end of a run-out.
- External ski racks which offer elegance and fluidity in design are the ski-racks for the VW Beetle and the Porsche 911. The sloping rear panel of the vehicle allow for this conformal mounting. Porsche blotted their copybook in this respect with the advent of the 911s equipped with rear spoiler from the late 1980s onwards, because it prevented the ski rack and skis from being mounted down the rear slope of the automobile. The curved roofline of these automobile then made for a difficult mounting. The Mercedes-Benz Gelandwagen also had a very elegant ski-rack which held the skis vertically at the rear of the vehicle.
- When placing skis in an external rack, make sure that the skis and racks are lanyarded on. I have seen several racks come off on the Autobahn. Furthermore, I have picked up two pairs of undamaged skis from Autostrada in the middle of the night. The travelers were clearly unaware that they were shedding load.
- Most hatch-back cars and many saloon cars will accept internal stowage of skis, even 230cm skis. The Audi Quattro (even the short wheel-base S1) will accept 2m skis internally. There may be brackets for this purpose but I have always made my own or used a battlefield expedient. You can secure the skis with a cable-lock. I prefer to purchase thin steel hawser from the hardware store and make a long cable which locks to the seat frame. This will prevent ski theft if the automobile is broken into. This is only a risk in Italy or French metropolitan areas.

1969: A Volkswagen Beetle with a ski-rack at Lauterbrunnen Bahnhof

» Schnell! Der Englander ist abgehauen! «.
You can see that the Mercedes-Benz 220
is fitted with the classic type of ski-rack. Certainly a ski rack of this nature and size would be necessary if you area carrying three henchmen and an Über-henchperson.

1969 Mercury Cougar carries a twin ski-rack

Late 1950s in the Dolomites: A Porsche 956 with a ski-rack

Downhill Racer (1969): A Porsche 911 with a non-Mitteleuropa approved ski-rack fitted.

Slightly too much committment to arriving in time for the first lift out: Ferrari F40 fitted with snow chains, possibly the only F40 ever to be fitted with such.

Above, the ideal ski vehicle. Plenty of room for all the family. Skis can be placed in a vertical ski-rack on the rear, in a horizontal ski-rack on the roof, or inside. Snow-chains for keeping moving on level snow, snow-plough for removing snow-drifts and abandoned vehicles, or border posts. I recommend re-fitting with a five hundred cubic inch capacity supercharged Ford BOSS 429 gasoline engine to improve performance on the Autobahn, coupled to a Mack Maxi-Torque 18 speed gearbox. Less time on the road means more time on the slopes.

In even deeper snow, an appropriately equipped Unimog will ensure progress.

Finally: For when the snow is really deep, and your route is blocked by abandoned vehicles, its 'no more Mr Nice Guy': The Soviet BAT-M Battlefield Clearance Tractor. Built on converted MBT chassis, they are designed to clear roads to enable the Soviet Army to advance. Note the substantial ski-rack on the rear. The BAT-M is much speedier than it looks, even on rough terrain, and can 'Doughnut', doing a 360 degree turn on their own center.

The importance of low ground pressure
demonstrated: Note that the driver has sunk into the soft snow but the tires on his 6x6 offer such low ground pressure that they do not sink in. The tires have a lower ground pressure than the human foot.
Staying on top of deep snow and driving over is always a better policy than sinking in and ploughing forward, not least because it burns five times as much gasoline to plough. The same principles of ground pressure apply to the design of tracked vehicles. A Kettenkrad
has narrow tracks, a Pistenfahrzeug, wide tracks. A snowmobile is a mono-track.
For wartime JEEPs
the army made additinoal metal secondary wheels which could be bolted to the regular wheels using the existing bolt pattern on the axle. The metal wheels had diagonal metal 'spade' treads applied to their tread. The overall diameter of the metal wheel was perhaps 6cm smaller than the regular tubber road wheel, so the metal treads never touched the surface unless the regular rubber tire sank into the mud. Once the regular tire had sunk into soft ground it would only sink as far as the metal secondary wheel, because of the low ground pressure the pair of wheels gave together. An excellent system, which might have saved the German Army in the East during the Rasputitsa
- - As well as snow-chains, if you are an off-piste skier, you should keep a pair of binoculars in the automobile for scouting snow conditions up the mountain. These will allow you to scout distant mountainsides from the road. The binoculars should be as cheap as possible, in case the automobile is broken into. When the Berlin Wall came down all the optics were stolen by the guards and sold off so there was an easy supply of cheap, powerful optics.
- Automobiles: Winterizing your Automobile.
- Load all your winter-related emergency kit for automobile travel into the smallest lightest kit-bag or tool-bag possible. This means that when winter arrives, you just add the kit-bag.#
+ Survival kit: Vehicles. The following list is a basic list for use in First World and Second World countries on paved highways.
- Shop slowly and carefully for a small canvas kitbag. You can find small tubular zip-up kitbags in light canvas which look like a miniature version of the large horizontal tubular kit bags issued to troops. In this kit bag place:
- - GI issue rain poncho. Also the insulated liner for same if you are exposed to winter temperatures.
- - Tire inflation and sealing canister. Generally you should avoid using these but there may be an emergency where you need to re-flate a tire and get the vehicle out of danger.
- - Leatherman tool or equivalent. There are many different types, some better adapted to vehicular repair. The type which have interchangeable heads are useful.
- - Duct tape
- - WD40: If you manage to get water all over the electrics, a di-electric lube like WD-40 will restore operation in a hurry.
- - A thick plastic bottle. This is used for decanting fluids. The thick plastic is useful because when you have to repair leaking coolant hoses, the high pressure jet of steam which emits from the hose cuts through duct tape within an hour or so. If you place a thick plastic patch over the hole and then duct-tape that onto the tube, this will preserve the duct tape and the seal.
- - Sparkplug puller: Nothing is as frustrating as having dirty plugs and been unable to pull them and clean them. When you have pulled the plug gently clean off the muck with, first, kitchen tissue and second, a metal nail file (not an abrasive pad). How do plugs get dirty ? Well it depends, but it can be horror situations where one cylinder is starting to flow oil into the combustion chamber.
- - Plain wire (not the flexible kind). Not easy to find. The best is the kind which is used in the armor layer of heavy electrical cables, the kind that electricity distributors bury in the earth. You find scrap lengths and pull out the plain wire. Other sources of wire are art supply shops, musical instrument vendors. With plain wire you can strap up an exhaust system which is coming loose or effect repair to other parts of the vehicle which are threatening to unilaterally declare independence.
- - Tow rope or webbing. Together with two different shaped steel Karabiners or similar D-rings. Many vehicles have a tight clearance on their tow-hooks and it can be hard to get the Karabiner through. You may be better off slipping through a short webbing climbing sling through the tow loop and then slipping the Karabiner through the end of that, then the tow-rope. The second use of a tow-rope is for pulling downed trees out of the way.
- - Parachute Cord: Universally applicable.
- - Cable ties and baler twine: If you are Good Ol'Country Boy like myself then you tend to use baler twine to fix everything. The metropolitan equivalent is the cable-tie. Plenty of cable ties. There are specialist plastic hose-clamps which just snap-on and you should carry some of these if you can find them.
- - Strips of cardboard and a marker pen: If you are unable to get going again, then you can hitch-hike back to civilization. A strip of cardboard with your destination on improves your chances of a lift.
- - Goggles. If you break your windshield, you will have to drive in a 100km/h headwind. Unpleasant.
- - Plasticuffs: These make holding a motorcyle-gang at gunpoint much easier.
- - Two red Cyalume sticks
. If you are in a dangerous spot, like on the shoulder of an Autobahn, then you can save electrical power by using the red Cyalume sticks as your rear lights instead of the vehicle lights. The problem with Cyalume sticks is that they have a shelf-life and need changing out every year. Other kinds of lights which have a long shelf-life at full readiness (a useful feature in any survival equipment) may be substituted.
- - An old cotton shirt. If you are wearing good clothes or mountaineering/skiing clothing which should not be exposed to oil and grease then you put on the old shirt backwards, as if you were a painter, and this keeps you from getting greasy as you lean over the hood.
- - Disposable latex gloves and washing-up gloves: With disposable latex gloves you can perform intricate tasks but they are fragile and large size latex gloves allow you to wrestle with items which would tear disposable latex gloves. If I was traveling to an event where I was dressed in White-Tie then I would add a pair of old pillow cases to this list because it is easy to use them as gloves. They do not tear and your hand can easily get a grip on something which needs force applying to it.
- - Tools: Difficult to specify. The more tools you have, the easier the repair is. The more tools you have, the heavier the weight. Grips are the most useful, the kind that the jaws are expandable to open to a variety of diameters. These can substitute for a spanner. Pliers. An adjustable spanner.
- - The above kit-bag is in addition to a spare gallon of gasoline and a bottle of motor oil.
- - Specific to your vehicle: If your vehicle consumes specific items then you should carry spares. In general, it is a good idea to carry a spare set of rubbers (tubes, drive belts) and a spare set of front brake pads. If you live with a vehicle over a number of years and use it regularly then you get to know it well and know what it consumes. I prefer a vehicle such as this for inter-Continental journeys because there are going to be no surprises.
- Large fat candle: If you need to halt the vehicle overnight in conditions well below zero, then burning the candle all night under the hood will keep the engine temperature from dropping to the point where it will not restart. Carry also some aluminum foil to fabricate a shield for the candle so that the wind does not blow it out. Do not set your vehicle on fire ! Some Swedish vehicles have hose inlet/outlet connectors which fit to the building central heating pipes and keep the vehicle not only startable but ready to depart in a hurry. Most fire appliances trucks also use this system. If you do not have this system then take a hand-held automobile inspection light, the kind which accepts a normal domestic light-bulb and run it out from the house to the vehicle. Place it under the hood, perhaps close to the carburetor or battery and then close the hood and apply blankets to the front of the vehicle. Kick the snow up around the front of the vehicle to prevent the wind accessing the engine bay. Some lucky people have a system pre-heat coupled to a second battery.
- Snow shovel: Light is good. You can get plastic folding ones. An entrenching tool, which are much toughter, is second best but has the advantage that it can be used as a survival tool or you can deal with tasks such as digging away earth or constructing something with earth and rocks onto which you can place a jack. I had to use my fingernails for this once and ended the day with hypothermia.
- Sub-zero screen wash. In extremis, just add methanol or methylated spirits to the screen-wash water. Do not use neat methanol or neat methylated-spirits, only that mixed with water. I suppose vodka would do in a pinch but I have never tried it.
- If you are in a diesel vehicle and the diesel starts freezing, then add around 5% or 7% gasoline to the fuel tank. You will notice the engine run slightly hotter after this but there are no ill effects and I have never damaged an engine when having to do this for several weeks. Winter jet fuel is cut with a gasoline equivalent to stop it freezing.
- If you are temperatures so low that the engine oil freezes then normal procedure is to drain the engine oil into a pan immediately after shutdown. In the morning, you heat the solid lump of oil over the camp fire and then pour it back into the engine. The pan is normally a sheet-metal welded pan specific for the purpose because on large engines the volume of oil is also large. With some open-cast mining trucks they just build wood, coal or charcoal burners under the sump and heat the engine until it is ready to start. Diesel engines are usually all-metal fittings so there are no rubbers to catch fire. With truck diesel engines you can just leave them running all night. Some railways leave their diesel locomotives running all night because it is cheaper than purchasing ethylene-glycol engine coolant for their fleet of locomotives. Modern gasoline engines which are fuel injected can be left running all night because they will not stall like carburetter engines used to.
- - Conveniences: Items which will prevent the cops pulling you over: Spare bulbs, a spare license plate.
- For further more specific information on winterization of vehicles and operations in sub-zero temperatures check local customs.
+ SKI-DRIVING
- Snow driving: If you are driving on snow without chains then remember that the static co-efficient of friction of a tire is higher, much higher, than the sliding co-efficient of friction. A rapidly spinning wheel has little friction compared to a wheel which has gripped the road surface or the snow surface. Keep sudden throttle movements to a minimum and try to reduce the flow of torque to the wheels by using as high a gear as possible. Stack as much weight (luggage, passengers) as you can over the drive-wheels. Braking on snow is achieved by locking the wheels and letting them shunt a pile of snow up in front of themselves, which stops the automobile. If you try this with ABS
it does not work because it keeps thinking the wheel is skidding and needs to regain traction by releasing the brake. This means that the car hardly slows down at all. It is terrifying because you are pressing the brake as hard as you can and the wheels do not lock nor the car slow down. If you can turn off the ABS, turn it off. This way, the wheel will lock, and a pile of snow builds up in front of the wheel, which stops the automobile.
Any driving faster than this is rally driving, which is beyond the scope of this article.
When driving down the mountain from the resort on lying snow without the benefit of snow-chains, watch out in the tight corners. If you follow a local down the mountain he will take the longest arc through the corner he can manage. This is because if you turn the corner tightly, the front wheels, particularly the inside wheel, will struggle to maintain its grip in such a hard turn, start to slip and then provoke a general slide in the other wheels of the automobile.
The main advantage which rally-cars enjoy is tires which are designed for the surface conditions upon which they race. This means the rally-car can be fitted with deep-tread snow tires, which also have studs screwed into them in order to grip on ice (the studs tend to become ripped out as they proceeded along the stage). Deep tread offers some of the advantages of snow-chains in that the thin bars of tread are impressed into the compacted snow which falls under the tires. The Finns drive on snow for six months of the year. Underneath that is loose aggregate, upon which they drive the other six months of the year. No small wonder they have head start at rally driving. While they are good on snow, Finnish rally-drivers use the large snow-bank which builds up at the side of the road to hold the back of the car on the road. You cannot do this in central Europe because the snow does not build up enough to form a snowbank. This slows them down a bit. That and not much else.
- AVOID: Driving to ski-resorts is not an off-road adventure and you do not need a vehicle which is a potential Paris-Dakar winner. You do not need a high ground clearance 4x4 like a Gelandwagen, Land-Rover, Haflinger #, Pinzgauer #. You do not need four wheel drive. An ordinary two-wheel-drive automobile with snow chains has more grip than a four-wheel-drive automobile without snow chains. Remember, 95% of your journey will be on Autobahns, with a short section of clear two-lane-black-top, then the run up the mountain to the resort, which, if there is falling snow, may have a snow covering. For this last 5km, if there is lying snow you will need chains. Sure, when going uphill, an automobile with four-wheel-drive will delay the dreaded moment when finally have to get out of the the nice warm automobile and start fooling with snow-chains because the wheels have ceased to grip. But you still have to get out and fit the chains.
+ SPEEDTRAPS
- SWITZERLAND - GENEVA to the PORT DU SOLEIL at Hermance
+ACHTUNG ! - If you are driving to the Port du Soleil by driving on the southern Swiss side of Lac Leman through Hermance, then this is a radar speed control hotspot by the Swiss police. Plenty of drivers are caught here including native Swiss.
- Speedtraps in the US
- Speedtraps Worldwide
-
http://www.target-automotive.nl/en/target-blu-eye/ - Target Blu Eye
© copyright www.mitteleuropa.x10.mx https://twitter.com/verlagmeyer copyright ©
+ INSURANCE AGAINST SNOW VERSUS EXPECTING SNOW
- The above load-out is designed to insure you against unexpected snow-fall. In the event of deep snow or snow-storms being expected then take all of your skiing or mountaineering apparel, not forgetting your boots. Winter mountaineering boots plus Gore-Tex over-gaiters will see you through deep snow. If you own skiing gear but no mountaineering boots then Gore-Tex military boots or Gore-Tex trekking boots would be more than adequate. Ice-fishing boots would be superior.
- The Gore-Tex over-gaiters which enclose the entire lower leg are similar to the WWII GI issue rubber gaiters in that they offer full water-proofing but with the added advantage of ridding you of some perspiration. I have not seen rubber over-gaiters in a while but would purchase some if I could find some. If you are going to find yourself in the storm of the century and do not have the required kit then a pair of stout polyethlyene bags, inside of a pair of nylon fertilizer sacks (not the large kind) can be pulled on over your boots and then tied with string.
+ THE BIG SNOW-STORMS
- If you have ever been caught in a big snow-storm, with thick, wind-blown drifts everywhere some of them as high as a bus, and driving snow, driven so hard that you cannot see more than a meter or so, and cannot expose your face because the snow stings so badly, then you will know that what was previously a pleasant walk of 1km can become 20km or worse. The ability to equip yourself with clothing to keep out all of that weather, see what you are doing and walk or ski on top of the snow could save your life and it will certainly leave you in better humor at the end of the day as you get through the door and smell the coffee on the kitchen range.
- Ski-Drive; Chasing falling powder ;
- If you have a desire to ski fresh powder then you can indulge this desire by close watch of weather reports followed by night-time drives chasing the falling powder in your automobile. I have done this many times, usually by driving overnight and then pulling up at the lift valley station and sleeping in my automobile then waking an hour before first lift to brew coffee on the mountaineering stove. The excitement of watching fresh snowfall all around is difficult to beat. #
- Cash - FX #
- - Before the invention of the Euro (EUR), you had to carry Swiss Francs (SFR), German Deutschmarks (DM), Austrian Schilling (AS), Italian Lire (ITL), and French Franc (FFR). I would carry two wallets, one as my regular wallet (USD, passport, drivers license, plastic cards, membership cards), and the second full of the different kinds of foreign banknotes. Coins from each currency were carried in 35mm film canisters (which will be increasingly difficult to find). This was to ensure that if I had to pay a ticket machine, I had the right coins in the right currency. With the invention of the Euro (EUR) the only Alpine country not to join was Switzerland. This reduced foreign currency requirements to Swiss Franc (SFR) and Euro (EUR), plus coins. #
- PARKING
- Parking in resorts:
After the Second World War, any Waffen-SS Prisoners-of-War who had the misfortune to end up in PoW camps controlled by the French were starved to death. The French stole the shipments of food handed to them by the British and Americans and sold the food on the black market. They Waffen-SS men were told that if they joined the French Foreign Legion they would receive food. Many of them joined up and this is why the parachute battalion sing the Falschirmjager song to this day. Many of the Waffen-SS units ended up at Dien Bien Phu. What most people do not know is that the Swiss recruited the remainder of the Waffen-SS who did not join the French Foreign Legion and gave them all jobs as parking controllers in ski resorts. Any place where tourists arrive in force and must-see will end up with automobiles parked anywhere on anything, Italian-style. This means that these places tend to employ Draconian anti-parking measures and have parking regulations enforced by parking-Nazis. Out of season, there may be no enforcement at all because the resort is empty. One of the problems with observing parking regulations is that if there is deep snow everywhere, you can see neither the road, the road markings nor the parking signs. The parking Nazi knows where the parking/no-parking marks are on the road because he lives in the village, but you do not. Parking regulations tend not to be enforced when there is something like a big snow storm and enough snow that the automobiles are getting stuck, et cetera. I arrived in St Anton am Arlberg one night during a howler of a snow storm and back in they day before they built the new station there was a hard-stand close to the railway line. I had tried to get the auto up to my hôtel but kept losing traction on ice underneath the snow and having to reverse back in poor visibility. After nearly running down some revelers who were staggering home still in their ski-boots I gave up and just left the auto on the hard-stand near the railway tracks, and Sherpa-ed my kit in on foot. Fresh powder the next day made it all worthwhile. However, you should take care to remove your automobile from the danger of falling into the hands of the parking Nazis. Most resorts have free parking usually in an inconvenient place at one end of the village. Many resorts have underground automobile parks where you can leave the automobile out of the ravages of the weather. And pay for the privilege. Before you depart, ascertain the location of the free parking in the village and find it on a map. Do not rely on following verbal instructions.
+ DRIVING TO SKI-RESORTS - ROUTEFINDING
The Swiss Autobahn system.

Overview of the French passes from Merrick's The Great Motor Highways of the Alps (1958)
- Driving from Germany to the Alps
- Driving from Eastern Europe to the Alps
- Driving from England to the Alps
- Switzerland Transit and Through Routes
- If you drive to the Alps from any point of the compass in Europe, you can easily navigate to the ski-resort of your choice. The navigational problems start when you are inside the Alpine region itself and need to transit to another resort in the Alps. This applies particularly if you are on one side of the Alps, and need to transit to the other side, because the passes of central Switzerland are closed in winter, September to May. If you are traveling from CONUS then you may be used to mountain passes which close during heavy snow but are cleared as soon as they can get the snow blower up. This is not the case in the Alps. For navigation through the Alps, a map of the Alpine regions is greatly superior to individual country maps.
- SCHWEIZ TRANSIT - GENEVA TO DAVOS & ST MORITZ IN SUMMER AND IN WINTER

NATO air chart ONC F2 Schweiz
section Pennine Alps
The annotations on the above map show the route from Geneva in the west to Canton Graubunden
in the East during winter. During winter the passes are shut (from September to June) which means the normal selection of Alpine passes are unavailable. This means that you have to swing all the way north via Zürich or cross the main back-bone of the Pennine Alps at the Mont Blanc tunnel and over into Italy, then cross back over the Pennine Alps at Lake Como and the Maloja pass into Switzerland. You are crossing the back-bone of the Alps so during snowfall you can expect lying snow on the pass. The most direct route, directly east along Valais and over the west-east Furkapass
, is blocked in winter (September to June) because the Furkapass is filled with deep snow. The alternative summer route is via the Simplon pass, then down through the Italian Lakes and back over again, is also blocked. In the map below you can see the backbone of the Pennine Alps marked, along with the passes. You can see that the 'backbone' has several impassible ribs. One just west of Martigny, which reaches from the backbone to Lac Leman, and the other at the high ground over which the Furkapass crosses. It is this pair of 'ribs' which cuts Switzerland in half. The rib at the Furkapass reaches all the way to the lake at Altdorf which had a tunnel bored through underneath it in the 1960s. To the south the 'rib' reaches half way to Locarno. Before the Altdorf tunnel was built there was no way of getting past this rib except via Zürich or Milano.

NATO air chart ONC F2 Schweiz
section Pennine Alps - transit Switzerland winter along the Pennine Alps, showing the impassible backbone of the Alps.

NATO air chart ONC F2 Schweiz
section Pennine Alps - showing transit of Pennine Alps in summer using Furkapass
and Simplon pass
Western and eastern Switzerland are connected by the Furkapass, which is shut in winter. In the map above, the summer route, over the Furkapass has been marked in purple. Sections of Autoroute have been marked in white. The more southerly route takes you over the Simplon pass, through the Italian lakes and back over the backbone of the Alps at the Maloja pass and into St Moritz.

The above schematic shows the 'broken link' of the Furkapass, the central route of Switzerland which is cut in winter.

NATO air chart ONC F2 Schweiz
section Pennine Alps - transit Switzerland Pennine Alps to the Arlberg and Inn River valley to ski Garmisch-Partenkirchen
and the Arlberg (St Anton am Arlberg, Lech-Zurs).
In the above map, to reach the valley of the River Inn for onward routes to Innsbruck and Garmisch-Partenkirchen, then the border is crossed at or around Feldkirch. Better to cross the border at the border-posts north of Feldkirch because they are not manned after dark. Or transit through Liechtenstein to the south, whose borders are frequently unmanned. The two coffee cups mark Heidiland
Autobahn services near Chur and Pettnau
Autobahn services near Innsbruck, both 'destination' services, especially Pettnau's breakfast buffet where you can stoke-up with a huge breakfast: Steak, eggs, bacon and the rest.

Map of Kanton Graubunden

NATO air chart ONC F2
Schweiz
© copyright www.mitteleuropa.x10.mx https://twitter.com/verlagmeyer copyright ©

NATO air chart TPC
F-2A
& F-2B
, showing Switzerland, Austria, northern Italy, Slovenia, the northern Adriatic and Istria. F-2C and F-2D make up the two squares underneath and the four squares together compose NATO ONC F2, above. The difference in coloration and markings between F-2A and F-2B is likely because they were printed at different times.

                                                                         NATO air chart TPC F-2C

NATO air chart ONC F2 Schweiz
section Pennine Alps - showing major or notable ski areas, marked in blue.
The areas marked in blue indicate the ski areas of major or notable ski resorts. There are smaller resorts whose lift systems cover just about any skiable slope in the Pennine Alps which are not shown. Only the Pennine Alps are high enough to be snow-sure. In cold weather and heavy snowfall, just about every modest hill in central Europe will be skiable. In the map below the names of the ski resorts have been added. You can see that with few exceptions, ski areas are in the north-facing valleys above the backbone of the Pennine Alps. The south-facing local geography and meteorology which give the Italian Lakes their balmy climate are also the destroyer of the snow-base which is required for skiing.
Actual skiable area versus the area encompassed by ski-runs are dependent on local geography. The geography of some resorts will permit only narrow tracked pistes while others are more like resorts in the Rockies and will allow for descents of the entire flank of the mountain. For example, Zermatt has little in the way of skiable area but its ski-runs transit a considerable distance, hence the large blue area on the map. In contrast Verbier and the Four Valleys cover a smaller area of blue on the map but offer a much larger skiable area.

NATO air chart ONC F-2 Schweiz section Pennine Alps, showing major or notable ski areas named

Kümmerly & Frey road map Alpenländer Alpine Countries 1960s
In the above map, motion picture locations are marked by squares: Purple: On Her Majesty's Secret Service (1969) , Gold: Goldfinger (1964) , Green: The Eiger Sanction (1975) , Turquoise: The Italian Job (1969) , Red: The Great Escape (1963) , Blue: Where Eagles Dare (1968) , Red Circle: Goldeneye (1995) ; World War II locations are marked by a red diamond. The thick red bar is the line of the backbone of the Alpine mountain range. It is in this chain that the Alps are at their highest. The red double-opposed-diamonds mark the location of the road passes across the Alps. On the map itself, you can see marked next to the name of the pass, in red Roman numerals, the months in winter between which the pass is closed.

Map of the Alps from Hugh Merrick's Great Motor Highways of the Alps . The shaded zone marks the impassable backbone of the Alps which separates Italy from Mitteleuropa. The backbone is crossed only by the high passes.
- SCHWEIZ TRANSIT - GENEVA TO CHAMONIX AND THE MONT BLANC TUNNEL

In the above map, the Route The Italian Job (1969) over the Jura and the Col de la Faucille
, through Geneva and onto the old Route Nationale road to Chamonix via Genève-Vaillard border post. The LDS topographic map for Geneva and environs is here.

LDS
1:25,000 topographic map: Col de La Faucille, north of Geneva, crossing the Jura. Geneva is full of classic sports cars and motorcycles so the Col de La Faucille sees them being exercised at weekends. There are a smatterings of cafés and restaurants around the Col where you can see a lot of interesting automobiles. The French IGN 1:50,000 topographic maps and the Swiss LDS 1:50,000 topographic maps are so good that on asphalt they can substitute for pacenotes.

The autoroute from Geneva to Chamonix as been laid alongside the old Route Nationale until the route reaches the gorge below the Chamonix valley where there is insufficient room for more than a two-lane highway. The new ramp was built up to the lip of the gorge (marked by two red triangles) taking two lanes of traffic up the valley. The old switch-back road was converted into a down-only two-lane road. Chamonix and the Mont Blanc tunnel are a few minutes after that.
If you look closely on this map, altiports are marked with a small blue aircraft symbol.

Map of the Alps from Hugh Merrick's Great Motor Highways of the Alps . The shaded zone marks the impassable backbone of the Alps which separates Italy from Mitteleuropa. The backbone is crossed only by the high passes.

Post-war outline map of Switzerland, showing watersheds and major two-lane highways.

Wartime Luftwaffe air chart showing sector number, section Switzerland, Austria

The backbone of the Alps around Mont Blanc. Until the advent of the Mont Blanc Tunnel and the Grand St Bernard Tunnel the Val d'Aosta on the Italian side was unreachable from France or Switzerland in winter.
In the map above you can see the ski-resorts of:
- Verbier (CH) visible on the Swiss approach to the Grand St Bernard (up to the east of Sembrancher).
- Courmayeur (I): At the head of the Val d'Aosta in Italy
- Val d'Isere (FR): on other other side of the Italian Gran Paradiso Nature Reserve. (bottom edge of map)
- Chamonix-Argentière (FR): On the north side of the Mont Blanc Tunnel in France.
- Les Arcs (FR) to the west of the Petit St Bernard Pass, in France.
- Many smaller resorts.
In winter, only the two tunnels, the Mont Blanc Tunnel and the Grand St Bernard Tunnel are open. All the passes fill with deep snow in the winter which has to be dug out with a snow-blower. You can ascend the passes using free-heel skis fitted with skins or with snow-shoes but very few people do. Even using a purpose-built snow vehicle like the Swedish Army and Canadian Army use, or a tracked Pistenfahrzeug (US: Trail-Groomer), or even a snow-mobile, would have difficulty because the mountainsides are just steep snow, with the road (which was dug into the mountainside) no longer visible. Many sections are just a long traverse on steep snow. These vehicles are capable of negotiating steep slopes, but have difficulty traversing. Some sections of the Grand St Bernard are canopy-tunnel, which means that a route would have to be found either over the top (usually impassible, hence the construction of the canopy) or below. #
+ SEE ALSO
- Thrilling Cities by Ian Fleming, section 'Geneva'

Michelin map of Haute Savoie 1:300,000 c1995 showing the major approaches (purple) to the Alpine passes into Savoy.
If you compare the topographic map above this road map you will see that you have to cross the backbone of the Alps and drop into the Val d'Aosta in Italy. You must do this via the the Col de Petit St Bernard (lower), the Mont Blanc Tunnel, or (right) the Grand St Bernard Pass.
+ FLYING TO THE ALPS
- Skiers who live in countries more distant from the Alps tend to fly to the main airports of the Alps and transfer to the resort by coach. Up-to-date information on flying to the Alps can be gained in English language forums such as rec.skiing.resorts.europe
. Best to ask for information from there. There is an FAQ which you might find useful
.#
- Geneva Airport French Side / Swiss Side #
- Tour Operator Air Charter Scams #
- Airport Transfer to the Resorts #
- - Altiport#
- - Helicopter #
- - Hire Car #
- - Bus #
- #
- #
+ RAILWAY TRAIN TO THE ALPS #
- Within Switzerland, you can travel anywhere by railway and thence the universal Post-Bus
service. In Europe the steadily expanding TGV service
has meant that you can use high-speed rail to reach the Alps. This is an important development in some instances because the airline travel is so slow. For example, for the English, the journey from London to a Swiss ski-resort is faster by automobile (especially a fast one) because of all the journeys to and from the airport and airport processing times. Doorstep-to-doorstep the journey is twelve hours or longer. At at only 135kmh /(85mph) the road journey from Geneva to Calais is exactly eight hours. Eurostar now have a London to Geneva service which takes six and a half hours. In the post 9-11 world there is more of a check-in procedure in their used to be but it is still not the level of an airline terminal. #
- #

The Age of Civilization: First-Class all the way to the Alps. You can still reach Switzerland on the new Orient Express
and when it follows the old Arlberg-Orient route, you can still reach St Anton, directly. You can still walk from the station to the liftstation in ski boots (not recommended - but I have walked much further in ski boots) but before the new station was built, the railway tracks ran through the village and you could exit the train nearly straight onto the snow.
THE SKI RESORTS

NATO air chart ONC F-2 Schweiz section Pennine Alps, showing major or notable ski areas named
+ SWITZERLAND
WESTERN SWITZERLAND
+ TRANSIT POINTS
- GENEVA

In Fleming's novel Goldfinger (1959) as James Bond reaches Geneva he stays at the Hotel des Bergues on the Quai des Bergues.
-- The Hotel des Bergues
- www.fourseasons.com/geneva/ - Hotel des Bergues, 33, Quai des Bergues, 1201 Geneva, Switzerland Tel.+41 (22) 908 70 00 Fax. +41 (22) 908 74 00

Map of Geneva
in 1841 showing Vauban Fortifications.
-- The old town of Geneva is on the righthand, southern bank of the river, centered around the cathedral. The new city of Geneva is on the northern bank of the river. The the tiny winding streets of the old town have great charm compared to the draughty internationional city on the north bank.
-- Good steak-frites for tired and hungry touring drivers can be had at the café de Paris
in the new town close to the railway station.
-- Around-the-clock dining can be had at the restaurant next to the Grand Théâtre de Genève
below the old town, because they cater for musicians who have just finished a performance. This is immensely useful if your Trans-European journey finds you in Geneva in the middle of the night.
-- For mechanical services to your automobile, the good offices of Monsieur Rouillet at Garage Mirement
on the Avenue Mirement are highly recommended.
-- Geneva: Audrey Hepburn's house at Tolochenaz
-- Geneva: Byron and the Shelleys #
-- Geneva: Famous residents #

LDS #270 1:50,000 topographic map of Geneva
- MONTREUX
-- Jazz Festival #
-- 1963 Ian Fleming at the Montreux Palace Hôtel
-- Chateau d'Enchandons, home of Simenon, creator of the character Maigret.
-- DANJAQ LLC, 44 Avenue de la Gare, Lausanne.

1963: Ian Fleming arrives at the Chateau d'Enchandons near Laussane, home of author Simenon
, in his new Studebakr Avanti
license plate 8 EYR.
This license plate is not correct for the year 1963, which would have been LLL NNN A, which means that it was Fleming's personal plate, which he may have had on his black Ford Thunderbird. He had owned the Thunderbird for three years previously, and had just crashed it during a collision with an ice cream van. In the early 1930s while at Reuters, Fleming had driven a Buick.
From The Man with the Golden Typewriter by Fergus Fleming:
The Avanti had only been introduced in America that April, making it quite likely that Fleming was the first person in Britain to own a model. His customised version, which he owned until his death in 1964, boasted black leather upholstery and crimson-numbered dials on the dashboard. Its numberplate was 8 EYR.
In 1963 Ian Fleming was commissioned to interview the author Simenon, creator of Maigret, who lived at the Chateau d'Enchandens near Laussane. Fleming had by now had his first heart attack and sensing that time was short decided to revisit all his old haunts throughout the Alps. Fleming had driven a Ford Thunderbird
for the last seven years and had purchased a new Studebaker Avanti
which he used for this trip. His wife Anne joined him by train the Montreux Palace Hôtel. Fleming had his mistress, Blanche, fly in from Jamaica to Zürich airport and he took her on a tour of his favorite places, visiting the Berghof at Berchtesgaden, and Kitzbühl, where Fleming had attended school. The Avanti was supercharged and fast, with a top speed of 174mph and 0-60mph in 6.5 seconds. Blanche recalled Fleming holding the steering wheel with one hand at speed on the Autobahn while swallowing heart pills. Fleming returned to England via the Rotterdam air ferry, probably to Southend-on-Sea. Likely he chose this route because when turning for home in Austria, he could drive to Munich and thence transit the fast German Autobahn system all the way to Rotterdam or Hook of Holland. In the 1960s, there were no Autoroutes across France.
- BERN
-- See Bern in On Her Majesty's Secret Service (1969)
- ZÜRICH
-- See Zürich in The Eiger Sanction (1975)
SKI RESORTS
+ Crans-Montana
- Probably the resort with the best reds. Wide and very fast. A good place to practice Schuss. A very pretty resort. Sir Roger Moore lives there.

Crans-Montana: Hôtel LeCrans swimming pool
+ Gstaad
-- Gstaad (pronounced "Schtard"), like Davos and St Moritz, is a broad-valley resort, rather than a 'V' valley. Gstaad is good resort for automobile-ski because you need to drive direct to the ski area where you are going to ski that day. Gstaad has a large number of prominent individuals as residents: The late Gunter Sachs, the late Elizabeth Taylor, the late Richard Burton, the late David Niven, Roman Polanski, Bernie Ecclestone, Taki Theodoracopulos
, Yuhudi Menuhin
, J.K.Galbraith, Victor Emmanuel De Savoie and many members of the royal houses of Europe. Gstaad also has many prominent visitors, past and present: Ernest Hemingway
, Jackie Kennedy, the Marquis of Milford Haven, Princess Alexandria of Greece, Princess Grace of Monaco, Madonna.
-- Ian Fleming visited the production of Dr No (1962) location at Laughing Waters with his wife Anne where they met the cast and crew. Fleming was clearly impressed with Ursula Andress because he wrote her into a scene in the novel he was then writing, On Her Majesty's Secret Service (1963):
Irma Bunt is speaking to James Bond:
   She waved a hand towards the crowded tables around them. 'A most interesting crowd, do you not find, Sair Hilary? Everybody who is anybody. We have quite taken the international set away from Gstaad and St Moritz. That is your Duke of Marlborough over there with such a gay party of young things. And near by that is Mr Whitney and Lady Daphne Straight. Is she not chic? They are both wonderful skiers. And that beautiful girl with the long fair hair at the big table, that is Ursula Andress, the film star. What a wonderful tan she has! And Sir George Dunbar, he always has the most enchanting companions.' The box-like smile. 'Why, we only need the Aga Khan and perhaps your Duke of Kent and we would have everybody, but everybody. Is it not sensational for the first season?'
Note how Gstaad and St Moritz are referred to in a way which indicates they are the two most prestigeous resorts in the Alps. Sir George Dunbar was a friend of Flemings and part of his inner circle. Andew Lycett in his biography of Ian Fleming describes Dunbar on page 81.
-- The skiing is mostly red grade with some of the longest and fastest descents in the Alps. Skiing a long way through both mountains and forest is very pleasant and exciting and it is here in Gstaad and in the area of the Jungfrau between Kleine Scheidegg, Mannlichen and Holenstein where you can ski a long distance through forest. Gstaad features lots of pleasant, after-lunch type skiing, often through forested slopes. In Gstaad the long reds may be found below the lifts of La Videmanette, Le Rubli and Les Gouilles and are accessed by the cable-car valley station at Rougement. Nearby in Chateau d'Oex there is every summer a large hot-air ballon festival
. #
-- Writing in the mid-1950s, James Riddel, the captain of the British Olympic Ski Team wrote in The Ski Runs of Switzerland:
GSTAAD: 1,052m (3,450ft)

INHABITANTS: 2,000

HOTEL AND PENSION BEDS: 825

CHALET BEDS: 1,500

TOTAL BEDS: 2,325

TRAIN TRAVEL: 2 hrs Berne 1& 1/2 hours Montreux

MAXIMUM SKI TRANSPORT HEIGHT GAIN: 891m (2,925 ft)


    Having left the single valley of Saannemoser, one finds one has entered a big, wide enclave which is the focal point, or hub, or a large number of valleys interspersed by broad ridges that run down, which like the spokes of a wheel, to the centre at Gstaad Village (just south of Saanen, 1,001m (3,317 ft), the traditional capital of this pastoral region).
    All these ridges, much like the Saannemoser country, consist of open snow-fields, broken up most interestingly with wooded sections of hill-side, and provide as even greater selection of slopes that face almost all points of the compass. At present, three separate ski transports serve these ridges in three separate areas, and the future may well see additional uphill transport.
    Gstaad is, very rightly, very popular and very successful. Surrounded by its varied, safe and versatile ski country, the village itself has about it a prosperous air of the cosmopolitan sophistication that follows the ever-changing whim of the relatively small set that might be termed The Palacites of Winter Sports. Huge steel-and-concrete structures have not yet replaced the attractive chalets of this attractive area - although there is one hotel, perched unblushingly on an elevation, which looks more like a castle in Ruritania than any Ruritanian castle. The village street, often close-packed with Bentley, Mercedes and Lancia, echoes, when it can, to the merry jingle bells of horse-drawn sleighs - and to the happy clatter of man-manipulated cash registers.
    Unlike many centres, a car has its points in Gstaad, for the various uphill transport systems (including the helicopter airstrip) are a little removed from the village centre, and legs that complain at a fifteen-minute walk can use one with advantage. Sleighs and taxis are there for the hiring, and the best arrangement for the keen but lazy skier is to make friends with a car owner.
    The three ski areas served by the lifts are as follows:

The Wasserngrat: Twenty minutes walk, eastwards, up the Turbachtal.

The Windspillen: Fifteen minutes walk , southwards, on the Gsteig road.

Eggli: Ten minutes walk, south-south-west, across the Saane River
Riddell refers to people he terms 'Palacites', who presumably are visitors more interested in the social side of ski-resorts rather than skiing. Without refering to it by name, Riddell refers to the Hôtel Gstaad Palace looking like a 'castle in Ruritania
'. Personally I would have gone further and constructed the Hôtel Gstaad Palace as a copy of Schloss Neuschanstein
- Hôtel Gstaad Palace - Pink Panther - The Revolving Door scene -
-
- Return of the Pink Panther had a scene filmed in the Hôtel Gstaad Palace.
-
http://www.gstaad.ch/ - History of the Hôtel Gstaad Palace, hosting Louis Armstrong, Benny Goodman, Ella Fitzgerald, Maurice Chevalier and Marlene Dietrich.

Hôtel Gstaad Palace, 1961, photographed by Slim Aarons. The Hôtel Gstaad Palace is an excellent hôtel, but they do object to people jumping into the nightclub swimming pool when fully-clothed, even in evening dress. You have been warned.
From The Richard Burton Diaries by Chris Williams:
1967 July , Gstaad
We have done most of the things we promised each other we'd do. We've eaten Raclette, fondue bourgignonne, Steak Diane, Chateaubriands at the madly expensive [Gstaad] Palace. We have had the local wines including a rather good one from Sion called Chante Merle Badoud. Sweet and light not quite a Ros.

Ivor and Gwen were delighted with Gstaad and the weather was superb the whole time. We took them to the Olden and the Palace and one night July 14 (Bastille Day) we went, at Gaston's invitation, to the Belle Vue hôtel where the barmaid did lots of conjuring tricks.74 The kids were bewitched and can now do a few of them themselves.

Ivor and Gwen left on the 18th with K for NY. We spent the night before in the Beau Rivage hotel and had dinner with Paul and Janine Fillistorf and their son Roger and his wife.(75) [...]
(75) Hôtel Beau Rivage, Quai du Mont Blanc, Geneva.

(77) Ernst Andrea Scherz, owner and manager of the Hôtel Gstaad Palace, with his wife Shiwa. The Scherz family had been running the Gstaad Palace Hôtel since 1938.
Mitteleuropa adds: Ernst Scherz was still managing director in the late 1990s.
© copyright www.mitteleuropa.x10.mx https://twitter.com/verlagmeyer copyright ©
From The Richard Burton Diaries by Chris Williams:
1971 June 9th, Gstaad
We went out gouty and lumbered for half an hour to a cocktail party at the Palace hotel given for the tennis festival. There were no tennis players there as far as we could see but hordes of stupid middle-aged autograph hunters. E [Elizabeth Taylor] insisted on taking the masseur (Ulrich Behrens) and his wife to the party. They were frostily received by the management Messrs Scherz until they saw they were with us when their lofty scowls turned into beaming smiles of welcome. The Swiss are as snobbish as the British. You see Herr Behrens is a visiting masseur to the Palace Hotel. [...]

Richard Burton and Elizabeth Taylor outside their chalet in Gstaad
© copyright www.mitteleuropa.x10.mx https://twitter.com/verlagmeyer copyright ©

Gstaad 1930s: Ernest Hemingway
. He mentions Gstaad briefly in Islands in the Stream

1940s Ski Wear: Lady in wool ski pants

Sir David Niven langlaufs at Gstaad

Gstaad, 1961: Josef von Sternberg with his Chevrolet Corvette

Gstaad 1961: Hôtel Olden. Presently (2009) owned by Formula 1 Supremo Bernie Ecclestone. In the tightly-knit populations of the Alpine resorts, every sale is surrounded by a large quantity of local politics. The late Richard Burton, long-time resident of Gstaad mused on the merits of the Hôtel Olden in his diaries:
From The Richard Burton Diaries by Chris Williams: 1970-JUN-28, Burton muses on all he loved about Europe:
Oh to be in Europe, now that I have to go to work. I want to go everywhere at once. I want simultaneously to be watching the road to Santa Marguerita
from Porto Fino
through Zeiss
binoculars while sunning on the poop deck of the Kalizma
. I want to be sitting in front of a log fire in Gstaad in the library in the evening with a rich book in my lap and E in the chair beside me. Baked ham and au gratin potatoes in Gruyere in that hotel
there. Trout at the top of Les Diablerets
. Raclette in the Olden
in Gstaad. More trout in Weissenbach
in the restaurant
by the river and the canopied wooden bridge. Saddle of lamb in La Rserve
. Hors d'oeuvres in La Ferme
above Beaulieu
or in D'Chez Eux
in Paris. Moules Marinieres
in La Mediterranea
opposite the Opera
. Haddock filet a L'Anglaise
at Fouquets
. Omelette Arnold Bennett on the terrace of the Terrace Suite of the Dorchester
on a fine day looking over the park on a Sunday with one powerful bloody Mary
under my belt and that beauty always beside me and around. Raw fave [sic, 'fava beans'] and salami and white wine and a game of boule with E in the trattoria
underneath the church on the hill outside Rome on the side road from De Laurentiis studios
to the Raccordo Annulare
where the choir chants at 7 in the evening. [179] A car tour of the Michelin 3 star
restaurants. Annecy
and Beaumaniere
and a couple of nights at The Hotel de la Poste
at Avallon
, can that be right?
If you find any of these missing locations then please let me know where they are.

Gstaad: 1960s

Gstaad 1960s, photography by Slim Aarons

Gstaad 1960s, photograph by Slim Aarons

Gstaad 1960s, photograph by Slim Aarons.

Gstaad: The Vieux Chalet, residence of the late Gunter Sachs.

Gstaad, 1966: Richard Burton and Elizabeth Taylor at their chalet

Gstaad 1966: Jackie Kennedy with her daughter

Gstaad 1962: Princess Grace of Monaco

Princess Teresa zu Furstenberg, and an un-named Hund, 1972 by Henry Clarke

Gstaad 1985: Princess Bianca Hanau Schaumburg

1984: Hôtel Gstaad Palace, models with jewelers Gerard

The Miura SVJ ex Shah of Iran chassis number 678
joins two other Miuras at the Hôtel Gstaad Palace
.
- The Eagle Club
- The Gstaad Classic Rally -
www.gstaadclassic.com - Thirty years ago staging a 'Classic Rally' would have lots of bearded enthusiasts with toolboxes turning up but in the last thirty years, (2014) historic racing has ballooned in size and so has the value of the cars involved. This makes more resorts and hôtels anxious to host historic rally events and has commercial enterprises such as private banks anxious to provide sponsorship.
- The Menuhin Festival
- Luzern Festival
. One of the big festivals with Bayreuth and Salzburg.

Gstaad: The big reds above Rougement.
- SEE ALSO: In the Spirit of Gstaad published by www.assouline.com
. Features many unpublished photographs of Gstaad high society from the 1950s onwards.
+ Jungfrau Region - Grindelwald - Wengen - Mürren
- The Jungfrau region, composed of the resorts Grindelwald-Wengen-Mürren, is one of the old winter sports capitals of the Alps. The Eiger-Mönch-Jungfrau Massif which rises to the south of Grindelwald-Wengen-Mürren in a great ridge of 4000m peaks offers great spectacle from just about anywhere in any of the valleys or surrounding mountainsides. The giant cliffs of the Lauterbrunnen valley above Stetchelberg are the most impressive in Switzerland. It is from this cliff that James Bond throws a pursuing henchman in On Her Majesty's Secret Service (1969). If you suffer from vertigo, the ride back down in the cable-car from Mürren to Stetchelberg is not for you. When you look up at the cliff-tops from Stetchelberg you can see some of the chalets in the resort of Mürren right at the edge of the cliff-top. It looks high but when you arrive but once in Mürren there is still one of the longest cable-car rides in Switzerland above you, all the way to the top of the Schilthorn, upon which is constructed the Piz Gloria, the cable-car station used in On Her Majesty's Secret Service (1969). The Jungfrau region offers extensive piste skiing with some pleasant red-grade off-piste. Several motion pictures have been shot there including The Eiger Sanction (1975), On Her Majesty's Secret Service (1969), Downhill Racer (1969).
»There have been joys too great to be described in words, and with these in mind I say, Climb if you will, but remember that courage and strength are naught without prudence, and that a momentary negligence may destroy the happiness of a lifetime. Do nothing in haste; look well to each step; and from the beginning think what may be the end.«

- Chapter XXI The First Ascent of the Matterhorn, Edward Whymper Scrambles amongst the Alps 1871
»Ich kann nicht mehr« ("I can do no more")
- Toni Kurz' last words while within touching distance of the rescue team, north face of Eiger, 1936., quoted in Heinrich Harrer The White Spider

In the above map, the Eiger-Mönch-Jungfrau Massif and the villages below it, Grindelwald-Wengen-Mürren.

In the above map, the Jungfrau Region with the motion picture locations marked. On Her Majesty's Secret Service (1968) is marked in red

In the above photograph, the view from the top of the Jungfrau directly South over the glaciers which run away from the Eiger-Mönch-Jungfrau Massif. This remote high glacier between here and Wallis (Valais) is the high center of the Alpine range, the roof of Switzerland.

In the above photograph, the Eiger North Face and below it, the little cluster of hôtels and the railway terminus of Kleine Scheidegg. Grindelwald is down to the left out of frame, and Wengen, down to the right out of frame. Running behind the railway axis of Grindelwald-Wengen-Mürren which you see in front of you is the Eiger-Mönch-Jungfrau chain of mountain peaks. From the rail junction of Kleine Scheidegg, a rail spur climbs up toward the Eiger (moving to the upper right of Kleine Scheidegg in this photograph), where it disappears into the mountainside, then circles and climbs until it appears at the very peak of the Jungfrau, the peak to the right of the Eiger.

When you fly close the face of the Eiger, the aircraft jumps around in the huge updraft which is being pushed up the face.

Eiger Nordward Summertime. Hôtel Bellvue des Alps is frame lower right.

The Eiger Nordwand Winter 1968

In the above photograph, Kleine Scheidegg station taken from the same position but using a 200mm lens. The station building is mid center of frame nearest the camera. The locomotive shed is to the mid right of frame. The rail spur which climbs up to the Eiger and Jungfrau is visible climbing away from the station building through the center of the frame. The large buildings to the left of the station building compose the Hôtel Bellevue des Alpes, where most of the interior scenes in The Eiger Sanction (1975) take place.

In the above photograph, you can see the toothed rack which is fixed to the center of the rails.
- Rack Railways
are constructed using a third, toothed, rail engaged by a toothed drive wheel underneath the locomotive, which allows it to pull the train up a much steeper gradient than would normally be possible. The journey is slow, not least because of the quantity of horsepower required to pull carriages up a grade that steep. The locomotives were originally steam locomotives, but have been substituted with electric locomotives which offer greater availability of horsepower. Railways leading through mountainous areas were the first to be electrified because of this advantage. There are also Rack Railways at Zermatt and Chamonix
.

Jungfraubahn: Electric cog-railway locomotive snow blower. This is snow-blowing de luxe. This is the best type of snow-blower which can both shift soft snow and grind through ice. You can see from this that running a cog-railway is both capital-intensive and labor-intensive. You will notice that there is a blower at both ends. On longer and more remote railways this is because during heavy snow-fall slow-clearing locomotives may have to clear their already cleared return route and without the ability to blow and reverse, would become stuck.

In the above photograph, the Hôtel Bellevue des Alpes photographed from the Eiger side of the Station Building. The rail spur up the Eiger continues out of frame to the right. The Hôtel Bellevue des Alpes consists of both of the buildings visible.

In the above photograph, the Hôtel Bellevue des Alpes with the Eiger North Face in the background.

In the above photograph, the building of the Hôtel Bellevue des Alpes

Map of Grindelwald-Wengen-Mürren road links

Jungfrau Region by road and railway

Switzerland in the Sixties

Wengen, the Lauberhorn 1966: Karl Schranz makes his run, with the Eiger Nordwand in the background

In the above map, the descent of the Lauberhorn and how to move around on race day

Grindelwald: The Hôtel Regina. Below, 1990s, above 1960s.

Above Lauterbrunnen, ascending the Wengen side of the valley, looking up between the cliffs toward Stetchelberg.

The railway station in Lauterbrunnen.

The cliffs below Mürren and above Stetchelberg. You can see the first leg of the Seilbahn as it runs from the Talstation in the valley floor to the top of the cliff north of Mürren. The second leg goes from this station up to Birg, and the third, from Birg to Piz Gloria at the top of the Schilthorn. The pylon you can see center right at the top of the cliff carries electric power up to Mürren.

In the above photograph Piz Gloria from the West. Grindelwald, Wengen, Mürren and the Eiger-Mönch-Jungfrau Massif which they sit below are all ahead of the camera. The heli-pad is closest to the camera. The cable-car docks on the other side of the structure.
- Map: Landeskarte der Schweiz 1:50,000 Number 264 'JUNGFRAU' and
Number 254 'INTERLAKEN' or 1:100,000 Number 101 'THUNER SEE ZENTRALSCHWEIZ'
-
- Ski Race Downhill at Wengen
- 2012-JUN-20 - New Via Ferrata
from Mürren to Gimmelwald
-
The Inferno downhill race at Mürren
-
The Kandahar ski club, founded by snow-maddened Britishers: www.kandahar.org.uk
- Hôtels at Kleine Scheidegg
- Robert Redford's Downhill Racer (1969) has a scene where two of the racers descend the Lauberhorn, one of whom crashes into bridge under the rack railway Wengen-Kleine-Matterhorn at Wickibort.
-
http://www.wengen-muerren.ch
- Hôtel Victoria Jungfrau
, Interlaken; One of the world's great hôtels, with a view of the Jungfrau massif. The Hôtel Victoria Jungfrau was the epitome of the Grand Tour Hôtel, in that while it was in Switzerland, dress&manners were entirely English, in order to reflect the dress&manners of its clientéle. Even up until the late 1950s, the Hôtel Victoria Jungfrau maintained the now archaic practice of requiring chauffers to dine in the servants' quarters, not with their passengers the hôtel guests.

Berner Oberland Bahn: Montreux to Interlaken and the Jungfrau
+ Saas-Fee
- Extensive skiing on the surface of the glacier means that it has plenty of good quality snow. Glaciers are always flat so the pistes on glaciers are always red-grade or blue-grade. You can see skiing both across a glacier and through the Seracs, the ice-falls, in the opening scene of The Spy Who Loved Me (1977)
+ Verbier - 4V
-- The largest area of off-piste in the Alps, both lift-served and accessed via ski-mountaineering. Verbier possess perhaps half of the best off-piste ski routes and areas in the Alps. Patrons include Crown Prince Frederik of Denmark and Crown Princess Mary of Denmark. Verbier is a large village, busy. Verbier's reputation for being a party-town was built in the 1980s. The legend was that the the jacuzzi in the spa had to be kept at an especially low temperature to reduce the spread of Herpes, which, before AIDS was invented in the mid-1980s, was the anxious preoccupation of those whose hobby was casual sex. Perhaps Val d'Isere and Verbier lead the resorts in terms of being a party-town for young people.
Verbier is situated on the Swiss side of the Grand St Bernard pass
. Over on the Italian side, the opening scene of The Italian Job (1969) was filmed.

Photograph by Slim Aarons Verbier 1964

Photograph by Slim Aarons Verbier 1964

Verbier 1980s photography by Slim Aarons: An ice bar.
Above map shows approaches to the Grand St Bernard pass. Yellow road indicates tunnel approach and tunnel. Yellow star indicates the head of the pass and the Grand St Bernard Hospice
. The Swiss side of the pass is shown here.

Verbier situatated upper right on the map, by the 'elbow' in the purple route marking.

Michelin map of Haute Savoie 1:300,000 circa 1995 showing the major approaches (purple) to the Alpine passes into Savoy.
The red opposed triangles mark the head of a pass. The red circles mark locations used in filming The Italian Job (1969). Major and notable ski areas are marked in light blue. The Parc Vanoise is marked in cross-hatched green (lower right). You can see that it has prevented the Les Trois Vallee ski area from expanding until it meets the Val d'Isere ski area, which was its function. The Parc Vanoise joins the Gran Paradiso on the Italian side of the Alps. Click on map annotations to go to relevant section.
- Continue up the pass pasts the turn-off for Verbier to the Grand St Bernard pass, where the opening and closing scenes of The Italian Job (1969) were filmed.
+ Zermatt-Cervinia
- Zermatt and the Matterhorn
are, together with the Jungfrau, the two 'destination' resorts of the Alps, because of their spectacular Alpine scenery. Zermatt can only be accessed via the cog-railway because there is no road and the streets are too narrow for automobiles. Zermatt's skiing has a lot of trails (US: 'cat-walks') which are gouged out of the mountainside, which can become icey. Little off-piste but some extensive ski-mountaineering trails which are accessible by lift. Every one has to ski Zermatt once. The main headache is the logistical strain which getting to the village of Zermatt places upon you. First you have to drive to the parking lot at the cog-railway station. Then, if you are staying a week and not a day, they ask you to put the automobile in the lower car-park, which means you have to dump your gear on the station platform, drive the automobile down to the lower parking lot and catch a minibus back to the upper parking lot (or just walk up the snow track) and the cog-railway station. You load your gear onto the train and take the cog-railway to Zermatt. You then have to purchase a lift pass and walk to the cable-car valley station. If you are day-skiing this has to be done in ski-boots. Before you even start you are exhausted and after your day's skiing you have to do it all in reverse, and pay for the privilege of using the parking lot. Frankly I prefer to drive to Cervinia and then ski over to Zermatt because it cuts out all of this incredible hassle. Zermatt would benefit from an Altiport
, so you can fly into the resort directly but it is next to impossible to site it. You can fly in by helicopter but the authorities in Zermatt ration helicopter use over the valley. One policy which may ease this strain which I have been meaning to try is to park at one of the stations on the cog-railway which is below Zermatt. This way you can park at the station itself.
The Klein Matterhorn cable-car in Zermatt, Switzerland is Europe's highest cable car with a terminal located at 3,320 m – just 563 m from the summit of the Breithorn peak, next door. Here is a view of the Theodul Glacier. Some guides offer an off-piste route across the Theodul Glacier. Take a good look at it as you go over in the cable-car.
- Zermatt has a lot of mountaineering. Together with Chamonix it is the resort which is the most significant in terms of Alpinism. Visiting the graveyard in Zermatt can be a sobering experience. Many climbers and guides are buried there. There are even graves of unknown climbers, whose bodies were discovered by chance decades later, by other mountaineers. It is best to visit the graveyard after your expedition, not before it.
- Zermatt - Off-Piste :
- - Intra-piste off-piste is limited because of the nature of the terrain. However, like Chamonix, the extensive areas of mountaineering terrain mean that there are lengthy itineraries (some difficult) which can only sensibly accessed with a guide. I have seen a guide take skiers down over the glacier which you can see below you when you take the cable-car to Kleine Matterhorn. This is a serac field and dangerous, but it can be skied. Another route is east toward Saas Fee from the top of the lift system at Grornergrat. This involves and difficult descent into the un-pisted valley or moraine which leads up to the Adlerpass (the route to Saas Fee on the north side of the Stralhorn).
- Scrambles amongst the Alps by Edward Whymper
- Zermatt's Yeti Club
Pierre Biraben: Hello Dear Pierre, Dear Natalie. I hope you are both in good health and enjoying yourselves. I hope Jack is safe and well and enjoying himself wherever he is.

Zermatt 1960s: Grornergrat
rack railway and observatory, looking toward the Matterhorn. Directly to the left of the stone building you can see a rock peak quite close to the camera. This is the Riffelalp, which is used to train mountaineers for the ascent of the Matterhorn.

Zermatt 1968, the Chalet Costi, by Slim Aarons

Zermatt in the late 1980s

Zermatt in the 1990s
- Valais Alps East - Selected Climbs by Les Swindin and Peter Fleming published by The Alpine Club
1999 ISBN 090052362X - Mountaineering in the Valais Alps East
- Valais Alps West - Selected Climbs by Les Swindin and Peter Fleming published by The Alpine Club
1999 ISBN 0900523611 - Mountaineering in the Valais Alps West
- High Level Route
- Chamonix Zermatt Saas - Ski Mountaineering in the Mont Blanc Range and Pennine Alps by Eric Roberts published by West Col 1973 ISBN 906227496 - The 'Haute Route' Chamonix-Zermatt.
- Pennine Alps East - Saas and Mischabel Chains by Robin G. Collomb published by West Col Productions, Alpine Club Guidebooks 1975 ISBN 900523131 - Mountaineering in the Pennine Alps East. Superb Bibliography.
+ The Jura
- Too low to be snow-sure and only skiable during cold snowy weather. Very pleasant scenery thanks to the forests. The Jura occupy an important significance in the skiing year. They rise only to 1800m (Geneva has an altitude of 400m), which means that when you can see fresh snow on the the Jura above Geneva, in the Alps there is sure to be fresh snow all the way down to the resorts.
- Trans-Jurrassian Langlauf event:
-
The Trans-Jurassienne at www.interfrance.com
-
www.transjurassienne.com
- Walking the High Jura Route by Kev Reynolds and Winter Ski Traverses by R. Brian Evans published by Cicerone Press, Milnthorpe, Cumbria, England, 1989, ISBN 1-85284-009-2
EASTERN SWITZERLAND
+ Davos - Klosters
- Davos is one of the old winter sports capitals of the Alps. It is situated in a broad valley which means that you have to leave your hôtel and catch a bus to the cable-car valley station. Some good itineraries with some off-piste areas. Davos hosts the World Economic Forum junket and, as usual, all the hôtel rooms are full and the pistes are empty, because the town is full of non-skiers. Just one or two wives with their close-protection detail. You have the slopes to yourself. Security was always tight. In the mid 1990s, on the roads approaching Davos there was a road-block manned by sub-machine-gun wielding Swiss police, but now, after the 9-11 World Trade Center atrocity, security is greatly increased. To be honest, when I have had dealings with the Swiss police during the World Economic Forum, they have behaved in an intelligent manner. They know immediately who is an Alpinist and who is a 'protester' or a potential Tango.
If you are attending the forum during high snow fall you have to get about the place while wearing a formal lounge suit or uniform + top-coat. The present fashion for low-cut shoes which started after the Great War means that your regular black-shiney-FBI-shoes may be insufficient for the snow-depth, but you cannot wear mountaineering boots or ice-fishing boots because you will shortly be presenting yourself to senior aides or the principals themselves. I find highly-polished black Corcoran jumps boots work well in these situations, because they look like black-shiney-FBI-shoes poking out from under the suit trousers but in fact are boots.

Klosters 1963 Hôtel Grischuna photographed by Slim Aarons
+ Flims-Laax
- Possess an excellent red-grade off-piste training area, like Cervinia. The valley is on its western side, off Crap Masegn under the Number 09 chairlift 'Alp Ruschein'.
- St Moritz
- One of the old winter sports capitals. St Moritz until the 1990s, had the reputation of being the last word in chic. Only the wealthy could afford to stay there. You could see Bentley convertible coupès with New York City license plates, ski-racks and snow-chains. The St Moritz Toboggan Club
is a remnant of the old winter sports tourism. The Dracula Club
, founded by patron-saint-of-playboys, the late great Gunter Sachs, was based there. While other ski resorts might have an altiport
, St Moritz has a full-size runway, at Samedan
, which can accommodate Boeing 747. It is not so that tourist charter flights can land there, but it is so that private jets can land. I think the first user of the extended runway was one of the Greek shipping magnates but its biggest users are Arabian oil sheiks and construction magnates. The Shah of Iran used to fly into Samedan when visiting his chalet in St Moritz. The Swiss Air Force Junkers Ju-52 used in the filming of Where Eagles Dare (1968) was based at Samedan. Residents include the late Gunter Sachs, the late Shah of Iran, Georgio Armani, and visitors include Sir Roger Moore, George Soros, Baroness Fiona Thyssen Bornemisaz, the late Princess Grace of Monaco, the late Ian Fleming and of course James Bond himself. Ian Fleming, where preparing to write On Her Majesty's Secret Service (1963), visited St Moritz in the season 1961/1962 and was impressed by the exclusive Corviglia Club .

An Aston Martin Vantage fitted with the St Moritz Tobogganing Club
grill badge.

Rolls-Royce awaiting the arrival of an aircraft at Samedan , license plate GR 163
- Ian Fleming's first foreign assignment as a journalist for Reuters was to Munich to report on the Alpine Motor Trials
of July / August 1932. Not just to report but to participate. Fleming would act as navigator to the British entrant and motor sport icon Donald Healey
in a four and a half liter Invicta
(license plate PL 9682). The Alpine trials had started as a domestic Austrian event but had been extended to all Alpine countries.

Ian Fleming in front of Donald Healey's Invicta four and a half liter
Fleming drove out, crossing the channel on the Townsend Brothers
ferry SS Forde, and used the route south through Rheims, stopping there on the first night. The second night at Freudenstadt
in the Black Forest.
Healey won the coveted Coupe des Glaciers, awarded to the driver who finished without penalty points. On the third day, for the section between Meran and St Moritz, Healey set a new record for the ascent of the Stelvio Pass 23 minutes and 44 seconds. In St Moritz they stayed on at the Grand Hôtel
, where all the competitors cars were parked on the tennis courts. The final leg was from Grenoble to San Remo .
From Ian Fleming by Andrew Lycett published by Phoenix ISBN 1-85799-783-2, page 53.5
"That night, in St Moritz, Healey and his young navigator stayed at the Grand Hôtel, leaving their car parked with all the others on the hôtel tennis court. Ian must have found the atmosphere intoxicating. He was back in his favorite Alps. In addition, he was participating in an event which combined all the leisured charm of amateur sportsmanship with the thrill of of fierce international competition - from manufacturers such as Mercedes-Benz, Steyr, Lancia and Bugatti. He was experiencing the world of fast cars, flashing exhausts and international rivalry which he had only read about in Sappers' Bulldog Drummond novels.".
Sapper's
character Bulldog Drummond was like Biggles
, one of the early international-man-of-mystery adventurers and a literary product of the Great War. Fleming himself enjoyed the technical aspects of motor racing automobiles and was a personal friend of Amhurst Villiers, the inventor of the supercharger which blew the blown Bentleys. Fleming, Villiers and future Grand Prix world champion Graham Hill would meet at Ian Fleming's house during the course of 1962 and discuss the new Cosworth engine which Villiers was working upon, which would become the world-famous Grand Prix dominating Cosworth DFV Grand Prix engine.
- The Grand Hôtel is one of the senior hôtels of St Moritz. It was also famous for the serving of drinks on the ice terrace by skating waiters, made famous by head waiter Renèe Breguet, photographed by Alfred Eisenstaedt in 1932.
- Riddel in The Ski Runs of Switzerland published in 1957 mentions (page 87) that the Suvretta Haus
is the most luxorious hôtel in Switzerland.

Headwaiter Renèe Breguet by Alfred Eisenstaedt 1932


Waiters train on the ice at the Grand Hôtel

Headwaiter Renèe Breguet

Waiters at the Hôtel Grand watch ice dance champion and actress Sonja Henie
by Alfred Eisenstaedt
1932. The hôtels of the Alpine countries absorbed large portions of the population as serving staff. Cesar Ritz
opened his hôtel school
on the south shore of Lac Leman in order to train serving staff.

St Moritz 1932: The ice bar at the Hôtel Grand photographed by Alfred Eisenstaedt

St Moritz 1932: Count Oliver de Rivaud de la Raffiniere in a Citroën Kegresse Autochenille tracked automobile. On his knee is a very young Countess Jacqueline de Ribes.

Barbara Goalen, Queen of Mannequins, models a coronation robe gown photographed by Elsbeth Juda
for Ambassador Magazine
, Grand Hôtel
, St Moritz, 1953
. The collection and materials of Elsbeth Juda is now in the Archive at the Victoria and Albert Museum in London, England.

St Moritz 1953: Barbara Goalen at the Hôtel Grand modeling for Ambassador Magazine and Elsbeth Juda

St Moritz 1953: Barbara Goalen at the Hôtel Grand modeling for Ambassador Magazine and Elsbeth Juda

St Moritz 1953: Barbara Goalen at the Hôtel Grand modeling for Ambassador Magazine and Elsbeth Juda

St Moritz 1950s Ski School

St Moritz: 1929

1960s: St Moritz: Baroness Fiona Thyssen Bornemisaz and her daughter Francesca photographed by Leonard McCombe

St Moritz 1978 by Slim Aarons: The Hôtel Grand skating waiters

Princess Grace of Monaco, skating at St Moritz, 1962

St Moritz in the late 1960s

The Shah of Iran had a custom built Maserati saloon car fitted with four wheel drive which he used in St Moritz. A keen driver, he would even drive himself around Tehran when accompanied by the official motorcade escort. He used a Ferrari 400 to drive to and from his 'office' in the center of town and his residence in North Tehran.

St Moritz 1975: The Shah of Iran with is children

Gunter Sachs and his wife Mirja heli-skiing in St Moritz in the early Seventies

Gunter Sachs wearing a bobsled helmet

Gunter Sachs and his wife Mirja on the occasion of their wedding day.
www.assouline.com in In the Spirit of Gstaad list this photograph as Gstaad but in fact you can see it is St Moritz

Gunter Sachs in bobsled gear, on the Crest Run at St Moritz, wearing a fur coat. Gunter Sachs's bobsled helmet and bobsled gear were sold in his estate sale.

1969
© copyright www.mitteleuropa.x10.mx https://twitter.com/verlagmeyer copyright ©

St Moritz and Davos-Klosters are important centers for Langlauf Cross-Country skiing.
- Ian Fleming's novel On Her Majesty's Secret Service (1963) is set above St Moritz

Looking from the east: In the above map, the red shaded area represents the boundary from which a skier must descend to reach the point in the Valley described by Fleming below Pontresina and close to the valley station of the cable railway valley terminus of Punt Muragl where it joins the main standard-gauge railway line. Following Bond's tracks, he reaches the valley and crosses the railway, then he turns right and skis down the snow-covered road toward Samedan.
Ian Fleming's novel On Her Majesty's Secret Service (1963) is set above Samedan, just East of St Moritz & Celerina: During the scene where Sir Hilary Bray arrives at Blofeld's mountain-top institute he has Irma Bunt describe the social scene, in which she mentions both Gstaad and St Moritz. Fleming mentions Ursula Andress (whom is Swiss herself), whom Fleming would have met on location during filming of Dr No (1962)

Through her school in Switzerland, she entered the fast international set that one reads of in the newspapers - the South American millionaires, the Indian princelings, the Paris English and Americans, the playboys of Cannes and Gstaad.

Irma Bunt broke in sharply.

"Now then, Ruby. No discussion of treatments, you remember? Not even with our good friend Sair Hilary." She waved a hand towards the crowded tables around them. "A most interesting crowd, do you not find, Sair Hilary? Everybody who is anybody. We have quite taken the international set away from Gstaad and St Moritz. That is your Duke of Marlborough
over there with such a gay party of young things. And near by that is Mr Whitney
and Lady Daphne Straight
. Is she not chic? They are both wonderful skiers. And that beautiful girl with the long fair hair at the big table, that is Ursula Andress
, the film star. What a wonderful tan she has! And Sir George Dunbar
, he always has the most enchanting companions." The box-like smile. 'Why, we only need the Aga Khan
and perhaps your Duke of Kent
and we would have everybody, but everybody. Is it not sensational for the first season?"
- ST MORITZ - OFF-PISTE
While St Moritz does not contain extensive areas of off-piste, there are a few elements of off-piste which are well worth a detour.
-- The Couloirs above (West) Glüna above Celerina. When you are in cafe at Glüna, look directly up the mountain. The couloirs are to your right when you look at the big mogul field which is to your left of center. You access the couloirs by descending from the head of the chair lift which is to your frame right. The right hand (from your point of view) couloir requires a jumpt to enter it. The left hand narrows towards its center.
- ST MORITZ ; PONTRESINA ;
- - There is some red-grade off-piste which you can see from the valley station of the lift. There is a bluff over which you can come when you leave the piste. While observing from the valley station, you have to take your bearings from the power-line pylons. When descending, pick up the pylons and find your way to your planned route of descent using them as a bearing.
- ST MORITZ - ON-PISTE
- - Riddell in The Ski Runs of Switzerland published in 1957 mentions the 'Flying Kilometer' from the top of Corviglia (2496m) to Celerina (1730m) . Riddel mentions that the Corviglia Ski Club Clubhouse is at Corviglia top station (2486m).
- ST MORITZ ; PIZ CORVATSCH ;
- - No off-piste here because the descent was so gentle on other side of the large number of red grade pistes that the skis would start to lose headway.
- Ian Fleming's stay at the Hôtel Grand during the 1932 Alpine motor trails & the writing of Goldfinger (1959)
-
http://www.cresta-run.com/
-
www.classicdriver.com
-
www.classicdriver.com
-
British Pathé News St Moritz, 1950s
- Corviglia Club
- MAPS ; St Moritz ;
- - LDS - 1:100,000 PASSO DEL MALOJA Number 44
- MAPS ; Switzerland ;
- - Landeskarte der Schweiz 1:50,000 - key to individual maps.

- - Switzerland: Landeskarte der Schweiz 1:50,000 - key to individual maps. The 1:50,000 series are produced in two series, one for summer (Laufen) one for winter (Ski-Tour). Make sure you purchase the winter series, whose numerals are suffixed 'S'. For off-piste, the Winter 'S' series are greatly advantageous. 1:25,000 is also available. The whole of Switzerland is available as a topographic 1:300,000 which is very useful for planning. Highly recommended.
- - Once you learn to 'read' the LDS 1:25,000 and 1:50,000 you can interpret terrain and potential descents from the map alone.
- Wasserfallklettern in der Schweiz by Urs Odermatt, published by Alpinverlag, 1998, ISBN 3-926807-50-4
+ AUSTRIA
- Austria has more tree-skiing than Switzerland but is correspondingly lower and snow conditions can suffer as a result. Austrian Aprés-Ski partying, like Austrian New Year celebrations, are the finest.
- St Anton am Arlberg
- - Offers a good quantity of off-piste. The Venice-Simplon Orient-Express
used to stop in St Anton's station. The railway, until recently, used to run directly through the village, the tracks being set into the roadway. The new station has reduced this romance a great deal.
- - Robert Redford's Downhill Racer (1969) has lengthy scenes filmed in St Anton am Arlberg.

St Anton am Arlberg: The map shows the original location of the railway, which ran along tracks set into the roadway, with the new station built away from the village.

St Anton: Piste map from the 1970s
-
http://www.arlberg.com
- Wasserfallklettern zwischen Bregenz und Garmisch - Vorarlberg - Bregenzer Wald - Allgau - Lechtal - Ammergau - Wetterstein - Loisachtal by Carlo Friedrich et al, published by Alpinverlag, 1998, ISBN 3-926807-67-9S
- Stubai Alps and South Tirol by Jeff Williams published by published by West Col Alpine Guides 1991 ISBN 906227518 - Mountaineering in the Stubai Alps and South Tirol
- Lech-Zurs
- - Some small quantity of off-piste. Enjoyable to ski. Lech enjoys a chic clientéle in the same way as Gstaad, St Moritz, Mégève. Royalty feature strongly, including the Princess Beatrix of the Nederlands, Prince Charles and the late Princess Diana.

Lech, mid 1960s: Princess Luciana de Pignatelli

Lech 1968: Prince Claus and Princess Beatrix of the Nederlands
- Kitzbühl
- Ian Fleming attended Tennerhof
finishing school in Kitzbühl after attending Eton. Tennerhof was run by English former diplomat (& spy) Ernan Forbes Dennis. Fleming patronised the Cafe Reisch. Fleming loved Kitzbühl and in his novel On Her Majesty's Secret Service (1963) he had Bond honeymoon there after his marriage to Tracey. On later visits throughout the 1930s Ian Fleming stayed at the Hôtel Vier Jahreszeiten
, which he mentions in On Her Majesty's Secret Service (1963) while he has Bond stay at the Hôtel Maison Rouge in Strasbourg while he prepares for the helicopter assault on Piz Gloria.
Bond smiled. 'Of course not, Marc-Ange. And everything is arranged. We will be married within the week. At the Consulate in Munich. I have two weeks' leave. I thought we might spend the honeymoon in Kitzbühel. I love that place. So does she. You will come to the wedding?'
'Come to the wedding!' Marc-Ange exploded. 'You will have a time keeping me away from Kitzbuhel. Now then' -he waved at the sideboard -'take your drink while I compose myself. I must stop being happy and be clever instead. My two best men, my organizers if you like, are waiting. I wanted to have you for a moment to myself.
At the Maison Rouge, a fine room had been booked tor Bond. He was greeted with exaggerated courtesy tinged with reserve. Where didn't the freemasonry of the Union operate? Bond, obedient to the traditions of the town, made a simple dinner off the finest foie gras, pink and succulent, and half a bottle of champagne, and retired gratefully to bed. He spent the next morning in his room, changed into his ski clothes, and sent out for a pair of snow-goggles and thin leather gloves, sufficient to give some protection to his hands but close-fitting enough for the handling of his gun. He took the magazine out of his gun, pumped out the single round in the chamber and practised shooting himself in the wardrobe mirror with the gloves on until he was satisfied. Then he reloaded and got the fitting of the stitched pigskin holster comfortable inside the waist-band of his trousers. He had his bill sent up and paid it, and ordered his suitcase to be forwarded on to Tracy at the Vier Jahreszeiten
. Then he sent for the day's papers and sat in front of the window, watching the traffic in the street and forgetting what he read.
- Much of the action in Fleming's short story Octopussy (1966) takes place above Kitzbühl
- Fleming returned to Kitzbühl in 1963 when his doctor had told him that he would have no more than a few years to live.
In Ian Fleming by Andrew Lycett page 90.5, writing of events in the mid 1930s:
In was becoming increasingly aware of the world of clandestine services. As war with Germany loomed, he seemed to have identified intelligence as an area where he would like to work - to the extent that when he was in Germany or its neighbours he kept his eyes open for useful pieces of information. On one of his regular trips to Kitzbühel with Muriel in the mid-1930s, he met Conrad O'Brien-ffrench, who worked for another of the semi-autonomous intelligence networks which proliferated at the time. O'Brien-ffrench was a member of Claude Dansey's elite Z Organisation, which recruited top businessman as agents to work alongside the Secret Intelligence Service. He had been sent to Kitzbühel to keep any eye on the build-up of German forces in Bavaria. As cover he set up a travel firm called Tyrolese Tours which offered a two week round trip from London to Kitzbühel, with full board for fourteen guineas.
   In early 1937 Ian was visiting the town with his brother Peter, newly married to Celia Johnson. They were sitting at a table in the in the Tiefenbrunner cafe with Arthur Waley, the Orientalist, and Ella Maillart, the Swiss Explorer who had travelled in China with Peter a year earlier, when O'Brien-ffrench joined them with his attractive Swedish wife, another Maud. Ian was positioned slightly apart from the others reading, appropriately, a Buchan novel.
Robert Redford's Downhill Racer (1969) has lengthy scenes filmed in Kitzbühl

Kitzbühl 1952 Suzy Parker by Horst P. Horst for "Modess Because"

1935 Kitzbühl: His Majesty King Edward VIII, and Wallace Simpson. This would be days before the abdication crisis.

1931 Leni Riefenstahl, Kitzbühl resident
- Hintertux
- - Hintertux is snow-sure for those seasons when the weather is too warm.
- Obergurgl
- - High and snow-sure. Has the highest parish church in Europe.
- Galtur
- - Galtur, is one of the Alpine villages where Hemingway
stayed before the War in 1924-1925. He wrote about it in
An Alpine Idyll.
- - - Hemingway mentions:
- - - - Galtur ; Hemingway passes the church on the way down the mountain to his lodgings.
- - - - Wiesbadenerh ; Hemingway has been on a ski-tour to Wiesbadenerh .
- - - -
Paznaun ; Hemingway mentions that was impossible to get down the valley to Galtur in Winter except on skis.
- - - - #
+
www.dw.com Earnest Hemingway in the valley of Montafon.
- Schröcken
- - In 1969 makes an appearance in Hannibal Brooks (1969).

Schröcken: The Gasthof Hôtel Mohnenfluh
is to the frame left of the church.
-
Gasthof Hôtel Mohnenfluh
Hotel Mohnenfluh
Heimboden 4,
6888 Schröcken,
Austria
05519 2030
- Tschagguns
- - In the valley of Montafon
. In 1969, Tschagguns makes an appearance in Hannibal Brooks (1969).

Notice the sign for Alpengasthof Grabs at Tschagguns on the barn
- Lofer
- - Used in several locations in Where Eagles Dare (1969)

Lofer, 1955
- AUSTRIA ALPS - ROUTE-FINDING AND APPROACHES
- - Munchen
- - Salzburg
- - Werfen
- - Zell am See
- - Danube Road
- - Vienna - Wien

NATO air chart ONC F2 Schweiz
section Pennine Alps - transit Switzerland Pennine Alps to the Arlberg and Inn River valley to ski Garmisch-Partenkirchen and the Arlberg (St Anton am Arlberg, Lech-Zurs).
In the above map, to reach the valley of the Inn from Geneva for onward routes to Innsbruck and Garmisch-Partenkirchen
, then the border is crossed at or around Feldkirch

Austria - Partition under Allied Occupation 1945.
+ FRANCE
- French ski resorts are characterized by large and efficient lift systems. The feature of French ski resorts which is least attractive is some of the Stalinist-Brutalist tower-block architecture which was constructed in the 1960s and 1970s, such as at Flaine, Tignes, Les Arcs or Val Thorens. These buildings are an abomination.
- When skiing in French resorts you need to take into account French school vacation times.
- - (1) This is because the French school system takes vacations all at the same time. There is one weekend around Easter which was known as the 'Weekend of Death' because of the number of drivers killed on the roads, as the whole of France went on its Easter vacation. A simple way of avoiding this is to drive through France during darkness, when the roads are empty.
- - (2) This is because French resorts will be booked up with both French vacationers and French day-skiers
- - French School Vacation times are published on websites so that you can take them into consideration in your planning.
- - When the Marseilles region is on vacation, you have to lock up your skis if you leave them outside on the ski-rack. A lot of people think that this is something to do with Arabs but in fact Marseilles was always a den of thieves, going way-back.
From On Her Majesty's Secret Service by Ian Fleming, 1963, - Page 217.5

   "There was a stage-type Marseilles taxi-driver to meet Bond - the archtype of all Mariuses, with the face of a pirate and the razor-sharp badinage of the lower French music-halls."


I have to admit all the one's I met were called Jaques , pronounced 'Jaarrrkkkkkhuuuur', as you were about to cough up a Gauloise.
- - Chamonix is one of the old winter capitals of the Alps. The Vallée Blanche is one of the big off-piste Meccas but it is not pisted ski area with chair-lifts, it is a remote glaciated valley accessed only by the huge Aiguille du Midi cable-car. You are skiiing through terrain which only mountaineers access which is covered in huge crevass fields and bands of gigantic seracs. Although the basic Vallée Blanche is blue grade, some other routes around the Vallée Blanche you have to ski-jump across a crevasses in order to continue your descent. You should only attempt routes in the Vallée Blanche with a guide, which which there are many in Chamonix. - The ski-chase sequences of The World is not Enough (1999) were filmed above Chamonix on the Mont Blanc side. Chamonix features mountaineering gear shops as well as ski gear shops, because of the number of mountaineers who visit the village. Unsurprisingly, most ski-resorts will have only ski-shops. Zermatt, for instance has no mountaineering shops and neither does Grindelwald.
- - - Ian Fleming and his wife Anne stayed in Chamonix during 1962.

Chamonix in the 1960s, River Arve bridge, by Slim Aarons
Of the two, Chamonix and Argentière, Argentière has the much better area of pistes. If you wish for areas of piste skiing then it is better to head for one of the big piste areas such as Les Trois Vallées, Val d'Isere, Verbier. You can ski at Argentière while staying in Chamonix and vice-versa if you wish by using the bus between the two. Taxi drivers charge rip-off prices for a journey between the two. I recommend taking in your day-sack replacement foot-wear to change out of your ski-boots into after or before skiing when visiting Chamonix.
- - What Chamonix and the Chamonix valley is not is one of the big inter-linked piste skiing areas like the Les Trois Vallées or Val d'Isere. Argentière has a respectable piste (and intra-piste off-piste) area but the pisted area at Chamonix is smaller and the piste areas in the valley are not connected due to the terrain. If you wish for piste skiing make sure that the Chamonix pisted area meets your requirements.
Lots of good restaurants and food in Chamonix: Raclette
, Savoyard Sausage
. After a hard day's skiing, I usually change out of the (Gore-Tex) ski wear into cotton and wool. On this occasion I think I had half changed and removed my jacket and ski-boots and replaced with a lumberjack shirt and mountaineering boots. I had taken some crampons to be repaired and bought some cheese and sausage before returning to pick up the crampons. Having picked up the crampons I made my way back to the automobile past some restaurants and overheard from a group of tourists who observed my passing "that's Chamonix: Hairy-chested men with crampons and cheese."
-
La Cheminée d'Argentière - As they say in Michelin Guides 'Worth a Detour'. This Epicerie sells the magnificent Savoyard sausages in all their variety. 191 Rue Charlet Straton, Chamonix , telefon 04 50 54 17 60
- Below is the section on Haute Savoie from Larousee Gastronomique
by August Escoffier
and Philéas Gilbert published by Larousee 1938, this edition by Crown Publishers, NYC, 1961 edited by Prosper Montagné

Page 881

Page 882, showing gastronomic map of Haute Savoie

The Vallée Blanche. Montenvers is some distance around the corner visible in the distance. The skis runs slightly faster in the tracks on the more compressed snow, so skiers tend to stick to the tracks. In this photograph the aircraft has just flown down to the valley toward me and is turning around without stopping, then taking off again.
- There are two types of glaciers: Wet ones and dry ones. A wet glacier has no open crevasses underneath it, which means that the melt-water cannot drain away and remains on top of the glacier. This is good news because it means that there are no crevasses lurking under the snow ready to swallow you if you step off your skis. A dry glacier has open crevasses through which the water drains. Snow builds up over the crevasses and covers them, leaving a snow bridge which looks as harmless as any other surface on the glacier. Until you stand on it. The crevasses become wider, crack open the snow above, which is filled in with more snow-fall, making the snow-bridge wider. In some conditions the snow-bridge can be over four meters wide.
- Vallée Blanche
- Outside of the Chamonix and Argentière pisted areas, you can access many itineraries through the Mont Blanc environs with a guide. For mountaineers, there are endless quantities of couloirs to be found. These itineraries are highly dangerous compared with the lift-served itineraries at Val d'Isere, Verbier, Les Trois Vallées and La Grave, mainly because of the huge Seracs and large quantity of crevasses. Once you have begun them there is no turning back, no short-cut over to a safer route and no prospect of rescue unless you are very lucky or have a radio or PLB
. There is much danger from crevasses, rockfall, icefall, and being trapped by bad weather. Tens of people die in the Mont Blanc region every year, usually mountaineers but sometimes skiers. You must employ a guide. I have personally witnessed one death (skier - fell from the north side of the Aiguille du Midi
ridge) and one almost-death (skier, behind me on a traverse was unlucky enough to be under a ten tonne lump of ice which gave way above him. He was hit in the head by a 10kg chunk after ducking to avoid a chuck large enough to decapitate him). There are several guided itineraries which offer easy skiing and will be a safe and memorable itinerary for an averagely able group of skiers with a guide. The guide will ensure that you will not run into bad weather or objective hazards. You will be as safe with a guide as you would be on a piste.

Chamonix: The Aiguille du Midi
. Skiers descend the eastern snow ridge to the edge of the bowl above the glacier.
- The problem with the photograph above is that the camera lens is pointing back uphill, at the same angle as the descent, which makes it look flat. The scene looks benign and encouraging, rather than the nerve-racking ordeal that it is, going up it or down it. Furthermore, that descent to the right of frame, back down the north face to Chamonix is much steeper than it looks. The descent to the left of frame which cannot be seen, is only fifty-five degress straight down into the bowl, over the Bergschrund
and into the Vallée Blanche. This descent can be skied and is one of the best off-piste descents in the Alps, being largely untracked. One of the hazards to watch out for is that the pisteurs will clear snow away from the entrance back into the lift station, and then thrown it down the couloir, which makes it difficult or impossible to ski it.

Grade and Angle of Descent
- Vallée Blanche for Mountaineers and Ski-Tour
- - If you glance at a piste map of the Chamonix valley it looks quite extensive: It is not. Chamonix has a pisted skiing area on its north west side above the town itself. Argentière has a larger pisted ski area, easily the better of the two. On the opposite side of the valley to Chamonix's ski area, the south side, is the Aiguille du Midi lift. In summer this lift takes mountaineers up to the Aiguille du Midi Hutte and in winter takes guided groups of skiers up to the Aiguille du Midi
ridge for descent onto the main Vallée Blanche itinerary route via the Requin Hutte. The route continues down the glacier to Montenvers where normally you have to take the cog-railway back to Chamonix because there is not enough snow to cover the entire route through the woods back to Chamonix village. The map you have just glanced at will also show the cable car which goes over the Courmayeur, Italian-side of Mont Blanc. Courmayeur also has a lift which accesses the Vallée Blanche. So if you are an adventurous and accomplished skier who is planning a long day of skiing, it looks like you could ski to the far side of Courmayeur and back in a day. You cannot. At least not in ordinary way that you would ski a large ski area. You need a guide.
- The Vallée Blanche was the scene of the highest battle in Europe at the end of the Second World War, where retreating German Gebirgsjager from Courmayeur fought several battles with French troops who had advanced up the Chamonix valley and taken control of the Aiguille du Midi lift. These events are covered in the magazine After the Battle Number 97 The Battle of the Alps by Jean Paul Pallud published by Battle of Britain Prints International. Parts of the glacier are an official German war grave.
- Chamonix is one of the old winter sports capitals of the Alps. Haute Savoie
, High Savoy, was only ceded to France in the 1860 Treaty of Turin
and not mapped until just before the 20thC. It was only a matter of chance that Haute Savoie did not fall into the hands of the Swiss and thus expand Switzerland, which would have made a handsome and geographically natural addition to the Swiss portfolio. Remind me to put this right during the next war.
- Chamonix built a rack-railway up to Montenvers, half way up the # Vallée Blanche
glacier so that Victorian tourists could marvel at the 'Mer de Glace', the 'Sea of Ice'. The natural spectacle of Mont Blanc and its attendant peaks and shards of rock made Chamonix a destination. From a skiers' perspective the cog-railway is not much use for gaining height because it only reaches the bottom of the snowline in winter although in cold years with good snowfall you can ski down from Montenvers to Chamonix village. At the bottom there is a pleasant shallow ski area for those learning to ski. The construction of the Aiguille du Midi
lift before the Second World War allowed tourists to view the entire Vallée Blanche and the flanks of Mont Blanc directly. Furthermore it allowed mountaineers to avoid the day long climb to the halfway point from the village up past Montenvers
and beyond or directly onto the Aiguille du Midi and onwards to Mont Blanc.
- The Aiguille du Midi is not so much a peak as a shard of rock with a narrow blade of a snow ridge leading down its eastern side. The cable-car station is a mixture of tunnels and platforms built into the rock, with vertical drops all around. The only way off the station is down the steeply descending and narrow eastern snow ridge. It is wide enough for one mountaineer to stand upon but not for two to pass. Yes - it is that narrow. To the north is a smooth acutely angled face where you would fall to your death and to the south is a face which is a similar angle but ends in the flat area of the head of the glacier. You would survive this fall after reaching a considerable speed. The angle is 55 degrees and this slope and the couloir which is immediately to the right of the doorway into the station are ski-able if you are an accomplished couloir skier. Below you to the south is the huge bowl # and to the south west the dome of Mont Blanc itself.
- A lot of guides, frankly, are not accomplished skiers, partly because they only ski-guide in the winter as an adjunct to being a mountaineering guide in the summer. They tend to ski conservatively and use skis as a method of getting somewhere rather than as a pursuit in itself. You can see the 'guide-ski' technique when they Wedel down a slope where they will, in general, ski at a speed where they can stop within a ski-length and do-not lift the skis off the surface very much. I have seen a guide side-step all the way down the Pas de Chevre couloir which is one of the longest in the Alps, because it was too steep for him to ski. The snow was in good condition. Easily skiable. Much guide-skiing is like ski-mountaineering where you are just using the mountaineering skis to get you down the mountain more easily than some other method. The idea is to get there without falling to your death, not to get there in speed and style.

Chamonix: The grave of Edward Whymper

IGN 3630 OT 1:50,000 Chamonix section Vallée Blanche, showing Aiguille du Midi cable-car. Off-piste itineraries in the Vallée Blanche, the chairlift at Montenvers which lifts skiers up to the head of the rack railway at Montenvers, return Chamonix village.
- For the Vallée Blanche itinerary, you start at the Aiguille du Midi lift Talstation in Chamonix. Quite some time later you arrive at the Aiguille du Midi lift Bergstation on the Aiguille du Midi
.
- In mountaineering terms, there is a now a slow and difficult descent behind a line of other skiers and guides down the north east snow ridge of the Aiguille du Midi. In winter, there are steel rods sunk into the ice with rope strung between them to give you something to grab onto. If you own a Via Ferrata
karabiner and sling set-up and a harness you might want to take it with you. If you are a skier and not a mountaineer then this will be the most terrifying experience of your skiing lifetime. If you are guided, then you have nothing to worry about. If you own a climbing harness (preferably a full harness not a waist harness) then take your harness and a 3m length of off-cut rope or a long sling and a couple of Karabiners. If you have ski-boot crampons take those. If you own none of these items do not concern yourself with them. Most of the skiers who go on guided descents of the Vallée Blanche are red-grade intermediate level skiers. The skiing itself is not in the least difficult, with the first descent away from the ridge being a soft blue-grade and beyond that blue-green, where you are just standing on the skis enjoying the scenery going by.
- At the bottom of the ridge #

IGN
1:50,000 Chamonix, section Vallée Blanche

The satellite image shows the head of the rack railway from Chamonix to Montenvers. There is a chairlift which collects skiers from down on the glacier and raises them to the head of railway. There is a track (visible on the west side) which switch-backs down to the glacier is used by mountaineers but it would be hard work to traverse this in ski boots. The run-out from the Pas de Chevre descent away from Argentière comes out on the other side of the valley (east) and you have to traverse the valley wall along a dangerous track until you reach the glacier and stamp across it in your ski boots to the foot of the chairlift.
- My personal preference is to avoid the Aiguille du Midi lift and even the rack railway to Montenvers thus avoiding the whole hot, over-crowded, over-heated circus. If I am going anywhere on foot then I prefer to set off from Chamonix and climb the whole way. Obviously for a downhill-only in the Vallée Blanche then you cannot avoid the Aiguille du Midi lift.
- CHAMONIX APPROACHES

The autoroute from Geneva to Chamonix has been laid alongside the old Route Nationale until the route reaches the gorge below the Chamonix valley where there is insufficient room for more than a two-lane highway. The new ramp was built up to the lip of the gorge (marked by two red triangles) taking two lanes of traffic up the valley. The old switch-back road was converted into a down-only two-lane road. Chamonix and the Mont Blanc tunnel are a few minutes after that.
+ THE CHAMONIX-ZERMATT Haute Route
.
- High Level Route
- Chamonix Zermatt Saas - Ski Mountaineering in the Mont Blanc Range and Pennine Alps by Eric Roberts published by West Col 1973 ISBN 906227496 - The 'Haute Route' Chamonix-Zermatt.
- Chamonix Hors-Piste by Francois Burnier and Dominique Potard published by Vamos, 1991, Boite Postale 03, 74400 Argentiere, ISBN 2-910672-02-6
- Neige Glace et Mixte - 500 Itineraires dans Le Massif du Mont Blanc by Francois Damilano and Gadefroy Perroux published by Editions Ice Connection ISBN 2-950 98 68 0 3
- Mont Blanc Massif - Volume II by Lindsay Griffin published by Alpine Club Guidebooks 1996 ISBN 0900523581
- The Mont Blanc Range Topo Guide by Michel Piola published by Editions Equinoxe, Vernier, CH 1214, 1988 - Rock Climbing routes in the Mont Blanc Range
- Les Deux Alps
- L'Alpe D'Huez Les 2 Alps Hors-Piste by Francis Ginet and Fabrice Villaret published by Vamos, 1991, Boite Postale 03, 74400 Argentiere, ISBN 2-910672-03-4
- La Grave
- There are no pistes and only one cable-car. Guided off-piste is available for those who cannot read a IGN1:25,000 topographic map. There is a lot of ice climbing around La Grave.
- Mégève
- - Mégève is perhaps one of France's most chic resorts. You can route through Mégève when driving from Geneva to the 3V and the Valley of the Isere rather than going around the longer, faster, flatter route through the valleys. Mégève was used extensively in Downhill Racer (1969).
- Portes du Soleil
- - The Portes du Soleil is generally quite low in Alpine terms which means you have to ski it in a good snow year. This requirement will not affect intermediate grade skiers so do not plan your vacation around what I have just said. The Portes du Soleil does possess 'The Ring' which is the linked itinerary which allows you in a single day to circumnavigate the whole area, including between different countries. A year which featured heavy snowfall and a weather system from Russia, such as 1999-2000 would be a year to make for Le Portes du Soleil.
- Flaine is a useful stop in this region because of local topography and weather system which give it good snow and cold temperatures. This is why I give special mention to Flaine.
+ACHTUNG ! - If you are driving to the Port du Soleil by driving on the southern Swiss side of Lac Leman through Hermance, then this is a radar speed control hotspot by the Swiss police. Plenty of drivers are caught here including native Swiss.
- Les Trois Vallées
- - The original multiple linked resort ski area. Plenty of skiing and quite a lot of off-piste. The original guide to off-piste in Les Trois Vallées was written by Dennis Summerbell and copies may still be found on the internet.
- Sightseeing: From the top of the ridges around Les Trois Vallées you can see over a vast distance to other peaks in the Alps. If you are at Saulire then you can see Mont Blanc which is on a grid bearing of 19 nineteen degrees from grid north. Magnetic north in 1990 was 01 one degree west (left ) of grid north. Many ski-resorts have installed maps at vantage points in order to aid skiers in identifying the different Piks on the horizon.
One of the most beautiful sights you will see anywhere on earth is when in the early morning, you alight from the top station of a lift and from the mountain top and below you, as far as the eye can see is a the top of the cloud base. It really is like being in Heaven. One of these momments was recorded in film during the filming of Downhill Racer (1969) at 00:50:04

00:50:12 Downhill Racer (1969)
- Les Trois Vallées - Off-Piste - Val Thorens - Col de Thorens to Méribel
- - Travel all the way to the head of the Val Thorens valley at the Col de Thorens (Chairlift marked as Télésiège de la Moraine on the IGN
1:25000. At the time my map was printed this chairlift was still the old two-man chairlift which had been installed when the built Val Thorans but in the mid-1990s it was replaced with six-man Funitel type chair-lift where the chairs are loaded independently onto a fast-moving cable. They have changed the name of the chairlift but it is easy to find). There at the head of the glacier is a little café hut selling hot chocolate and cake. In days of yore that was the end of the Universe. You could look out over that glacier and gaze into the distance, out over the Parc de Vanoise, knowing that somewhere out there was Val d'Isere and the Italian border. But having no idea where you might end up or how, you could not venture beyond it. In the early 2000s the next valley to the south of Val Thorens was opened up and you can enter it by traversing south, to your right as you look out over the glacier, along the contour until you reach a col which takes you over into the next valley and back in a Westerly direction. The descents are all obtuse and well-traveled. However, as you stand outside the hut, and look over the glacier, look to your left. The start of the glacier rises up the mountainside. If ascend the glacier than traverse to your right you reach a near-vertical snow wall, which if you ascend, will take you onto a castelleted section at the top of the mountain. From here you can descend into a valley which takes you all the way back to the Méribel valley, at enormous length. Why this route was not used 'back in the day' I do not know, unless it because there was no chairlift in the valley at that point in Méribel. However, looking a the 1:25,000, this exit from the route described comes out at the head of the retour Meribel, which then was called the Three Valleys Run. So there does not appear to have been a need for a chair-lift. Perhaps some ski-tour skis used it but I never saw any tracks.
   For the initial climb up the glacier, you will need skis for your skis, or you will have to take off your skis and walk up. If you are walking up, take a curved route out to the left around the glacier because there is a small crevasse field in the middle. If you are on skis you can cross it directly.
   For climbing the snow face you can take crampons if you have them but I have not needed them. Right at the top of the snow face is a flat choppy section of ice which halts travel on skis. You have to take off you skis and pick your way across in your boots. Crampons are useful for this, but it is so short it is hardly worth it.
   Immediately after that begins the descent. There are no off-piste hazards. It is not steep or narrow. It is a long descent down the valley.
   The run-out toward the lower end of the valleys is often without much drop which means that you will be poling along in the track left by other skiers, trying to maintain headway. Remember that if you have to pole, you should open your boot fasteners right up to allow you legs to move as much as possible for every stroke.
   In terms of length, this descent is similar to the valley behind Mont Fort at Verbier, although without the steep entrance at the top and without the hazards of avalanche along by the lake which mark that descent.

Map IGN
3534OT section Aiguille de Polset above Col de Thorens showing route to Meribel over the Col de Gébroulaz. Map Data 1990.

NATO ONC F2 Western Europe: Les Trois Vallées
- In December 2013 long-time Méribel
resident Michael Schumacher fell and struck his head on a rock while skiing to the south-east of the line of the Saulire2 bubble lift and well to the north west of the Pas du Lac 2 bubble lift. He was crossing from Piste Chamois to Piste Maudit. The impact cracked his helmet, which saved his life, but his injuries necessitated him being placed in an artificial coma to reduce the swelling within his skull.
-- Schumacher's Ski Accident in Méribel

IGN 1:25,000 "Les Trois Valléess", section showing Méribel valley

NATO TPC F-2A Western Europe: Les Trois Valléess, environs. Map data circa 1972. You can see the altiport
at Courcheval marked. Méribel has its own altiport now.

Early 1980s: Méribel, looking up the valley to Tougnète. The photograph was taken on the left hand (north west) slope as you descend the catwalk toward the area where all the lifts have their valley stations at Tougnète. You can see the catch-netting which lines the descent to the lifts, far left of frame. Michael Schumacher's chalet is up to the left somewhere.
-
Vanoise and the Gran Paradiso
-
Dennis Summerbell's 3V Les Trois Vallées guide
- Les 3 Vallées Hors Piste by Philippe Baud and Benoit Loucel published by Vamos, 1991, Boite Postale 03, 74400 Argentiere, ISBN 2-9503673-6-4
- MAP: IGN 3534 OT 1:25,000 'Les Trois Vallées'.
- Val d'Isere
- - One of the big linked ski areas together with Les Trois Vallées and Verbier. Some good itineraries and quite a lot of off-piste. Val d'Isere has one of my favorite restaurants: Worth a detour is Restaurant La Perdrix Blanche
for its excellent seafood restaurant. There is nothing like working up huge appetite by skiing all day in order to satiate it at La Perdrix Blanche
. Jean-Claude Killy
grew up in Val d'Isere where his father ran a ski shop and hôtel.

Jean-Claude Killy takes victory at at Val d'Isere during the Grenoble Winter Olympics, 1968. At the lower edge of the frame you can see he is wearing a Breitling chronograph , not a Rolex. This was spotted by a sharp-eyed Breitling expert from the image on this page
. Killy was a Rolex man after he became a successful ski racer and racing driver and still holds a seat on the board of Rolex.
- In 1969 Hunter S. Thompson wrote an article on Jean-Claude Killy
originally for Scanlan's Monthly but subsequently published in The Great Shark Hunt (1979) entitled The Temptations of Jean-Claude Killy.

Karte IGN
3633ET Val d'Isere Tignes 1:25,000 map date circa 1990 www.IGN.fr

IGN map index of topographic maps for the valley of the Isere
- You can see some shots of Tignes and Val d'Isere in Taxi 3 (2003)
-
- Dennis Summerbell's Val d'Isere guide
- Val d'Isere Tignes Hors-Piste by Jean-Luc Steiger and Guy Bonnevie published by Vamos, 1991, Boite Postale 03, 74400 Argentiere, ISBN 2-910672-07-7
- FRENCH ALPS - ROUTE-FINDING AND APPROACHES
- - See Also: France - Autoroutes

Overview of the French passes from Merrick's The Great Motor Highways of the Alps (1958)

Michelin map of Haute Savoie 1:300,000 circa 1995 showing the major approaches (purple) to the Alpine passes into Savoy. The red opposed triangles mark the head of a pass. The red circles mark locations used in filming The Italian Job (1969)
If you compare the topographic map above this road map you will see that you have to cross the backbone of the Alps and drop into the Val d'Aosta in Italy. You must do this via the the Col de Petit St Bernard (lower), the Mont Blanc Tunnel, or (right) the Grand St Bernard Pass.

Major and notable ski areas are marked in light blue. The Parc Vanoise is marked in cross-hatched green. You can see that it has prevented the Les Trois Vallee ski area from expanding until it meets the Val d'Isere ski area, which was its function. The Parc Vanoise joins the Gran Paradiso on the Italian side of the Alps.

IGC 1:50,000 topographic map of the Gran Paradiso. Aosta is at the middle top of the map, Val d'Isere bottom left.
+ ITALY
- Italy should perhaps be divided into two categories (1) the The Italian Alps and (2) the The Dolomites.
- Italian levels of 'organization' are applied to both ski-lift operation and parking at ski-resorts. While we whiled away the time stuck high up in the air on a stopped and broken-down two-man chair-lift I conversed with an Italian skier. "Organization is not a word we use in Italy, Monsieur." he assured me. In the 1970s the Italian postal service was stuck with a huge backlog of mail after a postal strike. In order to eliminate the backlog, they just burnt all the mail. While from a Teutonic or Anglo-Saxon point of view Italy is a disaster there are certain things which Italians do value, always have organized and never get wrong. Dress is one of them and cuisine is the other. Just look at the magnificent uniform of the Carabineri. Dress for skiing, including most importantly choice of sunglasses, occupies a great part of the consideration which Italians give to preparation.
- The Dolomites
- - The Dolomites are a ski area in themselves, offering perhaps the most beautiful scenery in the Alps. Some off-piste can be found and some very long itineraries, such as the 'Hidden Valley' at Cortina. Caution: Redundancy in plans should be used at all time when in Italy and wearing ski-boots.
The Dolomites are crossed in all directions by the famous 'Via Ferrata'
, the high altitude climbing paths and plankways which are interconnected by long pairs of steel cables the lower most of which you place your boots upon and the upper most you hold onto with your hands.

Via Ferrata: Planks and chains along a mountain cliff. This is a 'luxury' Via Ferrata, which has planks. You can see from this photograph that before the planks were fitted, toe-holds had been chiseled into the face of the cliff. If you are travelling 'Third Class' on Via Ferrata, there are not even any toe-holds.
- Cortina D'Ampezzo

Cortina 1962: Piazza Roma, by Slim Aarons
- Renowned more for being a chic resort than because of its skiing, it was host of the 1956 Winter Olympic Games. Cortina was outfitted with an Olympic ice stadium, Olympic bobsled run, Olympic ski-jump ramp and Olympic speed-skating track. Cortina has been used in many films including The Spy Who Loved Me (1977) and The Pink Panther (1963), The Great Silence (1968), For Your Eyes Only (1981)
, The Fearless Vampire Killers (1967)
. Hammond Innes's novel The Lonely Skier is set there.
When filming For Your Eyes Only (1981)
the production unit used all of the Olympic facilities except for the speed-skating track. No snow had fallen for several weeks and so the town administration trucked in 25 wagon loads of snow from nearby. Scenes were shot on the Tofana cable-car and at the Hôtel Miramonti.

Roger Moore and skiing cameraman Willy Bogner on location in Cortina d'Ampezzo filming For Your Eyes Only (1981)

Roger Moore wearing Bogner ski jacket on location for For Your Eyes Only (1981) at Tofana. Notice the 'B' zipper pull.

For Your Eyes Only (1981) Roger Moore poses with the Lotus Esprit
Turbo license plate OPW 678 W equiped with ski-rack in Cortina d'Ampezzo

1972: Cortina d'Ampezzo, Brigitte Bardot poses on a wartime JEEP.

1972: Cortina d'Ampezzo, Brigitte Bardot poses on the hood of a Lancia Flamina Coupe
by Pininfarina
- SEE ALSO
- Cortina lies close to one of Mahler's
composing huts
- On the approach to Cortina from Toblach, up to your right in the woods there is a cemetery from the Great War. If you know your surnames from this region you will be able to tell where each one of the fallen came from.
- Hôtel: Cortina - Cristallo Hôtel Spa & Golf, Italy Film: The Pink Panther (1963)
- Scenes from A Place for Lovers (1968)
with Faye Dunaway and Marcello Mastroianni was filmed in and around Cortina.
- Coppa di Dolomiti - The round-Dolomites rally centered on Cortina d'Ampezzo
- The route of the 1913 Alpine motor trials ( recreated
http://www.businessinsider.com/ ) passed through Toblach (Dobiaccho) and Cortina:
© copyright www.mitteleuropa.x10.mx https://twitter.com/verlagmeyer copyright ©
- Dolomiti Superski
- The Dolomiti Superski linked ski area is the largest linked ski area in the Alps but before you depart, remember that (a) It is not all linked and (b) It is linked by Italians. Great care is necessary if the penalty for making an error in navigation is finding yourself in the middle of nowhere wearing ski-boots. You have never been lost until you have been lost wearing ski-boots.
- SEE ALSO
- www.dolomiti.org
- Coppa di Dolomitti the round-Dolomites rally
The Italian Alps
- The Italian Alps are mainly south facing which affects their ability to hold good snow conditions.
- Cervinia-Zermatt
-- Cervinia possess a good red-grade off-piste area for training skiers in off-piste. Cervinia and Flims-Laax are the two best resorts for teaching off-piste. You can ski the Zermatt side but in theory you need a Zermatt ski pass to use the lift system there. In practice I have never seen any one check.

Cervinia in the 1960s: Countess Jaqueline de Ribes converses with ski-racer Leo Gasperl. I have seen the original negative of this photograph and it is larger than this image, which has had the sides cropped.
- Courmayeur
- - Meteorologically speaking Courmayeur is part of the Mont Blanc weather system and geographically part of the Mont Blanc Vallée Blanche itinerary area. If the weather has distributed snow onto the southern side of the Alps rather than the northern side then Courmayeur can be the nearest place to access that snow.
- - In 1993 a huge rockslide off the southern side of Mont Blanc cascaded down the valley used as a piste to return to the village. One skier was not quick enough to get out of the way and was crushed against a tree, which killed him. Courmayeur took the decision to close that piste to prevent a recurrence, however unlikely. It was not an avalanche nor even a rockfall but it was several thousand tons of rock and ice off the glacier suddenly coming loose and then riding an air-cushion as it descended into the valley. I was not present that day but a friend who was up above it on the Courmayeur ski area said that he heard a huge roar and then following the roar, a large wave of air, which had been displaced by the cascade of ice and rock. The piste which returns you to the village is still there although it is roped off.

Piste Map of Courmayeur. Mont Blanc is up the right of frame. The Mont Blanc tunnel is out of frame to the right. Direction of Aosta, down the valley is to the left.

The main Courmayeur ski area. This is up to your right as you descend the valley road from the Mont Blanc tunnel down to Courmayeur and thence Aosta. The lowermost piste on the right, down the edge of the glacier was closed in 1996 after a 2000 tonne rockfall from higher up Monte Bianco cascaded down the glacier.

Courmayeur by J.M.W. Turner in 1806

The above topographic map from IGC showing Monte Bianco and the valley of Courmayeur.
The map data is from 1989 and so it shows the tunnel at La Thuile in its original unextended from. The large white area above the tunnel entrance is the Mont Blanc massif and on the far side of it in France is Chamonix.

1945 Val d'Aosta Courmayeur, Alpini on the road to Courmayeur at Pre St Didier with Monte Bianco in the background, frame left.

In the above map, from Edward Denzel's Grosser Alpen Strassen Führer, the Col du Petit St Bernard, showing the conjunction with the Val d'Aosta.
+ ITALIA - ITALY - TRANSIT & APPROACHES
- Torino
- Milano
+ GERMANY
- Garmisch-Partenkirchen
- Germany does not own enough of the Alps to own significant ski areas but it does own Garmisch-Partenkirchen, which due to local weather patterns, enjoys good skiing. After the war an Olympic bobsled champion used to run an hôtel in Garmisch which became an 'in' hôtel to stay at. Richard Burton and Elizabeth Taylor used to stay there. When he died it closed and the place where the hôtel stood is now occupied by newbuilt offices, presently (2002) occupied by T-Mobile.

1936 Winter Olympics
Garmisch-Partenkirchen Men's Downhill

1936: Winter Olympics at Garmisch-Partenkirchen. Adolf Hitler arrives in a Mercedes-Benz 700 'Grosser' Saloon
- SEE ALSO: Reichsbank Gold Hoard
- SEE ALSO: Rallys at Garmisch-Partenkirchen
- Wasserfallklettern zwischen Bregenz und Garmisch - Vorarlberg - Bregenzer Wald - Allgau - Lechtal - Ammerga - Wetterstein - Loisachtal by Carlo Friedrich et al, published by Alpinverlag, 1998, ISBN 3-926807-67-9S
- Berchtesgaden
- See Also: The Obersalzburg, the Berghof and the Kehlsteinhaus
- The Harz
-- The Harz are similar to the Jura in that they are not high enough to be snow-sure but do offer modest skiing if good snow has fallen.
- List of Ski Resorts in Europa
+ TABLE OF GREAT ALPINE DISASTERS
-
The Galtur Avalanche #
-
Winter of 1999/2000 - Ice storms and hurricane force winds followed by 40cm of snow.
- #
© copyright www.mitteleuropa.x10.mx https://twitter.com/verlagmeyer copyright ©
+ SOVIET UNION

USSR: Winter Fairy Tale by Alexei Pavlovich Belykh
, 1963
-- In the former Soviet Union, beware of scams at every turn, both with officialdom and with every one you meet. When you enter Russia, you are meant to declare any foreign currency. This is so that you only take out what you brought in. This is to prevent capital flight. On the way in , they do not tell you that you have to declare your foreign currency. Or at least they never try very hard to make it known that you have to. Ask for a form. On the way out, they will ask you if you have any currency with you.
When you take in your hunting rifle, you have to declare it on documentation. The serial number of the rifle has to be noted on the documentation. A friend of mine did not realize that the border official on entry to Russia who had noted the serial number on the documentation had made an error on one digit. The Russian official inspecting the rifle and documentation on exit from Russia found the discrepancy and refused to let him leave with this rifle. It was difficult to say whether the official had made an error or had deliberately written the wrong figure. To insure against this, when leaving Russia, remove the firing pin, or better still a component of the trigger and insert it into your washkit. Small metal items are easily concealed in the confusion of your wash-kit. This way the rifle is useless to the lucky official who is keeping it.
So: Check your documentation. There is nothing you can do once you get into a tangle with Russian officialdom. They know that. They arrested an Arctic explorer who had crossed the Bering Straits on foot. He was arrested for entering Russia illegally. Check everything twice. Make a note of times, dates, places, the names of officials, and take photographs of all documentation and even officials, law permitting. #
-- Other than listed, there is just the normal hazard of corruption and graft. The day the Soviet Union collapsed every official in the former Soviet Union was on the make.
-
The Tien Shan
#

-- For Heli-Skiing in the Tien-Shan see Vladimir Kommissarov at ITMC
in Bishkek
, Kyrgyzstan. Vladimir is the Chief Alpine Guide of Kyrgyzstan and head of the rescue services. Many outfits in the former Soviet Union are cowboys and either do not have the experience or take too many risks. A friend of mine who had been a porter on some of Vladimir's expeditions lost his life in an avalanche while on one of the cowboy heli-ski expeditions.
-- In the Tien-Shan there are especial Alpine hazards: The cornices can be huge: Three times the size of Alpine cornices. You have to stay well back to avoid falling through them. Always use guides with local knowledge specific to that mountain range. Remember that the man killed during the filming of the The Eiger Sanction (1975) was killed because the safety officer was not familiar with conditions in the Alps.
-- MAPS
-- There are no maps. This is uncharted territory. For orientation, use the universally applicable NATO ONC 1:500,000. If you have to walk home, then this should be enough. The only maps of this region are the universally applicable 1:25,000 and 1:50,000 Soviet General Staff topographic maps available from www.cartographic.com . There seemed to be a difference in altitude markings of less then 10m between the 1:25,000 and the 1:50,000 but nothing serious. It is a good idea to set your alitmeter at known points along your journey, starting at the airport, and then keep an eye on it as you go along.
- Kazakhstan
-- Broken chairs from the chair-lift left lying on the ground under the cables. At least they had the decency to clear away the dead bodies. Or perhaps they just left them there for the packs of feral dogs to scavenge.#
- Tajikistan
-- Immediately after the fall of the Soviet Union, Tajikistan was unable to feed itself and crime and disorder was rife. It was impossible to visit unless every one was armed. A rope of American climbers made it their first country to visit after never having left the Continental US in their lives, and ended up being kidnapped. Kidnap is one of the major business-models in this region. You kidnap someone wealthy and demand a ransome. Kidnap for political ends is new but an adjunct to an invisible business. Kidnap gangs would kidnap political targets and then re-sell them on the secondary market to the highest bidding Jihadi group. This is how Daniel Pearl
was kidnapped in Pakistan. Tajikistan has improved since the 1990s and civilian staff from the missions in Kabul actually take skiing 'vacations' there.#
- Kaukasus
-- Northern Iran also has skiing. #
- Kamchatka
-- Heli-Skiing on active volcanoes. Bears. More Bears. Mountains from both a mountaineer's perspective and a skier's perspective are obtuse.#
- Afghanistan
-- # Ever dreamed of a winter wonderland, with endless mountain flanks of un-tracked powder, entirely to yourself with not another skier in sight ? Me too. Well, I found it: Afghanistan. From downtown Kabul you can see those snow-covered mountains directly above the city itself. There is a good reason that those snowfields are un-tracked. Several good reasons:
While I am prepared to run big risks to reach untracked powder, running the risk of seeing my own skiboots fly up into the air in front of me in pieces is not one of them. Soviet documentation of landmine placement was not rigorous. Nor were the mine fields fenced off, which would defeat their purpose. Then the Mujahadeen would steal Soviet landmines and place them in locations where Russian troops would step on them. The result is that you do not step anywhere where some one else has not already stepped, =anywhere= in Afghanistan. While I have had a few close-calls with crevasses, there is no such thing as a close-call with a land-mine.
- #
+ NORTH AMERICA #

1975 Jack Nicholson and Roman Polanski. Polanski was an accomplished skier and was to collaborate on Robert Redford's project Downhill Racer (1969) but work on Rosemary's Baby overtook him and Robert Redford completed the project alone.

Bear Valley, early 1970s: Clint Eastwood

Jean-Claude Killy at Aspen 1968

Jacqueline Kennedy at Aspen.
- Aspen, CO
- - Woody Creek ; Hunter S. Thompson
- - Thompson lived at Woody Creek further down the valley from Aspen. I spoke with some of his ski-buddies once while I was in Aspen, who related that Thompson made up for in enthusiasm what he lacked in skill. Thompson's association with the valley was a long one, including running for Mayor of Aspen, which he proposed to re-name 'Fat City' to stop developers from being able to sell Condos there. Aspen has its own airstrip which enables high-rollers to access it easily. Originally, Aspen was used by the US Army for Alpine training during the war, but by the 1960s it had a respectable ski-lift system. Supposedly, during the late 1960s, one of Carroll Shelby's Cobra 427 went off one of bends on Independence Pass (the pass which brings you up from Denver directly into Aspen from the East). By the early 1980s (when I arrived) there had been a larger new-build development at Snowmass, above Aspen. A McDonalds had been built at the far West end of the valley in Glendale Springs, after a long campaign to keep McDonalds out of the valley. This was a well-founded attempt to retain some level of exclusivity and charm about Aspen. Remember that the US resorts do not have a 'Swiss Alpine village' heritage to build on, however tenuous that is in real life.
- - - Since the 1980s there has been a lot of development, with the highway in from Glendale Springs (to the West) widened to four-lane and the old steel two-land bridges replaced.
- - - Aspen is known for its long-running rivalry with nearby Vail.
- # Vail
- #
- #
- #
+ SKIING
- When using the directions given on this page always check them against (1) Maps, and (2) Local authorities, such as guides, pisteurs, lift-operators, the concierge. If all agree, then the directions are fine. If there is a discrepancy, keep checking and follow local information, not mine. I have compiled these directions from memory. My notes were not that extensive until I started to compile this web site, which was only a few years ago. The problem with giving directions concerning a surface that is at 45 degrees to the flat is that none of the normal methods using maps are satisfactory. Written textual directions from the head of a specific lift are the best method. Remember, if you are used to using a GPS unit, they are can be dangerous in the mountains because the up-hill route between any two points will be on a lift and the down-hill route between two points will be on a navigable route, which will not be a straight line. Following directions on a normal GPS may lead you over a cliff.
When heading out off-piste, check that day's weather-fax, the avalanche warning fax, before you leave the hôtel. These days, this information will probably be sent straight to your hand-held device via 4G.
+ BIG REDS & LONG RUNS

What we like to see: Gentle snowfall on Big Reds
- Long, wide, fast pistes (usually red grade), especially through trees, are tremendous fun and are close to the conception of what skiing should be like.
BIG RED PISTES

Country
Ski-Resort
Piste
Rating
Comments

Switzerland

Gstaad

Red above Saanen and Rougement (South side). Long and swoopy, just like Alpine skiing in your dreams.

Italy

Cortina d'Ampezzo

Grosser Lagazuoi - The huge descent behind Cortina which is not linked to the Cortina ski area and is accessed by a cable-car at Passo Falzarego. "Hidden Valley"

Switzerland

Grindelwald-Wengen

Very long descents through woods from the head of the lift which runs upwards and north from Kleine Scheidegg IE away from the Eiger Nordwand. Pistes are narrow because they are tracks through woods.

Germany

Garmisch

Descending from the Kreuzeckbahn. Ideal terrain. Long descents winding through interesting features. Again, these tracks are narrow because they have to squeeze through rock features. The first two, at Crans-Montana and Cortina, are wide.

Switzerland

Crans-Montana

A runner-up. Lots of good red pistes, very wide, but not quite as long as the above. If I wanted to practise downhill Schuss, then I would head for Crans-Montana.

Switzerland

Davos-Klosters

The run from the head of the Davos ski area all the way down to Klosters is very long but it offers a great variety of piste types, thus it is included here for its length rather than width or its facilitation of speed.

Switzerland / France

Port du Soleil / Avoriaz

The Ring - A grand enchaînements of resorts. Probably the longest in terms of distance skied. Check for snow coverage before you go.
- SKI-JUMPS
-- Piste Jumps
Many resorts have sections of piste which due to the way they descend the mountain, present the skier with the opportunity to jump if they are skiing fast enough. Jumps can be just a sudden steep descent or a more obtuse, longer, descent over a hump-back which can be taken at sufficient speed that the skier takes air under the skies. Some of these undulations can only be jumped after they have been ploughed level again because the moguls might preclude reaching a speed which will allow the skier to take air. In some places there are undulations at the edge of a piste which allow the skier to accelerate into the air and land somewhere on the piste.
-- Off-Piste Jumps
Off-Piste, there are places where you can jump off rock ledges and cliffs, of which Corbett's Couloir #
at Jackson Hole is the most famous. The problem with presenting this information here is that while I can remember how to find all of these places, it is difficult for me to give directions with accuracy.
-- PISTE JUMPS
--- Davos (near lift) #
--- Les Arcs 1800 #
---- The slopes approaching the resort are a succession of undulations all of which offer opportunities to jump. However, all of them are marked with signs bidding skiers to slow-down, because of the traffic in this section of the resort. You have to use these jumps when no one else is around.
--- Zermatt Grornergrat #
--- Courcheval #
--- Verbier Lac de Vaux #
-- OFF-PISTE JUMPS
---
The Asguard Jump in The Spy Who Loved Me (1977)
SKI JUMPS

Country
Ski-Resort
Piste
Comments

France

Les Trois Vallées

Côte Brune

Back in the early 1980s, the route now occupied by Côte Brune was an off-piste route returning from Val Thorens to the Méribel Valley. Entry was into a large bowl with moguls so large that the tops were higher than your head. Most skiers traversed around to the right of the bowl. Once below the bowl it was a long, pleasant obtuse descent followed by a run-out. About halfway into your journey on the right was a bluff. If you detoured over the bluff, there was a jump down into powder or soft snow. I have not checked how to get there since the construction of Côte Brune piste, but the bluff must still be there.

France

Tignes

From memory, if you traverse to your right as you reach the head of the glacier, not losing any height, you come to the other side of the top of the glacier where there is a cliff. There is a small protrusion half way down the cliff which has snow on it. You can jump off the cliff and bounce off the protrusion. Again, this is from memory which is decades old. If you follow these directions and end up looking at something which looks like suicide, go back.

Switzerland

St Moritz - Celerina

The Couloirs above (West) Glüna above Celerina
- SCHUSS-OUTS
- - In order to go fast, to Schuss, you need the snow to be flat. Preferably just pisted into corduroy by the piste-basher a minute before you descend. You can go fast in bumpy conditions but you are thrown into the air and you will catch an edge if you do not know the fall-line of the descent IE you have already learned the descent in flat conditions to the point where your legs know which way the mountain is coming toward you. When a piste is flattened by the piste-basher, intermediate skiers will immediately take advantage of the easy conditions to Wedel, unnecessarily so. This starts to creates moguls and once even a small mogul is created the process of mogul creation is accelerated because each new skier has to use the downside of the mogul to turn, while his skis are in the air, which scraps a steeper and steeper angle onto the downhill side of the mogul. Flat corduroy surfaces can last only perhaps fifteen minutes at a busy resort. However, the final run-out of a piste to the bottom of a lift is normally flat and if you do not ski in a Schuss and let the skis run, you will not have enough momentum to reach the lift-station, and will suffer the indignity of having to use your poles. This means that run-outs are often un-moguled. The un-moguled run-out is the domain of the piste-hero, who will sense that his moment of piste-fame has arrived, and attempt to Schuss all the way to the lift station over-taking as many people as possible. This is one of the few occasions when you can find a race and give your race skis some exersize.
- - SCHUSSING: If you are new to Schussing, then pulling up at the end can cause difficulty. Once you place your skis down flat while you are crouched, it can be difficult to come out of the crouch. You have to set the skis on edge again: One edge. In order to do this you have to turn to one direction of the other, in order to bring your weight away from the top of the skis and the to lean the skis onto their inside edges. The other manoeuvre is to force your heels outwards to bring the skis into a snow-plough. Push the tails out hard away from you. The dangerous moment is just as you decide to bring your skis off the position of flat down on the snow.
- - Nearly any red piste if bashed out into Corduroy can be raced down but mostly they are not. This means that in order to Schuss you need to know where are the run-outs.
- - - LIST OF RUN-OUTS
SCHUSS OUT

Country
Ski-Resort
Piste
Comments

Switzerland

Zermatt (Cervinia)

On the saddle with Cervinia called Plateau Rosa, above Testa Grigia. You descend from the lift which runs up and down the Zermatt side of the saddle and then Schuss to the bottom, which ends at the café directly on the saddle between the Zermatt side and the Cervinia side. #
- OBSTACLES OF NOTE #
- Saas-Fee: The gun-barrel #
- Pontresina: The gorge #
- FAVORITE CAFÉS #
- cafés I like. These are my favorites. There is nothing special about the cuisine. I just like being there, sometimes for reasons of nostalgia.
- Verbier:
-- The café at the foot of the Tortin. Usually, I reach here mid-morning and stop of something hot and a bite to eat. Thirty years ago, as I was leaving, I used to stand at the back of the café in pouring snow and look through the stands of young trees which lined the valley as it disappeared lower through uncharted, unpisted, unreachable territory. An untracked wilderness. I used to imagine descending through uncharted snows in the forest, alone. Now, you can do exactly that because there is a piste which takes you all the way down to the other resorts and lifts which bring you all the way back. The pistes suffer from sunshine so you have to stay as high as possible because rocks and stones become exposed. Frequently I have had to turn back because I can see we are running out of skiable snow. Unless you are on hire skis, or 'rock-hoppers'. So, in the end, my fantasy could only have been achieved during heavy snowfall.
    If you imagine yourself physically fit, the see if you can ski all the way from the head of the Tortin to this café. Yes, it can be done.
- Val Thorens - 'The café at the end of the universe'
-- There is a little café hut at the top of Val Thoren on the watershed, over-looking the glacier. I first visited this 'café at the end of the universe' shortly after the chairlift was put in and the café was constructed, after sking all the way from Courcheval. The weather had closed-in and the temperature was about minus 17 Celcius. It was great to sit in the cosy warmness drinking hot chocolate and eating slices of Savoyard sausage.
- Cortina - Grosser Lagazuoi, the Hidden Valley
-- Half way down the valley, somewhere on the right, is a little hut where you can stop for refreshment. This is the only café in the valley. The whole Grosser Lagazuoi is so pleasant that the little café crowns the experience.
+ OFF-PISTE
- Off-piste can be anything from areas which are between two pistes in the middle of a lifted area through to a mountaineering ascent into another, uninhabited valley which takes you on a long circuit to another resort or back to a distant area of the original resort.
- - OFF-PISTE TRAINING: If you are learning off-piste then you need to find areas of lift-served red-grade off-piste where you can learn to control the skis in mush. The ideal topography for red-grade training off-piste is where you can access one side of a descending valley and then descend directly to the valley bottom via a choice of different grades, steepnesses or routes. It is preferably that if the descent chosen proves too difficult, then a shallow-grade traverse out to the side can be chosen at any time. The three best areas are at:
- Cervinia at the far west of the ski area toward the top
- Flims-Laax in the western valley: Off Crap Masegn under the Number 09 chairlift 'Alp Ruschein'.
- Verbier at Lac de Vaux. Verbier also has extensive areas of off-piste between most of its pistes.
The valley at Cervinia and the valley at Flims-Laax are of the ideal type, described above. You can enter the head of the valley, traverse along one or both sides, then choose your line of descent down to the stream-bed, according to how severe you would like to make your descent. If your descent proves too difficult, you can traverse out. Lac de Vaux at Verbier is area covered by several pistes and has many areas of off-piste between these pistes. Any type or steepness of terrain may be found here in small enough quantities to train on and without committing to a full descent. You are always within sight of lifts and other skiers.
TABLE: OFF-PISTE FAVORITES #
- These resorts are the Black-grade Off-Piste destinations.
OFF-PISTE

Country
Ski-Resort
Location
Comments

Switzerland

Verbier

Most of the Resort

Huge range of just-off-piste on either side of pistes, itineraries and couloirs.

France

Les Trois Vallées

See Dennis Summerbell's excellent comprehensive guide to off-piste in the 3V

France

Val d'Isere

Several large itineraries, with inter-piste off-piste.

Austria

St Anton am Arlberg;

Various

Off-piste areas between many pistes

France

Chamonix-Argentière

Major Itineraries descending into Vallée Blanche

Huge itineraries. Some just-off-piste at Argentière. Avoid Chamonix resort skiing if seeking off-piste

France

La Grave

Itineraries, with no pistes

Worth a visit once you have exhausted the other big off-piste destinations.
- OFF-PISTE - NOTABLE SITES
- St Moritz: Couloirs above Celerina #
- Verbier: Mont Gele - Steepest descents are the ice couloirs which descend back to Lac de Vaux. Short. These ice couloirs are perhaps the most difficult obstacles in the Alps. The couloirs would be difficult during good snow conditions but the couloirs are south-facing which means they are always icy. If you can tackle these you can claim with all validity that you are an experienced and capable off-piste skier.
- Verbier: Mont Fort, East side. Descending to Lake de Cleuson, valley exits at Super Nendaz. Very long. Initial descents steep and narrow. Descend via either the Glacier to de Mont Fort or the Glacier de Petit Mont Fort.
-- Three routes into the valley:
-- (1) Over the back eastwards of the Mont Fort lift. For mountaineers or guided only. Not marked on map. Accesses the Couloir de Petit Mont Fort
-- (2) The Couloir de Mont Fort, which is the next one north, has to be accessed by crossing the ridge further north. This is achieved by taking the drag lift to the Refuge de Tortin hutte 2993m (serves hot chocolate during ski season) then ascending up a couloir directly above you on skis/skins. Sometimes you can see tracks above you from the hutte if a guide has taken a party up there. I doubt too many people ski this couloir/glacier because you have to climb a long way. You can ascend by side-stepping the whole way. I did this one time because my skins had not been packed in the rucksack. (I think I left them by accident at Zermatt the previous week). But very top ten meters is very difficult without skins. I nearly toppled over and back down the couloir at the crux.
-- (3) This third route I have never used although I have observed tracks on it and its marked on the winter map (with the 'S' suffix) LDS No.283S. From the Refuge de Tortin hutte 2993m you traverse along the contour northwards to what is marked on the map as Le Ferret and up over the ridge to descend the Glacier des Etagnes (named only on the 1:25,000).
--- Subsequent descent into the valley by these couloirs is steep and tiring. Run-out along the valley bottom contains minor hazards like skiing in confined spaces, or long flat traverses made on nasty ski tracks which have annoying obstacles (usually get off and climb over or retain enough speed to jump them). When you reach the end of the lake, which is formed by a dam, turn left down the face of the dam (steep but not difficult, just hard work). Follow the track out to the Super Nendaz valley where you descend until you pick up a lift. Dangers: Avalanche danger during descent away from Mont Fort. Avalanche danger along the entire length of the Lac de Cleuson. People have been swept onto the ice of the lake and through the ice into the freezing water. Time your descent for first thing in the morning so that the snow and ice are still frozen. After midday, the danger increases because of the heat of the sun. No navigation required. It's downhill all the way. Map: LDS No.1236 1:25,000 Rosablanche , LDS No.283 1:50,000 Arolla. Also LDS No.283S , which is the 1:50,000 with winter ski-tour markings. When purchasing maps for skiing, chose the '###S' suffix series, which will be more use to you. In my opinion this is the most testing off-piste descent in the Alps. Requires much skill and even more stamina.

Landeskarte der Schweiz 283S Arolla 1 50000 section Verbier, Mont Fort, Val de Nendaz, Tortin

Landeskarte der Schweiz 1326 Rosablanche 1 25,000, section Verbier, Mont Fort, Val de Nendaz, Tortin. This is the 1:25,000, which does not have the terrain illustrated as if in winter, nor the ski-tour tracks, nor ski lifts.
- 3V, Val Thorens - ascend to the glacier. Climb to col up to your left, across the glacier. You need skins. Climb up vertical snow face. Crampons not needed for this but at the top there is broken ice and you have to take your skis off. Crampons useful here but by no means essential. Altitude is high and you will start to experience the effects of altitude. You will feel listless and your mind will easily halt in a quandary. At the top. Take off your skis and walk the few meters over the ice obstacle. Replace your skis and begin the descent. I do not remember anything steep or difficult. Distance is long so in bad snow conditions you will need to be fit. I have been down during poor snow conditions (smooth powder remelted to hard snow) and I was the only person who did not fall. The others, experienced off-piste skiers, repeatedly fell because of the level of stamina it required to muscle on the skis for such a long distance. The conditions were the type where you needed the maximum level of muscle in combination with off-piste skill. Descend through long run out, narrow traverses and exit at Courcheval. Long.
- St Anton am Arlberg: #
The above list is by no means complete. I can recall finding off-piste in Leukerbad (CH), Champoluc (I), Zinal (CH), Scheffau (A), Zell am See (A), Radstadt (A), Les Arcs (FR) and many other smaller resorts, just not much of it, nor enough to make it a 'destination' or 'worth a detour'.
- LONG ITINERARIES - NOTABLE SITES
-- Remember that an itinerary has unpisted snow: They are off-piste. The grade of descent may be red-grade but if you are not yet comfortable skiing on unpisted mush, then avoid itineraries, especially if skiing solo. I list itineraries here which are enjoyable for red-grade skiers. If they are more difficult than that then I list them in the section on Off-Piste. I list the itineraries in order of how charming I find them.
-- Verbier Lac de Vaux down the Vallon d'Arbi, exiting at La Tzoumaz: Starts at Lac de Vaux. Before the resorts were linked, this descent was a great adventure descending through wild country which required positioning a getaway driver in the valley down at La Tzoumaz/Riddes. After you exit the back of Lac de Vaux, going down the left hand side of the lake, you enter a huge bowl which is, now the resorts are connected, moguled and chopped. A track has been bulldozed to your left along the contour. This bowl is one of those difficult bowls where it is not shallow enough to sit back on your skis and let them run and it is not steep enough that you can get the skis off the ground easily. This is when Carver skis are at their worst and you wish you were on regular skis with less side-cut. There are many different routes through here, some of them wooded. You end up in a beautiful wooded sun-lit V-valley which has a delightful stream, sunlight glinting off melting icicles, along side of which you ski for a long distance in one of those memorable moments which remain with you.
-- Cortina: The itinerary at Grosser Lagazuoi, in the 'Hidden Valley' is long and enjoyable. Dreamy. No need for any map reading because these is only one way down. Snow conditions seem to be firm, not mush. The descent away from the head of the lift into the bowl may be black-grade. The scenery is magnificent, as always in the Dolomites, with the pink rock and the forests in strong sunshine. At the end of the valley in the run-out, there is perhaps 1km of easy poling along the flat. However, there is a local who keeps a draught horse there and takes a few coins off skiers for pulling a line of them along behind the horse on a long rope. The horse loves it.
   When you reach the road again at the end of the run-out you have to wait for a bus/coach, and pay the bus/coach driver to take you back to Cortina. I have no idea where the bus comes from but it is always full of other skiers when it arrives.
-- Chamonix Vallée Blanche: As long as you with a guide then the main Vallée Blanche route can be classified as an itinerary because it features a shallow drop and easy blue-green grade skiing. #
-- Les Trois Vallées: Return from Val Thorens to the Méribel valley at Côte Brune used to be a long and enjoyable itinerary until the 1990s. Other itineraries have been opened up since then thanks to the expansion of the lift system. If you head up to the top of Val Thorens and overlook the descent onto the glacier, to your right you will see a ski-track worn into the snow. You have to pole along this track and it will bring you to the lip of a large shallow bowl which eventually brings you out on at a lift which deposits you back in the Val Thorens valley. You could access this bowl before the lift was built but you needed a getaway driver because no lifts had been built in this valley system at that time. The other tracks which lead away to your left as you stand at the little café hutte overlooking the glacier lead to a long off-piste route over the Col de Gébroulaz. See section Val Thorens. #
-- Val d'Isere: Several long itineraries. Fairly obtuse. #
-- St Anton am Arlberg: Several long itineraries. #
- OFF-PISTE - LOCATIONS IN ORDER OF DIFFICULTY
-- Degree of difficulty in Off-Piste is more related to snow condition than to terrain.#

Grade and Angle of Descent
-- #
-- #
- OFF-PISTE - STEEP
- - #
+ EXTERNAL LINKS - WEATHER
- - Pages on the internet showing weather forecast maps have become steadily more illegible with the arrival of Java. If you remember the old text-based systems like Minitel
and Ceefax
, which were models of clarity, you will know what I mean. Getting legible information on weather is a struggle, in these times (2013).
- - Surface temperatures in Europe via satellite
http://www.uni-koeln.de/math-nat-fak/geomet/meteo/winfos/TTeuropazoom.gif
-
http://www.snow-forecast.com/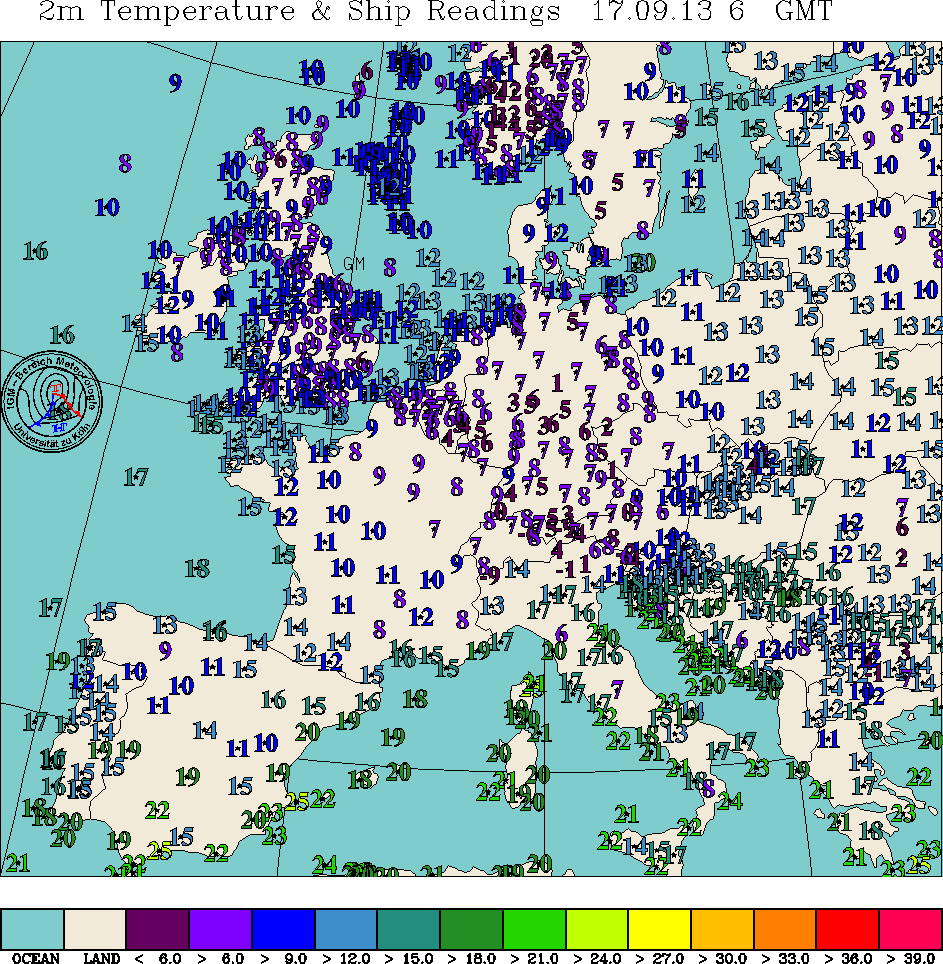 Surface temperatures in Europe from Uni Koeln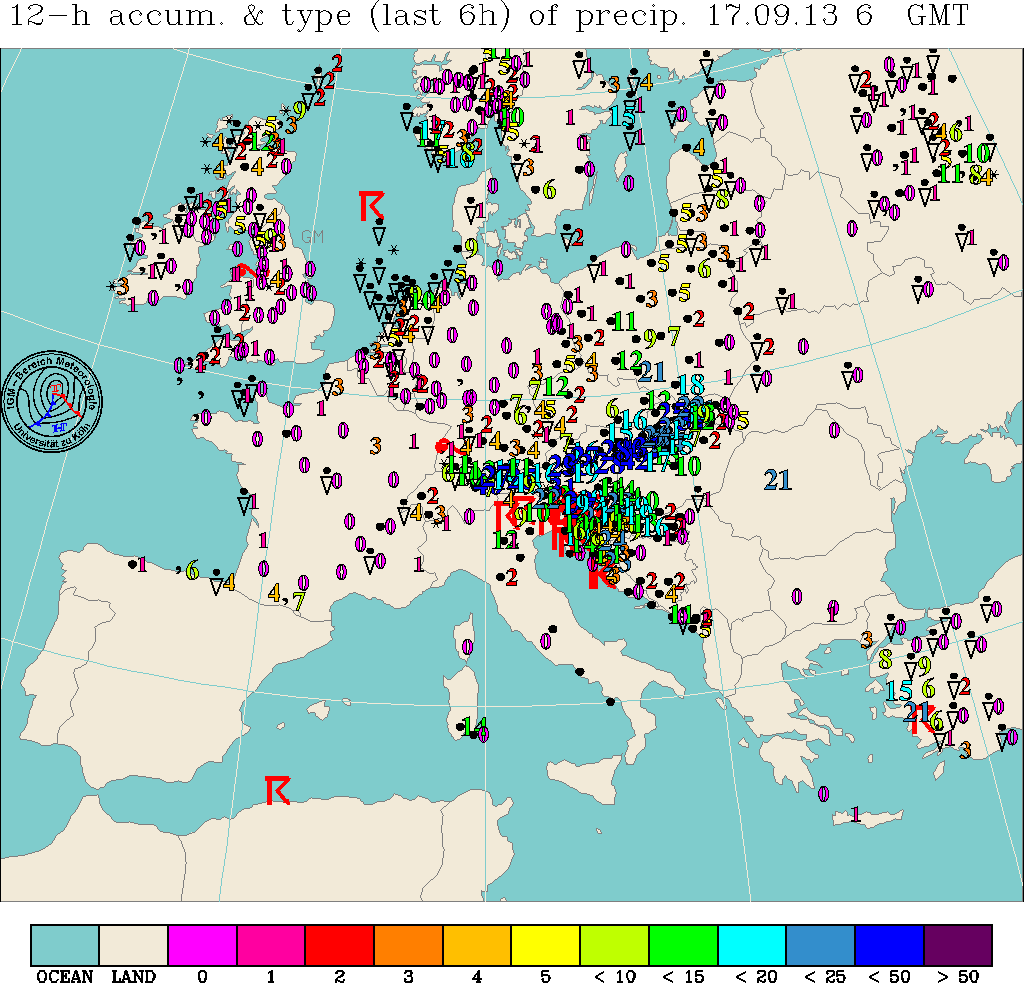 Actual Precipitation in Europe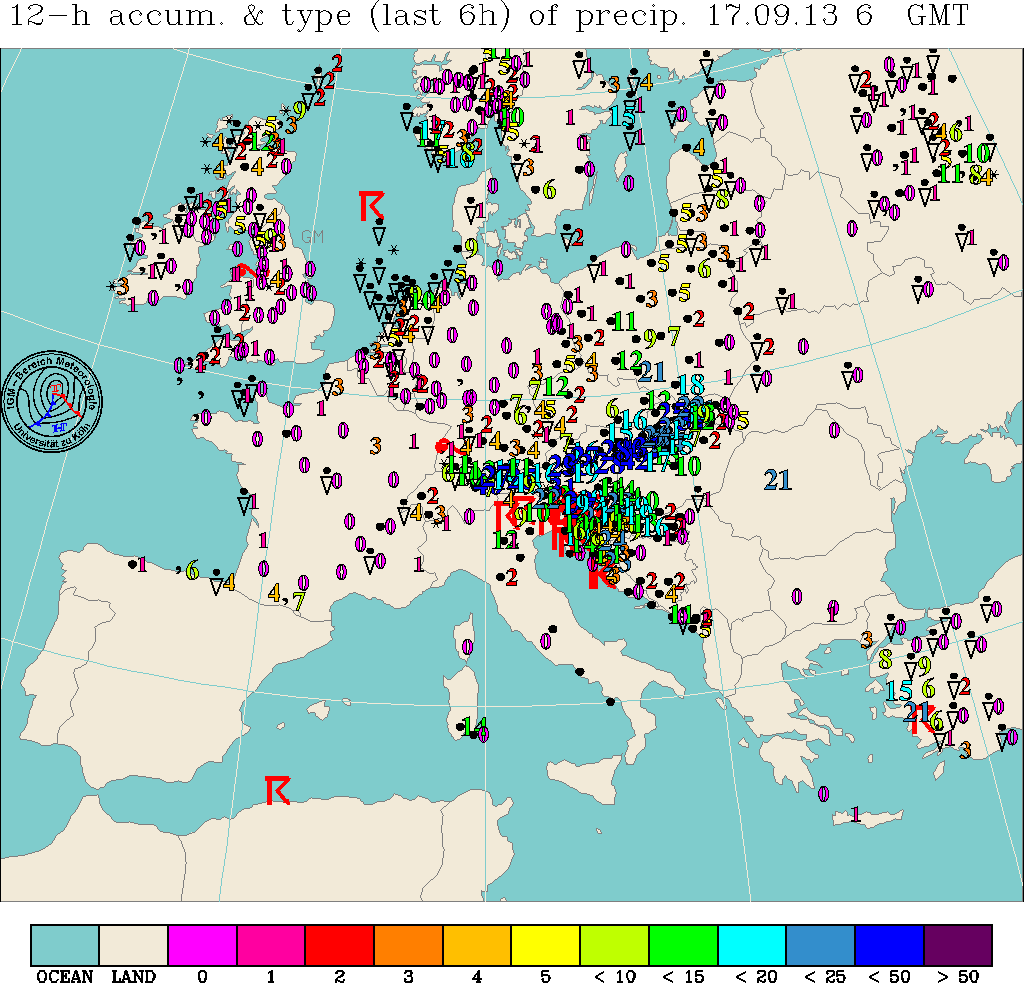 Forecast Precipitation in Europe
- -
http://www.weathertoski.co.uk/weather-snow/
- - Snowcams -
http://www.snoweye.com/
- - Swiss Meteo
http://www.slf.ch/
- -
http://www.niederschlagsradar.de/
- - Ice reports and forecast for Sweden
+ ALPINE TOURS - WINTER & SUMMER
- ALPINE TOURS IN WINTER
-- If you are visiting the Alps in winter and are not skiing, then I would chose the Jungfrau region because there is most to do without skis and there are several locations which may be visited on the cog-railway. There is the ascent through the Eiger itself to the Jungfrau, then there is the Lauterbrunnen valley with its huge precipices and the visit to the Schilthorn above Mürren. Zermatt and the Matterhorn are impressive but can be inspected in a single day-trip.
- ALPINE TOURS IN SUMMER
-- Jungfrau - Chamonix Mont Blanc - Zermatt
-- The Alps are just as spectacular in Summer. If I had to visit one single place in the Alps it would be the Jungfrau Region. If you have a complete tour of Alpine highlights ahead of you then I would visit both the Jungfrau (to see the Eiger) and Chamonix-Mont Blanc (to see Mont Blanc) then I would visit Zermatt because the Matterhorn is the most impressive mountain in the Alps and no scene will compare to it. The Jungfrau region with the cog-railway between Grindelwald, Wengen and Mürren offers the most to see of the Alps in summertime if you can only visit one location.
+ ALPINE TOURS FROM THE AIR
- Probably the best tours are Ju-Air
who operate out of Dubendorf
and Samedan-St Moritz
. Other charter aircraft will operate tours if you ask locally. Air-Glacier
, who have performed the lifts for the movies made in the Alps, may operate tours. If I was organizing a non-skiing visit to the Alps for first-time visitors, I would take them first to the Jungfrau Region for the Eiger-Mönch-Jungfrau and the cliffs below Mürren, then Chamonix for the Aiguille du Midi, then Zermatt for the Matterhorn, followed by an aerial tour with Ju-Air, in that order.
+ SKI RESORT DESIGN - FEATURES TO AVOID
- Minor ticketing systems, such as extra tickets for parking or buses.
- Irritating parking systems
- Anything involving administration
- When buying coffee, two queues: One queue to pay for the ticket, one to get the coffee.
Particularly bad pieces of ski-resort design
| | | | |
| --- | --- | --- | --- |
| Country | Ski-Resort | Location | Comments |
| France | Les Arcs | | Routes from lift area back to parking lot were through a labyrinth in a large apartment blocks, requiring frequent use of elevators. Lost for 45 minutes and formed a team with other lost skiers trying to reach the parking lot. Contemplated suicide. |
| Switzerland | Zermatt | | Too many logistical changes and too many difficulties. The world's worst resort, logistically. |
| Switzerland | Saas-Fee | | Poor sign-posting in the tunnels. It is possible to do a full circle. |
| Switzerland | Stetchelberg above Lauterbrunnen | | A ticketed parking system which invalidates the ticket you have paid for if you spend longer than twenty minutes between paying for your ticket and using it to open the gate. |
| France | Flaine | | Another ticketed parking system, this time with the entrance gate and ticket-eating machine covered in deep snow at the side of a cleared section whose sides were uncleared of snow so you could not open the car doors to get to the ticket-eating machine. |
| | | | |
| | | | |
| | | | |
+ DESIGNING IDEAL FEATURES FOR A SKI-RESORT
- Standard Gauge railway access & Ski transfer
-- From the main airport or railhead, transfer to the ski-resort would be achieved via standard gauge railway, using replicas of CIWL
or Mitropa
carriages pulled by steam locomotives. St Anton am Arlberg and St Moritz has a standard gauge railway station. In an ideal resort this would be a 'met-service', whereby when you arrive at your destination, there is already your next form of transportation awaiting you. This means that the minimum number of trains required to move visitors from an airport to a ski-resort would be three. One train would be waiting at the airport, another at the ski-resort and the the third in transit. The 'met service' would operate at all stages in the journey.
From the standard-gauge platform, teams of porters move the luggage from the fourgon baggage car onto the narrow-gauge cog-railway
for the journey up the mountain. Cog-railways are nearly always electric because steam-powered cog-railways are hard work for the locomotive. They do exist, but the narrow gauge and small loading gauge means the locomotive can have only a small boiler. The steep inclines mean a huge power requirement, which requires a large boiler. Mountain railways were the first to be electrified at the turn of the century.
On arrival at the resort station, the guests warm their hands on the charcoal braziers laced with pine-wood chips which stand on the platform while the porters move all luggage onto the sleighs which will transfer guests+luggage to their respective hôtels. The braziers are fueled by wood cut from pine trees to give a pleasant aroma which drifts around the environs of the station. Fresh cut, un-aged wet pine-wood works best for this. From the fallen trees which were used to provide the pine-log fuel, chop the green branches and pine-fronds into small pieces and add them to the fire. They give off a spectacular aroma, the finest scent ever produced by a wood fire. Worth a detour.
- Altiport
-- An altiport actually in the resort is something of a luxury but if you own a light aircraft and are licensed for Alpine landings then nothing is finer than cutting out all of the travel and landing straight at the altiport. Many high-rollers transfer direct from Geneva airport via helicopter to their ski-resort. Tamara Ecclestone transfers from Geneva airport to Gstaad airfield # via helicopter. From memory, Courcheval, Méribel and Tignes all have altiports. Gstaad has an airfield and so does St Moritz. Many altiports listed in the Alps are flat sections of mountain pasture or even glacier which are listed as altiports and usable during winter with ski-equipped aircraft. An altiport above the resort, like at Courcheval means that you can land and then ski to your hôtel.
- Airfield
-- A full-size airfield like at Aspen (CO) or at St Moritz-Samedan (CH) is useful for those who can fly in. The main attraction is that the resort can accommodate high-rollers and the beneficial publicity they give to the resort. Just about all of the big names on these pages must have flown into Aspen at one time or another.
- Automobile access and parking
-- It has to be said that direct access via automobile is an enormous convenience. The last thing you want after a twenty-four hour drive is to have to park at the station, transfer your luggage to the train, then find a way of hauling your luggage through the resort to your hôtel. If direct access via automobile was physically impossible (Zermatt) then the kind of met-service described on this page would be the least wearisome method of transferring to your hôtel. An added problem with direct access via automobile is parking. Designing areas for parking is not easy in high Alpine valleys. The best method is to bore underground parking areas into the mountainside, which creates comfortable parking, out of the weather and removes automobiles from the view of the resort. Val d'Isere for example has underground parking but this is used as another way of irritating visitors by charging exorbitant prices for its use. With roads and parking: Dig tunnels. Automobile access is both positive in terms of facilitating the ease of visitors and positive in terms of publicity because events for the top-marques of sporting automobiles may be staged. Zermatt cannot host the Lamborghini Miura Owners Club but Gstaad was able to.
- Cable-Car system
-- Cable-cars you have to wait for. Chairlifts, draglifts and Funitels, being moving conveyors, you just jump onto. New designs which came in the 1990s such as the Funitel conveyers, which have a much higher capacity than either cable-cars or chairlifts, have been installed in some of the great old bottle-necks like the two bubble lifts (Medran & Medran 2) out of the village at Verbier. As long as the lift system has the capacity to shift all the skiers up the mountain without queues developing then then that is good enough.
- Drag lifts
-- Drag lifts, along with other methods of lifting skiers which are not affected by high winds, are essential in keeping the resort running and skiable when weather fronts are moving in. The areas most affected by high winds are the tops of the mountains and the exposed passes. These need to have drag lifts as standard. Riding a drag lift all the way from the village to the top of the mountain at somewhere like Mürren or Zermatt if going to take a long time but it is much better than having to remain grounded in the village. I have resorted to skining up the mountain just to relieve the frustration.
- Cog-Railway
-- Cog-railways are slow but they do get you there regardless of weather. They are picturesque and together with drag-lifts ensure that the resort can run in bad weather. The economics of cog-railways versus cable-cars are considered in detail by mining engineers because they are used to transfer mined ore from the pit to the railhead or the docks. The differing methods (rail, bucket cable, conveyor, road) are close in terms of cost. Mountain railways are usually narrow-gauge because blasting tunnels and ledges up the mountain is easier and cheaper with narrow gauge tracks. However, if there is space to build a standard gauge railway up the mountain then there are great logistical advantages. Freight and even full-size 20ft containers can be shipped up the mountain to the resort without being handled between the standard gauge railhead and the cog-railway. Freight only costs when it is handled, not when it is moving. The more it has handled, the more it costs.
- Ski-to-hôtel
-- Particularly in novice skiers, the facility to be able to ski down the piste to your hôtel is a great boon. This means you avoid walking in the village in ski-boots which is tiresome, bad for the boots and bad for your legs, ankles and feet. Similarly in a morning, if you can ski away from your hôtel, and down the lifts, then this removes the great effort in having to walk through the streets to the lift station. Compiling a list of all hôtels which offered both these facilities would take considerable resource.
    If you desire all this information and more to be documentated and published I will gladly provide you with costings. I calculate that it would take an entire season, operating like I used to in the early days, by skiing during the day and driving during the night, catching sleep once arrived at the foot of the next cable-car.
    I can think of hôtels in Méribel, Obergurgl (A) and St Moritz which facilitate ski-to-hôtel. There will be many others. Perhaps the apex of ski-to-hôtel is the Hôtel Bellevue des Alpes at Kleine Scheidegg, above Grindelwald-Wengen on the Jungfrau. You have to ski to the hôtel because there is no other way, other than walking across the snow from the cog-railway station itself.
    Ski-to-hôtel requires the local geography to be sympathetic. Remember that you also have to drive to the hôtel and walk away from it into the village which means there must also be a road of some sort. Sunken roads with wide wooden bridges to take the piste over the top would work as a design. In Méribel, there is a wide piste which snakes down from the upper pistes and inter-twines with the (sunken) roads and tracks. This allows you to descend on skis until you reach your hôtel. In the morning you ski downhill away from the hôtel to the lifts. What could be finer ? In Val d'Isere (it could be Tignes - my memory) there is a chairlift which runs directly past the balcony of someone's third storey apartment. He has the facility to request the stopping of the chairlift at his balcony. I do not think it gets better than this. In the advent of Ski-to-hôtel not being possible, individual hôtels or hôtel-chalet can be fitted with their own double-chair chair-lift which can run to whatever height is necessary to give the skiers enough height to ski down to the main lifts.
    In the advent of adverse geography for ski-to-hôtel, a drag-lift can be routed through a central piste, so that the skiers can either ski to the central piste and connect to the draglift at any point, or if unable to ski to the central piste, will not have far to walk to it. I think it is in Val d'Isere where a connection between two lifts proved to be too flat to ski and they had to install a loop of nylon hawser-wound rope which ran along the flat section, which skiers could hold on to in order to be pulled along.
    A third alternative is to have teams of pairs of draught horses circulating along the pistes within the resort, pulling behind them a rope, which skiers may hold onto, just like the service at the end of the 'Hidden Valley' in Cortina D'Ampezzo.
When I was a boy, one of my most vivid fantasies was to ski through the night to a chalet where we held a dinner party. To arrive to a roaring log fire and the aroma of the kitchen range. With mountain restaurants and a night-skiing facility as well as the ability to ski through and around the resort, this would be possible.
During heavy snowfall and low temperatures, the entire resort becomes blanketed in snow, including the roads. During these conditions, it is possible to ski from your door down the street and anywhere you like. However, some resorts have a local ordinance (law) prohibiting skiing in the street (Val d'Isere for example) and the local cops will wag their finger at you if they see you.
- Pistes
-- Like it or not, constructing pistes on a mountainside will involve use of a bulldozer or at the very least, the removal of many rocks. In summer this can lead to some rather unsightly scars on the landscape, if the construction is not done with attention. Some level tracks will have to be bulldozed into the flank of the mountain and some small embankment made. Normally they are made from logs and large stones with a bit of metal netting re-enforcement. Piles can be sunk into the mountainside to stabilise this construction, in the same way they are sometimes required on railway line embankments. Some FIS courses undergo this kind of surgery in order to iron-out nasty sections. I would go further than this and construct entire features on the mountainside which enable skiers to ski through forested clumps, through gulleys and around head-lands. In addition to the usual range of black-red-blue-green pistes, some red pistes would be protected via a steep black grade section for their first fifty meters in order to preserve the snow condition on the lower red-grade section for ski-race practice. There is always a shortage of trees in the Alps trees would be planted in aesthetic arrangements everywhere around the resort. If trees do not grow there naturally then that is because natural conditions do not support their growth at that point. However, with the team of gardeners, groundsmen and snow-clearers trees can be planted, protected and fertilized. The forested regions of the Alps and Alpine Bavaria are forested because the smattering of poor soil which covers the rock outcrops does not support it. Otherwise, those hills would be growing crops or pasture. With even a small application of soil, mountain flanks can support tree-growth.
- Toboggan
-- Several resorts also have an Olympic Toboggan track (St Moritz (Cresta Run), Mürren (OHMSS) ) which adds an interesting feature to the resort. I would add both a bobsled run, a luge run and several bobsled-only tracks which descend the mountain among the pistes in order to add a bit of interest. Night-time pistes and toboggan pistes which descend through the resort are fun in that if you are staying at the top of the resort you can toboggan down the village to the bar which is the destination for your evening's entertainment.
- Snowmobile
-- In some countries it is unlawful to use Snowmobiles, however, in the ideal resort I would add some snowmobile tracks so that guests can at least experience use of the snowmobile. The snowmobile track would also enable circulation of employees of the resort in case of heavy snow blocking the roads or similar emergencies. The track (dual) would ideally extend all the way down the mountain to the valley floor. This would mean that you would not need to use the cog-railway to get down the mountain but could use a sled to arrive at the standard gauge rail station in the valley. Quick, convenient and fun. Snowmobiles are much narrower than automobiles so it would be possible to allow snowmobiles in a resort were it was impossible to route automobiles (Zermatt). This would allow the circulation of employees and supplies, all of which are needed to run the resort.
- Mule tracks
-- Before the advent of roads in the Alps, goods were transferred across the Alps via mule trains. Mule tracks were built in the steep areas of the mountains, complete with bridges. The mule-tracks remain visible to this day and in many areas offer a speedy method of moving from one valley to another or are fun to ski down if you are ski-touring. Mule tracks are worth adding to permit circulation on foot and on horse-back.
- Sleighs
-- Not a necessity but a bonus. Having horse-drawn sleighs to use as taxis between the station and the hôtel generates a lot of publicity. When making a transfer, incoming vacationers should be able to make the journey from the airport to their hôtel with a uniformed bell-hop carrying their luggage, navigate changes of transport or pay for them. The price of your ticket should get you all the way to your hôtel room so the only thing on your mind from leaving the airport is the image of your first Martini. Ideally, incoming guests should be met by the sleighs and delivered together with their luggage to their hôtel, and the cost covered by the lift pass. No tipping, no graft, no scams.
    When the luggage arrives at the rail-head of the standard-gauge railway for transfer to the narrow-gauge railway to go up the mountain, Bell-hops should add a machine-printed destination sticker, such as used to be applied by the luggage handlers on ocean liners. The destination sticker should bear an Art-Deco image of the resort, and the name of the hôtel to which it is to be taken, time, date, owner, et cetera. This way, skiers can go away from their vacation with their luggage looking a little extra chic and our resort will be advertised in baggage handling halls around the world

Gorky Park (1983): 00:16:19 A troika on the frozen river
- Dog-Sled
-- Dog-sleds can share toboggan tracks, snowmobile tracks, mule tracks. Dog-sleds do not have any real function in an Alpine setting but they offer another experience for non-skiers. There are dog-sled outings available over the Jungfrau glacier and as far as I know the dogs live in a pen just next to piste which descends from the last cog-railway stop before it enters the tunnel into the Eiger. The pen is up to your right as you descend the pistes. When not gainfully employed or posing for photographs the dog-sleds can pull supplies up from the valley cog-railway station to the resort. I suppose a kennel of St Bernard dogs, like they have at the Grand St Bernard Hospice, would be useful primarily for further photo-opportunities, but the dogs can also be trained to work with the rescue team. Uphill tracks can share traffic between snowmobiles, dog-sleds, pedestrians, sleighs, and horses because they all travel a similar speed when going uphill. Downhill tracks are a different game. Luge and toboggan cannot mix with the other traffic. This kind of planning can be dealt with when the actual geography is known.
- Ice rink and lake
-- Winter sports vacations became ski vacations after the war but ice-skating allows events to be staged as well as giving non-skiers something to do. A lake, a frozen one, allows a wider selection of events and an ice-fair (See On Her Majesty's Secret Service (1969)). St Moritz makes extensive use of its frozen lake for various activities including ice polo, which has to be about as safe as amateur bomb-disposal. I suppose they say the same about me.
- Ice waterfalls and ice pillars
-- An entire artificial stream bed should be constructed down the length of the resort, complete with picturesque roofed wooden bridges. Water can be piped in with the on-set of winter and it will freeze in a succession of pools and frozen water-falls. These are very attractive to the eye. A 'broken Roman viaduct' can be installed from which water may be dripped until it is frozen pillars of ice, in order to allow ice climbing within the resort. Huge ice-falls can be created above the village by piping a trickle of water over the top of the valley side until the ice descends all the way to the village. This would provide an ice-climbing facility within the village itself and plenty of photographic opportunities to promote the village.
- Klettersteig - Via Ferrata
-- The cliffs above the resort should be ringed by Via Ferrata, the lines of steel cables which permit traverse of cliffs and the steel-cable bridges which span voids in the cliff face. Originally they were a feature of the Dolomites but other countries have introduced them because they bring in to the resort the layer of visitors above mere hutte-to-hutte hill-walkers and below actual mountaineers. Mürren has recently (2012) built its own system.
- Top-access debutante pistes
-- Pistes for novice skiers tend to be on the last section before the resort, which is usually a busy thoroughfare. This can make giving instruction to novice skiers a bedlam. Courcheval has a section of piste surrounded by woods which ends in a dead end. It is serviced by a drag lift. This means that only novice skiers use it and there is no traffic. There is in fact a winding track which leads away from the dead end but I think it for those who own chalets in the woods to ski back to them.
- FIS Downhill course
-- Designed by Bernard Russi
.
- Liftpass system
-- All transport should be covered on the lift-pass. There should be no faffing with tickets or payment. The lifts, the cog-railway, any buses any automobile-parking. Italy can be the worst for this because every man and his dog are on-the-make and anybody with a ski lift, mini-bus or horse-drawn ski puller is trying to squeeze money out of skiers.
- Lifts
-- Ideally, there should be a way of getting right to the top of the mountain on ground-based lifts such as cog-railway and drag-lifts. This means that during high winds, you can still transit to the top of the mountain, albeit with a greatly increased journey-time.
- Buildings and Architecture
-- The buildings in the village have the Alpine profile of a pitched roof with a large overhang, even though they are much larger in absolute size. From a distance, this gives the impression of an Alpine village. All the buildings are faced in stone and pine-logs, even though their are constructed of reinforced concrete which is avalanche-proof. I would build several grand hôtels, similar to St Moritz , which are constructed in a grand architectural style. These would add the deep bass notes of formality to the resort and cater for those wishing to spend their vacation in silver-service style. They enable to the resort to host grand events throughout the year, such as presentations of Haute Couture, the launch of new automobiles and large conferences. An alternative style for large buildings is a Schloss, perhaps in the style of Neuschwanstein, complete with towers and battlements. It must look like it grew there. Even if no Schloss is required as an hôtel there should be a Schloss above the village which acts as a point of interest to draw visitors up to it. A wide artistic license is available when approving the form of buildings: In the 19thC, the French decided that a number of medieval villages were not medieval enough, and gave them a large quantity of additional faux medieval walls and battlements. They are now more medieval than any real medieval village. We can do the same with the Alpine idyll re-imagined.

Gstaad: The Vieux Chalet, residence of the late Gunter Sachs. A good example of Simmentaler Alpine architectural style and construction.

The interior of an Alpine chalet as imagined by Pinewood Studios for The Spy Who Loved Me (1977)
-- The distribution of buildings within the valley allows for sleigh-tracks 'roads' to snake in all directions, between buildings spread over the flanks of the mountains, so that each may be accessed by sleighs or wheeled vehicles. Similarly, the ski pistes descend through tracks distributed over the flanks of the mountains, crossing the roads on small bridges, so that each building may be approached directly on skis. Furthermore, in a morning, you may leave the building on skis and descend to cable-car valley station. The flanks of the mountainside are wooded. #
-- K,K&K - A church: A ski resort looks best if it has a church spire sticking out of the little cluster of buildings. Courcheval built their own church spire, with no church, in order to give this visual effect. The bells can be used to chime the hour, throughout the resort.
-- Within buildings, such as the Talstation or the Bergstation of the cable-car, the interiors, like the exteriors should be constructed of pine-log beams, even though the structure of the building is re-inforced concrete. An alternative to beams would be rough stone or water-worn stone from stream-beds. The floor should be made from the round-sections of pine-logs so that it offers good grip to ski-boots and still has a bucolic air. When you arrive at high alititude, such as the Schilthorn above Mürren, then you have the option to change the style of the building to something resembling Blofeld's lair, or a celestial observatory, like at the head of the railway at Zermatt. This is when you are high enough that you are looking at an Alpine moonscape. At this point you can afford to chose an ambiance like a James Bond film set.
   If there is an approach to a location such as the bottom of a ski-lift which is prone to losing its snow then it should be under-layed with artificial snow matting, which in case you have never seen it consists of thin 50mm plastic needles spaced around 50mm apart. The matting is there only to ensure that skis are not damaged by bare earth and rock, once the snow has worn off. The second problem is that once the snow has worn off it quickly develops into mud.

Mitteleuropa approved Ski-Chalet design, showing personal private cable-car.
- Decoration
-- To add the ambience of an old Alpine village, wooden Alpine barns and farm-houses in the original style should be constructed throughout the village and the flanks of the mountain side at photogenic positions. The resort must have at least one visually powerful feature which news cameras can use to photograph their news-anchors standing in front of. This feature will come to define the resort and the press it receives. Alpine valleys which have been used as transit routes if only for mules usually have at least an old watch-tower and if the transit route was large enough to transit an army, then a Schloss would be be built, sometimes with extensive fortifications, like the Schloss Ehrenberg complex at Reutte (A) or Burg Hohenwerfen at Werfen (A).

Genuine Alpine buildings. On the left, a barn, On the right, a cowherd's hutte
- Night skiing
-- Flood-lit lower pistes enable skiers to continue to ski into the night. This is important for skiers who are learning to ski and who are improving hand-over-fist. Night skiing on moonlit nights is heavenly but the problem with providing night skiing in the resort is that you have to pay for a second shift of cable-car operators for the small number of skiers would like to ski into the evening. Most of the skiers who do will be beginners who are improving rapidly, so a small area of piste close to the resort can be lit and have the chair-lifts run late into the evening to enable them to ski.
- Snow-making
- Snow-making is one of those necessary evils. Water is piped up the mountain and high-pressure jets throw a fine mist of water out into the frozen air. Not as good as snow-flakes, which are formed as crystals at high altitude, but a lot better than nothing. If you cannot be sure of snow, then you have to have snow-makers. The low pistes which see heavy wear , just above the resort, require snow-makers in some of the lower resorts. Further up the mountain, the Pistenfahrzeug will use their dozer blades to shift accumulations of snow to be found in other places on the mountain, onto the piste. There is a limit to piste-repair in this manner because snow falls evenly and flat, which means it is difficult to collect in the bucket unless there is some feature like a stream-bed where the snow accumulates when the wind blows. There is a valley called Gassan in Japan which because of local conditions, has snow blown into it throughout the winter. So much snow accumulates that it lasts all summer and you can ski in summer. Matching supply with demand is what has built the modern world and if you could match those who have snow who do not want it (roads, railways, towns, farms) with those who do (the ski resorts) then the world would be a much happier place. #
- Mountain hôtels and restaurants - Montenvers & Piz Gloria
-- #
- Swimming baths and Spas
-- The resort should have its own spa and sauna complex, both inside and outdoors, sufficiently well-appointed to satisfy the most demanding Scandinavians. There is nothing like a hot tub and a Bloody Mary after a heavy day's skiing.

Crans-Montana: Hôtel LeCrans swimming pool
- Retail
-- #
- Year-Round
-- The dilemma for hôtels in Alpine regions has been that they are fully-booked during the skiing season but empty most of the year. The skiable season may be December through April but peak season will only be six weeks of that. Originally, before the invention of skiing, hôtels were fully-booked during the summer, with the arrival of Grand Tourists from the lower countries, but empty in winter. The invention of Alpine downhill skiing by Englishman Sir Arthur Conan-Doyle in the 1870s brought about year-round occupancy until at least the inter-war period. The Verbier Festival
was started in the 1980s as a simple way of filling empty hôtels beds during the summer. Verbier is large enough to have its own cinema and concert-hall and so it was a simple matter to host a classical music festival. The festival has been so successful that everyone has forgotten why it started. Our resort can host a similar event.
- Service
-- Foreign Language Service: If you have Japanese visitors then they can quickly get in a tangle during transportation because they cannot read the Latin alphabet. Getting onto the wrong train or the wrong aircraft means that whatever is going wrong goes wrong rapidly and for a great distance in the wrong direction. Multiple language sign-posting helps but with the advent of modern hand-held wireless communication devices such as the iPhone, Apps can be written which provide information or directions in native language. This can be enhanced further with signs which bear the QR codes.
. With the advent of Cyrillic alphabet users such as Russians, these factors apply twice. #
-- #
- Audit & Quality Control
-- #
-- #
- Features
-- Guided Skiing and Heli-Ski #
-- Downhill racer course #
-- #
- Marketing #
-- The location needs to be chosen for its potential skiable-area. A picturesque location is of secondary importance but an ugly location should be avoided. Decoration of distant vistas can be achieved by building towers, bridges and Schloss. Once a large and increasingly expanded ski-area has been installed then the first construction of the resort must be something which is aspirational for the ski-vacationer. Probably, a very expensive first-class hôtel like the Hôtel Gstaad Palace or the Hôtel Grand, St Moritz. Ski-to-hôtel is a vital element in luxury which neither of the aforementioned hôtels may boast. It would be ideal if some suites could boast ski-to-private-sunterrace, where you just walk out of your suite, step into your skis and ski away.
Many high-rollers will wish to rent a chalet for several weeks but do not want the administration of either owning one or leasing one. Just as in aviation where a 'dry lease' is the lease for an aircraft hull, and a 'wet lease' is the lease of the aircraft, plus crew and service, one or all of the large hôtels need to operate individual chalets on a 'wet lease' where a magnificently appointed chalet, with spa inside and out, is available for lease by the day-week-month-year.
Furthermore, operating a large chalet creates an adminitsrative burden because of the requirement to hire staff. What is needed is something akin to a 'wet lease' in aviation, where you lease not just the aircraft hull but the pilot, co-pilot, crew and maintainance. The hôtels can operate service which supplies hôtel-service when the chalet is in use. This will greatly reduce the consumption in time and administration which owning a chalet creates. Owners will thank you for this.
-- Initial marketing needs to be done by staging an event which will bring in press attention. This would take the shape of a visit by a celebrity/s or the purchase of a chalet by a celebrity/s. It may be necessary to purchase a celebrity visit. Other marketing ruses are to intimate that a celebrity or celebrities have purchased property in the resort but because of confidentiality clauses it is impossible to name names.
-- Social Media Footprint: The resort photographer should be employed to pipe a stream of photographs of the resort through social media. These should include the classic 'ski-girls sunbathe in bikinis' shots, which only ever occur in publicity photographs. Models should be hired to sunbathe in ski-wear and bikini-tops whenever the press are in town. This always guarantees plenty of press coverage.
-- FIS World Cup Run: A single piste should be built purely to host FIS World Cup ski events. This will ensure global television coverage and see the resort's name on many websites.
-- Exclusivity.
-- #
+ THE IDEAL SKI DAY
Friday after-noon it is snowing hard and steadily in windless conditions. It is well below freezing with a huge static weather system from Russia which has halted over the mountains. Friday evening you load up the car: An ex-works Audi Quattro S1. The skis, K2 Explorer in 180cm with Marker bindings, go inside into brackets which hold the tips on the middle of the dashboard between the seats. The roads are empty because everyone has been warned off by the weather. The temperature is well below zero and is still dropping. You have fitted snow tires and head out over lying snow onto the Autoroute making fast progress as the headlights reflect strongly off the huge falling snow-flakes. The car speeds forward like like a fast motor-launch on a snowy sea, spraying a wake out behind it, the sound of the exhaust muffled and deadened by the soft lying snow.
   After several hours you pull off the Autoroute and onto two-lane-blacktop, which is 15cm deep in cold, dry snow. The Quattro makes short work of it, sending a rooster-tail of snow off all four wheels as it power-oversteers through the switch-back corners which climb the mountain-side. Into the resort you pull up next to the hôtel and haul your kit and skis inside. The almost impassible weather means that the patron greets you with surprise and hands you a warming Kaffee-Schnapps. The snow falls steadily and the Quattro has 15cm on top of it when you go out to check after dinner. Over a glass of single-malt you check the topographic map and the piste map. Morning arrives and it has to be a steak breakfast to set you up for the day. It is really cold, -30 degrees Celsius but the air is still. You put on your best polar bear fur Ushanka with some goggles over the top and your glacier spectacles upon your eyes. You pull up a white turtle-fur toque over your neck and face. You have your Thinsulate ski gloves on underneath Arctic down over-mitts. You ride the cable-car alone. As you rise and rise through the whiteness, your mind's eye roves distantly over all that you expect to find. The low hum of the wires underlies your silent reverie. You arrive at the Berg-station at the top and step out. It is white in every direction. You drop the skis into the snow and punch open the bindings. The skis drop 15cm into the powder. You have a sense of excitement but also a sense of apprehension. You could go anywhere today, rather than head off-piste, because with this much snow, everywhere is off-piste. It is as if there were no lifts, no pistes and you are the skiing on your own. The cable-car operator at the Berg-station follows you out to the doorway to look at the snow with a quizzical expression on his face. He's never seen this much snow and he's not sure it is going to stop. The cable-car is returning empty. An empty untracked wonderland beckons in all directions. The snow is falling gently now, in large heavy flakes. You head off, with no sound coming from the skis because of the powder. The skis track through the thick snow which surges up around your thighs. The skis and the snow are as one, leaving you to look around you at the white landscape. There is hardly any effort. You cover kilometers until you reach the treeline and begin to descend through the silence of the woods, for kilometers further. You can see the large flakes falling through the air against the background of pine trees, which are motionless in the still air, their branches thick with snow.
- #
- OFF-PISTE: THE WINTERS OF THE BIG SNOWFALL.
- Just occasionally, in some winters, you get a gigantic snowfall. Large enough that it blocks the roads, then continues snowing some more. The resorts become cut off. What can happen and usually happens is that the resort struggles to keep the pistes open because there is so much snow that even places which normally do not feature avalanche danger become dangerous. Snowfall becomes so large that the ploughs cannot get through. The roads block and the snow keeps falling. The Air Force have to drop hay bales to remote farms. The main problem in conditions like this is that (1) You are a 100km away. 100km of roads which are choked with broken-down, stuck and crashed vehicles. (2) You are in your hôtel in the resort, but you spend the day drinking coffee and listening to what sounds like thunder, but is in fact the sound of huge avalanches in the surrounding valleys. I was in Zinal in 1999 and it was like this. It just thundered all day. It was terrifying. In no way do I advise you to leave your hôtel, but this is what I have done, in order to ski in deep, untracked powder, with no other skiers nor any other person in sight. Normally you only have this when you are skiing in the Tien-Shan or Kamchatka or similarly remote places. And there, there is no weather reports, no avalanche danger bulletin, and no hope of rescue. You have to know what you are doing and even then you will use up some of your nine lives. I have used several of mine. Not all of them, I hope.
The resort may well close the cable-cars as well which means you will have to free-heel Ski-Randonnée
up the mountain. The pleasing aspect of such conditions is that people who would normally try and get in your way, well-intentioned or otherwise, are no where to be found because they are stuck in the village with every one else or digging away with a spade somewhere. If you are 100km away, a certain amount of planning and low-animal cunning is called for. If you have access to a helicopter or you can sky-dive, then your problems are over. If you have the visibility, get up in the air and get some one to drop you right over the DZ. Setting off on your journey you need not only snow chains but if you can, a 4x4 with high ground clearance. This is because you may be able to make your way around stuck vehicles by driving up the edge of the road or sometimes along beside the road. Unless you have flotation tires, you will get stuck before you reach the resort. At this point you need to free-heel the rest of the journey on your skis. The only alternative would be to use a 4x4 pick-up truck in which you carry a snowmobile or equivalent device. There are track conversions for motorbikes. There are are even track conversions for pedal bikes. One of those one-man hovercraft would work also but in my experience they are almost impossible to steer and you need a flat surface the width of a soccer pitch in order to avoid hitting anything. You may well hit road-blocks organized by the local cops to stop more people getting stuck. You need to see them before they see you and work out a way around. Snowmobile would be best because from point of departure you can leave the road entirely, driving across pasture and mountainside.
- Winter of 1915: December in the Dolomites, five meters of snow fell, the most since records began.
-
Winter of 1951, the Winter of Terror
-
Winter of 1996/1997 - Huge snow falls in Switzerland.
-
Winter of 1999/2000 - Ice storms and hurricane force winds followed by 40cm of snow.
-

1951: The 'Winter of Terror'. An Opel Kapitan drives through the remains of a huge snowdrift.

Winter of 1951: Opel Kapitan in thick snow

Rossberg 2008: 150cm of snow on the roof, which is how it should be
- Low temperatures do not necessarily coincide with high snowfalls. Low temperatures after a heavy snowfall make for superb powder conditions. If there is a slight melt followed by sub-zero temperatures then conditions can be very fast. Twice or three times as fast as normal. Skis or sled runners just run and run. The problem with skiing on re-frozen surface is that the skis cut at the surface like an ice skate and do not skid or slide. This means that they ski runs in the direction that its cutting edge takes it. It can take a lot of muscle to fight back at the ski and make it do what you want. Of all ski conditions, this is the one which requires the most muscle. You will not encounter these conditions very often, if ever.
+ SNOWMOBILES IN SWITZERLAND
- Note that recreational snowmobiles are forbidden in Switzerland but snowmobiles are licensed for necessary work such as piste grooming and hut re-supply. Note also that driving a motor vehicle on frozen lakes in Switzerland is forbidden, but in Austria, it is legal. This means that as the Bodensee freezes over, you can drive on the Austrian or German part, but not on the Swiss half.
+ EXTERNAL LINKS
- Current Intelligence on Ski-Resorts, Ski-Drive
- Up to the minute intelligence on ski-resorts and driving to ski-resorts can be found by asking questions on the following three USENET
newsgroups. You can access (both read and write) USENET news through the groups.google.com but the best way is to obtain USENET newsreader software (such as the excellent Forte Free Agent
) and a free USENET feed via
www.teranews.com
- rec.skiing.resorts.europe
- Mainly English language
- de.rec.alpinismus
- Mainly German language . Covers mainly the Eastern Alps
- fr.rec.montagne
- Mainly French language.
- rec.skiing.alpine
- Coverage of North American resorts.
rec.skiing.alpine is meant to cover North American resorts and does to extent, but is more like a frat house, with raging arguments, name-calling, juvenile behaviour. rec.skiing.resorts.europe is more serious and should be your first port of call with all questions, even about North America.
-
http://pistehors.com/ - Off-Piste web site and discussion board and useful source of intelligence.
+ LANGLAUF - CROSS-COUNTRY SKI - BIATHLON
- See Klaus Hellberg and the great escape on skis during the raids on Telemark at Rjukan and across the Hardangervidda #
- Trans-Jurrassian Langlauf event:
-
The Trans-Jurassienne at www.interfrance.com
-
www.transjurassienne.com

German Army Biathlon team competing in the world finals, Ukraine, February 1944

St Moritz and Davos-Klosters are important centers for Langlauf Cross-Country skiing.
+ ICE-SKATING
+ Skating ; Ice Skating
; Nordic skating; Tour Skating
[Swedish: långfärdsskridsko Finnish: retkiluistelu Norwegian: turskøyting]; Periods of sub-zero centigrade temperatures, called Seegfrörni
, allow canals, lakes and finally rivers to freeze. Most ice skating is recreational skating on the canals and lakes near to towns and cities. Holland is blessed with many kilometers of canals which make a frozen wonderland once the temperature has been below zero for a week. The large lakes of Germany, Austro-Hungary and Switzerland offer a different experience. Both the Rhein and the Danube freeze over but the barge traffic breaks up the ice in the center of the river. Both those rivers froze to great solidity during the Little Ice Age
around 1650 when the Mediterranean Sea also froze over. Skating down the Rhein from the Bodensee all the way to Rotterdam would have been a huge adventure. The Bodensee and the Zürichsee froze in the Seegfroerni of 1963 and you could drive an automobile over the ice. Beware not to drive onto the Swiss side of the Bodensee because driving automobiles on frozen lakes is not lawful in Switzerland, although you can ride bicycles. Also beware, that if you park an object on the ice over a period of days it will slowly sink into the ice because it is warmer than the ice. During filming in Finland for Dr Zhivago (1965) the crew trucks were parked on the ice for several days before some one noticed that they were sinking into the ice.
Scandinavia is the promised land of winter skating. Not only do the lakes and rivers freeze but the Baltic, with its low salt content also freezes. Skating over long distances is possible, especially when the snow has been blown off the ice. Sometimes there is only you and nothing but ice for many kilometers with only the occasional flock of surprised geese.
Scandinavians use »clip-on« skates which will fit onto the soles of hiking boots. You can hike between lakes and skate across them, creating grand enchaînements. Much like skis for Langlauf
(cross-country ski, or X-country ski), which have bindings which will fit hiking boots, clip-on skates add great mobility to winter enchaînements. Langlauf skis and clip-on skates allow mobility even if the lake is covered in snow. Lake skaters nearly always use long-bladed speed skates rather than short bladed ice hockey skates or ice dancing skates. Some ice hockey players find that they are unable to skate without a hockey stick and have to take a stick with them for the first few days.
- The Elfstedentocht
, the round-Nederlands skating race
- Skating the canals in Holland
- Skating on the Baltic
- Long distance ice skating
- Long distance ice skating in Sweden: The Vikingarännet, an annual 80 kilometer race from Uppsala to Stockholm,
- Purchase ice skates here
- Purchase clip-ons here
- Ice reports and forecast for Sweden
- In the Seegfrörni of 1963 the Bodensee frozen over
The Bodensee has frozen over 32 times since records began in AD875.
- 1963 the Zürichsee is frozen over
- Surface temperatures in Europa
- Weather satellite map
- What happens when you go through the ice
.
You can insulate against injury using ice-hockey/street-hockey elbow guards (including the full forearm guard) and ski helmets. The good thing about a rucksack is that should you hit the ice backwards, your landing is very soft. Once, I nearly broke my shoulder blade when falling over on ice and this would have been prevented if I had been wearing a rucksack.
There are great dangers to adventure skating, with weak ice giving way, or snow and meltwater on the surface of the ice concealing dangers beneath. With only a few minutes of survival possible in ice water, deaths are common. One must carry two ice picks (small spikes with handles) which enable you to gain purchase on the remaining ice and pull yourself out. Now you are very wet and you must dry as best you can then add extra clothing or even an immersion suit in order to dry off. Going under the water is a true horror and something you never forget.
+ BIBLIOGRAPHY:
- . Winter Holiday
- by Arthur Ransome : An engaging tale set in the same location as the whole series of books, which is Lake Windermere in Cumberland, England, before the turn of the century. In Winter Holiday the lake has frozen hard over and protagonists equip their sled with a square-rigged sail.

Hikers using clip-on ice-skates to navigate a frozen lake.

An inspired choice of boots for ice skating.

The Zürichsee frozen over during the winter of 1962-1963. The Grossmünster is on the right and the trees growing on the Bauschsänzli can be seen below the spires on the left. The opening scenes of The Eiger Sanction (1975) take place between the Quaibrucke and the Münsterbrucke. ©

The Zürich Seepolizei had to buy themselves a snowmobile.©

The Zürichsee frozen over during the winter of 1962-1963. You can see the trees of the Bauschsänzli below the flags and the Quaibrucke in the mid ground. ©

Zürichsee in 1963

Zürichsee in 1891
+ DOGSLEDDING

Figures in a Landscape: The Iditarod
and the High North.

Iditarod: Low temperatures mean that even the huskies have to wear coats. In the High North, Huskies live outside all winter, without shelter. That shows you how cold it must have been. Huskies ! The Fatherland salutes your service to Mankind !
- How the English Made the Alps by Jim Ring
ISBN 0719556910 published by John Murray .
-- Ring details a modern history of the Alps by telling of how English Grand Tourists brought skis from Scandinavia to use in Switzerland in winter, thus inventing the sport of downhill skiing. Credit goes to English author Sir Arthur Conan-Doyle
for being the man to invent downhill skiing.
- Storming the Eagle's Nest by Jim Ring
 published by Faber 7 Faber 2013. Jim Ring gathers up all the information relating to the Alps and WWII.
- . Byron - Life and Legend - by Fiona McCarthy.
- Comprehensive biography of Byron, whose post-Napoleonic Grand Tour was perhaps one of the greatest.
- The Ski Runs of Switzerland by James Riddell
with forward by Sir Arnold Lunn
published by Michael Joseph, London 1957 . Riddel was vice-captain of the British Olympic ski team in the 1950s. At the time of research for the book, there would have been few or no cable-cars in France and and only a handful in Austria.
- The Great Motor Highways of the Alps by Hugh Merrick published by Robert Hale, London, 1958, 1961, 1963
- James Bond and Switzerland by Peter Wälty and Michael Marti published by Real-Verlag, Basel, 2008, ISBN 978-3-905800-20-3
- Les 3 Vallées Hors Piste by Philippe Baud and Benoit Loucel published by Vamos, 1991, Boite Postale 03, 74400 Argentiere, ISBN 2-9503673-6-4
- Val d'Isere Tignes Hors-Piste by Jean-Luc Steiger and Guy Bonnevie published by Vamos, 1991, Boite Postale 03, 74400 Argentiere, ISBN 2-910672-07-7
- Chamonix Hors-Piste by Francois Burnier and Dominique Potard published by Vamos, 1991, Boite Postale 03, 74400 Argentiere, ISBN 2-910672-02-6
- L'Alpe D'Huez Les 2 Alps Hors-Piste by Francis Ginet and Fabrice Villaret published by Vamos, 1991, Boite Postale 03, 74400 Argentiere, ISBN 2-910672-03-4
- Neige Glace et Mixte - 500 Itineraires dans Le Massif du Mont Blanc by Francois Damilano and Gadefroy Perroux published by Editions Ice Connection ISBN 2-950 98 68 0 3 - Ice climbing in the Mont Blanc massif
- Walking the High Jura Route by Kev Reynolds and Winter Ski Traverses by R. Brian Evans published by Cicerone Press, Milnthorpe, Cumbria, England, 1989, ISBN 1-85284-009-2
- Wasserfallklettern zwischen Bregenz und Garmisch - Vorarlberg - Bregenzer Wald - Allgau - Lechtal - Ammerga - Wetterstein - Loisachtal by Carlo Friedrich et al, published by Alpinverlag, 1998, ISBN 3-926807-67-9S - Ice climbs around Bregenz and Garmisch.
- Wasserfallklettern in der Schweiz by Urs Odermatt, published by Alpinverlag, 1998, ISBN 3-926807-50-4 - Ice climbing Switzerland
- The standard reference works for mountaineers were written by Robin G. Collomb and are still in use today.
Titles include: Pennine Alps East, Bernese Alps West, The Mount Elbruz Region , Caucasus Central , Graians West , Pamir-Trans Alai Mountains , Selected Climbs In The Pennine Alps Volume 01 , Selected Climbs In The Pennine Alps Volume 02 , Climbs In Maritime Alps ,
Zillertal Alps: Introductory Climbing Guide ,.
- Graians East - Gran Paradiso National Park by Robin G. Collomb published by West Col Alpine Guides 1969 - Mountaineering in the Gran Paradiso, Italy.
- Graians West - Gran Paradiso National Park by Robin G. Collomb published by West Col Alpine Guides 1969 - Mountaineering in the Gran Paradiso, Italy.
- Stubai Alps and South Tirol by Jeff Williams published by published by West Col Alpine Guides 1991 ISBN 906227518 - Mountaineering in the Stubai Alps and South Tirol
- Oetztaler Alps by Jeff Williams published by published by West Col Alpine Guides 2000 ISBN 0906227690 - Mountaineering in the Oetztaler Alps
- Mercantur Park - Maritime Alps by Robin G Collomb published by West Col 1985 ISBN 906227267 - Mountaineering in the Mercantur Park and Maritime Alps
- Corsica Mountains by Robin G Collomb published by West Col 1982 ISBN 09062274450987654321 - Mountaineering in Corsica
- Julian Alps by Robin G Collomb published by West Col 1978 ISBN 906227410 - Mountaineering in the Julian Alps
- Glockner Region by Eric Roberts published by West Col 1976 ISBN 901516813 - Mountaineering in the Glocker Region
- Klettersteig - Scrambles in the Northern Limestone Alps by Paul Werner published by Cicerone Press 1987 ISBN 0902363468 - Mountaineering in the Northern Limestone Alps
- Klettersteigfuhrer Nördliche Kalkalpen West und Osterreichische Zentralalpen by Paul Werner published by Bergverlag Rudolf Rother München 1983 - Via Ferrata central Austrian Alps
- Valais Alps East - Selected Climbs by Les Swindin and Peter Fleming published by The Alpine Club
1999 ISBN 090052362X - Mountaineering in the Valais Alps East
- Valais Alps West - Selected Climbs by Les Swindin and Peter Fleming published by The Alpine Club
1999 ISBN 0900523611 - Mountaineering in the Valais Alps West
- High Level Route
- Chamonix Zermatt Saas - Ski Mountaineering in the Mont Blanc Range and Pennine Alps by Eric Roberts published by West Col 1973 ISBN 906227496 - The 'Haute Route' Chamonix-Zermatt.
- Pennine Alps East - Saas and Mischabel Chains by Robin G. Collomb published by West Col Productions, Alpine Club Guidebooks 1975 ISBN 900523131 - Mountaineering in the Pennine Alps East. Superb Bibliography.
- Mont Blanc Massif - Volume II by Lindsay Griffin published by Alpine Club Guidebooks 1996 ISBN 0900523581
- The Mont Blanc Range Topo Guide by Michel Piola published by Editions Equinoxe, Vernier, CH 1214, 1988 - Rock Climbing routes in the Mont Blanc Range
- Bernina and Bregaglia - Selected Climbs by Lindsay Griffin published by Alpine Club Guide Books 1995 ISBN 0900523603 - Rocking Climbing in Bernina and Bregaglia
- Scrambles amongst the Alps by Edward Whymper
- The Old Testament of Mountaineering.
- Over the Hill, by G.P.Wilson, published by Millrace Books
, 2011 Graham Wilson - Tales of mountaineering and climbing
- Ashley Book of Knots
by Clifford Ashley published by Doubleday, New York, 1944. The main authority on knots. .PDF versions may be found on the Web or as .torrents.
- The novels of Jack London
.
- Thrilling Cities by Ian Fleming, Chapter Geneva published by Jonathan Cape, 1963
- The Michelin Guide
published by Michelin - Invaluable for planning the punctuations to your journey. Michelin publish a guide for each country (thick and heavy) and an abridged pan-European guide (thinner, for glove-box) which lists the most important hôtels and restaurants. With a map of Alpine Europe and the appropriate Michelin Guides, you can plan a feast of driving, skiing, and cuisine.
- Magazine After the Battle issue Number 97 The Battle of the Alps by Jean Paul Pallud published by Battle of Britain Prints International - Information on the Second World War battles on the glaciers between Chamonix and Courmayeur.
- Turner in the Alps by David Blayney Brown published by Edipresse Imprimeries Réunies Lausanne s.a. ISBN: 2-88443-050-4- A good introduction to J.M.W. Turner's
tour through the Alps and the paintings which he produced.
- Byron: Life and Legend by Fiona MacCarthy - Lord Byron made one of the great Grand Tours shortly after the fall of Napoleon.
- Vom Eismeer bis zum Kaukasus - Die deutsche Gebirgstruppe im Zweitern Weltkrief 1941/42 by Alex Buchner published by Dörfler Zeitgeschichte 9783895 550478
- Swan - The Legends of the Jet Society by Nick Foulkes published by www.assouline.com
ISBN 978-1614281283 - A superb work lavishly illustrated and diligently researched detailing the high society of the Jet Age from the 1950s to the 1980s.
+ SEE ALSO
- Guide to wristwatches for action & adventure
- Luggage
- Survival
- Driving to the Alps: Carrera Pan-Alpina
- Driving to the Alps: Grenze - Borders
- Driving to the Alps: Alpine Rallys - Coupe Des Alps - Monte Carlo Rally.
- Driving on Snow: Hans von Luck's journey from Moscow to Berlin in the winter of 1941.
- Driving to the Alps: Alpine Rallys - Coppa di Dolomitti - Cortina D'Amprezzo.
- Passes in Alpine Countries: Grosser Alpen Führer by Eduard Denzel.
- Exploration in the High North
- South to the Italian Lakes
- Weather WX - Global Warming
- Hôtels
+ EXTERNAL LINKS
-
http://www.gregh.co.uk/html/skilinks.htm - List of links from the rec.skiing.resorts.europe FAQ
-
- Dennis Summerbell's pages on ski resorts and off-piste skiiing in Les Trois Vallées, Val d'Isere.
-
Cable-Car construction
-
https://wiki.openstreetmap.org/ Piste Map Projects
-
http://trucktracks.com/ - Aftermarket caterpillar tracks for pickup-trucks
-
- Fasttrack tracked amphibian
-
Bandvagn 202
-
Bandvagn 206
-
http://www.slopescience.com/ - Backcountry skiing angle of descent research
-
http://de.snow-forecast.com/
-
http://skimap.org/
-
http://www.bild.de/ - The story of Schumi's accident
-
http://lawinenwarndienst.blogspot.co.uk/ - Avalanche Blogspot
-
http://openpistemap.org - Open Piste Maps
-
http://www.skimountaineer.com/
-
The Alpine Club . Just as skiing was invented by the English, so too, to a great extent, was Mountaineering. The Alpine Club was formed in 1857, the first in the world.
-
Altiports
-
http://pistehors.com/ - Off-Piste website and discussion board
-
www.au-vieux-campeur.fr Au Vieux Campeur gear shop for all things Alpine. Shops in Paris, Lyon, Thonon les Bains, Sallanches
-
Funimag - website devoted to funicular railways
-
Blog Alpine Style 56 - Historic ski photographs from all eras.
-
Historic Hôtels in Switzerland and Europe.
-
Historic Hôtels of Switzerland.
-
,
PHD Designs ; Arctic and Antarctic Expedition Gear ;
This page is skeletal at the moment and will gradually fill with the details when time allows. If you require specific information immediately it would be best to ask on one of the ski discussion boards mentioned on these pages, such as rec.skiing.resorts.europe
+ PDF COPIES OF THE PAGES:
If you wish to take these pages with you to refer to on a roadtrip perhaps the best way is to make the page into a .PDF file using Adobe .PDF writer or shareware equivalents such as NitroPDF or PrimoPDF. Some shareware equivalents will trip-out before they have written the full page to a .PDF, in which case try another one or obtain a copy of Adobe .PDF writer. These pages will make .PDFs of considerable size (several hundred MB in some cases) but you can take them with you on your laptop or on your hand held device. Further, a .PDF copy will allow you to keep a permanent record of the page. This website will only remain for one month after my last login to the website admin page. When I die, it will only be available for one month.
= I use and recommend www.X10hosting.com free webhosting =
- At Picasa
- At Twitter
- At Tumblr
- At pinterest.com
- At Gigapan
- Blog
-At Facebook
-
Contact:


© Copyright by the Authors, Meyer Verlag. All rights reserved. ©
---
Typeset in Berthold Akzidenz Grotesk BE font